Welcome to Betting the Spread Week 16! Happy Holidays and happy semi-final week for everyone still alive in their leagues! I managed to stay alive in one of my redraft leagues and just found out on Tuesday I am one of 500 who has managed to survive this far in the Scott Fish Bowl. These are exciting but nervy times. Like MF DOOM once said, 'living on borrowed time, the clock tick faster.' We're all holding our breath this week.
Our record on the season hasn't been so exciting. We're now at 92-108-6 after a 7-7-1 record last week. I swear, I think the Broncos and Raiders are almost solely responsible for how far below .500 we are.
Buffalo Bills (-8) vs Chicago Bears
Over/Under: 39.5
Pick ATS: Buffalo Bills
This game seems straightforward: you're starting Josh Allen, Stefon Diggs, and Justin Fields. But this game seems ripe for a Gabe Davis bomb touchdown. The Bears rank No. 30 in pass defense DVOA according to Football Outsiders. Jaylon Johnson, a very good corner, should shadow Diggs. Don't worry, A.J. Brown (16-9-181), Christian Watson (7-3-48-1), and Garrett Wilson (8-5-95-2) have all performed well against the Bears with a healthy Johnson largely in part of the NFL's divergence from playing man coverage and instead converting to playing primarily zone coverage.
But secondary receivers have lit up the Bears recently too. Devonta Smith just went for 8-5-126, and Allen Lazard went for 6-5-67 in Week 13. Davis has been quiet for the majority of this season, but he's ripped up good matchups. This is a good matchup. He's a solid DFS shot and an upside throw in semifinal matchups.
Also, Khalil Herbert has been designated to return to practice this week and could play in this game. Here's a reminder that from Week 6 to Week 10 alongside a healthy David Montgomery, Herbert averaged 68 yards of offense per game and 10.8 opportunities per game. He's top five in numerous efficiency stats on playerprofiler.com. Chicago Tony Pollard needs to be added in every league he's still available in and is a solid, cheap DFS dart throw despite playing against the No. 3-best rush defense according to Football Outsiders' rush defense DVOA metric.
New Orleans Saints vs Cleveland Browns (-3)
Over/Under: 32.5
Pick ATS: Cleveland Browns
Get ready for amateur weatherman hour! This game projects to feature a 45-percent chance of snow showers and 25-35 mile-per-hour winds. The Browns' stadium is built on a river too, so the wind really swirls in that stadium. Nick Chubb (foot) did not practice on Tuesday or Wednesday but did on Thursday and will play. The Saints rank No. 23 in rush defense DVOA, while the Browns rank No. 30.
Browns DVOA ranks with Brissett:

5th passing
4th offense

Browns DVOA ranks with Watson:

22nd passing
24th offense

— Gregg Rosenthal (@greggrosenthal) December 21, 2022
This has to be a smash spot for Alvin Kamara, right? If Chubb can go, he's in for one too. With the weather, how little the Saints have thrown the ball lately (Andy Dalton has thrown the ball more than 30 times twice in 11 starts), and the Browns' offense since Deshaun Watson has taken over, Kamara and Chubb or Kareem Hunt are the only players I'd want to start in this game.
Houston Texans vs Tennessee Titans (-3.5)
Over/Under: 36
Pick ATS: Tennessee Titans
Ryan Tannehill is likely to miss the game and possibly the rest of the season. Malik Willis threw 26 passes in two starts this season. The Texans rank No. 24 in rush defense DVOA and allow the most rushing yards per game (167.5). Derrick Henry has rushed for 211, 212, 250, and 219 yards in his last four games against the Texans. It's another Henry game.
Seattle Seahawks vs Kansas City Chiefs (-10)
Over/Under: 49
Pick ATS: Kansas City Chiefs
Do you know who gives up the No. 2 most rushing yards per game in the NFL? The Seahawks at 161.1 rushing yards per game. They also rank No. 28 in rush defense DVOA. I called for the big Isiah Pacheco game last week against the Texans, but Jerick McKinnon was the one who demolished with 30.2 points in half PPR scoring to Pacheco's 8.2. McKinnon is the more flexible start of the two because he will be on the field in passing situations. He has at least six targets in five of Kansas City's last seven games.
No one should be surprised if the No. 12-best offense in offensive DVOA keeps up with the Chiefs, and McKinnon sees the field more. But I'm still starting Pacheco everywhere I have him as I am with McKinnon. McKinnon's ceiling is higher, but this is still a great matchup for Pacheco. He could be a great DFS pivot option too with more people focused on McKinnon.
Also, only the Cardinals give up more points to tight ends than the Seahawks. George Kittle just scored twice on them last Thursday. Get ready for another Travis Kelce explosion.
New York Giants (+4) vs Minnesota Vikings
Over/Under: 48
Pick ATS: New York Giants
It's hard not to like this spot for Daniel Jones this week. Unlike many other games this week, the Giants are indoors. Minnesota's pass defense DVOA ranks No. 27, and they allow the No. 2-most passing yards per game in the NFL. The Vikings can score points too, and this game features the No. 3-highest over/under of the week. Daniel Jones also runs it 7.5 times per game which gives him Konami code upside.
Only Jalen Hurts, Justin Fields, Lamar Jackson, and Josh Allen have run it more than Jones has this season (105). Jones ranks No. 3 in true completion percentage (75.1-percent), No. 12 in QBR, and No. 11 in fantasy points per dropback (0.53) among quarterbacks according to PlayerProfiler.com. Darius Slayton and Isaiah Hodgins also are really good DFS darts and spot starts this week, but you can't ask for a much better situation than what Jones has this week.
Cincinnati Bengals (-3) vs New England Patriots
Over/Under: 41.5
Pick ATS: Cincinnati Bengals
The Patriots rank No. 3 in pass defense DVOA this season according to Football Outsiders. They also have conveniently played four of arguably the five best receivers in the NFL in the last four weeks. Here's how they fared:
Justin Jefferson Week 12: 11-9-139-1
Stefon Diggs Week 13: 9-7-92-1
DeAndre Hopkins Week 14: 11-7-79
Davante Adams Week 15: 9-4-28
Jack Jones has been a tremendous find by the Patriots this season, but they've had a hard time slowing down the best of the best (Tyreek Hill went for 12-8-94 in Week 1 too.). In the six games they've played a top-half offense according to offensive DVOA, the Patriots have gone 1-5 and given up at least 20 points in all but one of those games. Quarterbacks have averaged 243 yards per game and 2.17 touchdowns. This may not be a ceiling game for Joe Burrow, Ja'Marr Chase, or Tee Higgins, but they will be plenty fine.
Detroit Lions (-2.5) vs Carolina Panthers
Over/Under: 43.5
Pick ATS: Detroit Lions
I faded Amon-Ra St. Brown this season because I was worried about the increased competition for targets with the additions of Jameson Williams and D.J. Chark as well as the return of D'Andre Swift and T.J. Hockenson. Yes, boo me and throw tomatoes at my face. Williams just came back, Chark and Swift missed time this season, and Hockenson was traded. However, St. Brown played with Chark and Williams (still being eased back), and there have been minor ripple effects.
Amon-Ra St Brown Target Per Route splits:

Last two games – 21.2%
Previous 10 full games – 31.6%

It's happening.

— Fusue📈 (@DevyEusuf) December 20, 2022
Look, I'm done fading the sun god. Even during these last two weeks, he's put up lines of 9-6-68 and 10-7-76. The lower target rate could merely be an aberration. Also, the better the Lions' defense performs, the less likely Detroit could engage in shootouts. Perhaps he could dip into low-end WR1 or high-end WR2 status if the Detroit cast stays healthy, but it's clear and obvious Amon-Ra St. Brown is an elite target earner, so much so that the Lions deemed Hockenson redundant. St. Brown is still a safe WR1, and I have learned my lesson regarding fading him. However, it'll be interesting to see how he closes this season with the robust cast we assumed would be available for the majority of this season.
Atlanta Falcons vs Baltimore Ravens (-7.5)
Over/Under: 35.5
Pick ATS: Baltimore Ravens
J.K. Dobbins has averaged 14 carries and 122.5 yards since he returned from another knee surgery. Atlanta ranks No. 27 in rush defense DVOA. Dobbins is a must-start this week. Additionally, you're starting Mark Andrews no matter what even if he's had as many games with fewer than five receptions on the season as he's had with six or more (six).
Drake London ranks No. 7 in target share (29.3-percent) and No. 4 in target rate (31.5-percent)! Even then, it's still hard to get excited with rookie Desmond Ridder throwing it only 26 times, and London will see plenty of Marlon Humphrey. Tyler Allgeier broke out with 139 yards and a touchdown on 17 carries! But now he gets the No. 6-best run defense in rush defense DVOA, and Cordarrelle Patterson had a solid game himself (14-52-1) last week. I don't think there's anyone else I'm thrilled to start in this game but Dobbins. So I had to pump him up for the third straight week. Sorry, not sorry!
Washington Commanders vs San Francisco 49ers (-7)
Over/Under: 38
Pick ATS: San Francisco 49ers
San Francisco has given up over 20 points in a game twice this season, and one of those was against Patrick Mahomes and the Chiefs. Washington hasn't allowed more than 21 points in a game since Week 4. These are two top ten defenses according to defensive DVOA and two of the top four run defenses in the league. Charvarius Ward is the No. 5 corner in Cody Carpentier's cornerback rankings on PlayerProfiler.com. I wouldn't want to start any Commander but McLaurin this week. I love the under too. You're probably starting Christian McCaffrey, George Kittle, and Brandon Aiyuk too, but I'm not expecting a ceiling game from them either.
Philadelphia Eagles (+6) vs Dallas Cowboys
Over/Under: 46.5
Pick ATS: Philadelphia Eagles
With Gardner Minshew likely to fill in for Jalen Hurts this week (and possibly the rest of the season if the Eagles can clinch the 1 seed in the NFC), I have a sneaky suspicion that we're going to hear a lot from Kenneth Gainwell. Not just because Gainwell finished with 17.2 and 16.7 half PPR points in the two games Minshew saw extended run last year, but because Minshew is the best friend to receiving backs.
In the 14 games Minshew started or played in as a rookie in 2019, Leonard Fournette saw 81 targets or just under six targets a game. In 2020, James Robinson averaged 4.3 targets per game in Minshew's nine games (one of those games Minshew played just 51-percent of the snaps.). Gainwell averaged six targets per game in those two Minshew games last year. Granted, one of them was a game the Eagles rested their starters, but their opponent (Dallas) didn't.
Despite the limited playing time this season, Gainwell has 22 targets on the season to Miles Sanders' 24. Gainwell is the team's third-down back and the one on the field during their hurry-up and two-minute drill packages. If the Eagles do in fact trail, Gainwell could be on the field more. Less mobility at quarterback means more dump-offs through the air. I really like Gainwell as a DFS dart this week. He can be started in deep and desperate playoff teams too. 
Las Vegas Raiders vs Pittsburgh Steelers (-2.5)
Over/Under: 38.5
Pick ATS: Pittsburgh Steelers
Diontae Johnson is on the precipice of NFL history. He currently has 123 targets this season which is the No. 7 most in the NFL! Only Justin Jefferson, Tyreek Hill, Davante Adams, Stefon Diggs, Travis Kelce, and CeeDee Lamb have more targets this season than Johnson. And yet, Diontae Johnson still hasn't caught a touchdown. Per the folks at StatMuse, his 123 targets without a touchdown would be the most in a season without a touchdown in NFL history.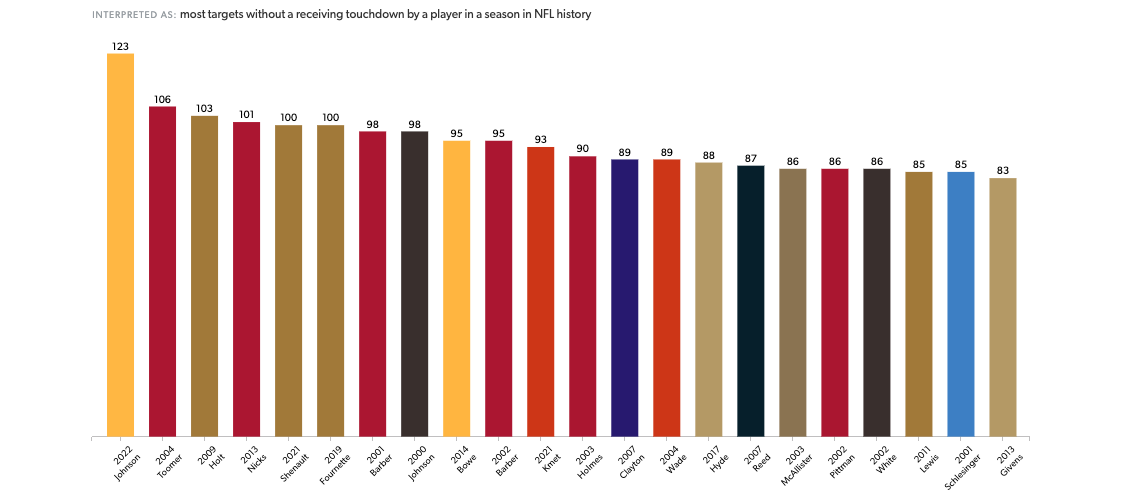 If ever there were a game to score, this would be it. The Raiders rank No. 31 in pass defense DVOA. They also allow the No. 8-most receiving yards per game (256.5) and are tied for the No. 10-most receiving touchdowns allowed (21). I'm calling it now: Diontae Johnson is catching a touchdown this week!
Green Bay Packers (+4) vs Miami Dolphins
Over/Under: 49.5
Pick ATS: Green Bay Packers
A.J. Dillon is closing the season strong. He has 11, 21, and 14 touches over the last three weeks and at least three receptions in all of those games. He's averaging over six yards a touch and has four rushing touchdowns in that span. What's crazy is that Aaron Jones only has two rushing touchdowns over the entire season. Jones still has more red zone touches on the year (34) than Dillon (20), but Dillon is always a factor to score once the Packers get close. Not only is Dillon seeing more work, but he is capitalizing on it. That wasn't the case at the beginning of the season. The Packers have finally found their identity as a run-first team where they've gone 3-2 in their last five games. I think both Jones and Dillon can have good games each this week too.
I also love Christian Watson again this week with the potential for a big play against the league's No. 26-ranked pass defense according to Football Outsiders' pass defense DVOA metric. It's also worth mentioning that the Packers' run defense made Cam Akers (12-65; 3-3-35) look like a star again and now gets Raheem Mostert fresh off a 17-136 game against the Bills.
Los Angeles Rams vs Denver Broncos (-2.5)
Over/Under: 36.5
Pick ATS: Denver Broncos
Latavius Murray went for 24-130-1 last week. Start him and literally nobody else but the defenses in this matchup. That's it. And for the love of God, please don't watch this slop. Please.
Tampa Bay Buccaneers (-7.5) vs Arizona Cardinals
Over/Under: 40.5
Pick ATS: Tampa Bay Buccaneers
The Cardinals rank No. 29 in run defense DVOA. That aforementioned Latavius Murray game last week was against these Arizona Cardinals. This is shaping up to be a good matchup for the evenly split Rachaad White and Leonard Fournette backfield. On the other side, Trace McSorley is the starting quarterback for the Cardinals. He has an intriguing rushing profile. He ran for 491 and 798 yards in his final collegiate seasons with 23 rushing touchdowns in that span.
With Kyler Murray's ACL tear occurring so late in the season, it's not out of the realm of possibility that McSorley is the starting quarterback for the Cardinals in Week 1 of 2023. He should be added in dynasty leagues in the chance he proves he's a competent quarterback and passer (TBD). I'm playing DeAndre Hopkins if I have him as well as James Conner, but it's just all so gross.
Los Angeles Chargers (-4.5) vs Indianapolis Colts
Over/Under: 45.5
Pick ATS: Los Angeles Chargers
What to do with this Colts backfield? Zack Moss played first over Deon Jackson even before Jonathan Taylor re-injured his ankle sprain. Taylor since has been placed on the IR; his season is over. Moss had 19 opportunities to Jackson's 14 before Jackson fumbled. Jackson didn't see the field again. They also were winning by a billion points and still managed to lose, so that could be a reason why Moss was playing so much.
Jackson is the preferred play to me. He's just so much better than Zack Moss. Jackson's 2.97 yards created per touch not only blows Moss' 1.67 out of the water but also ranks No. 18 among running backs. Jackson's been used as Indy's satellite back too despite his 5-11 218-pound frame with 4.47 wheels. Filling in for Nyehim Hines early in the season, Jackson caught all 14 of the passes thrown his way in Weeks 5 and 6. He has two other games with at least three targets on the year and caught a touchdown last week. Moss doesn't have a target since Week 3 when he was a Bill. I prefer Jackson to Moss this week and would start Jackson if he's available.
Good luck everybody in Week 16! And once again, Happy Holidays!