Height

6' 4"

Weight

208 lbs

Arm Length

32 3/4"

(76th)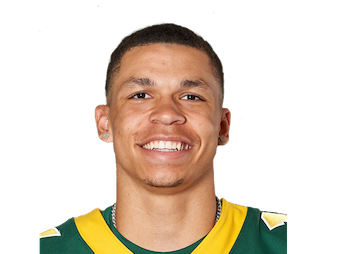 Draft Pick

2.02

2022

College

NDSU

Age

23.0
Workout Metrics
40-Yard Dash
Speed Score
Burst Score
Agility Score
Catch Radius
High School Workouts
40-Time
Speed Score
Vertical Jump
20 Yard Shuttle
Scouting Grade
College Dominator

College YPR

College Target Share

Breakout Age
Christian Watson Bio
Christian Watson was a 2-star prospect out of Tampa, FL. Right off the bat, he was listed as 6-2 175 coming out of high school and committed to North Dakota State. He redshirted his first year as a Bison. Watson immediately started to produce in his redshirt sophomore, putting up 9 receptions for 165 yards and 51 yards on special teams. Read More
Christian Watson College Stats
Year

Year

Games

Games

Receptions

Recs

Receiving Yards

Rec Yds

Target Share

Tgt Share

Catch Rate

Catch Rate

Special Teams Yards

Special Teams

Age

Age

School

School

2018

14

(WR)

9

(15 tgts)

165

(18.3 ypr)

5.2%

60.0%

-

19

NDSU

2019

16

(WR)

34

732

(21.5 ypr)

0.0%

0.0%

70

20

NDSU

2020

8

(WR)

18

437

(24.3 ypr)

0.0%

0.0%

338

(2 tds)

21

NDSU

2021

12

(WR)

43

801

(18.6 ypr)

0.0%

0.0%

227

22

NDSU
Christian Watson News & Analysis
Recent News
The Packers filled an offensive need by selecting North ...
Wide receiver Christian Watson out of North Dakota State ...
Player Popularity Index (PPI) ranks PlayerProfiler page views over the last 30 days. For example, the No. 1 PPI player page is the most frequently visited page in recent weeks.
Who is Christian Watson
The next year would be Watson's breakout year. The redshirt junior commanded 13 rush attempts for 162 yards and 1 touchdown. His longest run was 70 yards, which is evident because his breakaway speed on film looked absolutely superior to others around him. Along with rushing and receiving, he continued to contribute as a returner.
In 2020, the FCS did something weird which makes his stats look odd on paper. They had 1 game in the fall season before postponing the season until spring of 2021. He still produced through the air (437 yards), on the ground (116 yards), and on special teams (338 yards).
2021 was Christian Watson's redshirt senior season. Declaring for the draft after posting 43 receptions for 800 yards and 7 touchdowns. On the ground he rushed 15 times for 114 yards and 1 touchdown. Lastly, he had 11 returns for 227 yards. It's incredible seeing someone contribute in all phases, while acknowledging their heads and shoulders above the other players on the field.
Christian Watson declared for the NFL draft and was invited to the Reese's Senior Bowl. There he became an industry favorite because his growth in college from 6-2 175 as a freshman to 6-4 211 as a redshirt senior caused him to be a standout among other seniors from power 5 programs. There's a lot of upside with a guy like Christian Watson. Even if he can't jump into a receiver role immediately, he'll find a way to stay on a roster through being on special teams or a gadget guy that can take handoffs too.
Christian Watson was selected in the 2nd round of the 2022 NFL Draft by the Green Bay Packers. It's hard to steer people away from Watson after they've seen his game film and his play at the Senior Bowl. He's a small school guy who took awhile to breakout making him pretty risky.
News & Advice
Get Christian Watson news, rankings updates and draft pick advice, straight to your inbox!