Height

6' 0"

Weight

214 lbs

BMI

29.0

(28th)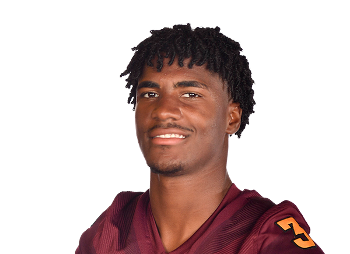 Draft Pick

3.27

2022

College

Arizona State

Age

23.4
Workout Metrics
40-Yard Dash
Speed Score
Burst Score
Agility Score
Bench Press
College Dominator

College YPC

College Target Share

SPARQ-x
Rachaad White Bio
Prior to Arizona State, Rachaad White made a few pit stops after attending high school at Center High in Kansas City, Missouri and being named first team All-State while totaling over 2,000 yards from scrimmage. Someone with such accolades, one wouldn't expect much issue in finding college to play at, wrong? White received minimal offers out of high school, and decided to attend division 2 Nebraska-Kerney where he redshirted, while talking to teammates that previously played at Mt. San Antonio in California, they only had positive things to say that helped push White to transfer after one season. After one season, 1,200 yards and 10 touchdowns at Mt. SAC it was time to move up again, this time maybe to the Division 1 level. Read More
Rachaad White College Stats
Year

Year

Games

Games

Rush Attempts

Rush Atts

Rushing Yards

Rush Yrds

Total Touchdowns

TDs

Receptions

Rec

Receiving Yards

Rec Yrds

Target Share

Tgt Share

Age

Age

School

School

2019

11

(RB)

199

1,264

(10 tds)

12

25

216

0.0%

20

Mt. San Antonio College

2020

4

(RB)

42

420

(5 tds)

6

8

(8 tgts)

151

9.2%

21

Arizona State

2021

11

(RB)

182

1,006

(15 tds)

16

43

(50 tgts)

456

16.0%

22

Arizona State
Rachaad White News & Analysis
Recent News
The Tampa Bay Buccaneers selected Arizona State running back...
Player Popularity Index (PPI) ranks PlayerProfiler page views over the last 30 days. For example, the No. 1 PPI player page is the most frequently visited page in recent weeks.
Who is Rachaad White
Insert UCLA, where Rachaad White gave his verbal commitment, and on Signing Day he was pulled away by former Mt. SAC linebacker, and New York Giants Super Bowl Champion, Antonio Pierce. Pierce was in his second season as the recruiting coordinator at Arizona State, he banged on the table not once, not twice, but three times for the Sun Devils to sign the now three time transfer. And it paid off, in 2020 Arizona State played just 4 games due to covid and White exploded onto the scene with 400 yards rushing in 4 games, including 158 yards and 2 touchdowns on 13 carries against Oregon State, and 133 yards and 3 touchdowns on 10 carries against Arizona. Fast Forward to 2021, White finally got the opportunity to put it all on the field. He rushed 182 times for 1,000 yards, and pulled in 43 receptions along with 16 touchdowns, finally Rachaad White reached the Top of the College game.
Rachaad White was selected in the 3rd round of the 2022 NFL Draft by the Tampa Bay Buccaneers. He joins a team that by all accounts revolves around one player, Tom Brady. With Leonard Fournette getting re-signed, White's value takes a hit. If Brady leaves after this season, his value tanks hard. He might have been the 3rd best running back entering the draft, but he's nothing more than a handcuff in 2022 with not much ceiling after Brady retires.
News & Advice
Get Rachaad White news, rankings updates and draft pick advice, straight to your inbox!