All the tools you need to build super teams
The promised land for dynasty leaguers and fantasy football keeper league enthusiasts unifies market demand data from thousands of leagues with PlayerProfiler's lifetime value engine. Dynasty Deluxe helps dynasty newbies and grizzled veterans navigate start-ups, slay rookie drafts, visualize dynasty football rankings, and improve dynasty dealmaking.
Dynasty and Rookie Rankings
Draft better, trade better with PlayerProfiler's always-updated dynasty league football rankings and dynasty rookie rankings. The dynasty rankings and dynasty rookie rankings feature the top-400 dynasty assets and assigns each player with a lifetime value rating, generated by our proprietary lifetime value engine. The engine estimates future fantasy output based on age, near-term player projections, and long-term positional production trends for dynasty league football.
The fantasy football dynasty rankings and dynasty rookie rankings include filters for superflex and tight end premium, dynasty league size and scoring format.
Draft Planner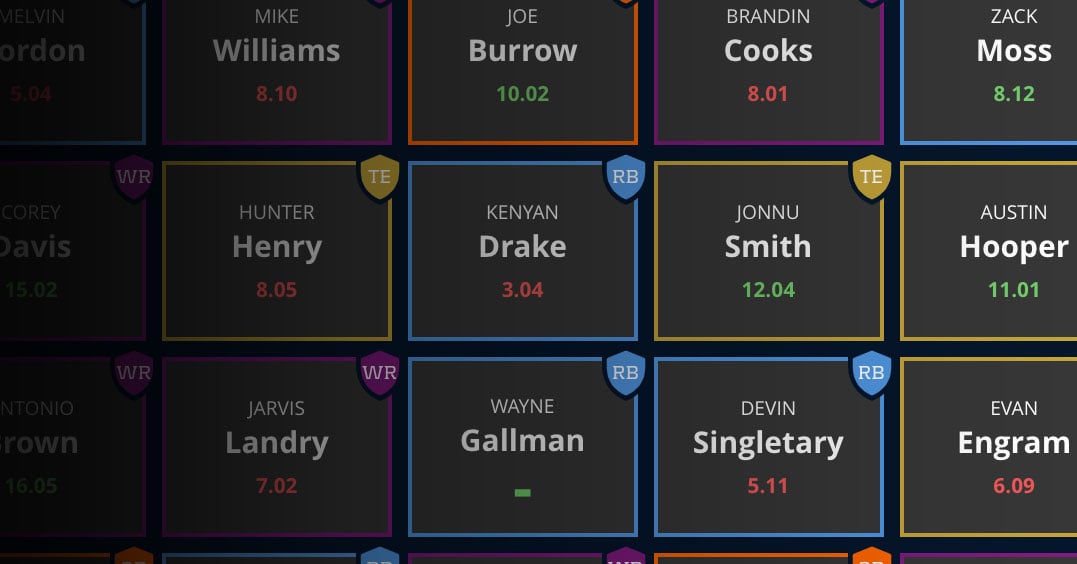 Optimize each draft pick by pairing our metrics-based player valuation system with market intelligence. The Draft Planner's draft board pairs projected lifetime values, fantasy football dynasty rankings, and MFL average draft position (ADP) values to pinpoint the best-value selections at each slot in a dynasty league draft.
Trade Analyzer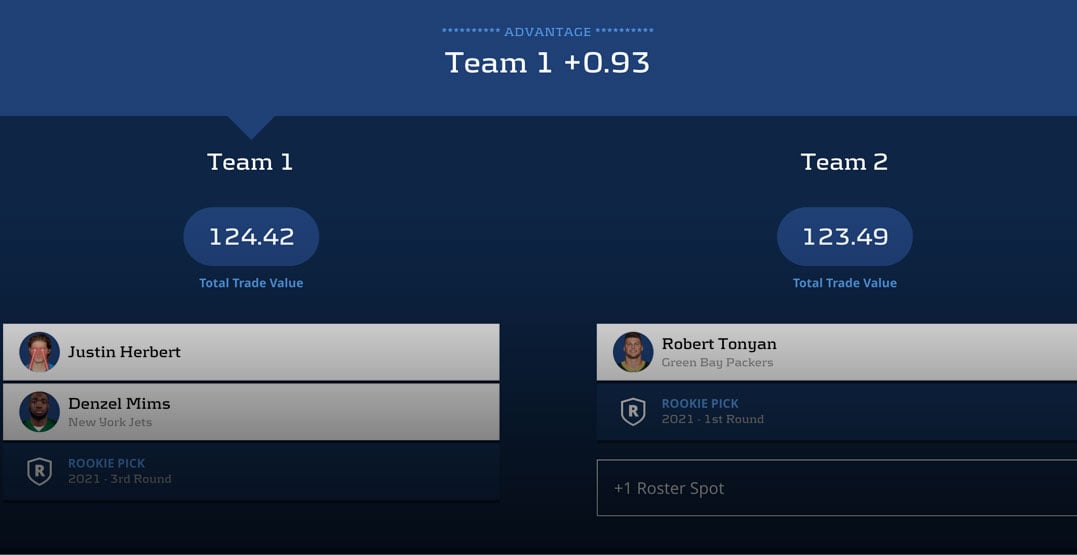 Build a super team with a constant stream of league-winning dynasty trades using RotoUnderworld's ground-breaking Trade Analyzer that accurately values future draft picks, rookie draft picks, free roster space, and prioritizes quality over quantity in fantasy football dynasty league dealmaking.
NFL Draft Big Board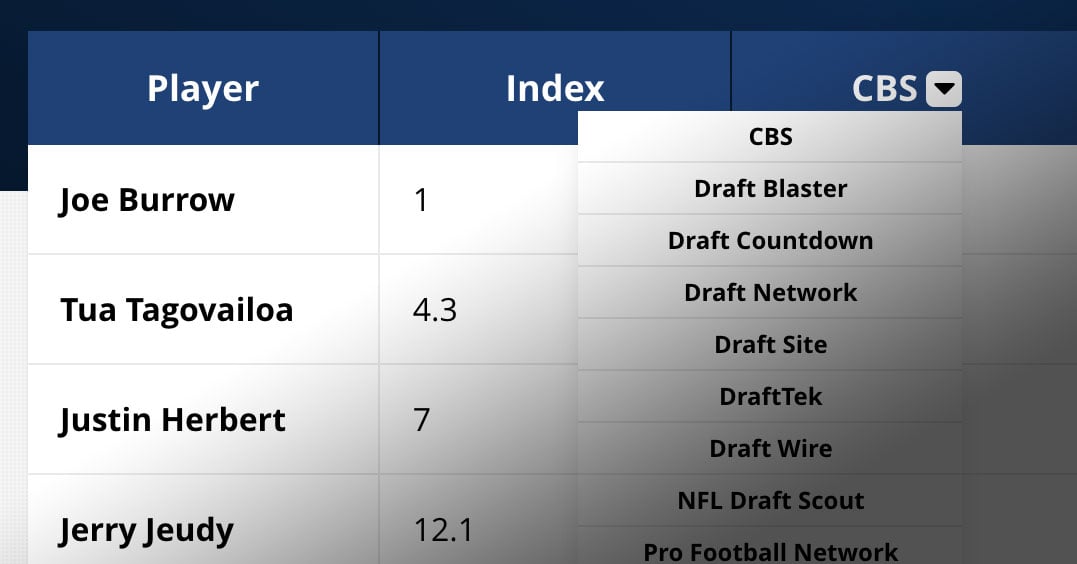 See where NFL experts project each draft prospect will be selected. We aggregate current mock draft results from 10+ reputable sports media sources.
ADP Tracker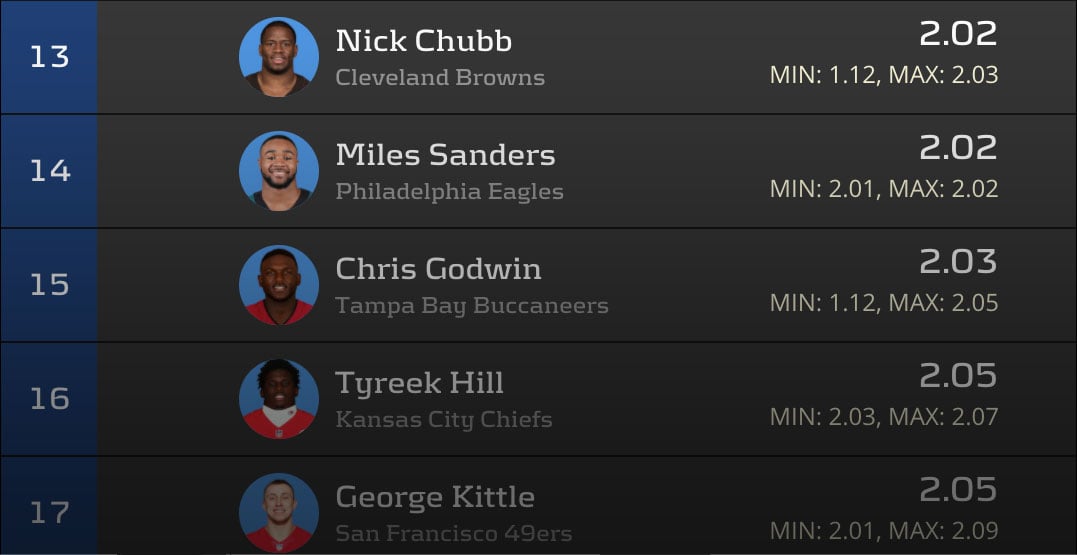 See real-time market demand for dynasty league football players. The ADP Tool augments dynasty rankings and dynasty rookie rankings by pulling draft positions from hundreds of maiden start-up drafts and dynasty rookie drafts on MyFantasyLeague. Filter by league type and size, time of draft, and scoring format. For example, Dynasty Deluxe users may look up average draft positions from 12-team, PPR Superflex leagues completed in the last 7 days.
Trade Finder
Access real-time market demand for your players and the players you covet. Our Trade Finder queries recent dynasty trades from thousands of dynasty leagues on the MyFantasyLeague fantasy football platform. Look up trades by player or draft pick and filter by league type (including superflex and tight end premium), size and scoring format.
Mock Drafts
Access start-up player values in the offseason and during the NFL regular season. The Dynasty Deluxe Team conducts mock drafts every month to provide critical visibility into player demand, especially in the critical months after maiden dynasty league start-up season has concluded.
Dynasty Dominator Guide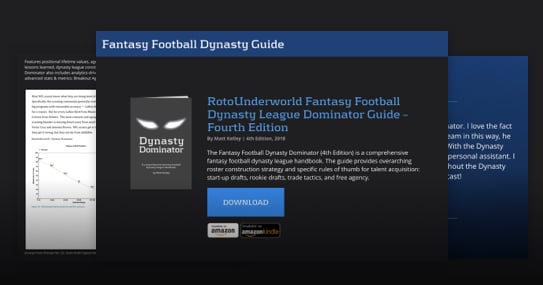 Go beyond dynasty rookie rankings to dominate start-up and rookie drafts and win more trades. The Dynasty Dominator is a comprehensive fantasy football dynasty league handbook that provides overarching roster construction strategy and specific rules of thumb for talent acquisition: start-up drafts, rookie drafts, trade tactics, and free agency.

Get it now
Subscribe to PlayerProfiler for immediate access.