Height

5' 11"

Weight

221 lbs

BMI

30.8

(68th)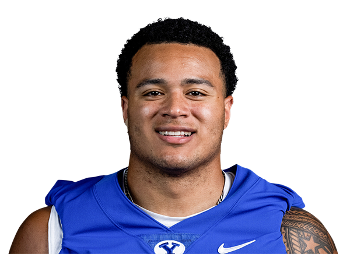 Draft Pick

5.08

2022

College

BYU

Age

22.2
Workout Metrics
40-Yard Dash
Speed Score
Burst Score
Agility Score
Bench Press
High School Workouts
40-Time
Speed Score
Vertical Jump
20 Yard Shuttle
Scouting Grade
College Dominator

College YPC

College Target Share

SPARQ-x
Tyler Allgeier Bio
Tyler Allgeier was a 183lb, zero star prospect coming out of Kaiser High School in Fontana, California where he totaled 2,470 rushing yards and 29 touchdowns as a senior, and over 5,000 yards in his career. In 2019, Allgeier redshirted for the Cougars and played in four games,accumulating 9 rush attempts, 2 kick returns, and 1 reception. Read More
Tyler Allgeier College Stats
Year

Year

Games

Games

Rush Attempts

Rush Atts

Rushing Yards

Rush Yrds

Total Touchdowns

TDs

Receptions

Rec

Receiving Yards

Rec Yrds

Target Share

Tgt Share

Age

Age

School

School

2018

4

(RB)

9

49

0

1

(3 tgts)

-3

0.8%

18

BYU

2019

11

(RB)

17

119

1

3

(5 tgts)

67

1.3%

19

BYU

2020

11

(RB)

150

1,130

(13 tds)

13

14

(19 tgts)

174

5.1%

20

BYU

2021

13

(RB)

276

1,601

(23 tds)

23

28

(39 tgts)

199

10.0%

21

BYU
Player Popularity Index (PPI) ranks PlayerProfiler page views over the last 30 days. For example, the No. 1 PPI player page is the most frequently visited page in recent weeks.
Who is Tyler Allgeier
The position change opportunity came around in 2019, when the depth at the linebacker position dwindled, Allgeier was the guy that came in and racked up 26 tackes, and .5 sacks while still receiving 17 rush attempts on offense and 3 receptions in the pass game. By 2020, Covid hit and a lot of teams missed the season or multiple games, not BYU. The Cougars played in 11 games as an FBS-Independent and that allowed Tyler Allgeier to unleash his bell-cow upside, rushing the ball 150 times for over 1,100 yards with 14 receptions and 13 touchdowns. His poor Combine showing has hurt his stock, but his utility might impress NFL coaches enough to get drafted.
Tyler Allgeier was selected in the 5th round in the 2022 NFL Draft by the Atlanta Falcons. Allgeier was not considered to be very fast or explosive, but he has less competition than other running backs. Patterson might resume his wide receiver and running back hybrid role, but when he gets hurt, it's all Allgeier. He's an upside handcuff in 2022 redraft with a chance to be a real starter.
News & Advice
Get Tyler Allgeier news, rankings updates and draft pick advice, straight to your inbox!