Welcome to the Best Pick 'Em Player Props: Week 16! With NFL games all weekend and fantasy football championships at stake, let's not forget there is value all over DFS sites in player prop over-unders. Welcome back to my written series on the NFL's best pick 'em player props of the week. As usual, I will review selections from the previous week, then give out my favorite player prop pick 'ems for the upcoming weekend on the DFS pages of Underdog Fantasy and Sleeper.
In each article, I'll explain why I see value in the selected props. I will also accompany the article with at least one sample slip. Players who want to tail the picks can head over to the designated platform and join either Underdog or Sleeper using promo code UNDERWORLD for a full deposit match of up to $100.
Players who want to get a head-start building their pick 'em cards earlier in the week can also visit PlayerProfilers' DFS Dominator tool and navigate over a dozen prop leans by me and some other staff. Anyone can do this a day or two before I reveal my final picks in this article. These picks will be located in the Underdog Pick Generator on the website.
Week 15 Review
We went after a potential Saturday shootout in Minnesota and somehow fell short despite getting an offensive showcase. Then, we went after a three-legger on Sunday that ended up missing thanks to some of the grossest offensive football we saw on the slate.  Last week's final wagers can be viewed in this article.
Week 15 Underdog play: Michael Pittman over 5.5 receptions | Adam Thielen over 4.0 receptions
We were hoping for offense in this game, and boy, did we get points. Michael Pittman was the alpha on a Colts offense that got off to a fast start. He finished the historic contest with 10 receptions on 14 targets for 60 yards. The volume has been reliable for Pittman with Ryan at quarterback. He now has at least six targets in ten of his 11 games with Ryan under center and at least six receptions in seven of those games.
However, Thielen saw a great game from cornerback Isaiah Rodgers who nearly took the Minnesota No. 2 wideout completely out of the contest.
Since 2017, Adam Thielen has had ONE game with a 10%+ snap share and less than 3 targets: 2018 Week 15.

Through 3 quarters today, he has more tackles (1) than targets (0). Today's Thielen over might be single worst read on a prop this season in the #NFL. pic.twitter.com/SZAQgkHKtN

— Ahaan Rungta (@AhaanRungta) December 17, 2022
Thielen found fantasy relevance late as he finished the game with three receptions on four targets for 41 yards and a touchdown.
Week 14 Underdog play: Travis Kelce over 0.5 receiving touchdowns | Samaje Perine over 11.5 rushing yards | Cade Otton over 23.5 receiving yards
We found an individual leg we thought was a great value with Travis Kelce to catch a touchdown. However, it was nearly the most stunning upset of the season as the Texans took the Chiefs to overtime. This was thanks to a disappointing offensive showing from Kansas City and their passing game. Kelce caught all ten of his targets and surpassed 100 receiving yards. However, the Chiefs had trouble getting to the end zone. Kelce never even got a red zone target and did not score which killed the three-legger early.
Meanwhile in Tampa Bay, despite the Buccaneers getting off to a fast start on offense, they were quick to blow a multi-score lead. As a result, we got a game script favorable to our two legs. One where Tampa Bay would have to play from behind. Indeed, they gave up 24 rushing yards on seven carries to Samaje Perine (who actually led the team in ground production).
However, rookie tight end Cade Otton was one of the biggest disappointments of fantasy football. Despite participating in 58-percent of the routes, he drew just one target all night and caught that ball for 20 yards. This was a puzzling disappearing act in a puzzling offensive struggle in Tampa Bay.
Week 15 Legs: 2-3; overall +1.00u

YTD: 33-33-1; -2.00u
Week 16 Picks
If you are new to player prop pick 'ems, we recommend learning about them through our beginner's guide article. Here, we preview some profitable strategies and when to use insurance. Again, we are going all-in on our three-leg play since it is strictly more profitable than taking the insurance method.
Both plays for Week 16 involve correlation, utilizing an effective strategy. That strategy is to get positively-correlated legs in a game for the same price as independent outcomes. With legs within an entry positively correlated with each other, we're making fewer bets to hit two legs than if we bet on two separate independent events. We will start with a three-leg Underdog play spanning two games during the Saturday afternoon block.
Pick No. 1 (Underdog): Derrick Henry (TEN) OVER 0.5 rushing TDs
The alpha running back is juiced to score an "anytime touchdown" at around -150 on sportsbooks, rightfully so, and we're getting to use it as a pick 'em leg. Derrick Henry has eight red zone targets over the last two weeks, and he's scored a touchdown in each contest. With Malik Willis at quarterback instead of Ryan Tannehill, Henry will be Tennessee's only elite threat to find the end zone against a Texans defense that has given up the most rushing touchdowns in the league to running backs. Additionally, the Texans rank No. 24 in the NFL in rush DVOA, per Football Outsiders.


In Willis' two starts this season, Henry has scored four touchdowns, and we just need him to run one in with the Titans' implied Vegas team total at 19.25 points. Henry has scored in seven of the 10 games where the Titans have scored at least 17, averaging exactly one touchdown per game in those contests—all of the rushing variety. Taking Henry's prop allows us to pair the following teammates playing in a different game.
Pick No. 2 (Underdog): D'Andre Swift (DET) OVER 32.5 rushing yards
D'Andre Swift has cleared this line in only four of the nine games this season where he didn't exit early due to injury. However, Week 16 provides him the perfect matchup to clear this number sweat-free.


In what is projected to be a tight battle where the Lions are expected to play from ahead (2.5-point favorites), Swift should be involved chewing the clock. Swift will be using his dynamic athletic profile against a Panthers defense that ranks No. 21 in rush DVOA and has allowed the No. 9-most rushing yards and No. 9-highest yards per carry to running backs this season. This number is also set a yard or two higher on sportsbooks, so we will gladly sip some additional value on this pick 'em leg.
Pick No. 3 (Underdog): Jared Goff (DET) UNDER 2.5 rushing yards
If Swift and his backfield partner Jamaal Williams are effective on the ground, as we expect, we won't see Goff scramble in the pocket too often. When he does drop back to pass, he might not have many difficulties ripping it in the air against a Panthers pass defense that is also weak (ranking No. 21 in pass DVOA).

In particular, the Panthers' 31.5-percent quarterback pressure rate ranks No. 20. Additionally, we are getting a free discount of a yard here since the line is set at 1.5 rushing yards on most books.
Pick No. 4 (Sleeper): Trace McSorley (ARI) UNDER 190.5 passing yards
We have to wait till Sunday Night Football for this two-leg same-game stack. The game script we are going after: the Tampa Bay Buccaneers to right the ship and play from ahead but in a low-scoring grind.

Vegas has the game total set at 39.5 points with Tampa Bay sitting as 8-point favorites. That makes Arizona's implied 15.75 team total one of the lowest of Week 16. This is rightfully so since they have Trace McSorley at quarterback who has not proven he is anything but a rushing gadget in the NFL.
Trace McSorley this season:

👨‍🏫 29 pass attempts
👨‍🏫 3 interceptions
👨‍🏫 1 completion of 20+ yards
👨‍🏫 220 air yards, 166 passing yards

🎯 5 targets for Hopkins (2 games)
🎯 2 targets for Marquise (2 games)

👨‍🏫 5 carries
👨‍🏫 34 rushing yardshttps://t.co/orGlRzdxYO

— Ahaan Rungta (@AhaanRungta) December 21, 2022
The former-sixth-round pick has used his elite athleticism to be involved in run designs for the Cardinals. However, his 57.7-percent true completion percentage coupled with three interceptions on just 29 pass attempts this season means the Buccaneers' defense should have no problem regaining position for their offensive unit via three-and-outs and turnovers.
This season, Tampa Bay has allowed the No. 6-fewest passing yards to quarterbacks. Therefore, nearly 200 passing yards sounds ambitious even in a potential garbage-time window for McSorley.
Pick No. 5 (Sleeper): Mike Evans (TB) UNDER 56.5 receiving yards
If our game script holds, and Tampa Bay indeed plays from ahead in Week 16, they shouldn't be extremely encouraged to pass the ball often. Even though the Cardinals' secondary is banged up, Mike Evans will still draw a solid player to line up against him in Marco Wilson.

On PlayerProfiler.com, Wilson's +15.4 coverage rating ranks No. 16, and he has allowed fewer than 35 yards on his own coverage in four straight healthy games. Evans has been inefficient this season and has only surpassed this receiving yard line twice in his last six games.
Example Slips
If you want to tail these picks verbatim, these are our recommendations. Play these player prop pick 'ems:
0.5u wager on a play with the 3 Underdog picks, using

all-in

payout; profits 2.5u if both picks hit

0.5u wager on a play with the 2 Sleeper picks; profits 1u if both picks hit
Your entries should look like this.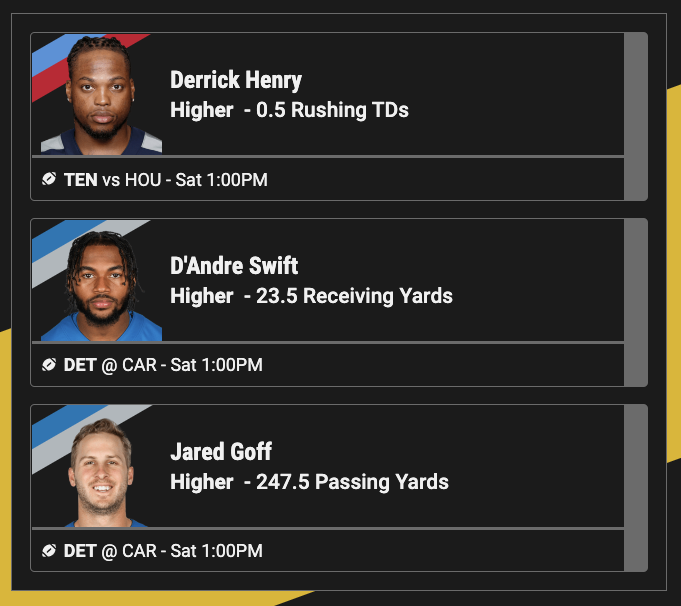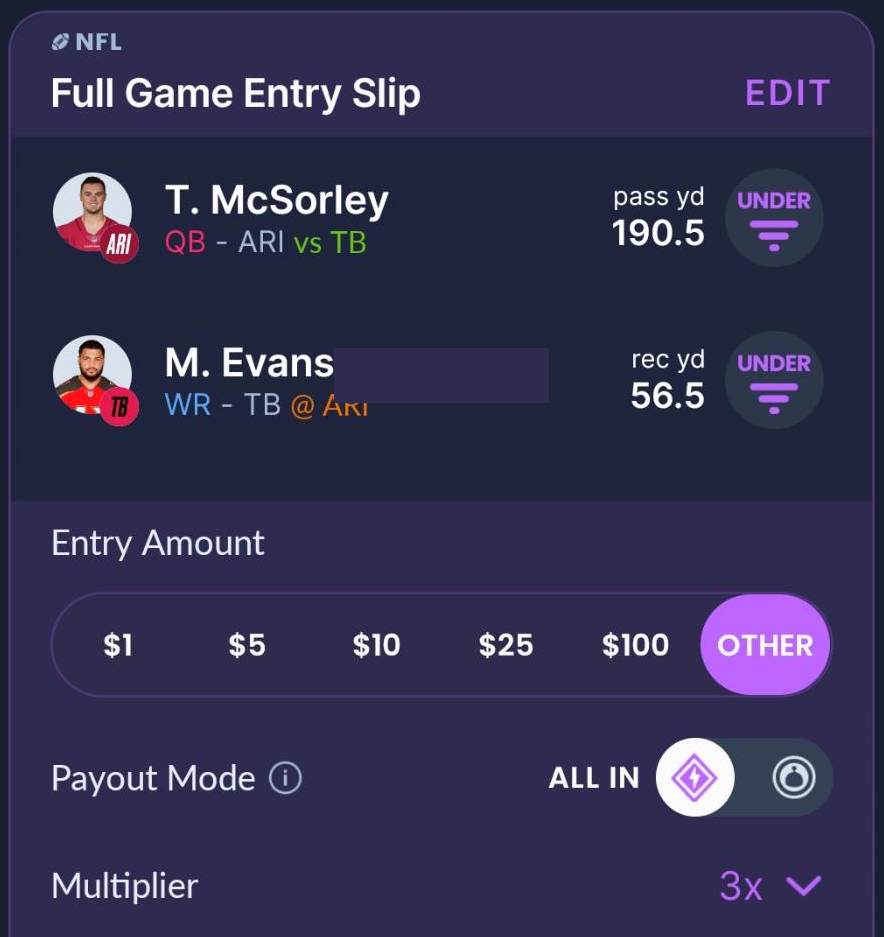 To read more about wagering player props and how to find edge, you can check out Seth Diewold's Beginner's Guide to Prop Betting. To get a deposit match up to $100 on either of these sites, use promo code UNDERWORLD upon entry.