Have you ever played Dungeons and Dragons?
If not, have you gotten together with your friends to enjoy an evening of wild twists and turns which must be out of a make believe world? Like the world-famous role playing game, the 2022 NFL Draft was a sprawling, unpredictable fever dream which created new opportunities and fearsome battles every time Dungeon Master Goodell walked onto the stage.
Unlike Friday nights with your dragon-slaying friends, the NFL draft is closer to a zero sum experience. There are winners, and there are losers. In this article I wanted to highlight nine selections or transactions from the NFL draft which produced a different flavour of ramifications for involved parties. I present to you the NFL Draft Winners and Losers Alignment Chart. The classic chart from Dungeons and Dragons (below) pawns memes to this day. I will classify nine draft picks or trades along this chart and analyze the fantasy fallout from each.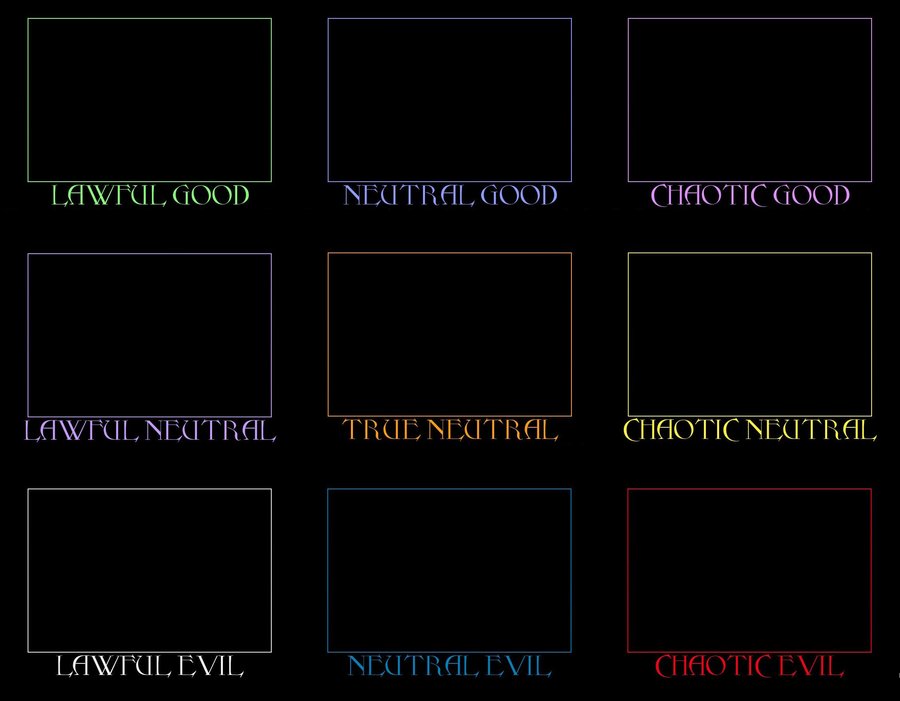 TRUE NEUTRAL: Round 1 Wide Receiver Selections
Many have leapt to take-having on the various wide receiver selections from night one of the draft. This is a futile exercise. When analyzing a landing spot, what are we looking for? In my view these are most important factors for a wide receiver:
Quarterback Play
Team-Level Pass Volume
Scheme-Fit
Target Competition
We know each of these is highly variable, which is why I am dubious of large adjustments of rankings due to landing spot. In the tweet below, you can see how volatile team-level pass volume is year-to-year. Much of it is explained by defensive performance and Game Script, and adjusted when personnel or coaching staffs change.
Lots of condescending tweets over the past couple days about "target share stans" as if it's some ridiculous derivation.

This absolute MESS is team pass attempts year over year. Good luck building projections for that.

This is why rate states such as target share matter. pic.twitter.com/00KYb1ni21

— Nelly (@aNellytics) January 26, 2022
Scheme fit is, of course, tied to a coaching staff which is variable as well over the course of a receiver's career. Lastly, one needs only to revisit the number of blockbuster trades this offseason to grasp the pitfalls of target competition arguments. Even putting aside the fact your Target Share is most determined by your ability to earn targets, the degree to which receiver rooms add and lose players must be accounted for when factoring target competition into your analysis.
These Quarterbacks Suck
This leaves us with quarterback play. For Skyy Moore, we can make this a legitimate factor in his ranking. We know that if he hits his ceiling, he is likely locked into elite quarterback play at least for his rookie contract. But for the round one receivers, we can make no such determination. Here are their 2022 quarterbacks:
Outside of Wilson, I doubt you'd bet more than even-money any of these passers is starting for their current team in 2023. You can make an argument Treylon Burks has the easiest path to immediate target volume, but I would counter that with Tennessee's years-long commitment to a run-first scheme. Will the Jets and Falcons implement run-heavy schemes their offensive coordinators came from? Will their defenses even allow them to try? There is so much uncertainty regarding the long-term stability of each situation, I recommend against adjusting your pre-draft rankings of these six receivers.
LAWFUL NEUTRAL: Breece Hall to the Jets
Sometimes we need law and order to be restored. Workhorse backs with size, speed, athleticism and pass-catching ability are to be unleashed as league-winners. Undersized, slow satellite backs are to be left on the benches of fantasy and NFL teams respectively. Michael Carter had moments last year, but those drafting a day three change-of-pace back as their RB2 were whistling past the graveyard.
Breece Hall is the clear cut RB1 and 1.01 in all rookie drafts. In fact, he sits as my RB6 overall in dynasty and the only elite rookie option at a position of scarcity. When we get the inevitable wave of 'Carter will take more work than you think' tweets, I suggest you just keep buying. It would not surprise me to see Carter work in passing downs to open the year and possible even have a portion of carries. But this will not be a long-term arrangement. Like round two backs D'Andre Swift and Jonathan Taylor before him, Hall will take over a backfield sooner or later and deliver RB1 production when he does.
I would be willing to part with an early second on top of the 1.02 in this class to select Hall.
CHAOTIC NEUTRAL: A.J. Brown's Dynasty Value
A.J. Brown is cursed. Brown's Target Rate (targets per targeted pass attempt) only trailed Antonio Brown, Davante Adams and Deonte Hartyy in 2021. There is zero doubt about his ability to command an elite share of volume when on the field. What has always held him back from realizing his potential is health and a team-level commitment to #EstablishingTheRun. When rumours of Brown being traded began I thought there was no possible location which could be a downgrade. However, should such a place exist he now plays there.
The Eagles finished last year fourth-to-last in pass attempts per-game, 1.3 per game beneath the Titans. However, their season was one of two parts. In the first month of the season, they were the most pass-happy team in the NFL. I expect the 2022 Eagles to be somewhere in the middle of these extremes. We have little data on Nick Sirianni as a play-caller, but we do know Philadelphia is analytically-focused and have been a pass-first team for most of the Howie Roseman era. Their early season pass-rate tells me it's their preference to throw the football. Sirianni smartly adjusted to the strengths of their personnel in the second half of the year.
The Eagles are 1st in neutral pass rate in 2021, and the Bengals were 7th if we only look at last week. pic.twitter.com/YtnljiiiKg

— Winks (@HaydenWinks) October 4, 2021
Fly Eagles' Football Fly?
In 2022 they spent two premium draft picks and $100M to change their personnel. They've now spent up to $157M on A.J. Brown and Dallas Goedert's extensions in addition to the 2021 No. 10 overall pick on Devonta Smith. Meanwhile they added only UDFA Kennedy Brooks to their running back room. Philadelphia wants to #EstablishTheThrow in 2022 so long as quarterback Jalen Hurts is capable of supporting it. I do not know if that will be the case, but I staunchly believe by 2023 and beyond, either Hurts will be leading a high-octane passing offense or a new pivot will be wearing Eagles green on Sundays.
The combination of possible increased-volume but increased target competition likely renders Brown's value the same as it was before. However, with many projecting low-pass volume for the Eagles he may become a buy overall.
NEUTRAL GOOD: Chiefs and Packers drafting Day 2 Wide Receivers.
While the Round one receiver landing spots were uninspiring, day two told a different story. Two of the most discussed receiver prospects in the class hit the lottery day two in Skyy Moore and Christian Watson.
Both are, of course, draft winners, but so are any dynasty managers with mid-late round one picks. If not for these picks, the lack of elite quarterback options would thin out rookie drafts quickly. Moore, in particular, is a player I am thrilled to draft even with a mid-first.
There are 3 typical buckets:
– 4 year, consistent producer: big hit (Hilton), some ok players (Sutton, Gallup, Davis), some whiffs (Taylor, Quick)
– Low or Late production: (Smith, Henderson, Eskridge, Perriman, Miller) .. BAD bets
– Early producer Early declare (rare but good) pic.twitter.com/c93KOi0wEU

— Jakob Sanderson (@FF_RTDB) April 4, 2022
As you will see if you read my twitter thread above, Moore checks a lot of boxes. The one question mark is his level of competition coming from Western Michigan. However, analyzing other group of five receivers over the past decade, it seems the same patterns which apply to power five prospects apply here as well. Production, draft capital and declare status still provide a massive signal. It's less that small-school prospects fail at a higher rate, and more that most small-school prospects profile like prospects who generally do not succeed.
So essentially… with the limited sample lately… G5 players perform about the same as regular players:
– Early producers who declare early are good, late producers who declare late are bad, consistent producers who declare late are volatile
– The first group is just more rare

— Jakob Sanderson (@FF_RTDB) April 4, 2022
Moore joins only Ashley Lelie and Davante Adams as three-year players from the group of five drafted by round two in the last 20 years. He has already entered such rarified air, I believe we should trust his impressive production profile and draft him.
LAWFUL GOOD: Wan'Dale Robinson Goes Round Two
This is my article and therefore I make the laws. And by royal decree I hereby demand we treat SEC-super-producers with more respect. Wan'Dale Robinson's production profile is among the best in the class, and he profiles quite favourably with other recent diminutive, highly-drafted, productive receivers.
Give me Wan'Dale in the first two days of the draft and I'll never ask you for anything else again @ NFL GMs pic.twitter.com/E8NKsMYK3U

— Jakob Sanderson (@FF_RTDB) March 22, 2022
As I mentioned in my recent podcast appearance with Matt Kelley, there simply isn't a wide enough pool of players under 5-9 with the draft capital and production Robinson offers. While the former Wildcat dropping to Round 4 was plausible, disaster was averted and he went in round two to the New York Giants.
This is the type of bet you need to be making in the mid-late second round of your rookie drafts. Below is a full list of early declare wide receivers 5-10 or shorter drafted the first two rounds since 2012. Similar to the group of five early declare list, it is a short one. Unsurprisingly, the productive college players have had the best NFL careers. While there is valid concern over Robinson's ability to play wideout in the NFL, if you move past his height his profile is the opposite of an outlier to project NFL success.
CHAOTIC GOOD: The Hollywood Brown Trade
Unlike the A.J. Brown deal, this trade only brings about fantasy goodness. The Ravens were setting up similarly to the Eagles as a team with three legitimate options but fears over passing volume. Now 145 targets just left town, easing the pressure on Mark Andrews and breakout-candidate Rashod Bateman.
Marquise Brown ranked No. 12 in the league in Target Share last year and now gets his chance to convert that volume into elite fantasy production. Especially with DeAndre Hopkins suspended the first six games of 2022, Brown lands on a much shallower depth chart in Arizona than Baltimore, but more importantly moves from a team who has passes at a much more frequent rate. Brown has a legitimate chance at a WR1 season.
How frequently did each team pass in early-down situations in 2021 vs 2020?

This chart excludes garbage time & the final 2 minutes of each half!

A few observations:

▫️ Bucs pass rate improved by 6.2 % pts
▫️ Steelers more balanced this year
▫️ Bills remain pass-heavy in 2021 pic.twitter.com/2ArkxTc31G

— Marvin Elequin (@FF_MarvinE) January 15, 2022
The law of the conservation of targets also favours the Baltimore Ravens options. Bateman was a phenomenal prospect, but due to injury and a crowded pass-catcher group, he did not fully breakout his rookie year. His ceiling now massively increases. I would be willing to trade up to the 1.06 in rookie drafts for Brown, and the 1.08 for Bateman.
NEUTRAL EVIL: The 2022 QB Class
We knew coming into the NFL Draft the 2022 QB class was not viewed highly. But betting markets, media and fantasy-games did not predict just how far they would fall. Below, Adeiko has created a fantastic ADP chart of early rookie draft data. Quarterbacks are being drafted too highly.
Since most Rookie drafts are already in the third round, here is an update on all the ADP that I've collected this month. In total it has 423 Suplerflex Rookie Drafts and 53 Supleflex Startups since April 30. 🧵 Thread 👇 1/9 pic.twitter.com/duypKwTRbu

— Adeiko (@Adeiko_FF) May 3, 2022
It's important to remember the NFL drafted the second tier of pivots in 2022 later than Kyle Trask, Kellen Mond and Davis Mills last year. You were routinely drafting these players in the third or even fourth round of rookie drafts. Malik Willis, Desmond Ridder and Matt Corral are being drafted higher than even first and second rounders Jordan Love and Jalen Hurts in 2020.
ADP is volatile and this is a weak class overall. Even I have drafted one Malik Willis share (at the 2.06) and a couple Desmond Ridders in the later second. However, these quarterbacks climbing boards without support of draft capital is creating value on superior options. Do not take a Round 3 quarterback over Jahan Dotson. Take Day two backs and receivers with strong profiles such as David Bell, Wan'Dale Robinson, and Rachaad White over the quarterbacks in most cases. Especially if you want production in 2022.
Assessing the Quarterback Landing Spots
Of the three quarterbacks taken in round three, my preferred option is Desmond Ridder. While not as mobile as Malik Willis, Ridder has a strong rushing profile, compiling over 500 rushing yards in three seasons. He also plays on the team with the worst projected record in 2022, thus giving the team the most incentive to play him. I expect a Davis Mills situation where he gets a half-year audition, and should he acquit himself well, maybe he remains the starter into year two of their rebuild throwing to Kyle Pitts and Drake London.
Matt Corral may also play in year 1. But should the Panthers go belly-up, it is likely a whole new regime is in place for 2023 with no ties to their day two pick in Corral. Willis is in a challenging spot. Tennessee, and Ryan Tannehill himself, is likely too good to outright tank. It's hard to envision Willis then starting games in 2022. Even if Tannehill is released following the year, would they really trust Willis as their Week 1 starter in 2023 without any game tape? It's a murky path, albeit with a high upside fantasy prospect.
If I'm taking Willis, I'm looking to sell at any point in which market sentiment tilts toward him starting games in 2023. The same anchoring that buoys his ADP may help his resale value later on.
LAWFUL EVIL: The NFL Devaluing Running Back
For two straight years, only three running backs are off the board in the first 90 selections. For fantasy purposes this makes our lives very difficult. Teams investing less at the position creates more backfield meritocracies and builds in further risk to the first backs off the board in your rookie draft.
Referring back to the ADP I showed earlier, it takes an early round two pick to select Rachaad White and Dameon Pierce: profiles I like, but who have zero insulated value as a late third and fourth round draft choice. While this places a lot of stress on rookie drafters, it is a sharp move for NFL teams and breathes life into several veteran options.
Pierce and Tyler Allgeier were two backs I liked coming into the draft. They have size and demonstrated pass catching ability, which are the two qualities I value most in late round options. However, should the emptiness of their depth charts buoy them too far past their value, it may be time to pivot to veterans who have shown more but have hurt the feelings of fantasy managers.
Under-The-Radar Winners
A big winner from the NFL Draft is Miles Sanders. The Eagles have not signed an outside free agent nor drafted a running back, meaning his only competition seems to be in-house incumbents and UDFAs. Sanders has always been efficient on his touches, albeit buoyed by the big play. If he can stay on the field, and finally start finding the endzone, he could be one of the best values right now in all formats.
Another backfield which is a winner all around is Arizona. In 2022, Chase Edmonds and James Conner played to a near-even split when both were healthy. However, the backfield as a whole was a goldmine, producing over 25.0 combined Fantasy Points Per Game to running backs. The combination of pass-work and goal line touches makes Arizona among the league's best fantasy environments for its backs. I want access to all three options currently available to me at their market cost.
James Conner has the upside of being the bellcow he was in Edmonds' absence last year. Both Round six pick Keaontay Ingram and Eno Benjamin have all-phases skillsets as well, and are available for free in all league formats. We don't know whether Conner will be given the every-down role, and if he is not, either back could capture 30-percent of touches in a high-value backfield. Even if Conner is an every-down player, he has an extensive injury history, and the handcuff to this backfield is worthy of stashing. The Cardinals profile to me as the 2021 Chargers. Their backfield will have lots of value but because the depth chart behind the lead option is murky, their handcuffs are under-priced.
Only the Titans, Patriots and Colts had more cumulative PPR points to the Running Back Position than the Cardinals in 2021.

All three of Conner, Benjamin and K Ingram are values in all formats.

— Jakob Sanderson (@FF_RTDB) May 4, 2022
CHAOTIC EVIL: The Seattle Backfield
I've discussed several backs so far, but I want to dive into the presumptive 1.02; Kenneth Walker. His profile has high peaks, but serious valleys. He amassed a 99th-percentile College Dominator Rating in 2021, but throughout his career, he never had more than a 6.0-percent share of targets or receptions, or a 3.0-percent share of receiving yards. I've discussed the details of his receiving profile in a previous article. But I also think his rushing profile is worth dissection.
In 2020, Walker's second year, he played alongside Christian Beal-Smith at Wake Forest, who was in year three. Beal-Smith out-carried and out-gained Walker while being the more efficient back. Walker became an efficiency and volume monster after transferring to Michigan State, but it concerns me when the entire profile is contingent upon being an elite rusher, and the elite rusher moniker is granted only due to a one year sample.
Rashaad Penny was also an efficiency monster in 2021, and is first-hand evidence of Seattle's ambivalent approach to draft capital. I expect Walker to take over lead back duties as the modal outcome, but a messy committee or even Penny remaining lead back is within his range of outcomes. The question marks in Walker's profile, along with the rest of the class and their limited draft capital, make me cautious of all running backs beyond Breece Hall.
The Final Word
This has been a long and sprawling article but I'll have more focused takes on several situations over the course of the off-season. Make sure to keep up with our work at PlayerProfiler as we help you extract as much value as possible out of your rookie drafts.