The NFL season fast approaches, as does drafting with your home leagues and best friends. Over the last few weeks, I was able to round up most of the Underworld for an Underdog Best Ball League. Below I will recap our draft, tell you where I think people went wrong and right, and give you a projected WINNER for the 2021 season.
The 2021 Underworld Staff/Writers Best Ball League
The Underworld gang has gathered for yet another mock draft. This time on Underdog and with a few dollars on the line. It has now been three months since the rookies were drafted, we have made it through OTAs, and training camp has opened. Other iterations of this article series have provided some individual analysis by each participating drafter. Today I will recap some rounds, some teams, and some picks that shocked me or that were great values.
Below is the Order we drafted: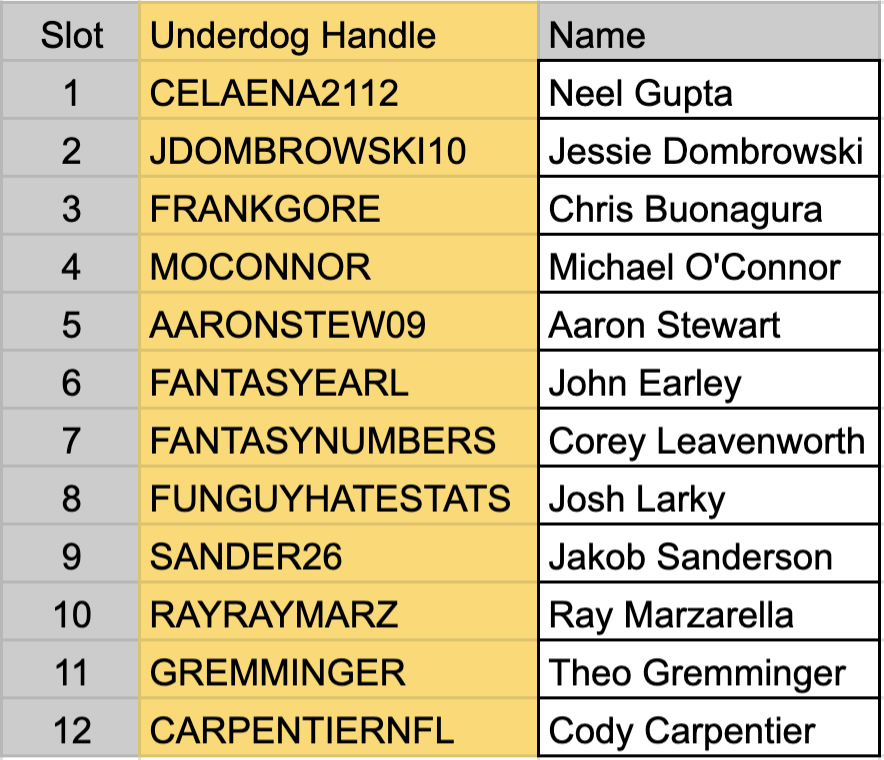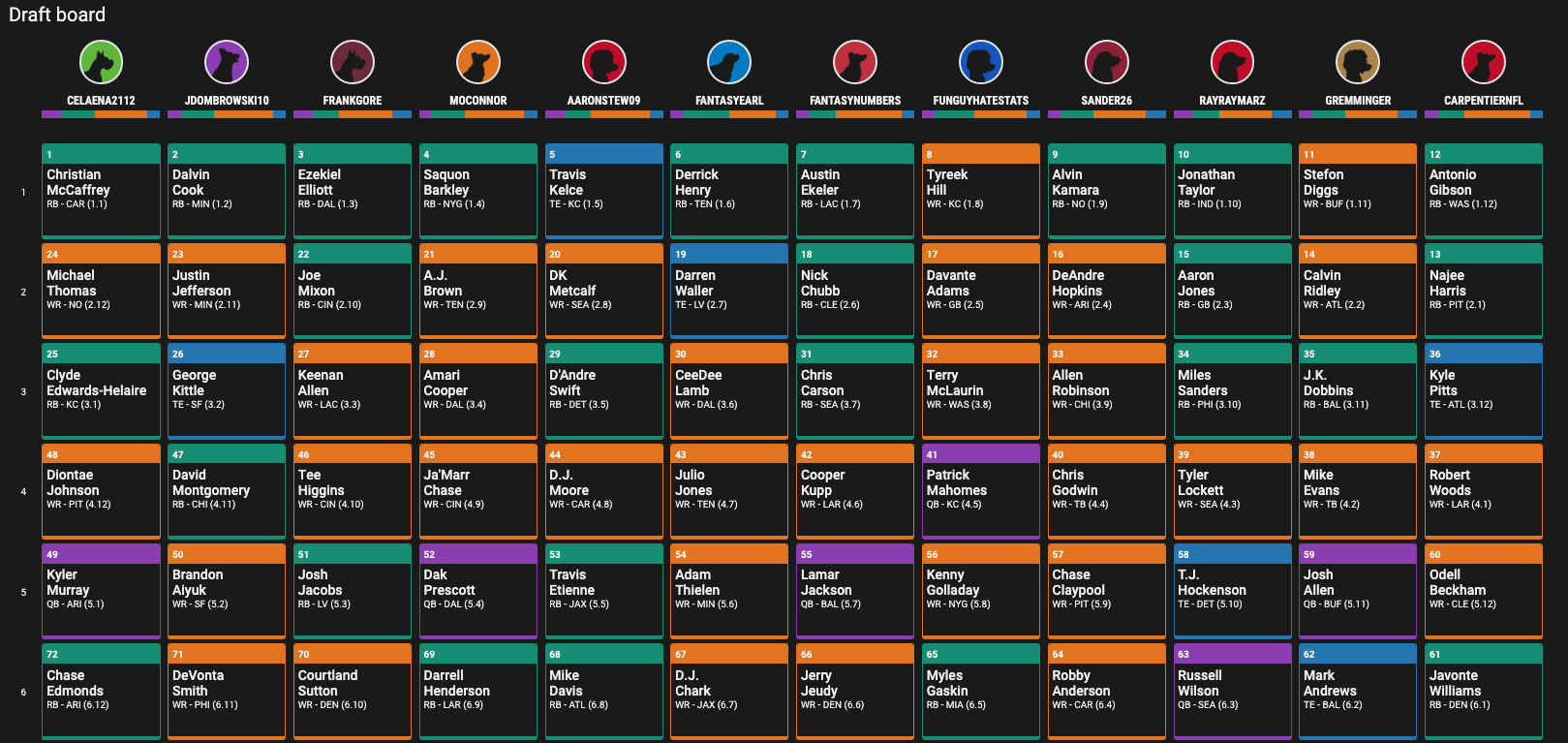 Round 1 began as most Underdog drafts do, Christian McCaffrey, Dalvin Cook, and then whoever is sitting in the 3-4-5 spots gets "the best of the rest." Let's dig in.
Round 2 Value:
Davante Adams – Pick No. 17 – Current ADP: 6.9: As many in the Underworld circle are aware, Josh Larky is not new to drafting on Underdog. He actually has the most experience in this draft next to or slightly behind Corey Leavenworth (who maxed out Best Ball Mania before August ?). Josh started out with Tyreek Hill at 1.08 and Davante Adams at 2.05 before later circling back with Patrick Mahomes at 4.05, who is currently going at the end of the third round via Underdog ADP.
Round 3 Reach:
Kyle Pitts – Pick No. 36 – Current ADP: 47.3: The man in Atlanta. After Julio Jones was dealt to Tennessee, all eyes shifted to two players: Calvin Ridley and Kyle Pitts: one of the most prolific tight ends in college football history. And with the help of a 17th game, a perennial 600-attempt offense, and a Hall of Famer traded away, Pitts could push to be a top-3 TE as a rookie and break Mike Ditka's rookie receiving record of 1,076 yards.
Round 6 Value:
Who Won Rounds 1-6?
Underworld Intern – Michael O'Connor at the 1.04
Pairing Saquon Barkley and the aforementioned Darrell Henderson at value, while StacKING Dak Prescott and Amari Cooper next to Ja'Marr Chase and A.J. Brown. Job well done! If Michael can fill out the running back room in the next few rounds and add at least one high ceiling tight end, he will have a clear headstart on winning The Underworld Best Ball League.
Rounds 7-11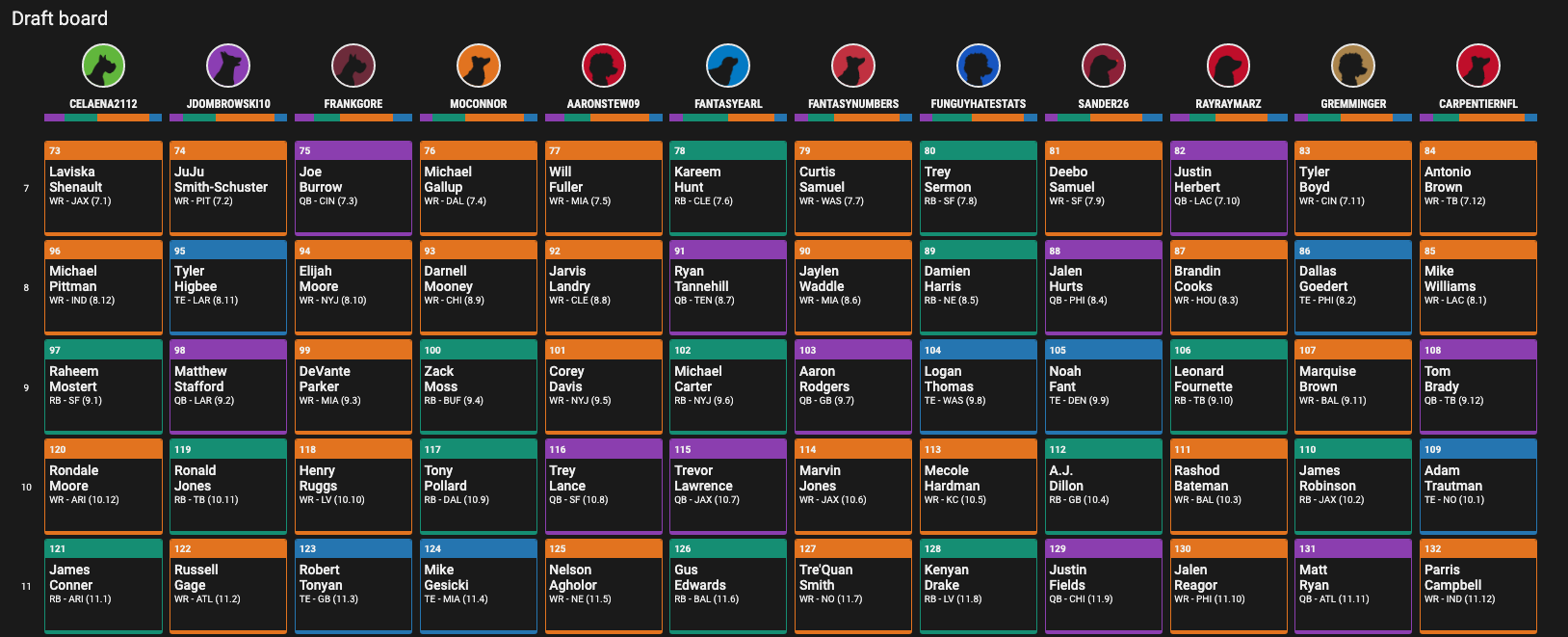 Round 7 Reach:
Joe Burrow – Pick No. 75 – Current ADP: 116.0: Currently going off the board at pick 116.0 on Underdog at QB14, Joe Burrow was stacked with Tee Higgins and Joe Mixon at pick No. 75, off the board at QB7. Feeling a surge at QB, Chris Buonagura reached for the Cincinnati stack. One can only wonder if he would have made it back in Round 8. There were 18 picks between 7.3 and 8.10, where three other QBs were drafted: Justin Herbert at 7.10, Jalen Hurts at 8.4, and Ryan Tannehill at 8.7, who was stacked with Julio Jones. The only person that could have conceivably "sniped" Chris, was Michael who was drafting at 7.4 and 8.9, just one pick after and one pick before Chris on the comeback. What Chris misread was Michael already had a QB and was looking to continue on his current stack of Dak Prescott and Amari Cooper, by adding the Cowboys' deep threat Michael Gallup.
What would Cody Do? Draft Tyler Boyd at Pick No. 75, and wait for Burrow to return at pick No. 94 to bolster the Bengals stack with Mixon and Higgins.
Middle Round Mayhem:
Trevor Lawrence – Pick No. 115 – Current ADP: 124.3: John Earley started the rookie QB run by grabbing the now starter in Jacksonville, Trevor Lawrence. His ADP is actually nearly 14 picks behind his 2021 QB counterpart Trey Lance. Lawrence joined team FANTASYEARL in Round 10, joining fellow Jaguar and sixth-rounder D.J. Chark.
Trey Lance – Pick No. 116 – Current ADP: 110.8: The last team to draft a QB finally tapped out at Pick No. 116 in Round 10. Aaron Stewart grabs the Rookie stud out of North Dakota State, though he doesn't have any other 49ers on his team. There are rumors of Trey Lance being the starter at some point in 2021. But Kyle Shanahan has only angled at Lance getting "opportunities in certain packages."
Justin Fields – Pick No. 129 – Current ADP: 133.1: 12 picks later, Jakob Sanderson selected Justin Fields to stack with Allen Robinson (pick No. 33), and sit in the QB2 chair on the team next to Jalen Hurts.
Round 12-18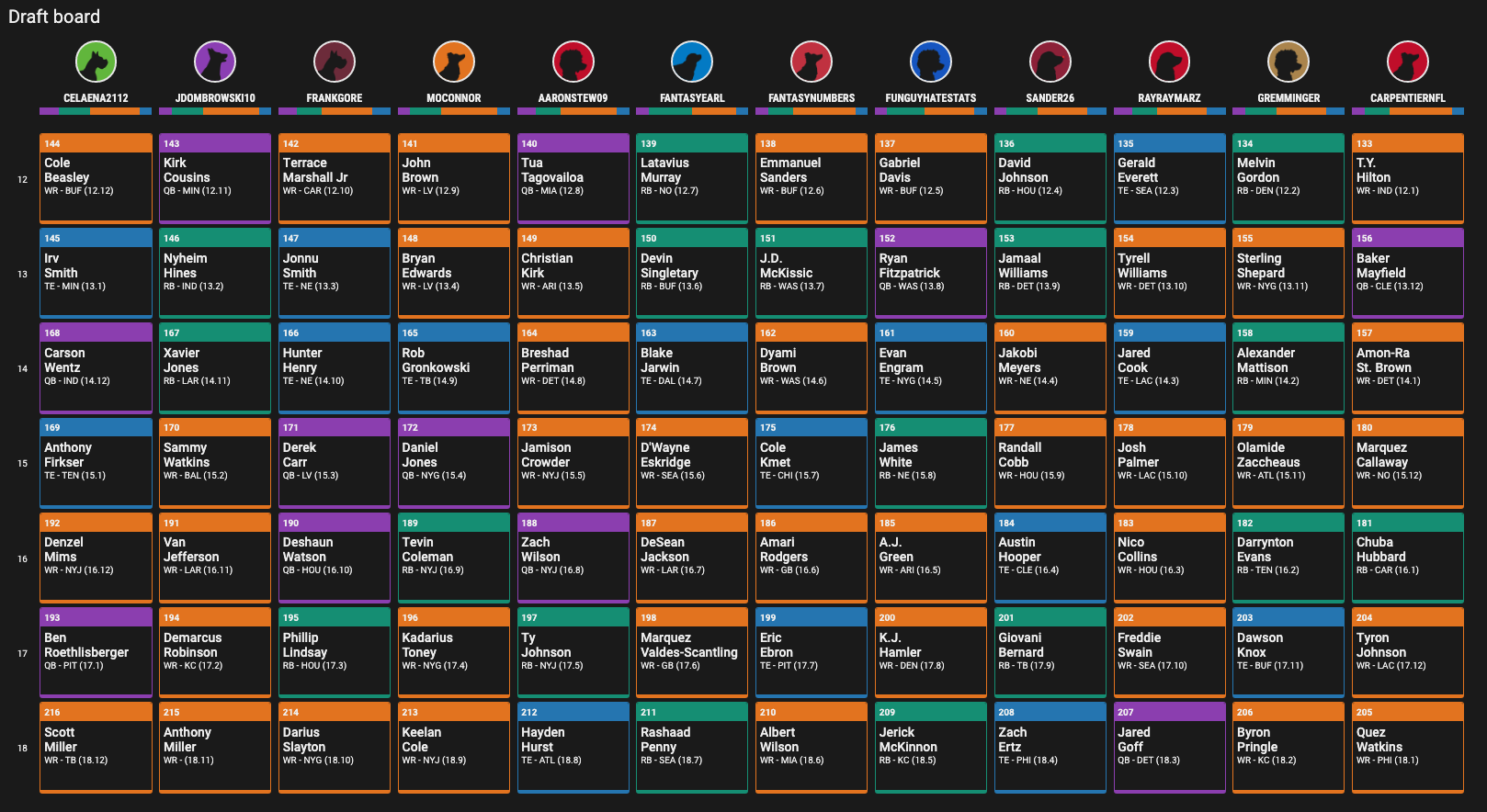 The Stack QUEEN:
 Minnesota Vikings
Los Angeles Rams
Late-Round Best Ball Upside Targets:
Terrace Marshall – Pick No. 142 (Round 12): Terrace Marshall was considered a consensus Top-5 wide receiver in the 2021 class by the time rookie drafts rolled around. Assuming he would take a year to acclimate to the NFL, and with Robby Anderson still on the roster for one more season, Marshall wasn't expected to have much of a role. The 6-2 former five-star prospect that ran a 4.40 40-yard dash at the LSU Pro Day, has been dominating at Panthers training camp. Coach Matt Rhule explained: "We're trying to force-feed Terrace and bring him along as fast as we can."
Bryan Edwards – Pick No. 148 (Round 13): There is not a lot that hasn't already been said about Bryan Edwards on PlayerProfiler and the RotoUnderworld Radio, but we are here for more. In 2020, Edwards fractured his foot just days before the NFL Combine, putting him on an 8-12 week recovery window. Edwards "recovered" from the foot injury by June, just weeks before players reported to training camp. In Week 1, he sustained a knee sprain, and in Week 3, an ankle sprain that really slowed his season down and caused him to miss four games. He was quiet for the remainder of the season until Week 17 against Denver, where he garnered two receptions on two targets for 51 yards and a touchdown on a 26.2-percent Snap Share and 12 Routes Run. Since the injury-riddled rookie season, there have been no new injuries to report. Only flashy plays during the Raiders 2021 training camp.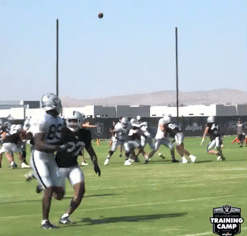 Dyami Brown – Pick No. 162 (Round 14): In three seasons at North Carolina, Dyami Brown dominated downfield in every aspect, finishing with over 1,000 yards in each of the last two. Brown eclipsed a 20-percent Target Share, 80 targets, and 20 yards per reception as a sophomore and junior. In Washington, Brown looks to win the Y spot opposite of Terry McLaurin, competing with Kelvin Harmon, Cam Sims, and Antonio Gandy-Golden.
Marquez Callaway – Pick No. 180 (Round 15): Michael Thomas was drafted at 2.12 in this Underworld Best Ball League. Today it looks terrible, but if I told you that selection happened just hours before the surgery news broke you wouldn't want to believe it. Since Thomas' departure from Saints training camp, one player has taken the alpha role into his hands. That man is Marquez Callaway, who also dealt with knee and ankle sprains in 2020, missing four games. In eight games played, Callaway finished with three-plus receptions, a 50-percent-plus Snap Share, and 38-plus Air Yards in four of those eight games as a rookie.
Nick says Marquez Callaway has caught more passes than any player at #Saints camp so far.

Tre'Quan Smith (leg) has been sidelined for the last week.https://t.co/Os8JvhE0pO

— Evan Silva (@evansilva) August 10, 2021
Nico Collins getting 'plenty' of first-team reps https://t.co/QahA8YmATc

— NBC Sports EDGE Football (@NBCSEdgeFB) August 6, 2021
Tyron Johnson – Pick No. 204 (Round 17) : The tale of the tape on Tyron Johnson starts and ends with two guys: Justin Herbert and Jalen Guyton. If you listened to the Undercovered Opps show in 2020, I pointed at Jalen Guyton as the cheap guy to play in DFS. The ending to that was rough. We ended up nicknaming him "The Wind Sprinter" due to his lack of execution. He finished 2020 with 28 receptions on 55 targets, with a whopping 949 Air Yards, while Tyron Johnson caught 20 of 28 targets for 490 Air Yards. Johnson outplayed Guyton throughout the season, yet never got the full opportunity down the stretch when LA was dealing with injuries. That changes in 2021. Johnson has made play after play in training camp and already beat out Guyton for those opportunities. Draft him on Underdog today in Round 17 or 18 to stack with Herbert. I already am.

The #Eagles are going to need young players to step up this season if they plan on competing.

So far in training camp the two players who looked primed to do just that are Quez Watkins and Tyree Jacksonhttps://t.co/SpD3tjZufZ

— Eliot Shorr-Parks (@EliotShorrParks) August 9, 2021
Cody's Projected Winner of The Underworld Staff and Writers Best Ball League is……
Team: MOCONNOR
Stacks:
Strength:
Weakness:
While RB, WR, and QB are strong points, the TE room will lack for Michael in 2021. Waiting until Round 11 to draft Mike Gesicki and Rob Gronkowski in Round 14 was a bit ballsy, but the squad is strong. O'Connor had the opportunity to grab Tyler Higbee, Logan Thomas, or Noah Fant in Round 8 instead of taking his fifth WR. That would have been one of my only changes to this league-winning squad.
The Most "Valuable" Picks

For more Best Ball and Fantasy Sleeper Content Follow  @CarpentierNFL on Twitter