This article recaps a high stakes fantasy football team I drafted in THE HARDWAY FOOTBALLGUYS PLAYERS CHAMPIONSHIP! The entry fee was 350 dollars. The rosters consist of 20 players with 10 starters including QB-RB-RB-WR-WR-TE-FLEX-FLEX-K-DEF. The scoring settings are standard PPR scoring with a 1.5 PPR for the tight end position.
DRAFT ORDER
1- Tod Miller @DraftJunkie
2- Dwain McFarland @dwainmcfarland
3- Mark Garcia @HilowFF
4- Darren Armani @fantasymojo
5- Tod Burros @BestballNFL
6- Abib Agbetoba @skywalka2000 
7- Austin Martin @AustinRMartin84
8- Dan Williamson @OverHypedSleepr
9- Ron Meyer @2Packer
10- Theo Gremminger @TheOGFantasy
11- Noah Ruddell @noahruddell
12- Dave Hubbard @208858740 and Billy Muzio @FFMuzio 
Explaining the FFPC
The FFPC Football Guys Players Championship is one of the season's most prestigious and well-known high stakes fantasy football competitions. Players pay a $350 entry fee to compete in a 12-team league. Cash prizes are awarded for finishing first in the regular season and a two-week playoff amongst the top four teams.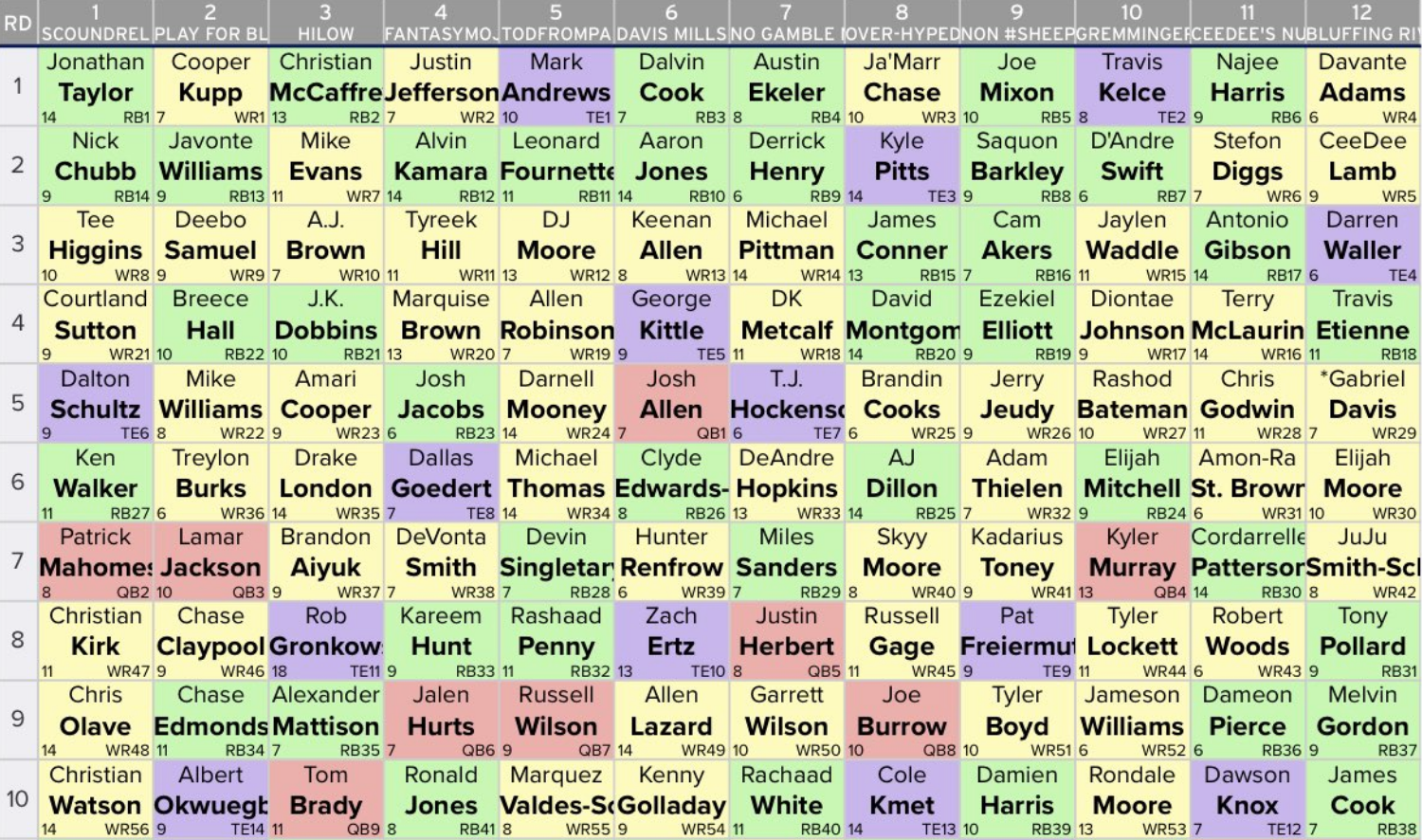 Up to three league members will also advance through and compete with other qualifiers in a two-week gauntlet. Getting to the Promised Land could result in a life-changing payout- this year's 1st place finisher will win $500,000.
Every year, a group of highly successful and accomplished players compete against one another in this format around the end of May or early June. This invitation-only league is known as "The Hardway," for a good reason. If you are in a draft against one of these players, you are in for a challenge.
Extracting value in a high stakes fantasy football competition like this is difficult- ADP goes out the window and players will reach to get their guys. You will also see some players fall further in a draft because certain players will be "faded." You have to find a fine line between "hey this guy is a value here," and "I fell on this grenade to save my league-mates" sometimes.
My Background
This is my second season competing in this league. Last year I was fortunate to win the league title and would like nothing more than a repeat.  I started the high stakes fantasy football draft RB-WR-RB last season and generally am open to any and all strategies in this format. The tight end premium scoring, along with the two flexes makes for some unique builds.
In a high stakes fantasy football draft like this, I want to draft players with a high upside. I will mix in some floor players here and there, but I want to have a number of players with "unknown upside," who will beat ADP and give me a potentially lethal weekly ceiling. I generally am a "Hero RB," build in this format, although I will go RB-RB and mix in an early tight end when the opportunity presents itself. I do not try and pigeonhole myself in any format and find this makes for the best builds.
In this league, we knew our draft order for about a week, so I had a chance to prepare for drafting out of the 10-spot. This is how the high stakes fantasy football draft turned out.
1.10 Travis Kelce (TE)- Kansas City
With the 10th overall pick, I knew I would not have access to the big three WRs (Cooper Kupp, Ja'Marr Chase, Justin Jefferson). When drafting in the middle of the 1st round of a high stakes fantasy football league, I like to start my draft with one of them, but with the 10th pick they are almost never available.
I honed in on Dalvin Cook, Austin Ekeler or Joe Mixon as my preferred target here. With all three RBs drafted, I turned my attention to Travis Kelce. I was pleasantly surprised to see he was available here. Mark Andrews went off the board at 1.05, which may seem high, but a lot of sharp players are aggressively drafting him as the TE1 overall.
I still prefer Kelce as the TE1, and think there is a chance he benefits from the unsettled wide receiver situation in Kansas City and challenges for a career high number of targets (He had 150 in 2018, and 134 last season)
By selecting Kelce this early in a high stakes fantasy football draft like this, I knew that I could go a number of directions with my next two picks. However, I wanted to make sure I had at least one high end RB when we finished round three. I also pivoted my draft strategy after using such high draft capital on a TE. I knew I would not draft a second tight end unless an incredible value fell my way. I would be able to draft wide receivers and running backs when my league mates were building depth at the position.
Standout Pick of The Round
Dwain McFarland took Cooper Kupp 2nd overall. Many drafts will have Jonathan Taylor and Christian McCaffrey as the first two selections, but in these high stakes fantasy football drafts, Kupp is very much in the mix. There is no reason to believe he cannot repeat as WR1 overall. Tod Buros selecting Andrews at 5th overall was also notable. Andrews finished as TE1 overall in scoring last season, and is now neck and neck with Travis Kelce for TE1 ADP wise. 
2.03 D'Andre Swift (RB)- Detroit Lions
This was an easy pick for me. The WRs I would have considered here (Davante Adams, Ceedee Lamb and Stefon Diggs) went consecutively at 12-13-14 overall. I went with D'Andre Swift. He possesses the "unknown upside" I discussed earlier and has shown immense talent in his first two seasons in the league, especially as a receiver. Last season, he had 62 receptions for 450 yards receiving and added 617 yards rushing plus another 5 TDs on the ground in only 13 games played. This year, The Lions offense should take a step forward, and a healthy Swift could be a 1500 combined yard type player. He has the talent and profile of a potential league winner.
Structurally the pick fulfilled my goal of adding an RB in the first three rounds. With a TE-RB start, I knew that I needed to pivot to WR. This season WRs are flying off the board early and often and this league would be no different.
Standout Pick of The Round
Austin Martin selected Derrick Henry with the 2.07. Henry will go in the 1st round in many leagues and almost all home leagues. But there are many sharp drafters who are fading him. Mid-2nd round seems to have his risks of regression baked in. He will be an interesting player to monitor all summer long. 
3.10 Jaylen Waddle (WR)- Miami Dolphins
Seven WRs went off the board to start the 3rd round. I would have liked to have seen Michael Pittman available to me here at the 3.10, but he was drafted 3.07. I honed in on Jaylen Waddle, Diontae Johnson, and Terry McLaurin as my potential picks. I ultimately decided on Waddle.
There is some apprehension among certain drafters and analysts regarding Waddle going this early, but I am still very bullish on him. Despite adding Tyreek Hill, I think Waddle is still going to be the most consistent week-to-week fantasy option in Miami. 104 receptions as a 22-year-old rookie are not something we should overthink, especially with a player possessing the speed, talent, and draft pedigree of Waddle. Even if he loses a few receptions and drops down to around 90, we could see him take a big step forward with double-digit TDs. With the upcoming early 4th-round pick, I knew I would be going WR again or potentially pivoting back to RB.
Standout Pick of The Round
Darren Armani of Fantasy Mojo selected Tyreek Hill with the 3.04. Hill was a 1st rounder a year ago and is now a late 2nd or early 3rd rounder. 
 
4.03 Diontae Johnson (WR)- Pittsburgh Steelers
If Travis Ettiene was available here, I would have strongly considered taking him. He is another high upside player and one of my favorites in this range, be he was selected at the 4.01. Terry McLaurin went 4.02. I went with Diontae Johnson, a player I had considered with the 3.10. Much like Waddle, some drafters and analysts are fading Johnson and viewing him as a regression candidate.
I think this could be another situation where drafters may be overthinking it. Johnson has had an incredible 313 targets over the last two seasons. Big Ben or not, Johnson is a target hog and will continue to be heavily utilized by this coaching staff. He should provide me a nice floor as my WR2. 
Standout Pick of The Round
Noah Ruddell selected Terry McLaurin with the 4.02. There is optimism among drafters that McLaurin could be a potential WR1 this year. Carson Wentz is a QB willing to take shots, and at least McLaurin should benefit from continuity at the position. 
 
5.10 Rashod Bateman (WR)- Baltimore Ravens
WRs continued to fly off the board. After I selected Johnson, nine more WRs were drafted from the 4.07 to the 5.09. This was a positional run that was wise to lean into, as the position was drying up in terms of players who could be potential top 15 finishers. I was able to draft Bateman, a player I really like this year.
let's get one thing completely clear. rashod bateman is awesome. https://t.co/wmKSGOPPo3

— the podfather™️ (@Fantasy_Mansion) May 24, 2022
Bateman was one of my post draft dynasty winners, and should continue to climb up redraft boards this season. He will easily step into the WR1 role with Hollywood Brown now an Arizona Cardinal. He has a chance at a 25 percent target share, and has all the physical tools and draft pedigree to be a star WR in the league. When September drafts come around, we should see Bateman go higher than WR27.  With a TE-RB-WR-WR-WR start, I had flexibility with my next few picks. 
Standout Pick of The Round
Abib Agbetoba selected Josh Allen with the 5.06. Allen is clearly the QB1 overall among all drafters in all formats this year- and there is a considerable gap between him and QB2. He should go in most leagues in the 3rd and 4th round all summer long. 
6.03 Elijah Mitchell (RB)- San Francisco 49ers
This pick was very hard and the tier was very flat. I do not love Mitchell this season, I have concerns about his durability after surgery and did not like the fact that San Francisco used a third round draft pick on Tyrion Davis-Price. 
I would have considered Elijah Moore and Amon Ra-St. Brown here, but they went ahead of me. I considered Dallas Goedert (he went later in this round) and AJ Dillon. But ultimately I bet on Elijah Mitchell's production- even if it is not over 17 games. In 11 games, he rushed for 963 yards and 5 TDs last season. With Trey Lance set to take over as the starting QB (presumedly), Mitchell should benefit and be even more efficient as a rusher. This is the "dead zone," but drafting a productive 24 year old makes it feel less dead zonier. 
Standout Pick of The Round
Mark Garcia selected Drake London with the 6.10. Dwain McFarland followed up with Treylon Burks at the 6.11. These two players should rise this summer as drafters lean into their clear roles as the likely WR1s on their teams. We have seen rookie WRs have success the past few seasons, and London and Burks are being embraced as the most likely bets to have early impacts.
7.10 Kyler Murray (QB)- Arizona Cardinals
Patrick Mahomes and Lamar Jackson went back to back to start round 7. QBs generally go higher, but with this particular group of drafters they get pushed down. 7.10 seemed like the perfect chance for me to pounce on a QB. I went with Kyler Murray and his ceiling over Justin Herbert. Murray has the rushing upside to challenge for QB1 overall this season, and his ADP has been pushed down slightly since the Deandre Hopkins suspension. 
"We're about to make him, I'm sure the highest paid player in franchise history." – Kliff Kingsbury on Kyler Murray's contract situation. pic.twitter.com/BIpFoLTDp7

— PHNX Cardinals (@PHNX_Cardinals) June 14, 2022
Drafting a QB like Murray also allows me to only use one pick at that position throughout the 20 rounds of drafting. Some drafters prefer having two QBs, and if I took a QB slightly later I may have used this strategy as well. But having only one roster spot used on the QB position allows me to take more shots at RBs or WRs. With a group of drafters like this, there will be plenty of QBs on the waiver wire (only 17 total QBs were selected in this draft). 
Standout Pick of The Round
Dan Williamson selected Skyy Moore with the 7.08. Moore and Juju Smith Schuster will have converging ADP's as the summer continues. Moore is the riser- drafters are willing to bet on him making a quick impact as a rookie. There is uncertainty and opportunity with Kansas City WRs right now. 
8.03 Tyler Lockett (WR)- Seattle Seahawks
With the 8.03 I took a player I believe in talent wise, but has a bad (to say the least) QB situation and offensive scheme situation in Tyler Lockett. I could have gone with Chase Claypool, Chris Olave, or Russell Gage, but I ultimately decided on Lockett. I am betting on Geno Smith being the starting QB, and I think that Lockett has a good chance to beat his ADP and be a weekly consideration in a flex spot. Lockett has finished as WR8 and WR16 the past two seasons, and it would take a catastrophic fall for him to not return value as WR44 in this draft. He is a WR3 being priced as a WR4. 
My team now had a QB, two RBs, four WRs and a TE. The structure was coming into place. WR seemed to be a strength, and I wanted to use at least one of my next two picks on one more. In these high stakes contests, I like to build on a strength.
Standout Pick of The Round
Ron Meyer selected Pat Freiermuth with the 8.04. TE9 seems about right for Freiermuth. He shined as a rookie and finished the season in impressive fashion. TE Premium drafters are betting on him returning value once again. Freiermuth certainly falls into the "unknown upside" category. 
9.10 Jameson Williams (WR)- Detroit Lions
WRs continued to fly. This sharper draft room was drafting WRs right and left. After I selected Lockett, seven more WRs were selected. There were some appealing RBs available to me and I strongly considered veterans Melvin Gordon and Damien Harris as well as rookie James Cook. But ultimately Jameson Williams was a value I could not pass up.
The moment Brad Holmes knew Jameson Williams would be available #Lions pic.twitter.com/5XezXCoR1H

— LionsFanReport (@lionsfanreport) June 9, 2022
There is a non-zero chance that he may have a Jaylen Waddle-like impact on the Detroit offense. This is the sort high upside pick I like to make in this range of the draft. Coming off of a torn ACL, Williams's status for week one is unknown, but he seems to be well ahead of schedule. Once he returns, he could be a potentially high ceiling lethal flex play. 
10.03 Rondale Moore (WR)- Arizona Cardinals
In these high stakes fantasy football contests, correlation and stacking plays can be highly beneficial. It is also a way to potentially make up points on a given week in a format where points matter like the FFPC. In pairing Murray with Rondale Moore, I have a path to correlation.
Moore had a disappointing rookie season and there are usage red flags (ADOT etc). But he will have an opportunity early on to show whether or not he will be fantasy viable. The addition of a versatile WR like Hollywood Brown should help his chances of seeing a fulltime slot role. There is a chance he also benefits from Chase Edmonds departure. He is an intriguing player with a large range of outcomes.  
I completed the first 10 rounds of this draft with only two RBs, six WRs, and a QB/TE combo that allows me to ignore these positions almost entirely moving forward. With the 2nd half of the draft, my goal is to add RB depth.
Standout Pick of The Round
Tod Miller selected Christian Watson with the 10.12. Fantasy managers are excited about a number of these rookie WRs, but there is apprehension with Christian Watson. Still, it is odd to see no Aaron Rodgers passing targets with any significant draft capital. One of Watson (10.12), Allen Lazard (9.06), or TE Robert Tonyan (12.10) has a chance to beat their ADP.
ROUNDS 11-15
With the 11.10, I was hoping to draft Tyrion Davis-Price, but he went at the 11.08. I was happy to draft Khalil Herbert as a nice consolation prize. I have hopes of him seeing an increased workload with a new coaching staff in Chicago. Should anything happen to David Montgomery, Herbert would be a weekly RB2.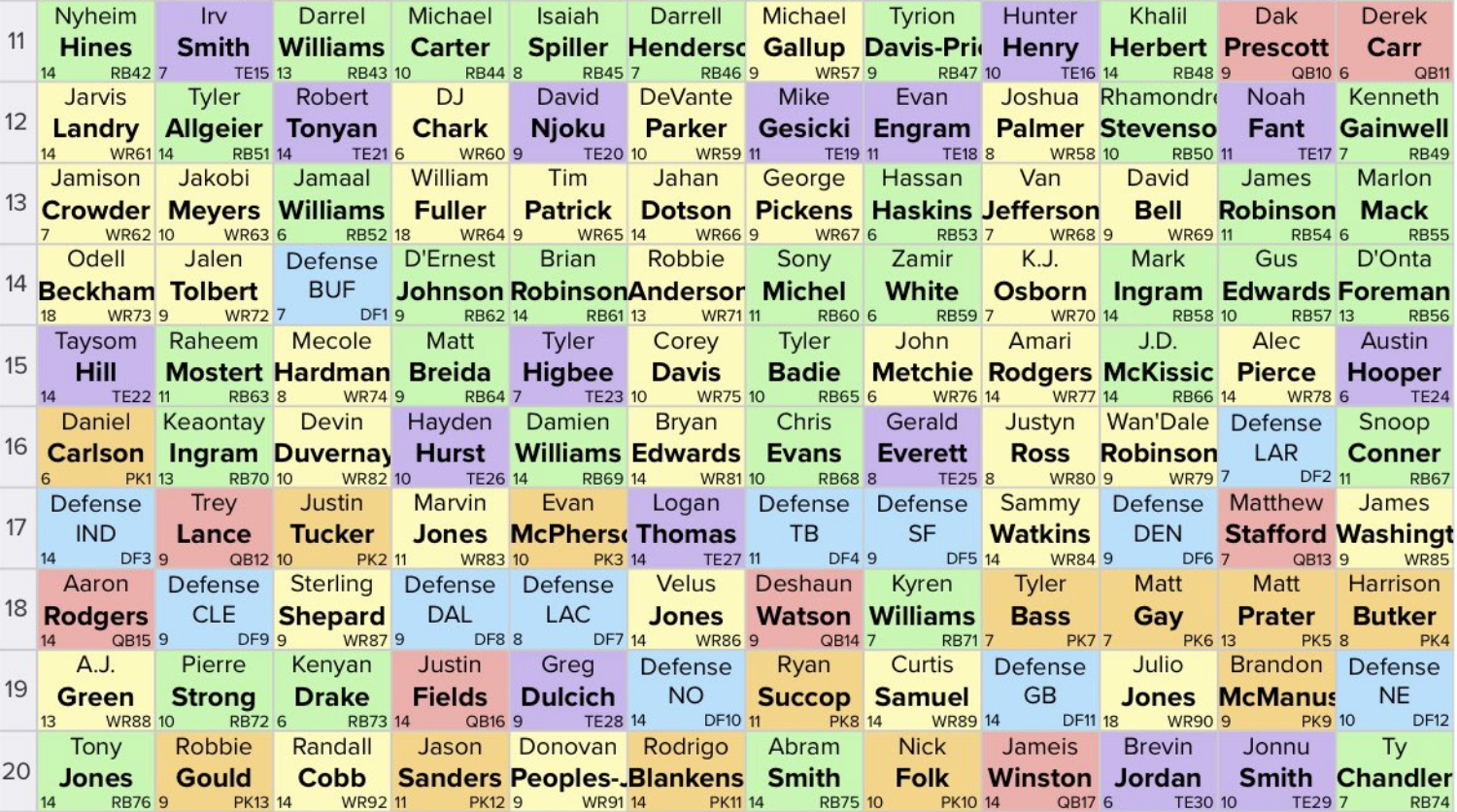 I followed up the Herbert pick with another promising year two RB in Rhamondre Stevenson. This Patriots backfield is crowded and messy, but I am taking shots on Stevenson. We always run the risk that Bill Belichick rotates backs and weekly usage is sporadic, but if he seems an increased opportunity, Stevenson could produce. He averaged 8.8 yards per reception and rushed for over 600 yards as a rookie.
In the 13th round, I went back to WR with a player I just cannot stop drafting in both dynasty and redraft formats in David Bell. Bell, a third-round draft pick, should see an immediate role in the slot for Cleveland. The Browns are hyping him up every chance they get. Besides Amari Cooper, there are a lack of pass catching options in Cleveland. Bell has a chance to provide me some nice WR depth with the potential for more.
With the 14.03, I selected Mark Ingram. This is a boring pick, but Ingram could be the starting RB in New Orleans if Alvin Kamara sees a suspension (unlikely) or be the clear handcuff behind him (likely).
With the 15.10, I selected J.D. McKissic. McKissic should have a low ceiling, high floor weekly role in Washington. If there was an injury to Antonio Gibson, McKissic would see an increased workload.
Rounds 16-20
Much like Bell, I keep drafting Wan'Dale Robinson and I continued to do so in this draft with the 16.03. Robinson is one of the shorter WRs in the league, but he will have a chance at a larger role than some would expect right away in New York. To be able to draft a high second-round pick with a path to targets in this range of the draft could end up paying off.
In the FFPC, you are required to draft a K and Defense. I added Denver D and Matt Prater in the 17th and 18th round. Some players like to wait till the 19th and 20th round to draft these positions, but I usually like to take one or both of them a round or two early. The hit rates on a 17th round RB are similar to the hit rates of a 19th rounder, and if I can draft a weekly Defense, that is one less position I need to worry about on the waiver wire.
In the 19th round I made a dice roll and selected Julio Jones. Jones is unattached to any team, but the moment he signs, he would gain five rounds of draft capital immediately and potentially more if he joined a situation like Green Bay. In the 20th round I selected Brevin Jordan as my TE2.
One of the benefits of early drafting is the first waiver wire run will occur before the season. The preseason run and the run after week one, are two of the most active and beneficial runs of the season. In a league like this the first run will be incredibly competitive.