The RotoUnderworld community will be partaking in a series of 12-team, five-round rookie mock drafts, running through the summer. The mock drafters will be comprised of PlayerProfiler writers/analysts, our friends in the Patreon community, and our good friends over at The Breakout Finder. While these pieces will include quick-hitting notes from the drafters about why they made their selection, our writers will take turns recapping the festivities and adding their own unique perspectives.
Rookie Mock Draft Recap #11 – SuperFlex
The Underworld gathered again for yet another mock draft. This was the first SuperFlex, non-TE premium mock since the NFL Draft. We're now two months since the rookies have been assigned to teams. Rookie camps and press conferences have caused player values to wax and wane despite zero football played. Other iterations of this article series have provided some individual analysis by each participating drafter. Today we are going to recap each round and provide some thoughts at the end.
Round 1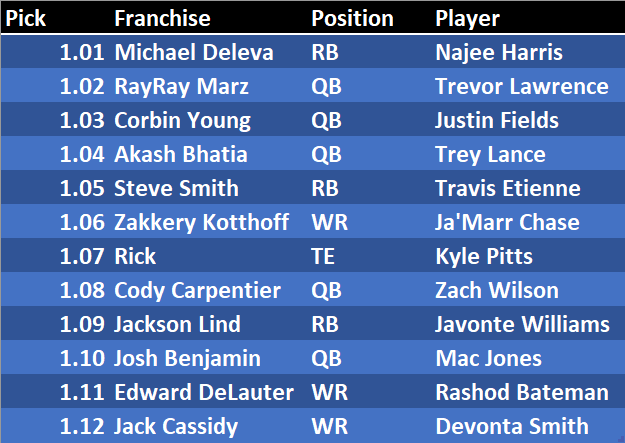 Round 1 began with an autopick of Najee Harris. While it may not have been Mike's intention to draft him at the 1.01 in this format, I could be tepidly sold the pick. Harris walks into assured monster volume on a Steelers team that scored the 12th-most points in the NFL last season. For teams in contention with immediate an need at running back, Harris can make sense over Trevor Lawrence and the other quarterbacks, although the ideal move would be to trade down and accrue more value.
After Harris surprisingly went first overall, all three of PlayerProfiler's highest ranked rookies in the SuperFlex format went off the board. The first round continued with a brief run on positional players, including Kyle Pitts. This draft took place shortly after Shannon Sharpe's call to Julio Jones when the future Hall of Famer assured the world that he was not playing for Atlanta in 2021. While Pitts went higher than where he is ranked on PlayerProfiler's rookie rankings, he went substantially lower than his top three pick price in most MFL rookie SuperFlex drafts.
The second half of the first round continued with two of the best value picks in the Zach Wilson and Mac Jones coming off the Board at 1.08 and 1.10, respectfully.
Wilson is an NFL starter from day one on an ascending Jets offense supported by a revamped supporting cast featuring former first round pick Corey Davis and rookie Elijah Moore. Jones has already narrowed the gap between himself and Cam Newton such that the two are reportedly in a full-blown QB competition to start training camp. It should not surprise anyone if the 2021 season ends and either Wilson or Jones are the highest valued player taken in the first round of this mock.
Mac Jones has _______ upside! ? pic.twitter.com/WNY1snGmA3

— RotoUnderworld (@rotounderworld) July 2, 2021
The first round concluded with selections of Rashod Bateman and Devonta Smith. Bateman is the only player taken here whose MFL ADP is outside the first round. His poor landing spot on a run-heavy Ravens team continues to depress his value despite his checking every analytical and production box. Unlike Bateman, Smith is commonly selected in the first round of MFL drafts and has gone as high as the 1.04. He represents good value here in comparison to most drafts.
Overall, outside of Harris at 1.01, no major surprises in the first round. In fact, all 12 players selected are ranked by PlayerProfiler within the top 12 incoming rookies for this format.
Round 2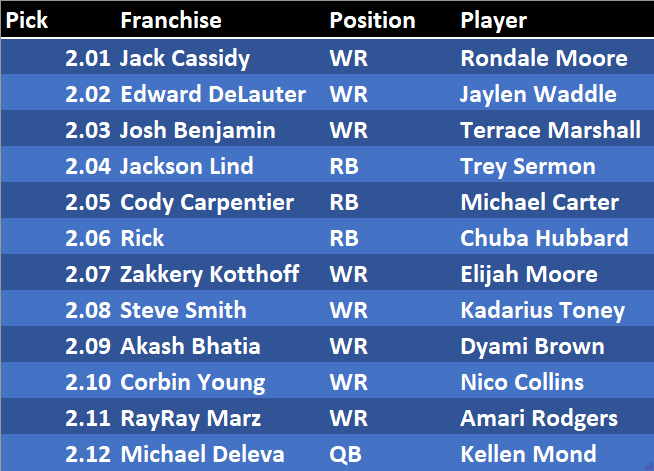 Round 2 began with a brief wide receiver run. Rondale Moore is our highest-ranked receiver among the first three taken here and may push for the second-most targets in Arizona behind DeAndre Hopkins as a rookie. Jaylen Waddle was a value pick since the fleet-footed, first-round wide receiver is usually selected in the first round of MFL rookie drafts. At 6-2 and 205-pounds, Terrace Marshall offers the greatest upside out of all three with a prototypical alpha wide receiver build, an elite 19.2 (84th-percentile among qualified wide receivers) Breakout Age, and a 106.0 (85th-percentile) Speed Score.
Jackson began another small positional run at 2.04, with three running backs taken consecutively. Both Trey Sermon and Michael Carter enter 2021 in ambiguous backfields, and were taken pretty close to both MFL rookie draft ADP and PlayerProfiler's rankings. The real head-scratcher here was the selection of Chuba Hubbard at 2.06. MFL rookie ADP is highest on the former OSU running back, who looked like absolute stud in 2019 rushing for over 2,000 yards. There are MFL drafters taking him as high as the 2.01. However, his ADP is still that of a late second-round pick, and he is ranked even lower at the Underworld. Playing caddy to Christian McCaffrey, the best running back in fantasy, Hubbard is likely to sniff fantasy relevance only if CMC is injured.
The remaining picks of the second round primarily focused on wide receivers.
Elijah Moore looks like an absolute steal at 2.07. Moore was constantly hyped by beat writers during the Jets OTAs and would likely be selected higher if this mock draft were held today. With a 19.4 (82-percentile) Breakout Age and 4.40 (93rd-percentile) speed, he has the talent to deliver on the hype. The remaining receivers are pretty close in Lifetime Value score and MFL ADP. While not exactly in the same order, they are close enough to be considered a tier. The 2.12 selection of Kellen Mond was right where both MFL ADP and PlayerProfiler suggests he should go. Mond is perhaps the best upside pick in the late-second round. His value can easily materialize into a future first-round rookie pick with only a few starts.
Round 3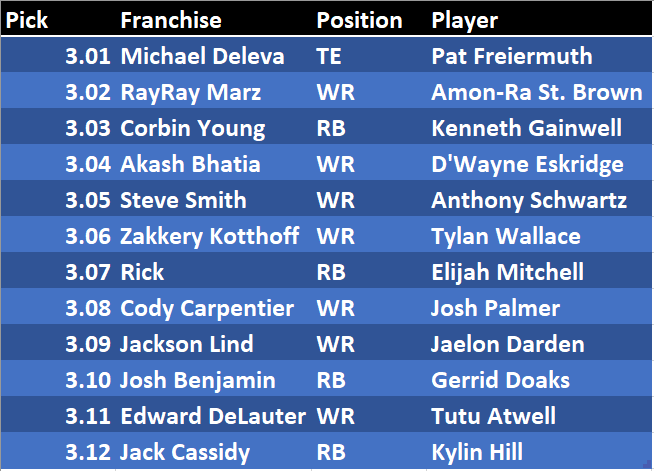 Pat Freiermuth is the first player to come off the board in the third round. He remains the Kyle Pitts arbitrage play going two rounds later than Pitts. Ray secured great value getting Amon-Ra St. Brown in the early third, a player who has an MFL ADP equivalent to a second-round rookie pick and is in line for potential significant usage in Detroit's barren wide receiver corps. Kenny Gainwell is another player with an ADP just inside the second round of MFL rookie drafts and he is rated similarly in PlayerProfiler's rankings. Gainwell and his 13.8-percent (91-percentile) College Target Share can secure significant passing down work in Eagles offense.
Highest Receiver Rating among 2021 RB's ?

1️⃣ Kenny Gainwell: 98.1
2️⃣ Travis Etienne: 96.7
3️⃣ Najee Harris: 96.4
4️⃣ C.J. Marable: 95.9 pic.twitter.com/RUui58nIFv

— RotoUnderworld (@rotounderworld) May 4, 2021
D'Wayne Eskridge, Anthony Schwartz, Josh Palmer, and Tutu Atwell were the remaining day two wide receivers and they all went in this round. Eskridge is preferred among all four in both MFL ADP and in our rookie rankings, so Akash was wise to snag him first. Both Palmer and Atwell follow Eskridge in MFL ADP, though we prefer the speedy Schwartz over both. Schwartz, who ran a 4.27 40-Yard Dash at his Pro Day, has better speed and size than Atwell, and he had significantly better age-adjusted college production than Palmer.
The Breakout Finder loves Anthony Schwartz ⚡ pic.twitter.com/8Y3MxKe428

— RotoUnderworld (@rotounderworld) April 11, 2021
Other intriguing picks from this round included Elijah Mitchell and Gerrid Doaks, day three running backs in ambiguous backfields.
Mitchell looks like Jerick McKinnon and can see similar success in the 49ers backfield this season. One of the four running backs in this class to accumulate a Speed Score over 100.0, Mitchell has been my autopick in round three if available. Doaks finds himself in Miami, where another seventh round pick in Myles Gaskin sits atop the depth chart. With little draft capital committed to Gaskin, the Dolphins can turn to the significantly bigger back in Doaks this season. Particularly around the red zone.
Round 4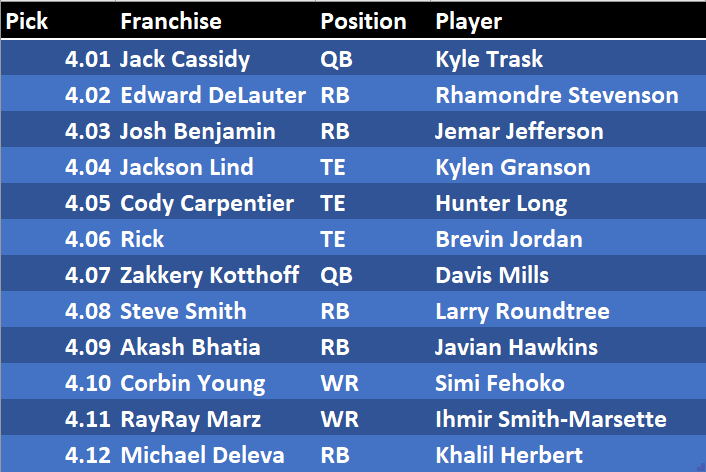 Jack takes Kyle Trask to begin round four. Davis Mills was selected by Zakkery later in the round, meaning both remaining day 2 quarterbacks were selected here. Both went two rounds after Kellen Mond and well below their MFL ADP. We don't have these quarterbacks ranked as highly as Mond, largely due to a lack of rushing upside. Though quarterback evaluation can be a bit of a dart throw. With Deshaun Watson likely on the way out of Houston, Mills can see starts this season, while Trask is a dynasty practice squad candidate who will hold the clipboard for Tom Brady this year.
Who will be the better NFL Quarterback? ?

? for Kellen Mond – Texas A&M
❤️ for Kyle Trask – Florida pic.twitter.com/InbBxLYaLh

— RotoUnderworld (@rotounderworld) April 8, 2021
A tight end run developed towards the middle of the round with Jackson taking Kylen Granson, Cody selecting Hunter Long, and Rick taking Brevin Jordan.
Granson received some hype because of a strong showing at rookie camp. However, I think Cody snagged the best value here. Long is the only one out of the three with day two draft capital. While Brevin Jordan may have a better shot at playing on a muddled Texans depth chart, Long can push for significant year one snaps in 12 personnel with a Tua Tagovailoa-led, potentially resurgent Dolphins offense.
The majority of the remaining players selected have a shot at potential fantasy-relevant roles this season. Rhamondre Stevenson and Larry Rountree will compete for the  grinder role on their respective teams. The svelte Javian Hawkins will look to potentially siphon work away from newly acquired veteran Mike Davis. Finally, Ihmir Smith-Marsette may be able to start in three-wide sets in Minnesota and see targets while Justin Jefferson and Adam Thielen are being bombarded.
Round 5
Round five. Where the real sleepers are found. Running backs fly off the board to start the final round. Kene Nwangwu is one of four running backs in the entire class to accumulate a Speed Score above 100.0 and is a great late round pick for this reason. Chris Evans can spell Joe Mixon this season and could see significant snaps in the event of a Mixon injury. PlayerProfiler's ranks prefer both these players above Jaret Patterson, who Mike selected to start the round.
Seth Williams, with his elite 18.4 (98th-percentile) Breakout Age, is buried on a Broncos wide receiver depth chart, but has intriguing metrics to suggest that he can be fantasy-relevant if given an opportunity. Jacob Harris has received some buzz lately, converting from wide receiver to tight end. He makes for an intriguing dynasty practice squad stash in the event he is able to make the conversion. Another player's positional development that will be interesting to see is Demetric Felton. Cleveland's rookie running back played in both the slot and behind the line of scrimmage in college. He may have a quicker path to fantasy relevance if he converts to wide receiver.
Cornell Powell has flown up the our rookie ranks lately due to rookie camp buzz. With the wide receiver role opposite Tyreek Hill wide open, Powell's dynasty value will skyrocket if he sees any significant targets from Patrick Mahomes.