It is my honor to cover the best division in all the land. The AFC West is a land where shootouts flow like wine, and wins and losses will be as fleeting as a ship fading into the night. It's going to be a bumpy ride with a lot of turbulence, and I'll be your captain throughout the 2022 NFL season. Firstly, let's take a look at what these teams managed to do in the offseason in an AFC West post-offseason review of all four teams.
Kansas City Chiefs
2021 Record: 12-5
Caesars Sportsbook win total: 10.5 Over (-115) Under (-105)
Key Additions:
JuJu Smith-Schuster, Marquez Valdes-Scantling, Justin Reid, Ronald Jones
Rookie draft selections
:
Round 1, No. 21 overall: Trent McDuffie, CB, Washington
Round 1, No. 30 overall: George Karlaftis DE, Purdue
Round 2, No. 54 overall:, Skyy Moore WR, Western Michigan
Round 2, No. 62 overall: Bryan Cook S, Cincinnati
Round 3, No. 103 overall: Leo Chenal LB, Wisconsin
Round 4, No. 135 overall: Joshua Williams CB, Fayetteville State
Round 5, No. 145 overall: Darian Kinnard OT, Kentucky
Round 7, No. 243 overall: Jaylen Watson CB, Washington State
Round 7, No. 251 overall: Isiah Pacheco RB, Rutgers
Round 7, No. 259 overall: Nazeeh Johnson S, Marshall
Key Losses:
Tyreek Hill, Tyrann Mathieu, Anthony Hitchens
Roster Strengths
Obviously, the Chiefs have one of the best quarterbacks in the NFL in Patrick Mahomes. This does not go without saying. Having Mahomes is a HUGE deal. Trust me, I'm a Bears fan. The Chiefs also have an elite tight end in Travis Kelce who has proven his worth over the last several seasons for the Chiefs and fantasy gamers alike. Those are the obvious strengths, but what are some of the less obvious strengths of this roster?
The Chiefs have a very good offensive line. In fact, PFF ranked the Chiefs offensive line No. 9 in the NFL. This is likely going to come in handy as Mahomes adjusts to new weapons in the offense which we will discuss in a moment. Of course, a lot depends on Orlando Brown deciding to show up to training camp, but I'll assume, for the moment, the Chiefs will resolve whatever differences they have with Brown.
Emerging Talent
The Chiefs may have an emerging linebacking corps. Nick Bolton led the Chiefs in tackles as a rookie in 2021 with 112 tackles.
The Chiefs cut Anthony Hitchens which makes room for the super athletic Willie Gay. The Chiefs also drafted Leo Chenal in the third round of the 2022 NFL Draft who was one of my favorite prospects at the linebacker position. This unit will be young, but there is a lot of potential there that can be developed under defensive coordinator Steve Spagnuolo.
Roster Weaknesses
I'm not sure if it's a weakness or not; it's more of an uncertainty, but who exactly is going to lead the Chiefs wide receiving corps? Will it be newly signed JuJu Smith-Schuster or Marquez Valdes-Scantling? What about rookie second round draft pick Skyy Moore? Could Mecole Hardman finally put forth a consistent productive season? Likely not, but someone in this unit needs to step up in 2022. As of now, I'm putting a question mark next to the wide receiver unit.
It's worth noting the Chiefs will be relying on George Karlaftis, their first round rookie defensive end, to play a significant amount of time for them Week 1. The position was bolstered with the signing of Carlos Dunlap who was good for 8.5 sacks last season with the Seahawks. Dunlap definitely adds some depth to a position of need for the Chiefs, but he is an aging player at 33 years old.
However, this is still a weakness to me despite the fact I love Karlaftis as a prospect. To me, this is a clear sign the Chiefs lack depth along their defensive line. Karlaftis could be great, but it's going to be tough for a rookie to step in and be the productive player they need him to be from the start of the season. Ideally, the Chiefs would want to ease a player like Karlaftis into the starting lineup over time. Perhaps now Karlaftis will get this opportunity with Dunlap on the roster. Time will tell, but for my money the Chiefs will be relying on Karlaftis to play well in Year 1. 
McDuffie
The Chiefs are also going to be relying on their first round rookie draft pick Trent McDuffie to start at cornerback. He's going to have to replace the vacancy left by Charvarius Ward who signed with San Francisco during the offseason. McDuffie will be a part of a new look secondary that will also be without Tyrann Mathieu. This isn't necessarily great for a unit that ranked No. 27 in passing yards allowed during the 2021 season.  
Flying Under the Radar
This may be a not so under the radar factor for Chiefs fans, but the Chiefs need Frank Clark and Chris Jones to step up along the defensive line in 2022. Clark has been a disappointment since coming over from Seattle and only recorded 4.5 sacks last season in 14 games. Jones has been the clear cut most talented defensive player, but they need him to play his best football in 2022 if the Chiefs want to contend, yet again, for a Super Bowl Championship.
Los Angeles Chargers
2021 Record: 9-8
Caesars Sportsbook win total: 10 Over (-130) Under (+110)
Key Additions:
Khalil Mack, J.C. Jackson, Bryce Callahan
Rookie draft selections
:
Round 1, No. 17, OG Zion Johnson, Boston College
Round 3, No. 79, S J.T. Woods, Baylor
Round 4, No. 123, RB Isaiah Spiller, Texas A&M
Round 5, No. 160, DT Otito Ogbonnia, UCLA
Round 6, No. 195, OL Jamaree Salyer, Georgia
Round 6, No. 214, CB Ja'Sir Taylor, Wake Forest
Round 7, No. 236, DB Deane Leonard, Ole Miss
Round 7, No. 260, FB Zander Horvath
Key Losses:
Roster Strengths
Once again, I don't think we should overlook the quarterback position. It is clear Justin Herbert is one of the best, young quarterbacks in the NFL. Some have said he's better than Patrick Mahomes. I'm not willing to go that far, but he will likely take another step forward in his development in 2022. Last season Herbert threw 38 touchdowns to 15 interceptions, piled up over 5,000 passing yards, and finished No. 3 in the NFL in QBR.
The skill positions on offense will be particularly strong in 2022. Keenan Allen is a bonafide stud, and the Chargers signed his running mate, Mike Williams, to an extension in the offseason. This leaves a combination of Jalen Guyton and Joshua Palmer likely as the third and fourth receivers in the offense with Palmer apparently winning the third spot as of this writing. Of course, Austin Ekeler will be the featured back, but the rookie Isaiah Spiller likely figures to be a part of the running game to keep Ekeler fresh. 
The Defense
On paper, this pass rush looks to be insane. Put yourself in a room game planning a way to stop both Joey Bosa and Khalil Mack. It doesn't sound like a fun job, does it? The Chargers also signed Kyle Van Noy who played in 16 games for the New England Patriots last season. He gives them some depth to keep both Mack and Bosa fresh throughout the season. This is a key signing as Mack dealt with injuries last season and is now on the other side of 30. However, if both Mack and Bosa are healthy. Oh my.
The secondary also looks to be a massive strength. The Chargers signed J.C. Jackson to play alongside Asante Samuel Jr at the two corner positions with the sneaky signing of Bryce Callahan at the nickel corner position. If Derwin James can stay healthy, this unit, in combination with the pass rush, will give opposing offenses nightmares. Nassir Adderley is the final piece of the starting unit at the free safety position, and he was a second round pick a season ago.
Roster Weaknesses
The Chargers needed to do something about their lackluster defense, and it would appear as though they have upgraded multiple positions. It's fair to point out, however, the Chargers ranked No. 30 in the NFL in rushing yards allowed per game (138.9). The Chargers have added some pieces to the linebacking corps, but this unit looks to be the weak spot on the defense. Some would suggest this is just fine. In the modern NFL, teams must prioritize pass rushers and players who can shut down the opposition's wide receivers. While this may be true, the Chargers will still need to prove to teams they can stop the run. Otherwise, it won't matter if they can rush the passer or shut down opposing wide receivers.  
Other than the linebacking unit, it's hard to find a weak spot on this team. To me, this might be the best roster in the division, but, of course, this doesn't guarantee them a division crown. The defending AFC West Champion Chiefs likely have something to say about that.
Flying Under the Radar
Likely, the Chargers will need a third weapon in the passing game to emerge. As of now, Palmer has the inside track to be the team's No. 3 wideout. However, Guyton has proved capable over the years as well. This battle will be an interesting one to monitor as the Chargers head toward the regular season. Also, consider the Chargers signed tight end Gerald Everett who profiles well and may finally breakout in a Chargers uniform.
Las Vegas Raiders
2021 Record: 10-7
Caesars Sportsbook win total: 8.5 Over (-130) Under (+110)
Key Additions:
Chandler Jones, Davante Adams, 
Rookie draft selections
:
Round 3 • Pick 26 (90) • G Dylan Parham
Round 4 • Pick 17 (122) • RB Zamir White
Round 4 • Pick 21 (126) • DT Neil Farrell
Round 5 • Pick 32 (175) • DT Matthew Butler
Round 7 • Pick 17 (238) • OT Thayer Munford Jr.
Round 7 • Pick 29 (250) • RB Brittain Brown
Key Losses:
Bryan Edwards, Yannick Ngakoue
Roster Strengths
Again, Derek Carr is a good NFL quarterback. He may not be as good as Mahomes, Herbert, or Wilson, but many NFL teams would give up a good deal to get him. Last season, Carr completed 68-percent of his passes, threw for 4,800 yards while throwing 23 touchdowns to 14 interceptions. Over the last three seasons, Carr has thrown for over 4,000 yards and at least 20 touchdowns. Needless to say, Carr has not been the problem in Las Vegas.
It's gnarly when an NFL team can trot out Davante Adams, Darren Waller, and Hunter Renfrow as their three top pass catchers. Not to mention, they sneakily signed Keelan Cole who will likely serve as the third wide receiver in the offense. This unit figures to be one of the top pass catching units in the NFL.
Once again, we have quite the dynamic duo at pass rusher. Chandler Jones has proven to be one of the better pass rushers in the league. Jones figures to be the ideal candidate to play next to Maxx Crosby who has served as the best pass rusher on this defense. Together, these two should be able to wreak havoc on NFL offenses.
Roster Weaknesses
The Raiders offensive line leaves something to be desired. According to most media sources, this unit ranks near the bottom of the NFL. However, Kolton Miller has served admirably at the most important position, and this likely puts Carr more at ease heading into the 2022 season.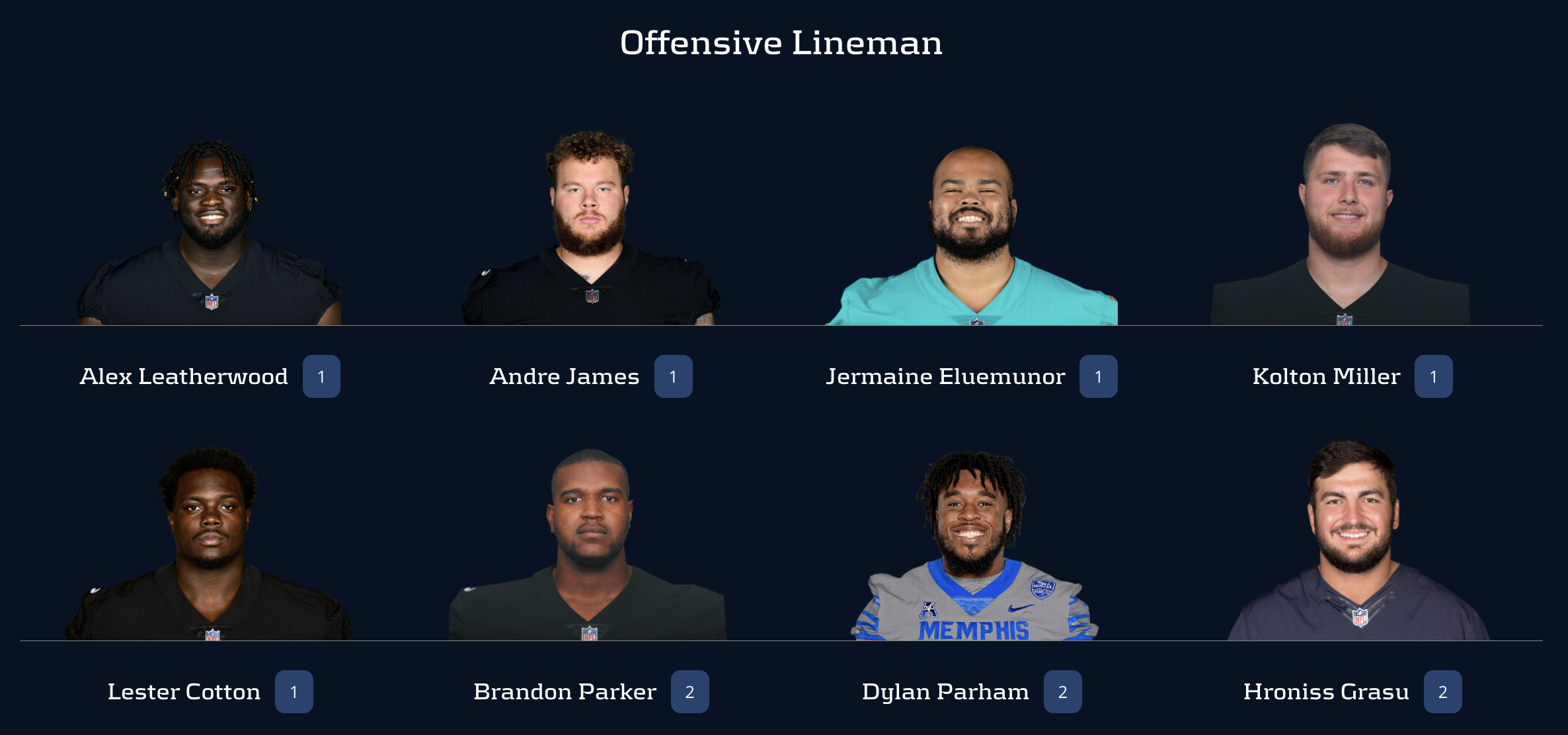 The Raiders defense will have to improve in 2022. A season ago, the Raiders gave up 25.8 points per game which ranked No. 26 in the NFL. Outside of their pass rushers, the Raiders don't have much in the way of star power at the other defensive positions. They don't have a terrible secondary with Johnathan Abram, Treyvon Mullen, and Trevon Moehrig all representing key positions at either corner or safety. It's notable the Raiders didn't pick up Abram's fifth year option. The Raiders did sign Casey Hayward to play the other cornerback spot, but I figure this unit still has some question marks entering 2022. 
Flying Under the Radar
It may not mean much in today's NFL, but the Raiders also decided not to pick up Josh Jacobs fifth year option. This means Jacobs is entering the final year of his contract with the Raiders and will need to prove to them he is worth keeping around. My guess is the team does move on next season, but it's a situation worth keeping an eye on.   
Denver Broncos
2021 Record: 7-10
Caesars Sportsbook win total: 10 Over (-110) Under (-110)
Key Additions:
Russell Wilson QB, Billy Turner LT 
Rookie draft selections
:
Round 2: Oklahoma OLB Nik Bonitto
Round 3: UCLA TE Greg Dulcich
Round 4: Pitt CB Demarri Mathis
Round 4: Iowa State DL Eyioma Uwazurike
Round 5: Oklahoma S Delarrin Turner-Yell
Round 5: Samford WR Montrell Washington
Round 5: Washington C Luke Wattenberg
Round 6: Wisconsin DL Matt Henningsen
Round 7: Wisconsin CB Faion Hicks
Key Losses:
Von Miller, Bryce Callahan, Noah Fant, Shelby Harris
Roster Strengths
It's a theme with this division, but I need to mention the quarterback position once again. The Denver Broncos acquired Russell Wilson this offseason for a package of players and draft picks. Needless to say, many analysts believe the Broncos needed a quarterback who could take them to the promised land, and they were able to land Russell Wilson. Despite having a down season in 2021, Wilson did manage to throw for 25 touchdowns to just six interceptions. Wilson ranked No. 10 in QBR in 2021 with a 54.7 mark.
The offensive weapons figure to be above average. Courtland Sutton, Jerry Jeudy, and Tim Patrick figure to headline three receiver sets with K.J. Hamler serves as the primary fourth option. There's also Albert Okwuegbunam taking over for Noah Fant at the tight end position. The Broncos also drafted Greg Dulcich who figures to compete with Okwuegbunam for playing time. The Broncos also feature a dynamic running game featuring Javonte Williams and Melvin Gordon.
Editor's note: This article was written before Tim Patrick was ruled out for the season due to a torn ACL.
The secondary figures to be a strength as well. Second year cornerback Patrick Surtain likely improves on his rookie performance, Justin Simmons is a nice player at the safety position, and Kareem Jackson and Ronald Darby come over as free agent additions at the other corner and safety positions. 
Roster Weaknesses
The front seven of the Broncos was definitely hurt by the free agent departure of Von Miller. They'll need someone to step up in his absence alongside Bradley Chubb. The linebacking corps also appears to lack depth behind their featured linebacker Josey Jewell. Jewell and Jonas Griffith project to be the starters at the inside linebacker position. The good news for the Broncos is Jewell has played multiple seasons for the the team at this point and has proven to be effective in the past. Jewell did rank No. 7 in the NFL in tackles last season, and the Broncos will need him to play equally as well in 2022.
The offensive line should be okay, but it's not a strength of the team. However, this may be one of the better offensive lines Russell Wilson has played behind in his career, so he may not know what to do with all the time he has back there even with an average offensive line. The good news is Wilson is used to a pocket breaking down and has made the most of improvisation in the past. 
Flying Under the Radar
The Broncos first pick in the 2022 NFL Draft was Oklahoma OLB Nik Bonitto. It could be nothing, but I wonder if Bonitto doesn't factor in right away with this defense. As I mentioned earlier, the Broncos have a need at pass rusher with the departure of Miller. It's possible Bonitto picks up valuable snaps as a rookie. Much like Karlaftis in Kansas City, relying on a rookie pass rusher comes with some risk. This is a situation to monitor heading into the 2022 NFL season.