Welcome in to the Week 5 edition of the Hitchhiker's Guide to RB! This is the place where we talk all things running back streaming. Each week we discuss running back usage, matchups, and waiver opportunities to convert the least amount of capital into a playable running back position on your fantasy teams.
If you did not read the introductory edition of the column, I strongly recommend checking it out here:
Introduction
The weekly project of this column is to stream the highest scoring running back we can using only a select group of bench running backs and the waiver wire. Additionally, I hope this article allows you to think critically about the inputs involved in fantasy production at the position that will inform how you play fantasy football.
In each article, I will briefly recap the week that was at the running back position. Then I will discuss the status of our existing running back bench and whether to make any transactions on our official roster. Lastly, I will discuss potential waiver options and designate my plays of the week.
Often I will mix in other tangents week-to-week addressing roster management, draft strategy, backfield shifts, potential beneficiaries from a major injury, or an examination of team or player usage trends.
Note: Any data not from Playerprofiler, or otherwise sourced is via Pro Football Focus.
Week 5 Recap – League-Wide
Below are the top 24 Running Backs from Week 5 excluding Monday Night's game. Previously, I displayed the weekly result vs. the previous weeks individually. This week I've included Week 5 vs. the season-long results.
Note: Rhamondre Stevenson's ADP rose to 8.10 (94) just days AFTER the pre-season version of this piece was finalized. At the time it was written, he was drafted outside the first eight rounds and thus streamer-eligible per our criteria.
The color coding is as follows:
Teal = drafted in the top 24 at their position by 4for4's ADP aggregator.
Yellow = drafted outside the first eight rounds.
Green = drafted outside the first eight rounds, and selected plays from our "roster" (see last week's article)
Pink = players on our roster, not played last week
Purple = players not on our roster that were recommended plays off waivers last week
Orange = Un-drafted
White = does not fall into any of the aforementioned categories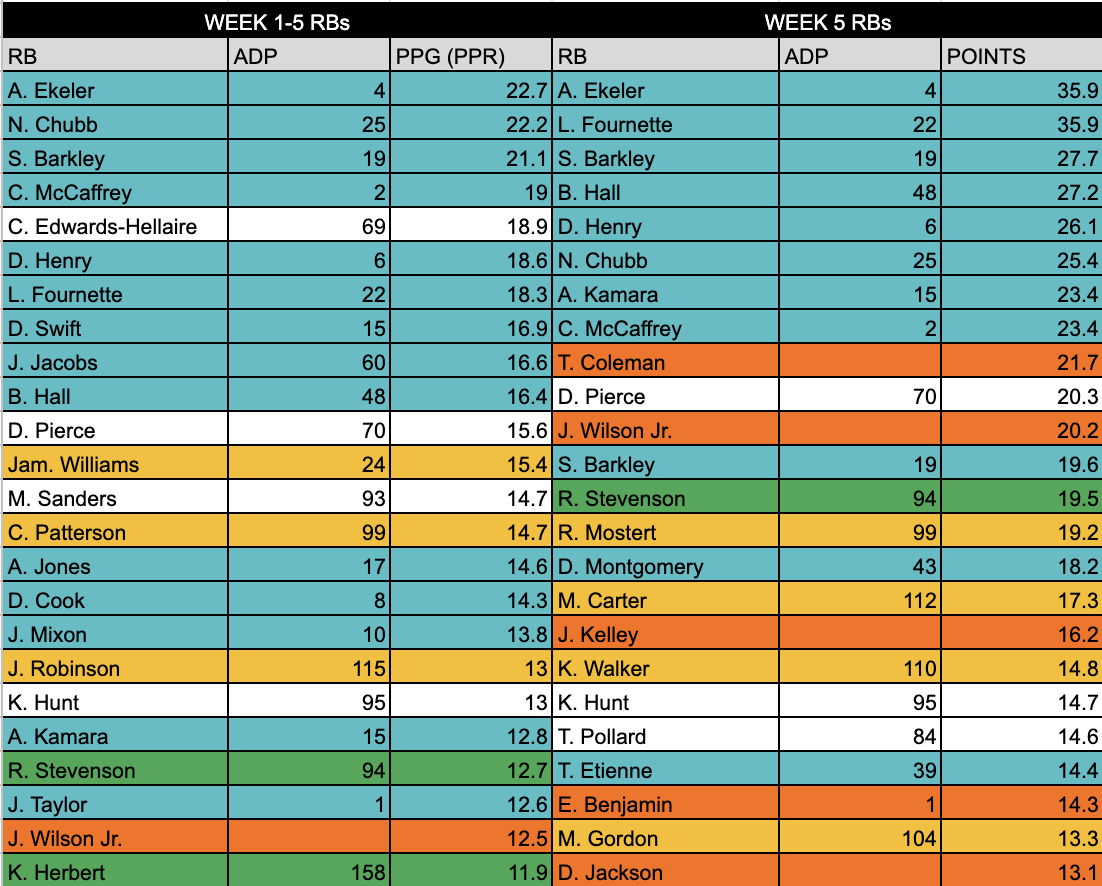 Week 5 was somewhat a reversal of Week 4. Last week we discussed the "rise of the dead zone," based on it being a soft week for RB streamers and highly drafted backs alike in comparison to mid-round options. This was what a more traditional "good RB week" looks like. The backs scored well. The top 12 and top 24 RBs outscored their receiver counterparts for the second time this season and for the second consecutive week. However, this time it was the elites of the position doing it.
A Good Week For ADP
However, this was also a more traditional, and strong, "streamer" week. Stream-eligible backs – by our definition – make up 10 of the top 24 finishes pending Monday Night Football. At least five of these were foreseeably strong plays.
Theoretically, this is how streaming should work. You forgo the elite ceiling of the round one backs, opting instead to match it with Cooper Kupp, Mark Andrews, Stefon Diggs or Justin Jefferson. Then you bank on being able to keep pace with mid-late round receivers, and mid round running backs on aggregate with streaming options. The reverse, of course, is true for early running back drafters. Structurally speaking, this was a week to point to nearly anything you like and call it a validation of your draft plan.
Season Long Check-In
A true analysis of which draft strategies are succeeding most this year requires substantially more work than we can do in this column and is best served for after the season. However, I thought it would be interesting to take a look at the top 24 at each position through five weeks. (pending Monday Night Football)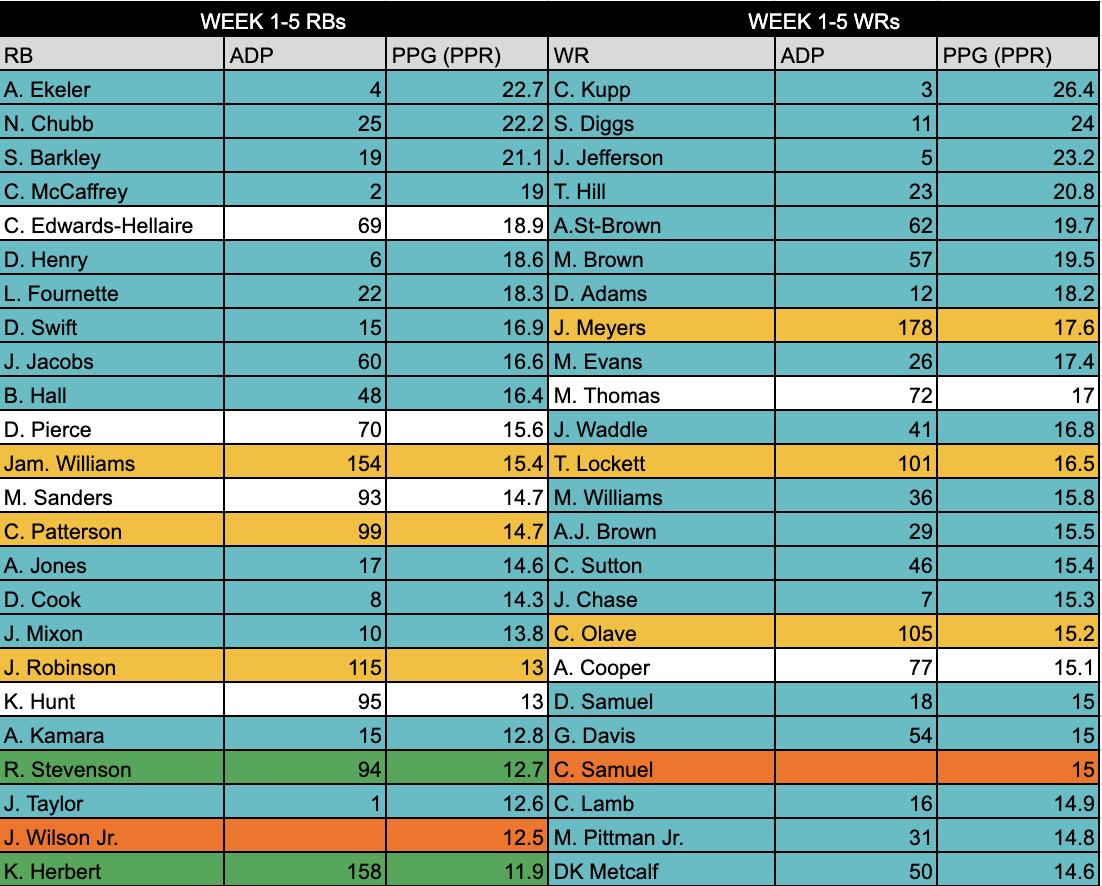 The first thing that sticks out to me is just how strong ADP has been this year in general. Each week there have been backs and receivers alike with spike games. However, with five weeks of sample to work with, the cream is rising to the top. The only receiver or running back drafted after the top six rounds currently top 10 is Jakobi Meyers who has played only three games.
Wide Receivers are out-scoring running backs, and those drafted in the receiver window of ZeroRB builds are the ones dominating the scoring. This includes – most importantly – the round one receivers (save Ja'Marr Chase). However, for ZeroRB to fully hit this year, there likely needs to be more juice from the late-round backs as the season goes along.
Week 5 Recap – Our Roster
Streaming Rules
For those joining us in progress, here is the process for the weekly streaming choices.
In the introductory column, I chose one RB in each of rounds 9-14 based on those available at each round using 4for4's ADP aggregator. That is my starting "roster."
Each week I will address whether to add any running backs available on waivers, and if so, who to drop.
Because your team is not mine, my weekly plays will not only consist of my "rostered" running backs. Instead, I will recommend a play from each of three categories. (see below)
My streaming "score" each week will be the average of my play in each category. My "preferred" play will count double and MUST come from a running back on my "roster." If I choose to make a waiver back my preferred play, I will outline who I am cutting from my existing bench for that running back.
The Categories
Bench Streamers: The selected running backs in the introductory article plus and minus any transactions published throughout the year in this column. If a drafted player gets injured, I retain one injured reserve spot.
Premium Waiver Streamers: This group is comprised of any running back with less than 67-percent roster-ship on Yahoo leagues as of the first waiver run of the week. It can include both generally un-drafted players as well as previously drafted players who have been widely cut by managers.
Deep Waiver Streamers: This group is comprised of any running back with less than 33-percent roster-ship on Yahoo leagues. The same rules apply as above.
Current Roster
Our current roster is the six running backs on our existing roster. Those running backs are:
We got quite a few questions answered about the backs on our roster this week, and will touch on each.
The Good
Rhamondre Stevenson
How could we start anywhere else?
Stevenson positively crushed it this week.
Damien Harris left after just six snaps with a hamstring injury, and Stevenson – the only other back active – handled every snap the rest of the way. This resulted in a 90-percent rate. He was able to stand up to epic volume, posting 175 total yards on 27 touches: 25 carries and two catches. Stevenson also grades out as one of the best running backs in the NFL.
Entering Week 4, he ranked No. 1 in Juke Rate. This is over ten percentage points above the next rated back (ironically Damien Harris). He ranks only behind Nick Chubb in both PFF's offensive and rushing grade.
Watching him work is one of the more unique viewing experiences across the running back landscape right now. Despite not having elite top-end speed, he is one of the most efficient running backs in the NFL and has to create based on a combination of innate understanding of leveraging defenders, elite short-area quickness, contact balance, and vision. His deliberate rushing style combined with his ability out of the backfield can't help but bring to mind prime Le'veon Bell: a comparison I made once before…
Stevenson's Upside
Surely, the Patriots will activate another back if Harris misses next week. But it's important to stress that Damien Harris is a VERY effective running back in his own right. While I prefer the all-purpose skillset of Stevenson, the drop off from Harris to Pierre Strong, J.J. Taylor or Kevin Harris may be steep.
He has already begun taking each pass-down snap, subbing in on drives that are otherwise Harris'. This intentionality in his usage portends a locked-in role, with plenty of room to grow on the rushing side. Expect Stevenson to have the bulk of the load in all situations and fire him up as a locked and loaded RB1 for however long Harris may be out.
He continues to be an upside RB2 if and when Harris returns.
Rachaad White
Rachaad White showed that his Week 4 invasion of the Bucs bakcfield was not a fluke. White handled 39-percent of snaps and 42-percent of routes (22). This resulted in five carries and four targets. White has been targeted 21-percent of routes this year. If the Bucs continue to pass at the rate they have since regaining health at receiver, we should bank on four-five targets each game on this complement of routes.
White's fantasy value is still mostly contingent, but this makes him more similar to a Nyheim Hines or J.D. McKissic as a weekly option. If you have been rostering White and streaming McKissic this year, but there is an appealing option on waivers at any position, the difference between the two is neglgigble enough where you can cut McKissic and plug White in until a contingent option arises.
The Bad
Khalil Herbert
As expected, Herbert's two week sample as lead back was not enough to shift the landscape of the Chicago backfield. Herbert – unlike White – is not a pass down option. This leaves him a low weekly floor when Montgomery plays. He will still handle every third series, giving him carry and touchdown upside, but he is only a desperation weekly start unless Montgomery is once again injured.
Nyheim Hines
This was just a really sad situation all around. Hines played each of the first three snaps before suffering a concussion and not returning. It is likely Jonathan Taylor will be back next week and unknown if Hines will be. Unfortunately, due to the immediacy of the injury, we have little more to go on regarding his contingent value than we did last week.
Darrell Henderson 
The Rams have continued to deploy their backs in a similar fashion since Week 2. Henderson leads the backfield in snaps and routes, but Akers is far more likely to touch the ball when he plays: almost always resulting in a carry. It's like Sony Michel – James White, but if James White mostly ran wind sprints.
The Rams played Cam Akers for 20 snaps today, handing off to him on 12.

Henderson played 37 snaps, receiving a carry on zero.

Whenever you can feed carries to an ineffective back behind a sieve of an O-Line while also tipping every play to the defense you just gotta do it

— Jakob Sanderson (@FF_RTDB) October 10, 2022
Henderson's zero carries is an anomaly vs. the rest of his season, but the pattern is clear. Until there is a shakeup in this backfield, Henderson is a desparation flex only. I would start Rachaad White over him for instance based on the offensive environment and the targets per route.
The Rest
Tyler Allgeier
Tyler Allgeier had an inauspicious day in the box score, totalling 13 carries for 45 yards. However his underlying role was much better. He handled 59-percent of snaps and 56-percent of routes: right in line with the Patterson-esque distribution we projected last week. Just as with Patterson, it was Avery Williams playing the two minute drill.
Allgeier also played a higher portion of third downs than Patterson and was clearly not being given the same schemed touches in the pass game on early downs. For as long as this role holds – which may be as long as Damien Williams is out – Allgeier is startable. He is not the dynamic pass-game weapon Patterson is and should not be projected as such, but running this number of routes will earn you a couple dump offs more often than not. Pair that with his rushing role – 13 of 24 running back rushes – and he can be a low-end RB2.
The Result – Week 5 Plays
We were within range of striking pure gold this week. Rhamondre Stevenson – our preferred play – stepped up with 19.6 Points. Our Deep Play J.D. McKissic chipped in his weekly 8.7. Unfortunately, Nyheim Hines' injury submarined an otherwise sterling week.
It is worth noting our alternate play for Hines in the case Jonathan Taylor suited up was Raheem Mostert. Had we been able to use his result, our stream score would have been an epic 16.8. Alas, with Hines' iniury-induced dud, we were still able to put up a playable 12.4. If you want to give me credit for the higher one, I will take it.
The Waiver Wire
Kenneth Walker
There is one clear top prize on waivers this week. At least for those of you in the 55-percent of (Yahoo) leagues he is available.
We wrote about the Seattle backfield at length last week regarding Rashaad Penny and much of his situational commentary now applies to the former Michigan State Spartan. Walker was an elite pure-rushing prospect in college, who has shown himself to be an efficient rusher so far in the NFL, sitting No. 6 in Juke Rate. I would view Walker more favourably than Penny, with the following differences.
The Differences
We should have already upgraded all members of this team from the off-season to now based on their offensive over-performance
Walker has no serious threat to his early down workload like Penny had in Walker
While Walker is a theoretically high-efficiency rusher, he has not demonstrated it over a longer sample as Penny has in the NFL
Walker does not profile as a pass-catching back, but does have the upside of the unknown in that area where Penny did not
If you want to read more from me on Walker, and why I felt he was an over-valued dynasty prospect in rookie drafts, check out this piece from the off-season.
All together, Walker profiles to be an high-end RB2 at his modal outcome. He has virtually no competition for early down touches on an offense we can now tentatively say is good. While I would expect Deejay Dallas (who reprised his pass down role in this game) and eventually Travis Homer to take on most of the passing downs, Walker can monopolize everything else. This gives him a 2021 Antonio Gibson-esque profile as an explosive running back in a bifurcated deployment of snaps.
If Walker is on your bench you likely have your season long RB2 answer. If he is on your waivers feel free to bid 100-percent of your FAAB, or $1 higher than the next highest remaining amount of FAAB belonging to a league mate; whichever figure is lower.
Eno Benjamin
Our old friend Eno got into the end zone this week!
Originally the sixth member of our roster, Benjamin was let go from our team because he could not separate from Darrell Williams as the backup to James Conner. He has not yet done so, but in this game Conner and Williams both left early. Benjamin controlled the backfield the rest of the way, turning eight carries and four catches into 53 total yards and a score.
Benjamin has played well this year in his opportunities. He ranks No. 7 in PFF rush grade, No. 11 in juke rate, and No. 2 in yards created per touch. The issue is that he seems locked into an even timeshare with Williams as the complimentary back. Therefore, Benjamin is only a flex start if Conner misses the upcoming week and can only be trusted if both other backs are out of the picture.
It is worth noting that perhaps they do not value Williams vis a vis Benjamin per se but merely think Benjamin can only be deployed in a complimentary fashion. Look for round six rookie Keaontay Ingram to be activated this week if both the Cardinals injured backs miss the game. He may cut into Benjamin's workload.
Conner's injury is at this point considered minor, and even unlikely to sideline him this week. Therefore, Benjamin is worth adding, but not for more than a small subset of FAAB and not the expense of superior options.
James Conner suffered a Ribs injury yesterday. The numbers among skill players with this injury and the amount of time they missed:
-Mean: 0.5
-Median: 0
-Mode: 0

Some notable performances (and a few duds) *but* will have to monitor his practice status

CC @FantasyPts pic.twitter.com/8sojxBS1Qw

— Edwin Porras, DPT (@FBInjuryDoc) October 10, 2022
The Waiver Wire Priority List
Among everyone rostered in 67-percent of leagues or fewer, here is your Week 5 waiver priority list.
NOTE:
*CON* = Contingent Value-focused use case
*SA* = Standalone Value-focused use case
*STASH* = Role projected to grow organically throughout the season
Feel Free to adjust this priority depending on your need for immediate starting value.
We are not making a transaction this week as Kenneth Walker is above our defined ownership threshold.
Week 5 Picks
Preferred Play: Rhamondre Stevenson
Wash, Rinse, Repeat. Stevenson is as good a start as nearly any back drafted outside the top two rounds in fantasy this year if Damien Harris misses. Even if Harris plays, Stevenson's role has been rock solid the past month.
Premium Play: Kenneth Walker
Sadly, this will be the only week we get to play Mr. Walker as his ownership will ascend well beyond this range come next week. However, for his one week stint between 33-67-percent rostered he profiles as an elite streaming option and a rest of season starter for those who can claim him or stashed him.
Deep Play: J.D. McKissic / Eno Benjamin
J.D. McKissic is the default play here for the fourth consecutive week. However, I will not that if EITHER of Conner or Williams sits I will roll out Eno Benjamin here. As well, Rachaad White misses the threshold by just one percentage point in ownership or he would be in the mix as well.
The Final Word
Thank you once again for reading this column, and I look forward to its continued development over the course of the season. Also, credit to Pro Football Focus for providing data I was able to use in this column in addition to the incredible wealth of information on PlayerProfiler.
Happy Hitchhiking!