Welcome in to the Week 4 edition of the Hitchhiker's Guide to RB! This is the place where we talk all things running back streaming. Each week we discuss running back usage, matchups, and waiver opportunities to convert the least amount of capital into a playable running back position on your fantasy teams.
If you did not read the introductory edition of the column, I strongly recommend checking it out here:
Introduction
The weekly project of this column is to stream the highest scoring running back we can using only a select group of bench running backs and the waiver wire. Additionally, I hope this article allows you to think critically about the inputs involved in fantasy production at the position that will inform how you play fantasy football.
Each article I will briefly recap the week that was at the running back position. Then I will discuss the status of our existing running back bench and whether to make any transactions on our official roster. Lastly, I will discuss potential waiver options and designate my plays of the week.
Week 3 Recap – League-Wide
Below are the top 24 Running Backs from Week 3, excluding Monday Night's game.
Note: Rhamondre Stevenson's ADP rose to 8.10 (94) just days AFTER the pre-season version of this piece was finalized. At the time it was written, he was drafted outside the first eight rounds and thus streamer-eligible per our criteria.
The color coding is as follows:
Teal = drafted in the top 24 at their position by 4for4's ADP aggregator.
Yellow = drafted outside the first eight rounds.
Green = drafted outside the first eight rounds, and selected plays from our "roster" (see last week's article)
Pink = players on our roster, not played last week
Purple = players not on our roster that were recommended plays off waivers last week
Orange = Un-drafted
White = does not fall into any of the aforementioned categories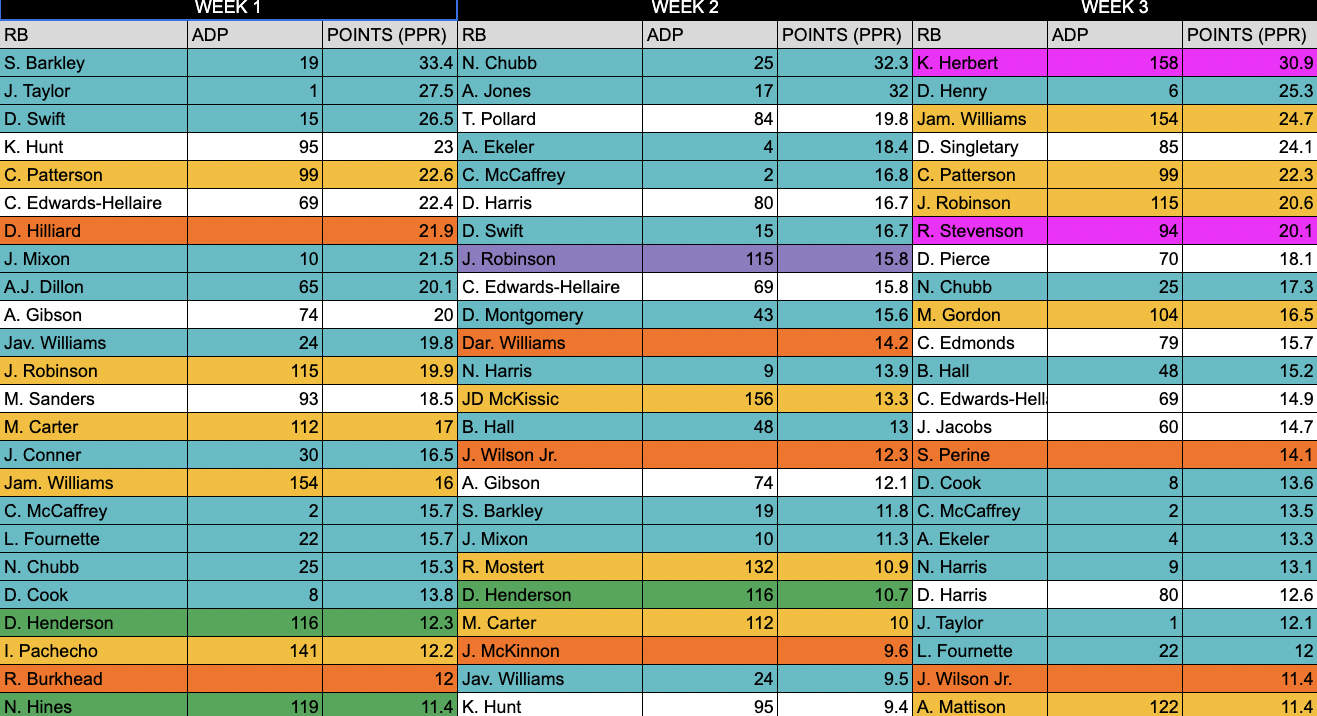 The color coding of this week's table shows us that it was a very different week in the running back ranks. Just three of the top 12 (and in fact, top 15) performers were drafted as top 24 running backs. There were six streamers among this group including the two on our team: Herbert and Stevenson. Overall, nine of the top 24 backs – pending Monday night football – were streamer-eligible.
I have spent the majority of my time discussing the running backs "drafted" by this column or those who – like James Robinson – we have streamed along the way. But both Jamaal Williams and Cordarrelle Patterson are now two-time top 24 streamers, joining Darrell Henderson, Jeff Wilson Jr., Michael Carter and James Robinson. It's worth briefly discussing their outlook moving forward in case you roster either. Williams in particular may be stepping into focus with Swift at risk of missing time due to a shoulder injury.
NOTE: Nathan Jahnke of Pro Football Focus is the source for any forthcoming data that is not from PlayerProfiler or is not otherwise sourced.
Cordarrelle Patterson
Patterson was among the earliest-drafted streamers specifically for his early-season viability. He has paid that off thus far. In the season opener, Damien Williams was injured on the opening drive. This lead to a full-blown workhorse performance. Since that game, Tyler Allgeier has assumed at least a portion of Williams' expected role in a three-man backfield that also features Avery Williams.
We discussed Allgeier last week as a waiver add and his role remains mostly the same. He has a minority share of early-down rushing, with almost no role in the passing game. Without a Patterson injury, Allgeier is a desperation streamer, reliant on a touchdown. However, to this point, while he has handled some short yardage work, he has seen just one of four goal line carries.
Patterson's Rest-of-Season Outlook
Patterson cedes some pass-down work to Avery Williams, but these are the emptiest of empty-calorie snaps. Avery Williams has played 19 snaps the past two week. However, only one featured a carry, and seven featured a route. The rest are primarily spent pass protecting. Last year, Mike Davis handled both between the twenties carries and pass-blocking snaps for Atlanta. It appears his role has been split between Avery Williams and Tyler Allgeier, with Patterson remaining in his 2021 role. 
While he doesn't monopolize touches in any situation, he is involved in both phases of the game and has received every goal-line touch. His role in a three-man backfield is most similar to Clyde Edwards-Hellaire or Devin Singletary but with a higher share of goal-line work. 2021 Josh Jacobs – who ceded pass-blocking snaps to Jalen Richard and situational carries to Kenyan Drake – is another comparator. Patterson will be a volatile but high-upside RB2 for as long as he retains this role and his explosiveness at age-31.
Jamaal Williams
Jamaal Williams is a unique role archetype, and one who has been running pure to start 2022. However, he now may be the feature back for the next two weeks. My question is how much contingent value he truly has. I am somewhat skeptical.
A staple of running back streaming strategies is flex-worthy running backs with a standalone role but limited contingent value. However, we typically think of this archetype as synonymous with pass catching specialists. J.D. McKissic is the best example at present. Who remembers Theo Riddick SZN?
Jamaal Williams profiles somewhere between 2020 Ronald Jones, 2019-20 Gus Edwards, and 2021 Mark Ingram (Saints). There have been rush-down only compliments with elite contingent value, but Williams may not carry the same upside as those which first come to mind. Early-2021 James Conner and Saints-era Latavius Murray stand out.
A Unique Use-Case for Jamaal Williams' Archetype
I think some view Williams similarly to these aforementioned backs. However, the evidence would suggest he's more capped out than you may think. In 2021, Jamaal Williams had two opportunities to lead the Detroit backfield without D'Andre Swift. In those games he registered just 42 and 47-percent of snaps. His only tally above 60-percent came when Swift exited mid-game.
In 2022, Swift has been active but seen a reduced role in weeks two and three after appearing on the injury report with an ankle injury. However, while Williams' role has increased, Craig Reynolds has also emerged for 22 snaps. Despite playing just seven fewer snaps than Swift the past two weeks, Williams trails 44-16 in routes. This is the area he lacked usage in 2021, ceding pass-game work to Craig Reynolds and Godwin Igwebuikwe. The only game in which Williams and Reynolds were both active was Week 16. Williams saw 58-percent of rush attempts to Reynolds' 41-percent. Given this was also Williams' first game back after an injury, I would expect Williams' carry share to be higher. However, his route-share of 26-percent may carry some signal about his one-dimensional profile in the eyes of the Lions.
How High is Williams' Ceiling?
If you roster Williams, be happy! He's earned a standalone role in this offense which features a heavy share of early down rushing and goal-line opportunities. For the next two weeks, you likely have a starting back! However, if you have other start-able options, you may want to use this chance to pair him with an extraneous receiver to land a season-long starting running back or receiver upgrade.
Some may be reading Williams to have an improved standalone role AND elite contingent value based on his fantasy production through two weeks. His standalone role is not as dissimilar from 2021 as we think; the Lions are just winning more, leading to a higher percentage of the game situations Williams plays in. As well, his lack of pass-game usage means his contingent role is likely more mid-range RB2 than the bell-cow role he received when filling in for Aaron Jones in Green Bay.
The Lions not only have Craig Reynolds, but are holding Justin Jackson on their practice squad. If Jackson is elevated, expect Williams to be contained primarily to early-down work, with Craig Reynolds as the complement. If it's just Williams and Reynolds, or Jermar Jefferson is the call-up, I would have a greater degree of optimism for Williams to serve as a high-end starter.
Week 3 Recap – Our Roster
Streaming Rules
For those joining us in progress, here is the process for the weekly streaming choices.
In the introductory column, I chose one RB in each of rounds 9-14 based on those available at each round using 4for4's ADP aggregator. That is my starting "roster."
Each week I will address whether to add any running backs available on waivers, and if so, who to drop.
Because your team is not mine, my weekly plays will not only consist of my "rostered" running backs. Instead, I will recommend a play from each of three categories. (see below)
My streaming "score" each week will be the average of my play in each category. My "preferred" play will count double and MUST come from a running back on my "roster." If I choose to make a waiver back my preferred play, I will outline who I am cutting from my existing bench for that running back.
The Categories
Bench Streamers: The selected running backs in the introductory article plus and minus any transactions published throughout the year in this column. If a drafted player gets injured, I retain one injured reserve spot.
Premium Waiver Streamers: This group is comprised of any running back with less than 67-percent roster-ship on Yahoo leagues as of the first waiver run of the week. This can include both generally un-drafted players as well as previously drafted players who have been widely cut by managers.
Deep Waiver Streamers: This group is comprised of any running back with less than 33-percent roster-ship on Yahoo leagues. The same rules apply as above.
Current Roster
Our current roster is the six running backs on our existing roster. Those running backs are:
It was the best of times, it was the worst of times. Depending on your use case for this column, it was may have led you to rousing success or a crippling defeat on Sunday. 
For the first time this season, two of our rostered six running backs posted RB1 finishes, both over 20 PPR points. Rhamondre Stevenson finally stepped into the potential we've been espousing since the pre-season article, and Khalil Herbert had what may be a true breakout game for his career. 
However, my official streaming plays for Week 3 faired quite poorly. My hope is that you avoided Darrell Henderson and Raheem Mostert or were able to withstand a bust from either with high-end production from the rest of your lineup. If so, you may be set up well moving forward given the emergence of several of our featured backs in this column.
The Good
Khalil Herbert Dance Party
Herbert – this week's overall RB1 – posted 157 rushing yards and two touchdowns in Week 3. Taking over for an injured David Montgomery, the 24 year-old nicknamed "Juice" showed off his namesake consistently.
In the run below, Herbert showed off why myself and others suspected he may be this backfield's best fit for Chicago's new zone scheme. Herbert got the toss moving toward the boundary, and the Bears have the lane blocked to perfection.
JUICEEEEEE

📺: #HOUvsCHI on CBS pic.twitter.com/PYYJO7lg2m

— Chicago Bears (@ChicagoBears) September 25, 2022
It's easy to credit the blocking for this big gain, and it's deserved. But Herbert shows off the traits most necessary to maximize the scheme. He diagnoses quickly the opportunity to cut upfield, then does so with high-level burst, converting a well-blocked play into a field-flipping explosion.
Moving Forward
Herbert split snaps 15-13 with round seven pick Trestan Ebner in the first half. Runs like this helped him mount a 22-2 advantage in the second half. Should Montgomery miss time moving forward, Ebner is likely most threatening to Herbert on passing downs. Herbert has never been a significant contributor in the receiving game. Ebner meanwhile played in a receiving back role at Baylor in a split with Abram Smith.
David Montgomery has been labelled "day to day" per Matt Eberflus. However, should he miss any time, we should view Khalil Herbert similarly to Rashad Penny prior to Walker's activation. He has consistently graded out as a plus efficiency rusher on a team that wants to run at a high rate. 
Unfortunately, his team is also slow-paced and infrequently favored. Herbert – like Penny – risks being game scripted out in favor of receiving backs. That being said, in a game vs. the Giants in Week 4, it's likely the Bears can remain competitive deep into the contest. Even if they fall behind, the Bears famously rushed for 108 yards and passed for zero on a single drive while down 14 in the fourth quarter of Week 2. It's possible game script holds less sway over this team than any other.
Regardless of Montgomery's health outlook, Herbert showed enough in this game that the staff should consider apportioning a section of their playbook to Herbert going forward. Consider Herbert a priority hold regardless of Montgomery's health, and a high-end RB2 in Week 4 if Montgomery is ruled out.
It's Rhamondre StevenSZN
For the second consecutive week, Rhamondre Stevenson decisively out-snapped Damien Harris. He out-snapped Harris 41-25 this week and 42-27 last week. His route participation was also similar to Week 2 which was the first week with Ty Montgomery on injured reserve. Once again, Pierre Strong was a non-factor.
I wrote last week that Stevenson – who has always been an efficient receiver in terms of earning and maximizing targets – was unlikely to repeat such a down receiving game if given 20+ routes again. My concern was whether he would continue in such a role given his lack of production, and its potentially fragile emanation.
Those concerns have been set aside.
Rhamondre Stevenson stepped into an RB1 utilization profile in Week 3, per PFF data 😤😤😤

62% snaps
54% rushing atts
64% route participation
16% target share
60% short yardage
60% long-down-distance
100% two-minute

— Dwain McFarland (@dwainmcfarland) September 26, 2022
Clarity in the Pats Backfield?
For as long as Ty Montgomery remains out, Stevenson is the Patriots back to roster, and profiles as an every week start. His rushing split with Harris is essentially 50-50. They rotate drives and seemingly have no situational limitations. Therefore, whether Stevenson or Harris has more carries or rushing yards is mostly based on the success of the drives in which they take the field. Given both are highly effective rushers, there is little reason to expect this to change or one to consistently have more success. 
However, it is in the receiving game where Stevenson has a clear-cut advantage. Since Ty Montgomery's placement on injured reserve, 2021's 4th round pick leads decidedly in routes (51-21), and has handled all two minute drill work. Should the Patriots be forced to start Brian Hoyer, Stevenson may lose some touchdown equity. However, he could play even a higher percentage of snaps if New England faces more trail script.
Ty Montgomery remains on injured reserve for at least two more games. Whether Stevenson can provide locked-in starting value for all of 2022 likely depends on his ability to seize this role for good with his play in the near term.
Why we Buy Profiles not Roles
In the aftermath of Week 1 I stated the following:
Occasionally the first path we seek does not lead us where we wish to go. But fortunately, life's knack for deferring the clearest path, does not always preclude it from finding a way. Often we as fantasy gamers attempt to decipher the game as though it were a pre-crafted plot with discoverable endings hinted at from the first chapter. But in fact the game is much more fluid than that. A coach's first inclinations is not always their lasting one, just as our first is not always the correct one. 
We cannot be certain what will play out for Herbert, Stevenson, or any of our picks. Also, we know that there was a world where Ty Montgomery or David Montgomery was never injured. (We really seem to root against Montgomerys here).
However, we try to identify profiles which stand to benefit most from injuries in the near term, and whom have a chance to seize a larger stand alone role based on their play when given opportunity. In my view, it is the last part that is often missed even by ZeroRB drafters. 
It's not as easy as just picking number twos on the depth chart. We want to pick backs with a well-rounded skillset and/or elite traits for the scheme they play in. Whether this thesis comes to pass relies on good fortune, good evaluation, and the presumption of rational coaching. Each is fragile at best and faulty at worst. However, no preface will be able to tame my excitement over Herbert and Stevenson in the coming weeks.
The Bad
Darrell Henderson
Darrell Henderson landed with a massive thud in Week 4: 1.7 PPR points. However, the trend from Week 2 continued. Henderson led in snaps and routes while Cam Akers led in touches by a considerable margin. Henderson also continued to lead in goal-line carries.
I perceived (perhaps too confidently) Week 2 as an aberration, but it's now edging toward a trend. Perhaps Henderson is the "lead" back in the same way Jerick McKinnon leads the Chiefs in snaps. The Rams aren't utilizing their backs frequently in the passing game, and thus Henderson's snap edge has mostly been a result of target-less routes. This empty calorie usage isn't enough to support a start worthy back. 
I don't want to reach too deep into this backfield as the possibility for another shift appears likely. Cam Akers led the Rams' second half touchdown drive, capping it with an impressive run for six. He then played the following drive and appeared to be asserting control over the backfield. However, he then fumbled at the one-yard line, and the Rams never got the ball back with the game in question. 
Moving Forward
Your guess is as good as mine as to whether McVay places greater weight on the touchdown drive or the fumble. For now, Akers is best-viewed similarly to Miles Sanders, Clyde Edwards-Helaire or Damien Harris. He doesn't play a lot of snaps, but touches the ball frequently when he plays. However, he is also at significant risk of losing high value touches in all areas of the field.
Henderson should be started only as a desperation flex in Week 4. It's possible his role grows after Akers' fumble, but it's possible it remains the same or even reduces given Akers' impressive running. He provides more upside than a J.D. McKissic type satellite back, but another air-ball is fully within his range of outcomes.
The Result – Week 3 Plays
It wasn't pretty in week three for our streaming picks. Henderson and Mostert registered just 1.7 and 1.1 respectively, alongside McKissic's 10. With Henderson's points counting double, our stream score is a season-low 3.63. Let's hope that's the low for the entirety of the season. 
Better yet, let's hope you played honourable mention Rhamondre Stevenson instead, or were still holding James Robinson from Week 2. I will note again as I did last week that when running backs we did not initially roster hit as streaming plays and retain a standalone role, I cannot continue to play them in the column. But if you do roster Robinson, continue playing him every week.
Henderson has been discussed at length above. McKissic will be a speed-dial option in this section of the column all year. Rostered in just 26-percent of Yahoo leagues, he is the most reliable streaming production available – particularly in any game the Commanders are expected to trail.
Raheem Mostert led the Dolphins backfield in snaps for the second straight week. Unfortunately it was Edmonds who found the end zone twice in a game Miami ran just 39 offensive plays.
I stated last week when choosing him that he would be one of the most volatile selections I hoped to make, and we saw both sides of that coin in the Miami backfield this week. If you roster Mostert hold on, as his weekly role will result in RB2-range production as often as not. However, neither Mostert nor Edmonds is a reliable starter while both remain healthy and equally involved.
Zero-RB doubters will always often point to the fact that not only do you have to have weeks like week three for the strategy to pay off, when late-drafted running backs outscore the top options, but you also have to roster and start the correct ones. It was step three that hurt us this week, and unsurprisingly I had a much more positive week in best ball than managed.
Nonetheless, let's move forward to a bounce back spot in week 4.
The Waiver Wire
It's been a long column, and there is very little injury news which has been reported. I will however note the following quickly:
The following reserves are one of just two backs on his team to receive a touch: (I excluded explicit timeshare backfields)
*Brian Robinson is likely to frustrate this backfield upon return
If any of these backs are available in your league these are priority adds for your bench.
Also, I received feedback that the mix of my "roster" and waiver targets has been confusing for people to follow in terms of priority.
That's great feedback and I hope this corrects the issue. Among everyone rostered in 67-percent of leagues or fewer, here is your Week 4 waiver priority list:
NOTE:
*CON* = Contingent Value-focused use case
*SA* = Standalone Value-focused use case
*STASH* = Role projected to grow organically throughout the season
Feel Free to adjust this priority depending on your need for immediate starting value.
Khalil Herbert – CON
Jamaal Williams – CON / SA
Alexander Mattison – CON
Brian Robinson – STASH
Ken Walker – STASH
Rachaad White – CON
Raheem Mostert – SA
Samaje Perine – CON
James Cook – STASH
Kenneth Gainwell – SA / STASH
Jaylen Warren – CON
Jerick McKinnon – SA
Eno Benjamin – CON / STASH
Isiah Pacheco – CON
Tyler Allgeier – CON / STASH
Zamir White – CON
Darrell Williams – CON
Mark Ingram – CON
Rex Burkhead – SA
Dontrell Hilliard – CON
Our Transaction
It is time for our first official transaction of the column. As mentioned, Eno Benjamin's reduced immediate contingent upside has relegated him from our bench to our speed dial. In his stead, we're picking up Samaje Perine. 
Joe Mixon is expected to play in Week 4, but is dealing with a minor ankle injury. Not only does this potentially bode well for Perine moving forward, but his 14.1 points in Mixon's relief, and Mixon's injury scare means Perine is more at risk of being added by our league mates than in previous weeks. Currently, just 6-percent rostered, Perine could see that number climb this week and you'll want to get in while you can. 
Don't blow the wad if someone gets over-aggressive, but depending on your bench, I would be willing to bid up to 5-percent to secure Perine, with a backup bid on Jaylen Warren. 
Week 4 Picks
Preferred Play: Rhamondre Stevenson
We talked about Stevenson enough already. But the combination of talent-profile and usage finally hit in Week 3. I am confidently rolling him out in week four in nearly every league I have him rostered.
Honorable Mention: Darrell Henderson
Premium Play: Khalil Herbert / Jamaal Williams
I have also covered all things Khalil Herbert by now. However, I will note that this selection assumes David Montgomery misses Week 4.
If Montgomery is active, Jamaal Williams (60-percent rostered) is our premium play; with or without D'Andre Swift.
As discussed last week, I am only making these types of "back-up plan" selections for running backs already on our roster. If you find yourself in the same position as we are in theory, and reside in one of the 40-percent of leagues Jamaal Williams is available, make Williams your number one priority waiver bid. Should you be left with Herbert and no clearly better option, he is a playable choice even with Montgomery active given the matchup and what he displayed this week. Expect him to be the secondary back unless otherwise reported, but with a potentially larger share of the work.
Kenneth Gainwell – in a potentially high-octane battle vs the Jaguars – serves as the honourable mention here. 
Deep Play: J.D. McKissic
We may as well call this the J.D. McKissic section of the article. In all honesty, he is just one of the best 'break glass in case of emergency' options out there. He plays every long down and distance snap, the two-minute drill, and is virtually assured a useable week when the Commanders trail. They are 2.5-point underdogs in Dallas this weekend.
I will note that all indications are Joe Mixon will play this week. But if he does not, Same Perine becomes the substitute here, and potentially the best streaming play on the board.
The Final Word
Thank you once again for reading this column, and I look forward to its continued development over the course of the season. Also credit to Pro Football Focus for providing data I was able to use in this column in addition to the incredible wealth of information on PlayerProfiler.
Happy Hitchhiking!