They say you can't pour from an empty cup. Well you can't score with an empty Kupp.
After the early games it seemed redemption week was well under way. But by the second half of Week 2, Cooper Kupp, once again among the best projected and most highly rostered receivers in all formats, drained the life from my eyes.
The Rams wideout has driven me on a soul-searching mission ahead of Week 4. Whether or not to accept Cooper Kupp as my overlord and master is among the top questions I'm considering as I prepare for the Week 4 slate.
As always, this edition of The Pareto Principals will reflect back on last week, analyze some of my lineups, and look ahead to some opportunities for leverage and arbitrage in the upcoming tournament slate.
If you're new to this column, check out my introductory piece. This goes over the guiding principles of how I play DFS, the kind of contests my advice is geared towards, and some general thoughts on probability and uncertainty.
The Pareto Principals: Guiding Principles For Limited Entry DFS
Week 3 Results
As the immortal Mr. T once said; "I pity the foo… I do, I do." But there is no room for pity here; only improvement.
My cash lineups (FanDuel) were competitive this week, but just missed the cut line. I exclusively played multipliers rather than head to heads. In one lineup I opted for a T.J Hockenson/Tyreek Hill combination rather than Travis Kelce. In the other, I played A.J. Brown, perhaps a thin play regardless, and the first-drive injury was truly gutting. Kupp of course was in neither. But this is a tournament column, so let's move on to those.
Week 3 Lineup Reviews
In tournaments, I actually feel quite strong about how I played. I just didn't have the puzzle pieces come together for a huge payout.
Because I play with a contrarian mindset, the weeks I'm most profitable tend to be the ones where scoring is lowest. I'm rarely playing the highest projected tournament lineups. Instead I'm betting against the chalk, and hoping to be the 'last one standing' when my plays hit. This style increases my margin of error since less people benefit from the plays which are imperative for me to succeed.
This week, I had six of 10 lineups score over 150 DraftKings points. The problem of course, is it took well over 200 to contend for first place. When a thirty-percent rostered Cooper Kupp matches his ownership in fantasy points, and free square Alexander Mattison goes for 26, these aren't the weeks I fill out my 401k.
I will spend more time than usual on lineup reviews today. I think the best lessons you can learn are from looking at lineup structures, examining the process behind them, and analyzing different options which could have fit within the build.
Here are the two lineups I had this week. Each had a chance of a much more lucrative pay-out with a small shift, but the variance did not break my way.
Lineup Review No. 1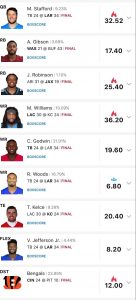 This lineup I feel strongly about. I hit one of the highest scoring quarterbacks on the slate in Matthew Stafford. The fact he accomplished this with snowflakes from both my stack options is just the way it goes sometimes. If I play any other combination of Rams pass catchers, this lineup pays for my slate.
I feel phenomenal about the running backs. I knew I was eating some chalk on the Rams stack and needed to get weird elsewhere. I felt there were plenty of comparable mid-range running backs this week, and was thrilled to play James Robinson and Antonio Gibson at a collective five-percent rostered. Ultimately Gibson's score left me drawing dead for first with how many other running backs hit big this week, but this could have gotten there in a different slate. He also tiltingly dropped a touchdown that would have put him in the RB1 overall mix.
I think it's fair to say I should have just played Cooper Kupp in this stack given the ownership flexibility these running backs created. But I probably couldn't have done so without dropping one of my running backs or giving up the Travis Kelce–Mike Williams secondary correlation. I also felt strongly about prioritizing Robert Woods over Kupp at lower cost and half the ownership, and I think my process was viable after only a two-week sample.
Lineup Review No. 2
This entry was actually a function of my show; NO FREE SQUARES (Saturdays at 6PM ET). Each week I play DFS roulette, where I pick two players off a roulette wheel and build a lineup around them.
Quintez Cephus, naturally, was forced into my lineup from a roulette wheel on the best of my three Kirk Cousins stacks.
With Mattison being chalk, I felt strongly about targeting the Minnesota pass game. Cousins and Justin Jefferson provided differentiation from Matthew Stafford and Cooper Kupp, and leverage off Alexander Mattison. I ran perfect on the stack, and the Alexander Mattison bring back. Sadly, a roulette wheel gimmick made me play Cephus.
I think the Cephus play was fine, especially paired with Mark Andrews in a game I was high on. The low roster rate on my correlated pieces allowed me to eat the chalk with my two running backs. Had this not been a roulette wheel lineup, it's plausible I could have gone D'Andre Swift in this structure over Saquon Barkley, to keep the Lions-Ravens correlation. This could have given me room to play a high $4,000 receiver. I played two lineups with Emmanuel Sanders in that range this week, so there were definitely paths to a big score here; just not first place without Kupp or Mike Williams.
The issue with all my Cousins lineups this week was that while they hit in their own right, I didn't get any benefit from the low ownership since nearly all the chalk hit. I still had to be perfect everywhere else to win big, and I wasn't.
The winning 'DK-Milly' linuep had 162-percent cumulative ownership. Weeks like this are the weeks I'll come up on the losing end more often than not.
Week 4 Macro-Strategy
I don't have as strong a thematic leaning for this week's slate, and I don't want to force one in the name of entertainment value. There are five games with a total over 50 points, but it seems the market has a strong assumption over which games are strongest. As is my wont, I'll play the alternative side.
I'll discuss some of the top games on this slates, how I'm handling them, and potentially less-owned games I want access to.
Week 4 Feature Games
Cowboys-Panthers
D.J. Moore's best game of the season coincided with Christian McCaffery's injury, leading many to pencil him in as a top receiver play on the slate. Pairing him with a full game stack, or the underpriced Amari Cooper ($6,000) should be a popular option. Call me crazy, but Robby Anderson at $5,100 remains attractive. Anderson's Route Participation was 84-percent in Week 3. With Trevon Diggs likely to see a lot of Moore, Anderson will be paired with PlayerProfiler's No. 116-ranked corner; Anthony Brown.
I don't place a large emphasis on cornerback matchups, but when they align with a strong leverage play I am open-minded.
Chuba Hubbard is also catching adequate buzz at $5,900, and his role was very strong after McCaffery's exit. That being said, if ownership holds, I would rather play the less popular David Montgomery at $5,800 against the Detroit Lions. The Bears offensive ineptitude has over-shadowed the fact he has taken over as a full three-down back. He played 82-percent of snaps and ran 73-percent of routes last week.
Rams-Cardinals
Cooper Kupp is no longer as glaring a point per dollar value; earning his place as a top-priced receiver in Week 4at $7,800. Don't expect anyone to stop playing him.
Through a three week sample we can definitively say he is ahead of Robert Woods. It would take a role swap in the opposite direction to even things out moving forward. However, like a falling knife, the gap between Woods and Kupp in price and ownership widens at an even faster rate than the gap in projection. With $2,500 between them, I am inclined to play Mr. Woods in more lineups once again, but I will make room for Kupp.
One bonus is that projected ownership is low and split on all four Cardinals pass catchers. Stacking Kyler Murray with two of his weapons plus Kupp is entirely viable this week. I am also inclined to play Darrell Henderson. His role was elite prior to his injury and it's within the range of outcomes that's re-instated.
Alternative Stacks for Week 4
This week is setting up well for a Patrick Mahomes double-stack. Ownership should be flat between several top games, leaving the most explosive offence in the league under-played; especially Mahomes and Travis Kelce.
The Eagles' weapons are all projecting for low ownership this week, and make for attractive bring backs. I'm especially interested in Quez Watkins as a salary saver against a Chiefs defense that's given up plenty of explosive pass plays.
I'm not sure why the Seahawks aren't gathering more buzz this week. Tyler Lockett appears legitimately questionable as of writing, but we just saw the 49ers get forced into a shootout Sunday night. Seattle has been a DFS target team all year, and are in another game with a high total. If ownership stays low, I'll be prioritizing Russell Wilson stacked with Metcalf and Gerald Everett (if he plays). Brandon Aiyuk and Deebo Samuel should both be strong bring backs.
The Bills simply pass the ball more than anyone else and it isn't close. They are the last team you should be scared away from due to a lopsided spread. On Houston, Brandin Cooks is leading the league in share of targets and Air Yards. Josh Allen stacks with a Cooks bring back is way too straightforward to come in with moderate ownership.
Additional Under-Rostered Plays
Derrick Henry chalk week is upon us. With both lead Titans receivers declared out, Henry is set to expand his already expanded pass game role. You can play Henry by all means, but if you want leverage off him, my favourite play is Anthony Firkser. The artist known as Firk-a-Licious is healthy this week, and at just $3,100, could viably lead the team in targets. He also plays more in passing situations so he's a direct bet against Henry's preferred script.
Last week the market called a Saquon Barkley 'get right game' against Atlanta. It seems they're carrying the same conviction for Antonio Gibson this week. Gibson is a fine play, but the good matchup doesn't eradicate his Game Script concerns if this game goes awry. This should be a high-pace affair, and I'm most interested in playing Terry McLaurin and Calvin Ridley together. I'll also be rotating in both teams' tight end.
Odell Beckham returned in fine form last week with a 31-percent Target Share and 49.2-percent Air Yards Share. You can pair him with Justin Jefferson, also top 10 in Air Yards Share, at a projected 10-15-percent cumulative ownership in a game with a high total.
The Final Word
This week was a bit less theoretical, which may happen time to time. But I think this is a fascinating slate with plenty of options to discuss. As well, I think the Week 3 results were a great window into the goals and drawbacks of my process. I hope this gives you a bevy of options moving into Week 4 and I look forward to taking another ride together!