Advanced Stats and Predictive Metrics Data Feed
Traditional aspects of gathering information about people, products, and services have been replaced by algorithms that use powerful analytics to predict the possibilities of future events with ever-improving accuracy. Now twenty years since Michael Lewis wrote Moneyball, big data is sweeping through sports. Professional teams, sports media, sportsbooks, professional and high stakes sports bettors, super fans, and fantasy gamers seeking an edge on the competition are fueling the rapid shift.
Case Study: Sports Betting
Sports betting industry is leading this data revolution. The global sports betting market size was valued at $67 billion in 2020 and is expected to expand at a compound annual growth rate of 10% from 2021 to 2028, easily exceeding $150 billion by the end of the decade. A significant portion of this growth will come from North America. The United States' $11 billion sports betting market is still in its nascent stages, and is projected to more than double over that time as more states legalize sports betting and iGaming from smartphones and tablets becomes the preferred wagering method. This market growth presents risk and reward for sports betting operators. Total handles will rise as more and more US states legalize the industry and consumers compliment their sports consumption with online wagering. On the other hand, sportsbooks will be exposed to heavier losses as hedge funds armed with quant armies and access to exclusive data will inevitably enter the space, and sophisticated betting intelligence services will arm the public with sharper plays.
Advanced Data Feed
PlayerProfiler's advanced data service levels the playing field by offering both sportsbooks, betting intelligence services, high volume sports bettors, and daily fantasy enthusiasts exclusive on-field observations to improve projected outcomes. We employ a team of 75 in-house game analysts who chart every game of the NFL Regular Season enabling hundreds of exclusive, advanced data elements to be made available to commercial clients. We have eight years of experience serving both sophisticated and notice commercial clients. Our advanced data feed provides easy API integration to access hundreds of exclusive advanced stats & metrics providing deeper insights into team and player-level events on the football field.
Data is accessible from three levels of granularity:
1. Season Level
PlayerProfiler's database offers 10 years season level data for tendency modeling. Stats include: QB Deep Ball Accuracy Rating, WR Contested Catch Conversion Rate, and CB Man Coverage Rate.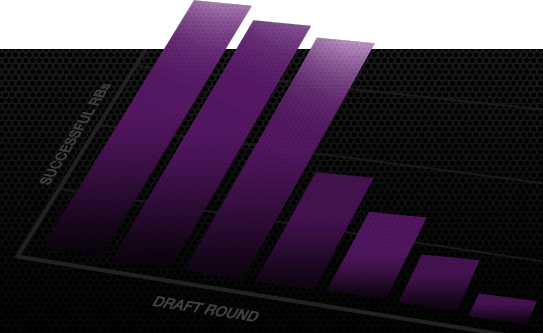 2. Game Level
Game level data is ideal for projecting future opportunities as depth charts shift and play-calling philosophies adjust over time. Stats include: QB Protection Rate, RB Evaded Tackles Per Touch, and WR Air Yards Per Route Run.
3. Play Level
Our advanced play-by-play data feed provides the hyper-granular view into on-field performances to QB Time to Throw, Offensive Line Yards Blocked Per Carry, and WR Wins vs. Man Coverage.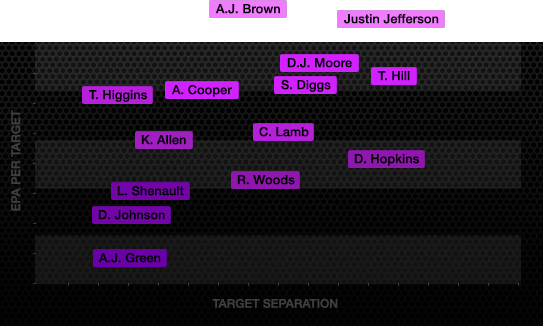 4. Beyond the Game
Our API also offers ten years of college stats, athletic measurables, an injury database, and more.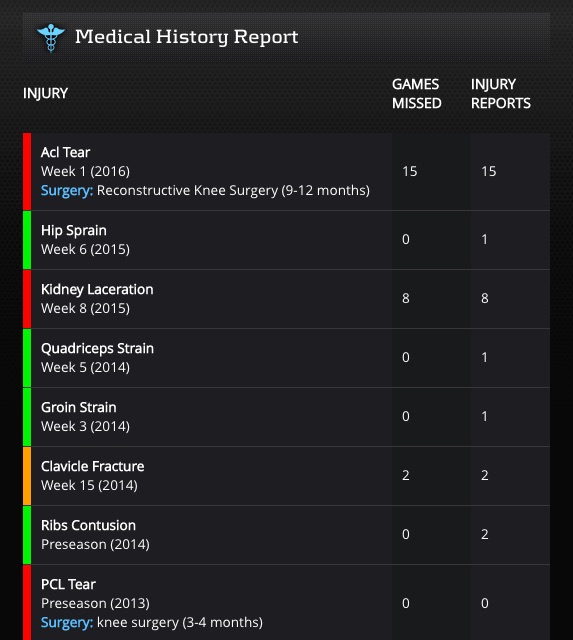 Contact us for more information
Thank you for your submission
A representative from the PlayerProfiler will be in touch!