To say Week 12 had some shocking outcomes is an understatement and hopefully won't carry too much weight into the Week 13 DFS matchups. Jaylen Waddle and Elijah Mitchell broke out, Leonard Fournette broke fantasy against one of the best run-stopping defenses in the NFL, while Christian McCaffrey broke fantasy gamers' hearts. 
The running backs took over as it was the first time since Week 5 where more than five backs ran for over 100 yards. Unfortunately, that resulted in a somewhat down week for the top options at receiver, as only 50-percent of the WR1s finished as such and only 50-percent of those hitting their season-long average. 
As for the rushing game, there were some elite finishes; there were also some disappointments. Najee Harris only saw five targets against the Bengals after seeing 19 in Week 3. Austin Walter scored 9.8 points as Ty Johnson sat hopelessly on the sidelines, only scoring 4.2. Even Boston Scott almost doubled Miles Sanders' points in what some hoped would be a breakout in Sanders' second game back from injury. 
Regardless, we have to take what we learned – such as the Colts run defense is a shell of itself without a healthy DeForest Buckner – and move on to the Week 13 DFS matchups.
Games to Target in Week 13 DFS Matchups
Chargers @ Bengals
Weather: 53f Light Rain 
Over/Under: 50.5
Fact to Know: Week 11 and 12 are the first two consecutive weeks in Joe Burrow's career he has seen less than 30 passing attempts and less than 200 yards. It's also Burrow's second least amount of passing touchdowns across the past three. Yet, even with these lows, he's maintained the highest consecutive three-game completion percentage in his career. 
Players To Attack in Week 13 DFS Matchups
Pick your poison. Chargers-Bengals is the highest scoring game on the slate with two defenses susceptible to the running back in different ways: one on the ground, one in the air. Both running backs have the opposite team's kryptonite. 
Call back to one of my first pieces from PlayerProfiler: Red Corner VS. Blue Corner:
Introducing first, in the RED CORNER: representing the Los Angeles Chargers, standing 5'9 and (allegedly) weighing in at 199-pounds: Austin "Pound for Pound" Ekeler.
His opponent, in the BLUE CORNER: representing the Cincinnati Bengals, standing 6-1 and weighing in at 228-pounds: Joe "Jodein" Mixon.
Let start with the Bengals defense, which has been putrid against pass-catching backs. They have allowed 12.3 (No. 28) points in the air to receiving backs per game. Over the past three, they have been much more solid. However, two of the matchups were against non-pass catching backs, and the third was a head-scratcher as Najee Harris saw 14 fewer targets than he did in Week 3.
Ekeler has been on fire, accumulating 14.22 points in the air over the last five games and 17.9 over the previous three. These performances – aside for Week 10 – were against teams inside the top 20 in DOCE Score; the Broncos and Eagles were inside the Top 10.
Ekeler is already locked in to over 30-percent of my lineups, and it's still early in the week. 
As for Mixon, he is the third-highest scoring running back on the slate, just two points less per game than Ekeler. The volume has been there for Mixon as the running lanes are for backs against the Chargers. The Chargers have allowed 1,336 (No. 1) yards on 288 (No. 2) carries for 14 (No. 2) touchdowns. Meanwhile, Mixon has 924 (No. 3) yards on 208 (No. 3) carries for 11 (No. 2) touchdowns. The Chargers might try to stuff the box, but there is one major issue: Stud rookie cornerback Asante Samuel hasn't practiced in almost two weeks due to a concussion.
Teams have been picking on Tevaughn Campbell as of late. They have discovered he's become a significant liability.
Over the past three weeks, he's given up the second-most receptions and the most yards to wide receivers for 38.7 fantasy points. I expect the Bengals to keep the pressure on with Tee Higgins and Ja'Marr Chase. We might not see heavy volume doses, but the efficiency will be there. Trying to guess which receiver it'll be will be tricky. If Chase sees one-on-one coverage from Campbell, it'll be game over. Campbell's subpar 11.85 (3rd-percentile) Agility Score won't be able to keep up with Chase's route running and horizontal quickness. I expect Mike Davis to shadow Chase, while Higgins sees double coverage.  
As for the tight end position, C.J. Uzomah is someone you want to play against the Chargers. You want to, but I don't know if you should. The Chargers have given up five touchdowns to the tight end. However, Uzomah only has two red-zone targets on the season. He makes his money by getting yards, but since the Week 7 bye, the Chargers haven't allowed more than 50 yards to the position. Play Uzomah lightly. 
On the receiving end for the Chargers, the Bengals present a real obstacle. Keenan Allen could offer volume underneath, but the Bengals are giving up a ton of yards to the slot. However, they have given up some big plays to size-speed specimens. I'm opting for the big plays to Mike Williams in hopes he can see a couple of touchdowns. I'll sneak in Donald Parham to get away from the Foster Moreau chalk.
Vikings @ Lions
Weather: Dome 
Over/Under: 47  
Fact to Know: Jared Goff had his second-highest AY/A on the season along with his highest completion rate. The Vikings are bottom ten in NY/A, with two of their top three corners banged up going into Week 13.
Players To Attack in Week 13 DFS Matchups
Everyone knows the Alexander Mattison storyline: Every time he faces the Lions or Seahawks without Dalvin Cook, he goes off. Once again, Cook is likely out, and Mattison has a massive opportunity. Now there are three ways to approach the matchup.
Go Cheap
Play Mattison solo and stack the Lions pass-catching options with Jared Goff. Even with the matchup, Goff won't likely see high roster percentages. However, playing a stack of Goff and Reynold makes it possible to play the two running backs I love – Ekeler and Mixon – while running it back with Mattison as well.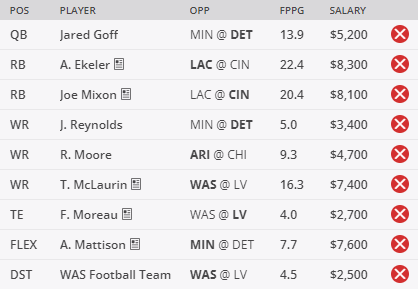 Without overthinking, I built a quick lineup to show you an example.  
High Scoring Game
Build a lineup around a high-scoring game. In the two games Mattison has been north of a 60-percent Snap Share, he saw eight targets and seven targets. He totaled 28.2 points in the receiving game. The Lions 9.47 DOCE Score ranks them dead last, and it's not because they are giving up massive points to the running back position. Instead, it's due to the Lions rarely playing an elite-level pass-catching running back while the average ones are having some of their best weeks against them. For example, David Montgomery only scored 5.8 points against them in Week 12, but it was his best-receiving performance on the season. 
As for the rest of this lineup, you add Kirk Cousins and Justin Jefferson. The hope is Jefferson will add enough yards and maybe a touchdown or two from deep. You want all the red zone work to go to Mattison in the air. Running it back is the trickier aspect of this gamble. 
Hockenson would make sense, but now you're forced into the cheaper options at running back and receiver from here on out. Reynolds makes sense, but this stack could start to see some chalk; Same with Jamaal Williams. I'm not against either but let me throw out Jermar Jefferson. 
Just three weeks ago he gave you 10.1 fantasy points; the week before was 12.9. He wasn't in the Game Script for Week 12, but this is a sneaky opportunity to play a pass-catching back against the Vikings 6.44 (No.26) DOCE Score with D'Andre Swift out. If not him, Godwin Igwebuike should also be on the table for the same reasons. 
The Fadeaway
You fade Mattison completely. You opt to go with Adam Thielen, who hasn't been successful against the Lions in a few years. Jefferson is an option at this point as well. What if the Lions have some freak plays against a division rival that put them up early. Williams is now an option with Hockenson to keep the drives going on third downs. There is a world in which this lineup could work for you. Cousins would be an option as well in these DFS Week 13 matchups.
Other Sneaky Game Stack 
Jonathan Taylor should continue his rampage on the ground. Look for the Colts to get Michael Pittman more involved as we close in on the playoffs. With the Colts in comeback mode, Brevin Jordan against one of the worst secondaries facing tight ends in 2021 is an appetizing play as he forced Jordan Akins to the inactive list. Pharaoh Brown is still the lead tight end, but he's obviously there to block. I'm predicting over 30 yards and a touchdown to the rookie. Nico Collins has a similar outlook. 
Couple of Week 13 DFS Dart Throws
Laviska Shenault has received a ton of hate on the season thus far. He has been criticized for the lack of targets and average target depth. If you read my columns, you know where I'm going because I attack them nearly every week. The Rams allow underneath passes to the running back and slot. They typically opt to cover the tight end down the seam while their slot corner plays off coverage. The scheme allows short crossing routes with a safety or linebacker in pursuit. 
Certain players have taken advantage of the coverage, like Randall Cobb in Week 12. Shenault has the ability to do it for these Week 13 DFS matchups, but it comes down to whether or not he will see the targets.
It's been a long time coming, but it finally looks like Joshua Kelley is getting his confidence back. After the massive games to start the year, Kelley fumbled the ball in two consecutive weeks. His head wasn't on right, and it was apparent. He wasn't the same player. 
The coaching staff has shown they weren't going to give up on Kelley, and he's starting to show signs of life. Similar to Boston Scott, the only reason he was still on the roster was due to special teams. Opportunities arose, and Kelley took advantage. 
Kelley's hope is that he continues to see work in the passing game—maybe even hurdle a guy like Week 12. However, what we want are red zone opportunities. With Rountree likely to see a second straight, healthy scratch, Kelley could be that guy.