This year more than others, it feels like everybody's mock drafts look completely different outside of Trevor Lawrence to Jacksonville. Go to the PlayerProfiler.com Big Board on the Dynasty Deluxe Module and check out mock drafts from CBS, The Draft Network, The Athletic, and many more.
In 2021, a group of writers at RotoUnderworld will be completing a series of mock drafts leading up to the April 29th NFL Draft. Mocks will be released during the second week of each month, with the final mock released on the Monday of draft week. In examining the advanced stats and metrics of players the way that we do here, we may be higher and lower on certain players than consensus. As such, it may surprise you to see where some were picked in this experiment. This five-part series, featuring eight friends of the Underworld, will tell you everything you need to know about the 2021 NFL Draft.
1.01 – Jacksonville Jaguars – Trevor Lawrence – QB – Clemson
Analyst: Neil Dutton (@ndutton13)
Rationale: I could be hot takey and pretend this was going to be someone else. But why waste everyone's time? Why the Jaguars haven't already handed the card in, I don't know. But Trevor Lawrence is the pick.
What can't Trevor Lawrence do?

Highest rushing grade among power five QBs over the last two seasons (84.7)?pic.twitter.com/BxJuP797lb

— PFF Draft (@PFF_College) March 10, 2021
1.02 – New York Jets – Justin Fields – QB – Ohio State
Rationale: I thought about going Zach Wilson here because I am convinced he could be a better fit with the Jets. However, I am still skeptical when it comes down to his one year of great production. I feel that Justin Fields is ready to take on the NFL even if he has to play on a team that might not be there yet.
Still probably my favorite Justin Fields throw. Returns after injuring his knee against Michigan to deliver a dime to Garrett Wilson for a TD pic.twitter.com/6pE4zqns2D

— Justin (@afc2nfc) March 8, 2021
1.03 – Miami Dolphins – Penei Sewell – OL – Oregon
Rationale: Hard to pass up on what some say is the best tackle prospect since Trent Williams.
1.04 – Atlanta Falcons – Caleb Farley – CB – Virginia Tech
Rationale: The most pro-ready cornerback in the draft, opted-out in 2020 after playing two seasons for VT. Farley was recruited as a quarterback out of high school, but transitioned to cornerback at Virginia Tech.
1.05 – Cincinnati Bengals – Ja'Marr Chase – WR – LSU
Rationale: The Bengals have a glaring need at OL, but with Sewell off the board, they go Best Player Available and pair Joe Burrow with his favorite wide receiver from college.

Who will be the 1st Wide Receiver off the board in the NFL Draft? ?

? Ja'Marr Chase
? Kadarius Toney
? Jaylen Waddle
? DeVonta Smith pic.twitter.com/3a52iZKp1a

— RotoUnderworld (@rotounderworld) March 4, 2021
1.06 – Philadelphia Eagles – DeVonta Smith – WR – Alabama
Rationale: Having whiffed in previous years by passing on D.K. Metcalf and Justin Jefferson, the Eagles are determined to get it right. Despite questions at QB, a lackluster defense, and an oft-injured offensive line, the Eagles pair Jalen Hurts with this year's Heisman winner.
DeVonta Smith has the #1 Teammate Score of all-time ? pic.twitter.com/zhK213D4ZL

— RotoUnderworld (@rotounderworld) March 5, 2021
1.07 – Detroit Lions – Micah Parsons – LB – Penn State
Analyst: Nick Tabs (@NTabs33)
Rationale: The elite, versatile, and fast linebacker falls into Detroit's lap. Parsons has the pass rush and elite run defending skills to be a staple on the Motor City defense for a long time.
1.08 – Carolina Panthers – Zach Wilson – QB – BYU
Rationale: The team needs help all over the place, but they take a shot on a franchise QB early in the draft. The Panthers miss out on the Deshaun Watson sweepstakes and opt for Zach Wilson, whose rocket arm can unlock their offense after a low-ceiling 2020 campaign from Teddy Bridgewater.
— Salvatore Stefanile (@SalPal2) March 3, 2021
1.09 – Denver Broncos – Trey Lance – QB – NDSU
Rationale: Here the Broncos move on from Drew Lock and get their QB of the future. Lance is somewhere between Jalen Hurts and Josh Allen with all the accuracy in the world.
I know it's just a Pro Day, but this throw is making Trey Lance money. ?

The tools are there for Lance to be one of the best in the league, it's all a question of how an NFL team develops him. But don't sleep on the potential, it's very real. #NFLDraft pic.twitter.com/6lPrn3m2Xd

— Nate Christian (@NateNFL) March 12, 2021
1.10 – Dallas Cowboys – Patrick Surtain II – CB – Alabama
Analyst: Neil Dutton (@ndutton13)
Rationale: What's better than having an Alabama cornerback in your starting defensive backfield? Having two, of course! The Cowboys take Patrick Surtain II here to pair with Trevon Diggs, a second-rounder from 2020.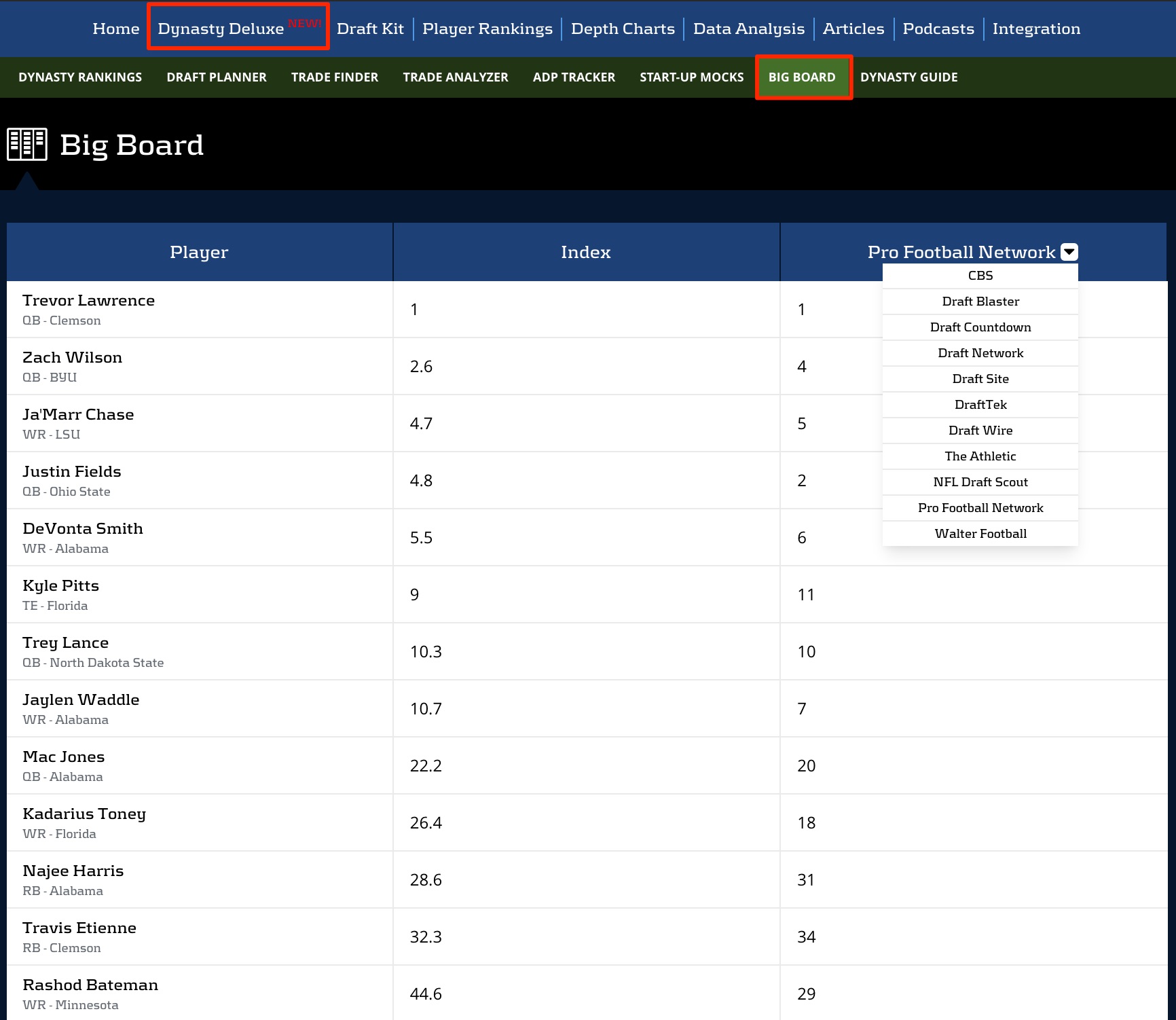 – Check out the Dynasty Deluxe "Big Board" for 10+ Mocks from across the industry.
1.11 – New York Giants – Kwity Paye – EDGE – Michigan
Rationale: The Giants are in disarray, but shoring up their pass rush gets easier by selecting Kwity Paye. He's got an explosion off the line of scrimmage and has the tools to both rush the passer and stuff the run.
1.12 – San Francisco 49ers –

Tyson Campbell – CB – Georgia
Rationale: With five CBs entering free agency this year, the 49ers will almost certainly look to address this position. At 6-3, Campbell is rumored to run a sub 4.4 forty and would help to anchor a soon-to-be depleted secondary.
1.13 – Los Angeles Chargers – Kyle Pitts – TE – Florida
Rationale: The Chargers can either franchise tag Hunter Henry or ride with Donald Parham and hope Kyle Pitts falls to them in Round 1 or Pat Freiermuth is there in Round 2..
Who is your NFL comp for Kyle Pitts?pic.twitter.com/rWzH9dLvUc

— PFF Draft (@PFF_College) March 5, 2021
1.14 – Minnesota Vikings – Jaycee Horn – CB – South Carolina
Rationale: Zimmer makes a Zimmer pick and grabs (in my opinion) the draft's No. 1 cornerback.
1.15 – New England Patriots – Mac Jones – QB – Alabama
Rationale: The Konami Code experiment failed with Coach Belichick. Let's get him a QB that isn't athletic but knows how to throw a football.
1.16 – Arizona Cardinals –

Christian Darrisaw – OL – Virginia Tech
Analyst: Nick Tabs (@NTabs33)
Rationale: Kelvin Beachum and J.R. Sweezy are free agents, and Marcus Gilbert will be coming back at the age of 33 after opting out last season. The 6-5, 314-pound Darrisaw has a great combination of mobility and strength, which will give the Cardinals a huge upgrade at the tackle position.
1.17 – Las Vegas Raiders – Rashawn Slater – OL – Northwestern
Rationale: The best player available by far. The Raiders released Richie Incognito last week and they are actively shopping Trent Brown.
Rationale: Brian Flores grabs a versatile LB that he can put almost anywhere on the field.
1.19 – Washington Football Team – Rashod Bateman – WR – Minnesota
Rationale: With the top QBs off the board, the WFT opts to add a playmaker opposite Terry McLaurin. Bateman, a mega-producer even with the lackluster Tanner Morgan at QB, gets to do it all over again in D.C.
Rashod Bateman porn

— Thor Nystrom (@thorku) March 8, 2021
1.20 – Chicago Bears – Jaylen Waddle – WR – Alabama
Rationale: With Allen Robinson destined to hit the market in the next few weeks, the Bears get one of the most dynamic receivers in the draft at value.
Who will be the better NFL Wide Receiver? ?

Jaylen Waddle or DeVonta Smith? pic.twitter.com/AGvKgdfv6m

— RotoUnderworld (@rotounderworld) March 10, 2021
1.21 – Indianapolis Colts – Gregory Rousseau – EDGE – Miami
Rationale: Rousseau joins a budding Colts front seven and helps shore up their pass rush, which was not up to par last season. Indy loves to build from the inside out and this pick holds true to that formula.
1.22 – Tennessee Titans – Jaelan Phillips – EDGE- Miami
Rationale: Tennessee's needs are on the defensive side, specifically putting pressure on opposing quarterbacks and stopping the run. Phillips is a versatile player that can do both.
1.23 – New York Jets –

Jayson Oweh – EDGE- Penn St
Analyst: Nick Tabs (@NTabs33)
Rationale: New head coach Robert Salah gets a beast of a pass rusher in Oweh. The 6-5, 252-pounder is a former basketball player and a freak athlete.
1.24 – Pittsburgh Steelers – Zaven Collins – LB – Tulsa
Analyst: Neil Dutton (@ndutton13)
Rationale: The Steelers offense looked pedestrian at times in 2020, and actually stationary at others. There are legitimate questions as to how much Ben Roethlisberger has left in the tank. So logically, this is a chance for the Steelers to take no steps towards boosting their point-scoring potential and add a playmaker to their defense. Zaven Collins forced 25 tackles for loss during his college career as well as 7.5 sacks, including 4.0 in 2020. He also had four interceptions, two of which he took to the house.
1.25 – Jacksonville Jaguars –

Trey Smith – OL – Tennessee
Rationale: A 5-star recruit out of high school, one of the most underrated offensive linemen in the draft. All-American and All-SEC at Tennessee.
1.26 – Cleveland Browns –

Joe Tryon – EDGE – Washington
Rationale: Cleveland needs more QB pressure being that they were ranked No. 15 in 2020 with 38 sacks. Tryon will literally be Myles Garrett's "right-hand" man.
1.27 – Baltimore Ravens –

Alijah Vera-Tucker – OL – USC
Rationale: The Ravens should pick a receiver here, but they again choose to neglect the position with plenty of depth available in the second round. Vera-Tucker can play guard or tackle and fill in the hole Marshal Yanda left a year ago, or even step in at right tackle for soon-to-be-traded Orlando Brown.
1.28 – New Orleans Saints – Kadarius Toney – WR – Florida
Analyst: Neil Dutton (@ndutton13)
Rationale: Might seem a reach for some, but the Saints need to re-tool on offense in the coming years whether Drew Brees retires or not. Taking Toney would give them another receiving option after Tre'Quan Smith just refused to break out, and give whoever quarterbacks the team in 2021 a viable triple option of pass catchers in Toney, Michael Thomas, and Alvin Kamara. Not forgetting Adam Trautman, of course.
Kadarius Toney finished with 100+ total yards just 5 times in 38 games at Florida ? pic.twitter.com/2efuZLni1H

— RotoUnderworld (@rotounderworld) March 10, 2021
1.29 – Green Bay Packers – Rondale Moore – WR – Purdue
Analyst: Nick Tabs (@NTabs33)
Rationale: A dynamic playmaker who will get plenty of opportunity in the Aaron Rodgers offense. Moore can contribute from all over the field and return punts for the Pack.
Shoutout to the @breakout_finder guys. I'm enjoying the app with the 2021 class and RBs.

I will be framing the Rondale Moore Breakout Rating and putting it next to my bed pic.twitter.com/AryLnVetDB

— Adam Hutchison PT, DPT (@TheRealAdam_H) March 4, 2021
1.30 – Buffalo Bills –

Tevin Jenkins – OL – Oklahoma St
Rationale: Right tackle with experience at guard and left tackle; has good hands and plays mean until after the whistle.
1.31 – Kansas City Chiefs –

Jalen Mayfield – OT – Michigan
Rationale: Everyone knows what happened to Patrick Mahomes in the Super Bowl. This year, instead of wasting their first pick on an easily replaceable position, KC opts to protect the half-billion dollar man with an OT who did a great job against Chase Young late in 2019.
1.32 – Tampa Bay Buccaneers – Najee Harris – RB – Alabama
Rationale: The Bucs make a splashy pick a la KC last year and get a true three-down workhorse instead of a combination of Ronald Jones and Leonard Fournette. The team is in good shape– why not?