July 4th has come and gone, and we are less than a month away from the Hall of Fame Game in Canton. Fantasy drafters are starting to pivot fully to redraft mode, and in high-stakes leagues, the money is already in action. New ADPs are starting to get established. Some players who were best ball values in May are settling into new summer prices.
Today we will look at some of the hotter names in fantasy football to see where they are going in high-stakes. All ADP is from FFWC Player Profiler Championship Drafts with a $350 entry fee. Some players are rising, and there are a few notable fallers.
CeeDee Lamb, WR, Dallas Cowboys No. 11 Overall 
Lamb goes one spot before two former fantasy WR1 overalls in Stefon Diggs and one spot after Davante Adams. High stakes drafters have moved Lamb inside of the 1st round at WR5 overall.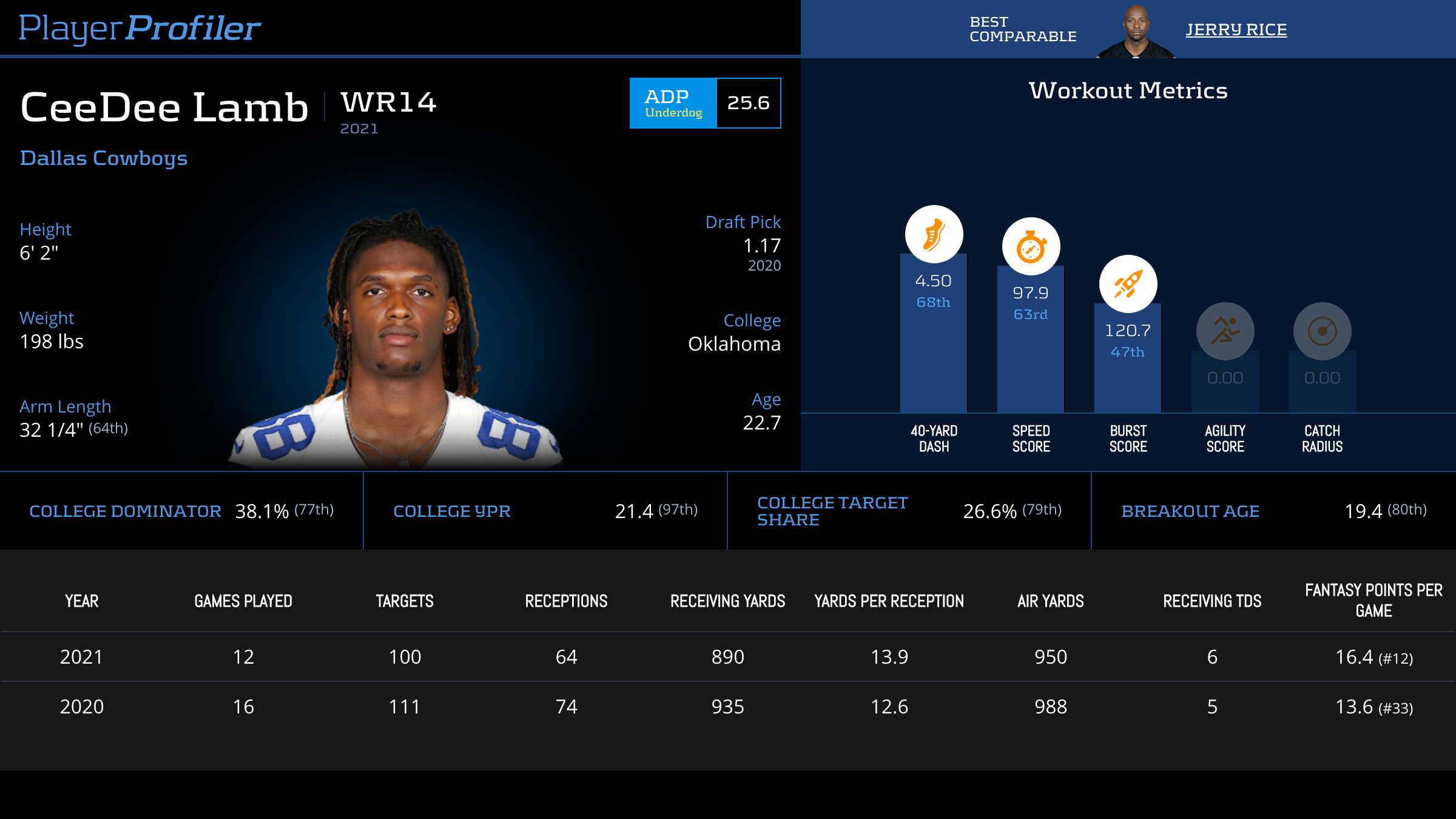 He possesses enormous upside with Amari Cooper now a Cleveland Brown, and drafters are betting on it. 
Mike Evans, WR, Tampa Bay Buccaneers No. 17 Overall
Evans was a trendy pick around the 2/3 turn in early best ball drafting, but the days of getting him in that range are no more. The Gronkowski "retirement," combined with the lack of clarity on Chris Godwin's return from injury, has solidified his place in the mid-2nd round. He is currently WR7 overall and a dark horse to finish as WR1 overall this season. Barkley could feast on touchdowns this year as a clear red zone threat. If you want him, prepare to use premium draft capital on him. 
Saquon Barkley RB, New York Giants No. 18 Overall
Ah the good old days of Spring 2022: Gas was a little cheaper, and Saquon Barkley was going in the 3rd round (or later) of Best Ball Drafts. Every day we hear more and more positive news on Barkley. He is as healthy as ever and has participated in OTAs. Beat writers are raving about his role as a "weapon" in the Giants offensive attack. There are also reports that he might have a chance at a high number of targets.
We also have very positive vibes about the new coaching staff under Brian Daboll, and there is optimism for improved offensive line play. Barkley is headed towards the 1st round as the summer moves along. 
Alvin Kamara RB, New Orleans Saints No. 31 Overall
On the opposite spectrum of Barkley is Alvin Kamara. A locked in 2nd rounder all Spring, fear of a six game suspension has sent his fantasy stock plummeting down to the late 3rd round (and sometimes dramatically later.) He becomes a value even with a suspension, but he is a difficult player to draft because he makes you build your team differently. Some drafters seem to be avoiding entirely. 
Travis Etienne RB, Jacksonville Jaguars No. 33 Overall
Spring discounts sure were fun. The days of drafting Etienne in the 4th and 5th round have ended. Etienne is squarely in the late 3rd round (and maybe rising). Fantasy drafters are very bullish on Etienne.
The former first-round pick is appealing as an RB2 in a robust build or as an RB1 for managers starting WR/WR. Etienne has high upside as a receiver and drafters are banking on it. He is the type of player whose ADP could rise even further if we get early bullish training camp reports.
Courtland Sutton WR, Denver Broncos No. 37
There is a lot of excitement surrounding the Denver Bronco's offense with Russell Wilson under center. Drafters are betting on Courtland Sutton being the alpha WR1. There is some indecision about the target share, and Jerry Jeudy is being drafted No. 51 overall. Still, Sutton has two big things going for him that could equal a smash season: previous fantasy success and an ability to win downfield. He has immense touchdown upside in this offense. 
Kyle Pitts TE Atlanta Falcons No. 39 
Pitts is in a mini TE tier of his own. Travis Kelce (No. 15) and Mark Andrews (No. 26) are the TE1 and 2, but Pitts goes 19 spots ahead of Darren Waller (No. 58) and 31 spots ahead of George Kittle (No. 70).
Pitts is the only Atlanta Falcon skill position player being drafted in the top 70 picks. He has a chance to lead all TEs in targets AND target share. Pitts has a shot at moving into the 3rd round as the summer progresses. 
Marquise Brown WR Arizona No. 43
Fantasy drafters are betting on Hollywood in Arizona as Brown is safely in the 4th round. The suspension of Deandre Hopkins has pushed Brown up to a career high ADP. He has a shot at seeing a lot of volume to start the season and could mix in some additional targets with a high Average Depth Of Target. The Cardinals have one of the most exciting early season fantasy schedules in the league, with The Chiefs, Raiders, and Rams on tap to open the season. 
Josh Allen QB Buffalo No. 44
Josh Allen selected as QB1 overall is expected, but he is almost in a tier of his own. Allen goes 17 picks ahead of Justin Herbert (61) and a whopping 30 spots ahead of last year's QB1 overall Pat Mahomes. Allen will need to finish as QB1 overall again to return value at his current ADP. 
Breece Hall RB NY Jets No. 45
The 1.01 in dynasty rookie drafts makes a strong start with his redraft ADP. Hall has undeniable talent, athleticism and two way ability that drafters want out of RBs in this range.
He has a few hurdles to climb- the presence of Michael Carter and the improvement of Zach Wilson. If it looks like Hall is the clear bell-cow or Wilson flashes in preseason, Hall could move up the the three/four turn. 
Rashod Bateman WR Baltimore No. 49 
Bateman has been rising and rising up draft boards all spring in best ball, and he is on the cusp of the 4th round in the FFWC. On almost everyone's "fantasy breakout" list, Bateman has the sort of upside that drafters want. Although he is second fiddle in the Baltimore passing game to Mark Andrews, drafters are betting on the former first rounder stepping into the target share Hollywood Brown left behind. Bateman is one to keep an eye on- he could get steamed up to a point where pivoting makes the most sense. 
Antonio Gibson RB Washington No. 52
A year after being a fringe first rounder, Gibson finds himself firmly in the dead zone. Gibson's ADP has been in a steady decline after Washington re-signed J.D. McKissic and drafted Brian Robinson in the third round of the NFL Draft.
There is a real fear among drafters of a Running Back by committee with McKissic seeing a lot of work in the passing game and Robinson stealing carries including the occasional look at the goal line. Despite the presence of the other backs this may be an overcorrection. Gibson has averaged 14 + PPG for consecutive seasons. 
Gabe Davis WR Buffalo No. 57
One of the most talked about and polarizing players in fantasy this offseason has been Davis. Players are betting on a massive year three leap after a historic performance in the fantasy playoffs (5 TDs on 10 catches!). Davis settles in ahead of players like Amon Ra St. Brown, Hunter Renfrow and Adam Thielen. This range seems appropriate for what should be the #2 target in an explosive Buffalo offense. 
A.J. Dillon RB Green Bay No. 66 
Dillon has seen a steady ADP rise in best ball and now in high stakes ADP. After losing Davante Adams and Marquez Valdes-Scantling in free agency, rational coaching would mean even more work for RBs Aaron Jones and Dillon.
He finished with seven total touchdowns last season and had an impressive 34 receptions thus showing a pass catching ability that many analysts questioned when he was drafted. Dillon is an exciting pick in this range and offers a lot of upside. 
Russell Gage WR Tampa Bay No. 68
Gage has seen his ADP steadily rise and a number of "sharp" drafters are on him. When Rob Gronkowski announced his retirement, Gage saw another jump and is now a top 70 pick. There is a chance he could be this season's Hunter Renfrow. 
Miles Sanders RB Philadelphia No. 73
The Philadelphia Eagles offense is gaining steam and Sanders has steadily risen into the RB2 range. Last year was a disappointing one for Sanders drafters with only 12 games played. Further frustration was found with his lack of touchdowns. Sanders averaged 5.5 yards per carry and had 754 yards rushing and added 24 receptions yet did not manage to find the end zone even one time. He is a big  positive touchdown regression candidate.
Tyler Lockett WR Seattle No. 76 
The Seattle offense is being avoided. DK Metcalf has fallen to No. 41 overall and Lockett is down all the way to No. 76 overall. The potential for a run heavy and slow offensive script combined with potentially scary bad QB play (Geno Smith or Drew Lock YIKES) has drafters nervous. Lockett has finished as WR8 and WR16 the last two seasons. Right now, he is being priced as a WR44.
Chase Edmonds RB Miami No. 79 
Edmonds has settled in as a high end RB3 among drafters. His pass catching ability and offensive fit stand out despite the presence of Sony Michel and Raheem Mostert. Edmonds is the highest paid Miami back by a wide margin and could settle in as the No. 3 passing target behind Tyreek Hill and Jaylen Waddle.
He is a popular pick among Hero and Zero RB drafters.
Devin Singletary and James Cook Buffalo RBs No. 80 and No. 98
Both Buffalo RBs are being drafted inside of the top 100. Drafters seem to have their own clear choice here and the ADPs are converging. The familiarity and touchdown upside of Singletary or the unknown usage and pass catching ability of Cook are being weighed heavily. There are also structural factors as well. Singletary can be drafted as an RB2 in a Hero Build while Cook makes more sense as an RB3 to put a team over the top. 
Chris Olave WR New Orleans No. 83
Olave, the 11th overall pick in the NFL Draft, has been steadily rising up boards. Michael Thomas is still out (note to editor: reprint this every article it is evergreen) and Jarvis Landry is new to the team. Alvin Kamara is facing a suspension. It is becoming more and more clear that  Olave has a chance to make a huge impact right away and drafters are aggressively adding him. He has gone as high as 63rd overall, and is a player you need to reach for. 
Dalton Schultz TE Dallas No. 84
Schultz, last year's TE3 overall, has settled in comfortably in the top 100 as TE6 overall. He goes ahead of T.J. Hockenson, Dallas Goedert and Zach Ertz.
Drafters are betting on Schultz being the #2 target in Dallas' offense. I have apprehension about drafting him here- he had eight touchdowns last season and that seems difficult to duplicate. This feels like drafting him at his ceiling. 
Kenneth Walker and Rashaad Penny RBs Seattle No. 85 No. 88
When Kenneth Walker was drafted in the second round, he was aggressively drafted in early best ball and was also a top five selection in rookie drafts. But as the summer has moved along, the drumbeats have been steadily in Penny's favor and this ADP is about to be flipped. One Seattle beat reporter suggested Penny could be in line for 20 carries a game. If Walker slips, he would become a very appealing upside draft pick. 
Treylon Burks WR Tennessee No. 90
Much like Walker, Burks has seen his ADP on a steady decline and drafters in the FFWC have let him slip all the way to mid seventh round.
Poor conditioning and asthma reports have certainly caused agita for early drafters, but this should be viewed as a discount situation. Burks has a great shot at leading the Titans in targets and is still favored by many sports books to lead NFL rookie WRs in yardage. 
Lamar Jackson QB Baltimore No. 89, Kyler Murray QB Arizona No. 95, Jalen Hurts QB Philadelphia No. 97, Joe Burrow QB Cincinnati  No. 100
Jackson, Murray, Hurts and Burrow form their own little QB tier around the seven/eight turn. We can call this the "upside potential QB1 overall tier." They get drafted 15 or more spots behind Mahomes and about 10 spots ahead of Dak Prescott.
Follow us all summer on Player Profiler as we track high stakes trends and ADP. Later this month we will take a look at some ADP risers and fallers.