The 2020 NFL regular season has come to its finale. Some believed this point would never come; the COVID-19 pandemic put all sports leagues in a tough spot. Despite the adversity, however, the NFL found a way to get through the year in a manageable fashion. Now, let's hope the same can be said for the playoffs.
As for fantasy football, most leagues have crowned champions and are "on to the offseason." Those in dynasty leagues are reviewing rosters; concocting trade ideas whilst dreaming of rookie picks. For others, fantasy football is simply over. However, for the leagues still in play (FIX THAT) and those who love daily fantasy, The Infirmary continues on for another week.
IR Bound
Darrell Henderson– LAR (Ankle), Frank Gore– NYJ (Lung)
ANALYSIS: 
Henderson's absence should mean a big game is in store for one Cam Akers should he be able to suit up Sunday. Gore, the NFL's resident cockroach (because he can't be killed), will miss the finale this Sunday. One has to wonder if this season will finally be his last, or if he'll continue to keep cockroaching into the next century.
OUT for Week 17
Julio Jones– ATL (Hamstring), Brandon Powell– ATL (Foot), Cole Beasley– BUF (Knee), Harrison Bryant– CLE (Covid), K.J. Hamler– DEN (Concussion), Kenny Golladay– DET (Hip), D.J. Chark– JAX (Shin), James Robinson– JAX (Ankle), Clyde Edwards-Helaire– KC (Ankle), Tyreek Hill– KC (Ankle), Sammy Watkins– KC (Calf), Jalen Richard– LV (Covid), Keenan Allen– LAC (Covid), Hunter Henry– LAC (Covid), Jared Goff– LAR (Thumb), Cooper Kupp– LAR (Covid), Ryan Fitzpatrick– MIA (Covid), Dalvin Cook– MIN (Personal), Damien Harris– NE (Ankle), Alvin Kamara– NO (Covid), Latavius Murray– NO (Covid), Lamical Perine– NYJ (Covid), Miles Sanders– PHI (Knee), Dallas Goedert– PHI (Calf), DeSean Jackson– PHI (Ankle), Ben Roethlisberger– PIT (Rest), Brandon Aiyuk– SF (Ankle), Deebo Samuel– SF (Hamstring), Greg Olsen– SEA (Foot), DeeJay Dallas– SEA (Ankle)
ANALYSIS: 
Holy Hell. It's a damn good thing (most) fantasy championships were decided last week. It's no surprise to see Jones and Golladay once again missing, and Allen hasn't been reliable the past couple of weeks. With Henry also sidelined for the Chargers, look for Mike Williams to have a solid game. For DFS purposes, Tyron Johnson ($4000 on DK) and Jalen Guyton ($3400 on DK) need to be rostered.
With a slew of Chiefs players out Sunday, and Patrick Mahomes taking a seat, it's tough to trust anything on the Kansas City side. The same goes for Jacksonville; no Robinson, no Chark. Not to mention the Jags are headed to Indianapolis to take on a Colts squad, with a top defense, fighting for a playoff spot. As the 49ers look to next season, they'll be without Aiyuk and Samuel for the '20 finale. It's George Kittle BOOM time.
It would've been nice to see Perine get some action with Frank Gore sidelined, but he'll miss this Sunday due to a positive COVID test. As will Kupp. The Rams need a win to stay in the playoff hunt, and will be down their quarterback in addition to Kupp. With Goff sidelined, John Wolford will start under center instead of the maligned veteran Blake Bortles. The move is intriguing, as is Wolford's player profile. As a senior for Wake Forest, the QB ran for 683 yards and 10 touchdowns. He posted a 10.96 (95th-percentile among qualified quarterbacks) Agility Score. Someone say Konami Code?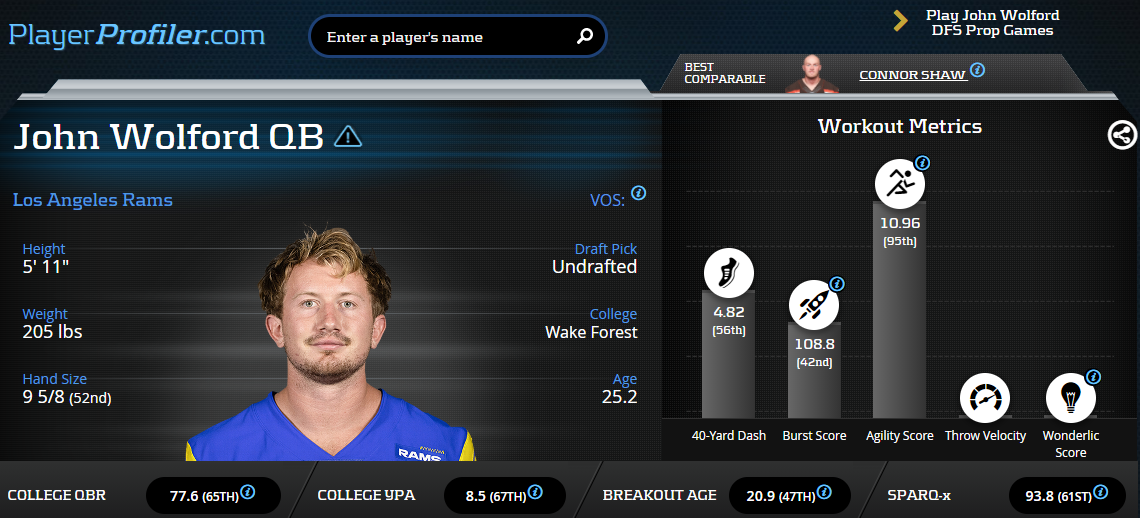 The running back position was hit hard this week. Cook, Kamara and Sanders join Robinson in sitting out. Alexander Mattison will fill in for Cook, but hasn't always looked good when doing so. However, this week he'll face the atrocious Lions run defense. Get him in those DFS lineups! With Murray and the rest of the Saints RB room out due to close contact, Ty Montgomery will get the start ($4000 on DK). Boston Scott will fill in for Sanders, but be wary given the Washington run defense (third-best against RBs). Philly's offense is awfully banged up.
DOUBTFUL for Week 17
Christian McCaffrey– CAR (Thigh), Mike Davis– CAR (Ankle), Golden Tate– NYG (Calf)
ANALYSIS: 
Tate's absence means very little, though it does open up additional targets for the likes of Sterling Shepard and Darius Slayton. Against the lowly Dallas defense, both are worth having in lineups. With Carolina's top two backs likely out this Sunday, the team will turn to Rodney Smith and Trenton Cannon. However, Curtis Samuel is sure to see a few carries, making him an enticing option in DFS at $5300 (on DK). Of course, the Saints do rank second against the run.
QUESTIONABLE-
Larry Fitzgerald– ARI (Groin), Chase Edmonds– ARI (Hip), Maxx Williams– ARI (Ankle), Gus Edwards– BAL (Back), Mark Ingram– BAL (Illness), Willie Snead– BAL (Ankle), Cole Kmet– CHI (Shoulder), Levante Bellamy– DEN (Ankle), Matthew Stafford– DET (Ankle/Rib/Thumb), Duke Johnson– HOU (Neck), Le'Veon Bell– KC (Knee), Cam Akers– LAR (Ankle), DeVante Parker– MIA (Hamstring), Jakeem Grant– MIA (Ankle), Antonio Gibson– WAS (Toe), Terry McLaurin– WAS (Ankle), Alex Smith– WAS (Calf)
ANALYSIS:
The story here is running back, as well. Expect a big game from J.K. Dobbins should Edwards sit. Even if Ingram suits up as the backup, Dobbins will get the bulk of the workload. If Bell misses Sunday, look to Darrel Williams at $4800 on DraftKings. Akers has a shot to return, but should he miss again, Malcolm Brown would garner a rather sizable workload. Gibson looks to help his team win the NFC LEAST, though Washington doesn't play until Sunday night.
With Snead banged up, Mark Andrews will be a favorite target of Lamar Jackson's this week (like most weeks). Their opponent, the Bengals, rank 29th against the tight end position. Kmet's absence makes Jimmy Graham a decent play at $3600; the veteran has scored three times in as many weeks. Stafford keeps adding new injuries to the list, but still looks likely to play Sunday. That's good news for the Detroit skill position players.
CONCLUSION
This is it; one final Sunday slate of games before the magic of the postseason begins. 2020 has been a wild ride, but one that won't be forgotten for years to come. Have no fear, The Infirmary will return in 2021 to continue providing the injury analysis the people have come to love. Until then, there's only one thing left to be said- THANK YOU!