Welcome in to the Week 7 edition of the Hitchhiker's Guide to RB! This is the place where we talk all things running back streaming. Each week we discuss running back usage, matchups, and waiver opportunities to convert the least amount of capital into a playable running back position on your fantasy teams.
If you did not read the introductory edition of the column, I strongly recommend checking it out here:
Introduction
The weekly project of this column is to stream the highest scoring running back we can using only a select group of bench running backs and the waiver wire. Additionally, I hope this article allows you to think critically about the inputs involved in fantasy production at the position that will inform how you play fantasy football.
In each article, I will briefly recap the week that was at the running back position. Then I will discuss the status of our existing running back bench and whether to make any transactions on our official roster. Lastly, I will discuss potential waiver options and designate my plays of the week.
Often I will mix in other tangents week-to-week addressing roster management, draft strategy, backfield shifts, potential beneficiaries from a major injury, or an examination of team or player usage trends.
Note: Any data not from Playerprofiler, or otherwise sourced is via Pro Football Focus.
Week 6 Recap – League-Wide
Below are the top 24 Running Backs from Week 6 excluding Monday Night's game, along with the overall top 24 Running Backs in points per game. (Minimum three games played)
The color coding is as follows:
Teal = drafted in the top 24 at their position by 4for4's ADP aggregator.
Yellow = drafted outside the first eight rounds.
Green = drafted outside the first eight rounds, and selected plays from our "roster" (see last week's article)
Pink = players on our roster, not played last week
Purple = players not on our roster that were recommended plays off waivers last week
Orange = Un-drafted
White = does not fall into any of the aforementioned categories: mid-round post-"dead zone" running backs
Note: Rhamondre Stevenson's ADP rose to 8.10 (94) just days AFTER the pre-season version of this piece was finalized. At the time it was written, he was drafted outside the first eight rounds and thus streamer-eligible per our criteria.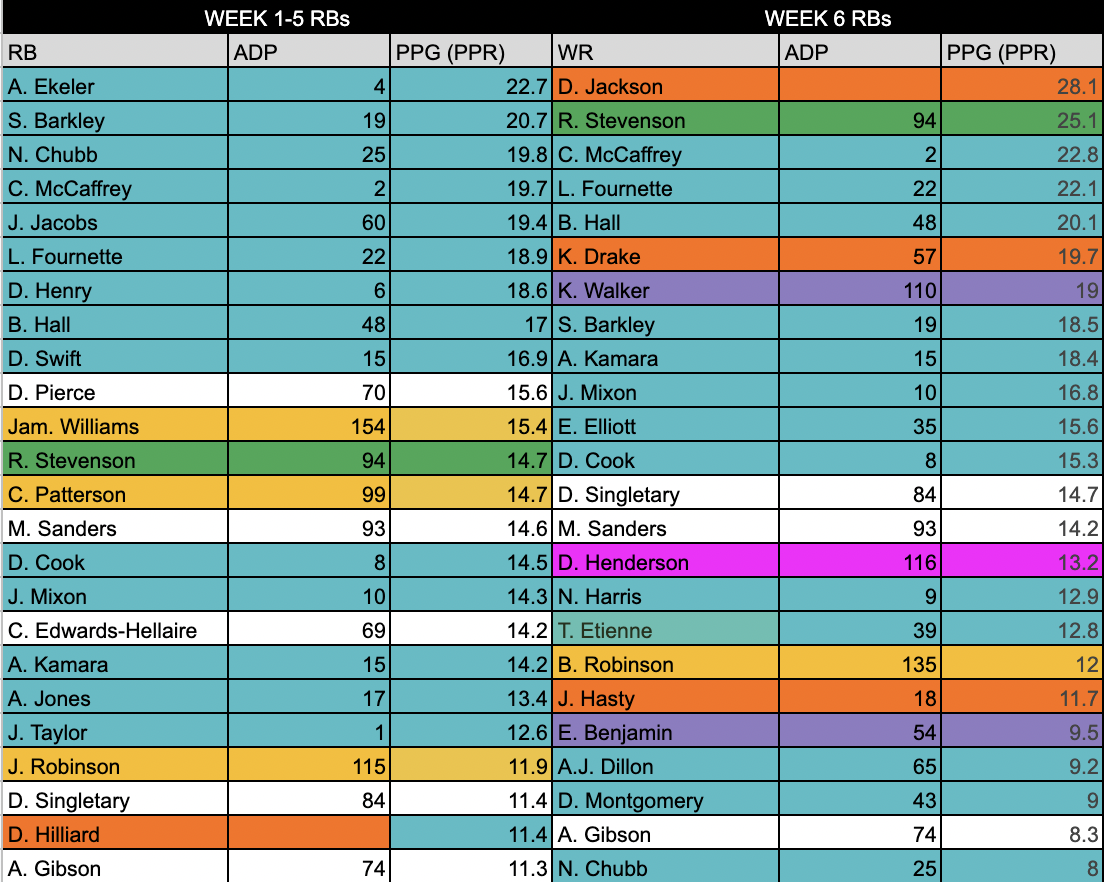 Week 6 was undoubtedly one of the best for running back streamers. Just eight of the top 24 backs were streamer-eligible, but the overall lack of scoring at the running back position and the success of common streamers were key.
Foreseeability
Rhamondre Stevenson and Darrell Henderson were commonly rostered streaming options with open backfields. Both, of course, are on our roster. Eno Benjamin and Deon Jackson were widely available on waivers. Deon Jackson was even available up until Saturday in many leagues. (He is still just 43-percent rostered). Ken Walker was infamously not available in your league according to twitter, but we have been highlighting him as a stash all season and made him our premium-play last week.
The point is that the streaming running backs – with exception of JaMycal Hasty and Kenyan Drake – were foreseeable plays. This is the number one counter to the idea that late round running back and receiver spikes are equally common. A successful late-round receiver may give you five top-24 performances over the course of a year. Forecasting when those will occur is often difficult. Picking Week 6 to start an Eno Benjamin, Darrell Henderson, Rhamondre Stevenson, Deon Jackson, or Ken Walker was not.
Lastly, it should be mentioned that four of the five receiver scores over 25 points were from top-12 receiver picks: Ja'Marr Chase, Stefon Diggs, Tyreek Hill, and Michael Pittman. If you started Deon Jackson alongside any of these options, congratulations on your Week 6 victory.
Week 6 Recap – Our Roster
This is the portion of the column where I walk through the six backs we have 'rostered,' with an eye toward their rest-of-season outlook.
Streaming Rules
For those joining us in progress, here is the process for the weekly streaming choices.
In the introductory column, I chose one RB in each of rounds 9-14 based on those available at each round using 4for4's ADP aggregator. That is my starting "roster."
Each week I will address whether to add any running backs available on waivers, and if so, who to drop.
Because your team is not mine, my weekly plays will not only consist of my "rostered" running backs. Instead, I will recommend a play from each of three categories. (see below)
My streaming "score" each week will be the average of my play in each category. My "preferred" play will count double and MUST come from a running back on my "roster." If I choose to make a waiver back my preferred play, I will outline who I am cutting from my existing bench for that running back.
The Categories
Bench Streamers: The selected running backs in the introductory article plus and minus any transactions published throughout the year in this column. If a drafted player gets injured, I retain one injured reserve spot.
Premium Waiver Streamers: This group is comprised of any running back with less than 67-percent roster-ship on Yahoo leagues as of the first waiver run of the week. It can include both generally un-drafted players as well as previously drafted players who have been widely cut by managers.
Deep Waiver Streamers: This group is comprised of any running back with less than 33-percent roster-ship on Yahoo leagues. The same rules apply as above.
Current Roster
Our current roster is the six running backs on our existing roster. Those running backs are:
The Good
Rhamondre Stevenson
There is little with regard to the shining star of this column that remains unsaid. He finally secured every infiinity stone this weekend when given the backfield to himself and converted the opportunity into a 25-point spike week. This was good for RB2 overall on the week. Stevenson now has two RB1 weeks and four top 24 performances for the season. Two of these performances have come in games Damien Harris played fully.
This was actually his lowest-graded performance by PFF, but he remains No. 7 in rush grade and No. 5 in overall grade among running backs with at least 30 attempts. He ranks No. 17 in Rush Yards Over Expected per Attempt (RYOEPA) and remained No. 1 in Juke Rate entering the week.
If Damien Harris is active next week, Stevenson reverts to a high-end RB2. If his backfield mate is once again absent, fire up Stevenson as a top-five running back play.
Rachaad White
Rachaad White had his snap rate drop in this one as the Bucs played primarily from behind (22-percent). That being said, the team was willing to use him in high-leverage situations.
White received four targets on nine routes. Two of those plays were designed exclusively for him. He also converted a 4th and two in the receiving game. White may not play over Fournette on a majority of passing situations, but they have no issue throwing to him whenever he is out there.
As has been mentioned before, we are in a holding pattern with White. He can be flexed in a given week if you are desparate but will rarely play enough to provide value. However, he is the best handcuff in football south of Tony Pollard.
The Rest
Darrell Henderson 
I was not sure where to slot Henderson this week. His stock is clearly up with Cam Akers reportedly being unlikely to play with the Rams again. However, once we factor that development in I wanted to focus on his usage this week as it relates to the rest-of-season role.
Depending on what your expectations were for Henderson, you could spin this one in any direction you like. Henderson played 71-percent of snaps and ran 65-percent of routes. He was also used when he played for a change, handling 60-percent of both carries and targets. Because Malcolm Brown is Malcolm Brown, Henderson was unsurprisingly the more effective back. Henderson notched 43 yards on 12 carries vs. 15 yards on seven carries for Brown.
While he did play 80-percent of the goal-line snaps and converted a goal-line carry, Brown also received a goal-line carry that he failed to convert.
Moving Forward
Darrell Henderson is a start-worthy RB2 for so long as this role holds, but this situation is clearly as fluid as any in the NFL. The issue is the Rams simply have not created fantasy opportunities for their running backs this season. All Rams running backs have combined for 16.2 expected fantasy points per game. There are 10 individual running backs with a higher total. Even capturing 70-percent of the backfield would rank him No. 29 in expected fantasy points per game.
This almost has to regress positively due to such a low starting point but their offensive line situation is truly dire.
Rams offensive line right now:

LT2 – LG2 – C3 – RG5 – RT1

— TurfShowTimes (@TurfShowTimes) October 16, 2022
Add in the risk that Henderson's role is scaled back relative to Brown, Kyren Williams when he returns, or a new addition, and there may be more downside risk than upside. If you have Henderson you should be excited at the prospect of RB2 production for a late-round pick, but be open to selling if you can use him to get a legitimate upgrade with less fragility.
Khalil Herbert
Herbert is in status quo mode. He plays the third drive of each half and has the chance to complete it if it reaches the green zone.
Are we sure Khalil Herbert shouldn't be #DaBears RB1? 😳😳😳

— PlayerProfiler NFL (@Profiler_NFL) October 14, 2022
Runs like the one captured above is why Herbert ranks first in RYOEPA. It does not appear the Bears care how good he is for the time being, however. Continue to hold Herbert as a handcuff and desperation flex in matchups the Bears are expected to be able to lean on the run.
Nyheim Hines
Hines missed this week due to Concussion protocol. Deon Jackson played extraordinarily in his place. There may be some risk he's earned either a standalone role or a larger chunk of the backfield should Taylor miss again than what may have been originally intended. I would not say the former is a particularly likely risk however: see Johnson, D'Ernest.
He remains a hold for now.
Tyler Allgeier
Tyler Allgeier replicated his Week 5 role almost exactly. He handled 57-percent of snaps and 71-percent of target-less routes. His role is theoretically better than Caleb Huntley's who out-carried him 16-15 given the edge he gets in the passing game. However, the Atlanta Falcons have a passing game which is also best described as theoretical. When the Falcons do occasionally call a pass play to prove that every rule has an exception, Allgeier often runs a route with more empty calories than Popcorn Twist. (seriously try these)
Both Allgeier and Huntley mixed in on the goal line this week with Allgeier holding an eight to three edge in short yardage snaps. He remains an uninspiring RB2 you would prefer not to play. Think Damien Harris but a worse player on a worse team who loses goal-line opportunities to both a quarterback and his backfield mate.
Damien Williams may return this week and further frustrate a frustrating backfield which is somehow committed to running the ball on 70-percent of their plays, yet offering zero start-worthy fantasy running backs.
The Result – Week 6 Plays
First off, I will note that there was some late breaking news after the column was published with regard to the James Conner, Jonathan Taylor, and Nyheim Hines injuries. Additionally, there was the Cam Akers situation.
I tried to address where these new streaming options on Twitter to mixed success.
TONS of news post publishing so..
Power ranking the 'streaming' RBs in W6:

T1: Stevenson
T2: Eno > Walker > Hendo > Jeff Wilson > Gordon
T3: Deon Jackson > Boone > Allgeier > Lindsay https://t.co/7DXEdcYvXN

— Jakob Sanderson (@FF_RTDB) October 15, 2022
I give myself one point for keeping Stevenson in a tier of his own, another point for being below market on Jeff Wilson, and one last one for being solidly Deon Jackson over Phillip Lindsay.
I subtract one point for taking Eno Benjamin's empty calorie snaps over Ken Walker's tackle-breaking god mode. I subtract infinite points for not placing Deon Jackson as RB1 overall.
That aside, the actual plays last week were Rhamondre Stevenson, Ken Walker and Eno Benjamin. For the first time this year we streamed THREE top-24 running backs. That being said, all three were foreseeably top plays and we hardly accomplished anything here. This speaks more to the fact that streaming running backs generally becomes more successful and workable over time. With Stevenson leading the way, our Week 6 stream score was 19.7: a top half RB1.
That may be hard to top all year but we will try!
Parting Words
Ken Walker and Eno Benjamin have now both departed the realms of streamer eligibility this week. I thought cheating and adding in Eno Benjamin as a pick-up for Tyler Allgeier after finishing the column on Monday night in time for Tuesday (or Wednesday in some leagues) waivers. James Conner's injury news was much more positive on Monday than it became in the next 24-48 hours. That being said, cheaters never win.
If you did pick up either of these players, here are my thoughts:
Ken Walker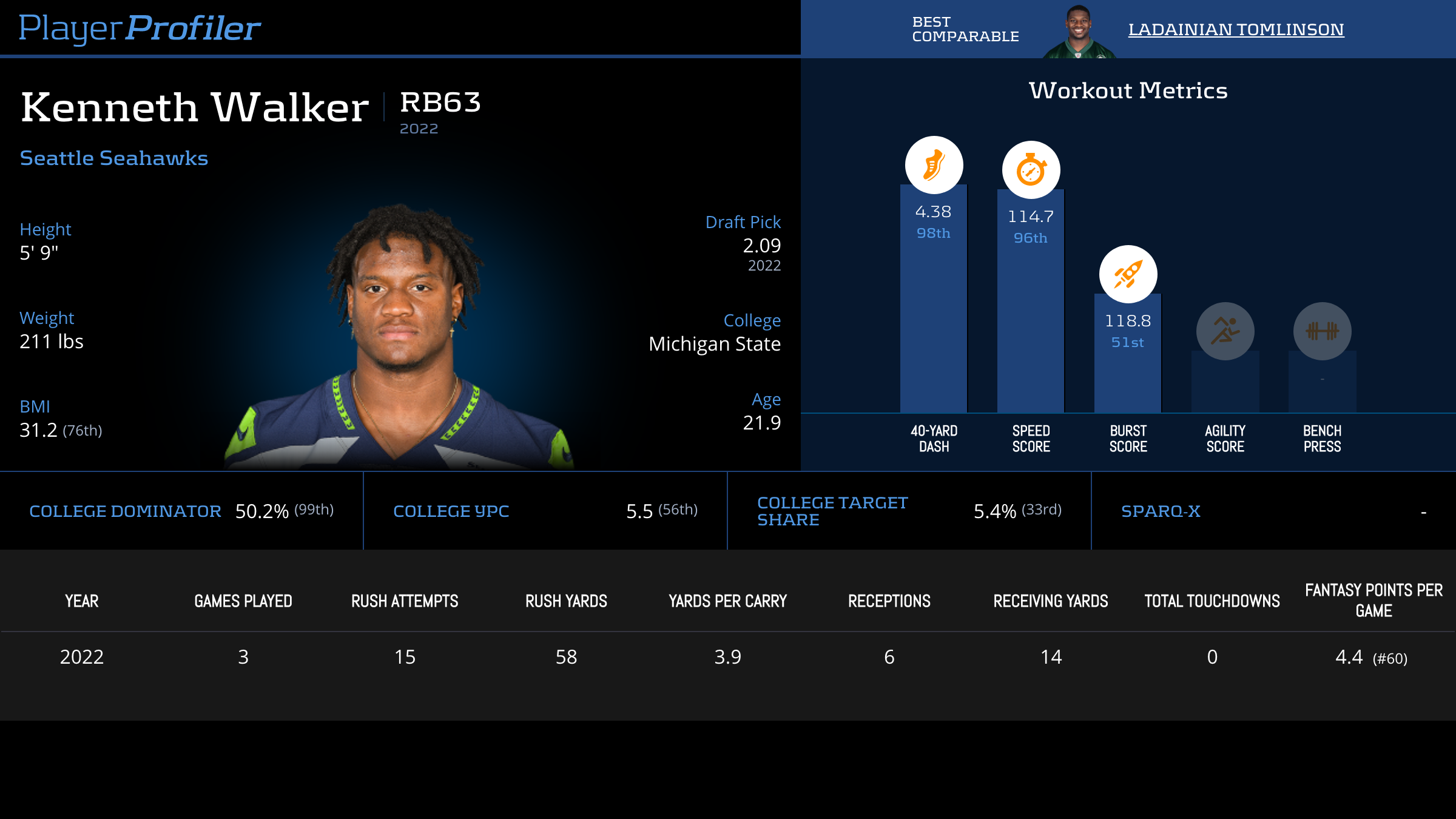 As we expected last week, Walker played the entirety of the role he previously split with Penny, ceding only the most obvious passing situations and occasional breather snaps to DeeJay Dallas. The most interesting thing to track with Walker will be if he keeps this role in trail script.
The 2021 Commanders for example played Gibson on nearly every early down in games they won. However, when they fell behind in the second half, McKissic became the preferred back on all downs. Whether Walker can continue to see strong usage in all scripts will decide whether he is a game-script dependent, high-upside RB2, or an RB1 rest of season.
In terms of his play, Walker had sensational moments, but I think he still has room to grow. He was efficient. Walker posted 97 yards on 21 totes, and offered the third highest RYOEPA of the week at +1.81. However, only 35-percent of his runs were "over" expectation. This was the No. 7 lowest-mark among backs with 10 or more attempts. PFF also graded him at 61.9 as a rusher indicating less than extraordinary play.
My take on Walker is similar to Javonte Williams of 2021. He is a remarkable tackle breaker and is even more explosive than Williams in space. However, he does dance too much in the backfield which creates negative plays. I'm not sure those are mutually exclusive either. I would love to see Walker remain deliberate in choosing his lane, but hitting then hole with more decisiveness before letting his natural ability continue shaking defenders once he has established momentum.
All the same, I think it's fully within his range of outcomes to be a top-five rusher in the NFL.
When Ken Walker eliminates the backfield dance dance Revolution from his arsenal he will be one of the best rushers in the world

— Jakob Sanderson (@FF_RTDB) October 16, 2022
Eno Benjamin
Eno Benjamin had a fantastic role this week playing 90-percent of snaps and handling work in every situation. He was not efficient with this additional work however, posting 2.47 yards per carry. He also ranked second to last in RYOEPA for the week at -1.22. I did watch the majority of his carries and felt he was not as bad as the numbers show but also offered much to be desired.
He's at his best in space as he offers juice in the passing game and on runs to the outside as he's been doing all year. When running up the middle, he rarely created more than what was blocked for him, and often rushed into non-existent holes too quickly. He would benefit from a touch more patience.
While this was not the type of performance I would expect to earn him more snaps when Conner returns, there is little reason to expect any major reduction in his role if Conner sits on Thursday Night Football. Play him if you have him vs. an overrated and under-manned Saints defense.
The Waiver Wire
This was not an inspiring week for the running back waiver wire. In fact, the only back worth talking about arising from this week is Kenyan Drake. J.K. Dobbins apparently dealt with "knee tightness," leading Drake to an epic performance in which he led the league in rushing yards. He's worth an add, but Dobbins may play. Additionally, Gus Edwards is reportedly 'close,' Justice Hill may be back, and Drake was useless in two starts this year.
I would likely prefer to look elsewhere
I will make brief mention of Brian Robinson here. He is unlikely available in your league (65-percent rostered), but this backfield takeover is worthy of mention.
The Waiver Wire Priority List
Among everyone rostered in 67-percent of leagues or fewer, here is your Week 5 waiver priority list.
NOTE:
*CON* = Contingent Value-focused use case
*SA* = Standalone Value-focused use case
*STASH* = Role projected to grow organically throughout the season
Feel Free to adjust this priority depending on your need for immediate starting value.
POST-PUBLISH NOTE: This column is drafted prior to Monday Night Football. I have updated this list to account for Nathaniel Hackett's inscrutable desire to force the corpse of Latavius Murray onto our television screens, into our hearts, and – possibly – into your waiver claims.
Week 7 Transaction
If you need a starter in Week 7, Tyler Allgeier is a reasonable option. But the limited upside and impending returns from injury on Atlanta mean we will be ending his time with our squad. My primary target below 33-percent rostered is James Cook. The Bills made Zack Moss inactive this week and rode Devin Singletary as they often do in 'big' games. With the historical post-bye bump for rookies, and the demotion of Zack Moss, I want James Cook on my teams for Week 8 at least for contingent value.
However, Cook is on Bye this week meaning it's unlikely his rostership rises menaingfully for another seven days. For now, I will take Isiah Pacheco. McKinnon is the preferred start of the two as he's led the Chiefs in snaps and routes this year. However, as Clyde Edwards-Helaire's luckbox has run dry in recent weeks, it is possible Pacheco makes inroads in this backfield, and he is the one more likely to take 'Edwards Helaire's' role in case of injury than McKinnon. He was schemed four touches – including two targets – on his 10 snaps this week.
Week 7 Picks
Preferred Play: Rhamondre Stevenson
There is once again no doubt who holds this spot in our lineup, nor our heart. Regardless of Damien Harris' status, Stevenson plays a Chicago team which has generally induced opponents to run above their typical rate and do so succeessfully.
Premium Play: Brian Robinson
I have yet to talk about the Commanders' new starting running back in this column, but it's about time. Robinson led the team in snaps and carries and monopolized short yardage and goal line situations. However, he ran just six routes on 25 drop backs behind both Gibson and McKissic. I would only be comfortable starting Robinson in games you expect them to play from ahead, and the Commanders won't often have games where they projectably do that.
So why is he my pick? Desparation, mostly. After having just experienced the easiest streaming week of the year, this may be the toughest. Hopefully on your actual teams you have Walker, Benjamin,
Raheem Mostert
,
James Robinson
or any of the backs we've talked about this year. But if you are between Robinson and
Tyler Allgeier
– as I am here – I would rather go with the option who is more assured of the goal line role.
Deep Play: Latavius Murray
I had actually planned to play Joshua Kelley here after he usurped the full backup role in Week 5. However, I am typing this as I watch Monday Night Football and Sony Michel has mixed in more frequently.
UPDATE : Kelley has been labelled as Questionable to return with a Knee injury. You may know more than I do by the time you read this. If the injury is serious, consider Spiller a viable stash in deep leagues, and Michel would be significantly upgraded.
Chargers RB Joshua Kelley has a knee injury and is questionable to return.

— Lindsey Thiry (@LindseyThiry) October 18, 2022
There are a bevy of option in the "secondary running back" category for this slot. After the Kelley injury I chose to go back to old reliable J.D. McKissic after a one week hiatus. Dontrell Hilliard has a similar role albeit the Titans have a lower throw rate to their backs on most occasions. He is an honourable mention this week. Jerick McKinnon is also playable.
However, at least pending any news reports which confirm that the deployment from Monday Night will not continue, I suppose it is Latavius Murray SZN. I do not think he will keep this role all year long. While he posted a replacement level +0.04 RYOEPA in 2021, much of this came in a Week 18 game. Excluding this eruption he was fourth worst among qualifying backs. I understand the dubious nature of arbitrary splits and exclusions but felt the context was notable here, given Murray is a 32 year old journeyman who was effectively usurped by Tony Jones Jr. and Devonta Freeman – neither of whom are relevant in 2022. His juke rate of 12.4-percent ranked 52nd.
All that being said, he draws a favourable matchup this week with the New York Jets, and is seemingly the starting back. That's enough for our deep play.
NOTE: I reserve the right to shift this to a Baltimore back as news comes in Tuesday. For now, it is simply too fluid to guess.
NOTE 2: The first-published version of this column had J.D. McKissic as the Deep Play. Then Monday Night Football occurred. (unfortunately)
The Final Word
Thank you once again for reading this column, and I look forward to its continued development over the course of the season. Also, credit to Pro Football Focus for providing data I was able to use in this column in addition to the incredible wealth of information on PlayerProfiler.
Happy Hitchhiking!