There has to be a path for a player to accumulate points. This rings especially true in DFS Week 1 matchups. Typically finding those high-scoring games allows you to discover hidden gems inside the games. Think Greg Olsen or Allen Lazard from the DFS Week 1 matchups in 2020. Looking back to 2020, there was only one time a stack with a quarterback-pass catcher won the Millionaire Maker and the combined point total was 50 points or less: Week 8 when the Chiefs destroyed the Jets 35-9.
There's plenty of ways to find these players and matchups, whether it be the perfect positional advantages, bad defenses meeting incredible offenses, or two great quarterbacks going head to head. Finding these matchups is key to building the start to a great roster. The rest is about putting the right pieces around the matchup.
Games to Target in DFS Week 1 Matchups
There was only 1 time where the Milly Maker winner had a QB stack and that game didn't eclipse 50 points total. It was when the Chiefs blew out the Jets. Huge part of DFS is finding the high scoring games that no one else believes will be high scoring. Falcons Eagles Week 1 👀

— Chase Vernon (@ff_intervention) September 6, 2021
Eagles at Falcons (-3)
Weather: Dome 
Over/Under: 48.5
Fact to know: The Falcons were tied for first in explosive pass plays allowed in 2020. Ten (15.2-percent) went to the tight end position while also allowing the tight end to account for ten receiving touchdowns (29.4-percent). Dallas Goedert ran a route on only six plays in the preseason, yet his only target went for 34 yards. In addition, Jalen Hurts had 16 (No. 5) Deep Ball attempts from Week 14 through Week 16.
Players to Target in DFS Week 1 Matchup
Jalen Hurts – $6,400
Jalen Reagor – $3,700
Dallas Goedert – $4,800
Quez Watkins – $3,000
Kyle Pitts – $4,400
Hayden Hurst – $3,700
In my original Week 1 piece, I had Jalen Hurts, Jalen Reagor, and Zach Ertz. However, as the preseason progressed and I dove a little further into the matchup, I'm leaning more in Goedert's favor. I also vouched to roll Hurts out naked with no stack, but I'm pivoting because the Falcons defense consistently gives up big plays to the tight ends. 
The stack of Hurts and Goedert stand out the most because of the average depth of target. In 2020, Goedert had an 8.8 (No.6) average depth of target compared to Ertz's 7.4 (No. 23). Although Ertz had a significantly higher red zone usage, Goedert's 300 (No. 23) routes run should come up after seeing a 74-percent (No. 15) Snap Share. 
The Colts struggled to keep tight ends healthy, and they still had at least two tight ends on the field on 29-percent of their snaps in 2020. With Nick Sirianni implementing the same system, I expect Goedert to do work, starting in Week 1.
The decision to go with Reagor over Devonta Smith ($4,500) is purely based on the big plays allowed on the outside. Quez Watkins ($3,000) in the slot against Isaiah Oliver is also intriguing. Oliver was one of the lowest-rated nickel backs in the league in 2020. With the amount of two tight end sets run by the Eagles, Watkins has a low floor. However, his big play ability should allow him to be a risky, high-upside play. 
Looking at these two teams defensively is like looking at twins. The Eagles allowed 27 receiving touchdowns, with nine (33.3-percent) of them from tight ends. Meanwhile, they were only No. 22 in explosive pass plays allowed, but ten (20.4-percent) of those went to tight end.  
The ineptitude at defending tight ends bodes well for the Kyle Pitts enthusiasts. With cornerback Darius Slay having his hands full with Falcons receiver Calvin Ridley, expect Pitts to see favorable matchups, regardless of where he lines up. If he lines up at tight end or in the slot, Pitts will see coverage from linebackers if rookie defensive coordinator Jonathan Gannon's lineup looks anything like the Colts. The 4.49 speedster should have no problem getting separation against them.
If Pitts lines up out wide, he will likely see coverage from former Steelers back Steven Nelson. At 5'11 and running a 4.49 himself, Nelson struggled against bigger receivers who had speed, such as D.J. Chark. Pitts should have a field day in Week 1. 
It's risky running out a rookie tight end for the season and even more so for his first career game, but this isn't a typical rookie. With this juicy matchup, Pitts should be an auto start across the board. 
Don't sleep on Hayden Hurst either. In a high-scoring affair with two subpar defenses, Hurst should have plenty of opportunities. In Tennessee, Eagles head coach Arthur Smith ran multiple tight ends on 50-percent of the snaps—easily the most in the NFL. As Hurst said recently, "It's not Hayden Hurst vs. Kyle Pitts, it's Hayden Hurst AND Kyle Pitts."
Feel free to stack an Eagles defense that was also torn up due to injuries in 2020. Not only will they have returning starters, they also added four more to their defense. After an unlucky year in 2019 where Matt Ryan threw 16 (No. 18) Interceptable Passes, with 14 converting to interceptions, he came back to 2020 with a vengeance. Ryan said, hold my beer and threw 38 (No. 1) Interceptable Passes with only 11 converting. Although he didn't fumble as often, he still took the fifth-most sacks.
With a healthier offense line, Ryan could be less susceptible to interceptions and sacks. However, losing Julio Jones could be a big hit to Ryan finding open receivers. Jones had a 1.86 (No. 53) Target Separation rate. Meanwhile, Russell Gage had 1.59 (No. 114) and Olamide Zaccheaus had 1.53 (No.130). If Pitts can create separation, maybe that could allow Ryan not to throw passes into tight coverage. However, the Eagles defense should force plenty of turnovers.
The most critical factor was both teams were top six in plays per game, and the Falcons were fourth in passing attempts. Even with Arthur Smith taking over as the head coach, Mike Davis is no Derrick Henry. Don't expect those passing numbers to change much.
The Eagles were third in sacks and second in pressure rates for 2020. So feel safe rolling them out in cash and expect multiple turnover opportunities in GPPs.
Cardinals at Titans (-3)
Weather: Overcast
Over/Under: 52.5
Fact to know: Kyler Murray's should injury started in Week 9 but became noticeable in Week 11 versus the Seahawks. Before Week 11, Murray never scored less than 24.12 points on DraftKings. Following Week 11, he only had over 20 points one time: Week 15, where he had the third-most touchdowns per attempt (0.08) on the season, and his receivers averaged the highest yards after the catch per reception (7.19). Kyler is a different player when healthy.
Players to Target in DFS Week 1 Matchup
Kyler Murray – $7,600
DeAndre Hopkins – $7,800
Rondale Moore – $3,000
Ryan Tannehill – $6,500
A.J. Brown – $7,100
Murray is an absolute smash play in this matchup. The Titans defense, whether they acknowledge it or not,  is going through a rebuild. They lost 11 players on defense, with five of them being starters from 2020. Although Janoris Jenkins and Bud Dupree are great additions, they still have a very inexperienced unit—especially in the secondary.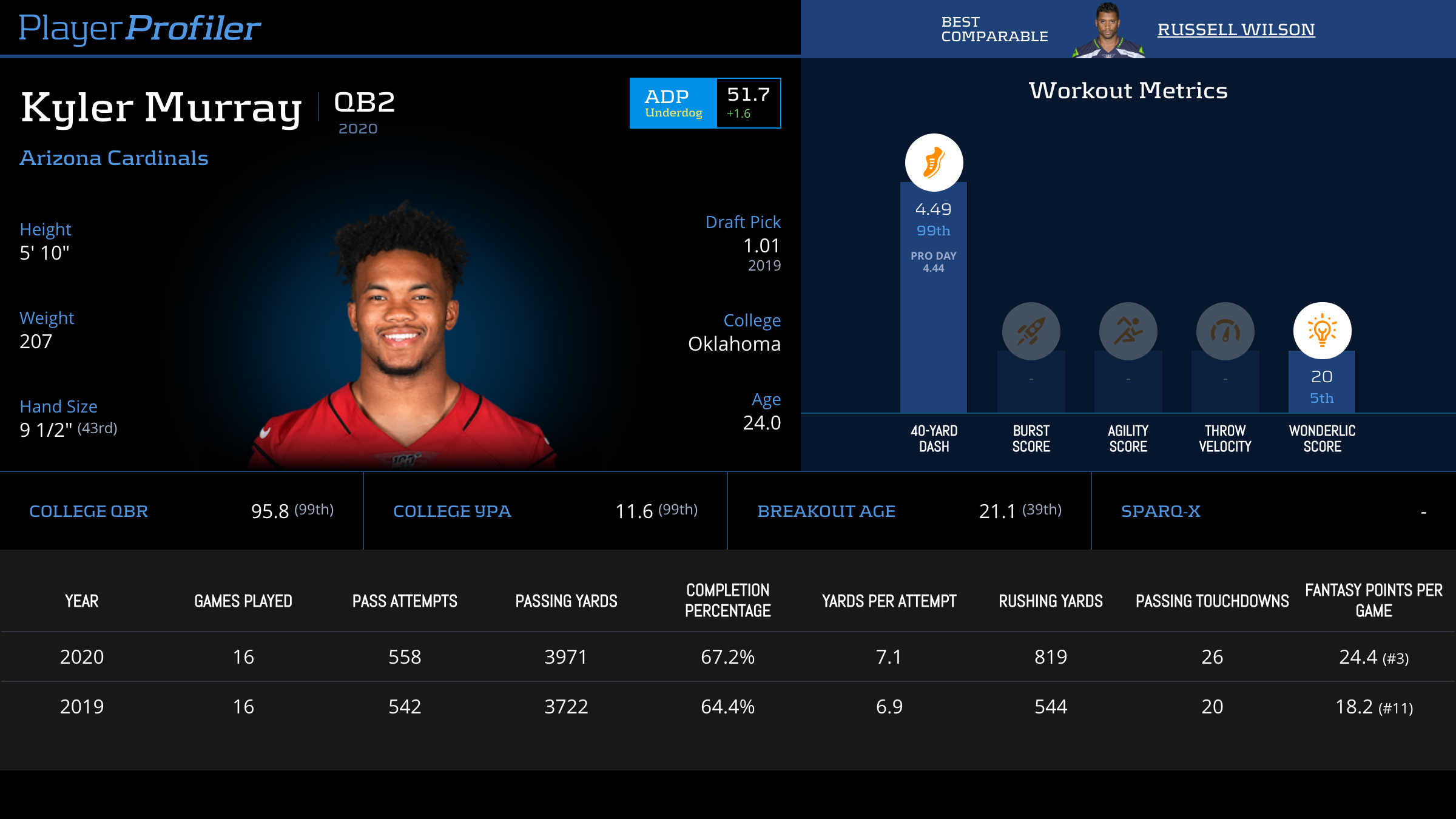 The concern is Kyler won't be able to do much with his legs since Tennesee was one of the better teams at containing rushing quarterbacks. But with the additions of A.J. Green and Rondale Moore, there should be an increased emphasis on the passing game. Kliff Kingsbury called 1.5 more pass attempts per game in 2020 compared to 2019. There should be an uptick in pass attempts again in 2021, making this a prime target for DFS Week 1 matchups. 
Stack Murray with Moore and Hopkins. Third-round rookie Elijah Molden is reportedly winning the starting slot cornerback job. He's a physical presence who is excellent in run support. However, he doesn't have the elite speed needed to keep up with Moore. So expect the Cardinals to regularly take advantage of this mismatch and Moore to come screaming onto the scene in Week 1. 
Meanwhile, Hopkins should dominate targets like he typically does. Janoris Jenkins struggles against bigger receivers, and the former second-rounder Kristian Fulton was underwhelming in limited snaps during his rookie season.   
With the addition of J.J. Watt in the offseason, the Cardinals defense seems to be heading the other direction. After ranking tenth against the running back in 2020, there could be an even more significant jump in 2021. With a high-scoring offense for the Cardinals and a defense who will look to deny teams yards on the ground, this doesn't seem like a game for Derrick Henry. A.J. Brown ($7,100) is looking real nice, however.
Brown will likely be lined up across from cornerback Robert Alford. Due to two season-ending injuries in camp, Alford hasn't played a snap since 2018, where he played most of the season on a high ankle sprain. Across six seasons in Atlanta, he only started 16 games twice. Meanwhile, he allowed 33 touchdowns. 
At 5-10, the 188-pound corner will struggle to defend Brown, making Brown my favorite receiver on the Week 1 main slate. I expect the Titans-Cardinals matchup to run the most amount of plays to start the season.  
Browns at Chiefs (-6)
Weather: Clear Skies
Over/Under: 53
Fact to know: The Chiefs allowed 100 yards rushing or a touchdown in all but four games in 2020. All four teams were in the bottom half of the league for rushing attempts per game. Cleveland was top five in rushing attempts, yards, and touchdowns per game. 
Players to Target in DFS Week 1 Matchup
Travis Kelce – $8,300
Nick Chubb – $7,200
Kareem Hunt – $5,500
Austin Hooper – $4,000
Typically, I wouldn't recommend starting two running backs from the same roster. However, with an improved Browns defense, we could see excellent starting field position throughout the game. If the Browns can capitalize, I wouldn't be shocked to see three, maybe four touchdowns between Nick Chubb and Kareem Hunt making this game an excellent target in the DFS Week 1 Matchups. 

Including the playoffs, Chubb and Hunt had five games in 2020 where the two combined for over forty points—most notably Week 2, where they combined for 234 yards and four touchdowns. Chubb is an absolute lock, and consider Hunt, especially in the case of a shootout. The Chiefs had a 1.16 (No. 26) DOCE Score, and although they added Nick Bolton in the second round, it will take a bit for him to get up to speed in the NFL. He has severe speed and size limitations even though he was a playmaker in college. 
If there is going to be scoring, a tight end from the Browns could likely be involved. The tight ends took a 29.9-percent (No. 3) Target Share along with 37-percent of the Browns passing touchdowns. Although Harrison Bryant ($2,500) and David Njoku ($3,500) are intriguing options as flyers in big contests, I'm leaning Hooper, who should lead the position in snaps and targets.
Travis Kelce is the player to run it back. I don't love $8,300 – a number he only hit once in 2020 – but he could easily outperform that price against the Browns. The addition of John Johnson concerns me as he only allowed one touchdown to the tight end the entire season, but it's Travis Kelce. They could use Johnson to take the deep threat away, allowing the underneath to be open all day against Kelce.