The Air Yards DFS Value Index is back for the 2021 season.  Each week the Air Yards DFS Value Index will look to determine the best "bang for your buck" in daily fantasy utilizing up to date Air Yards data. This is accomplished by utilizing a player's Air Yards, and Air Yards Share to create a weighted Air Yards metric. We then compare this metric with each player's DraftKings salary to create a Value Score. The highest scoring Air Yards Value player of the week is always scored with a value of 100. All other players are compared relative to this player with decreasing value.
Unfortunately, as week one is not yet completed, the best data we have is last years data. While this is more informative than the latest hot take you saw on Twitter, it is, albeit, slightly stale data. However, it is currently the best data we have. Since our data is limited, this week will consist of an abbreviated list of five players priced at or below $5,500 on Draftkings and one player priced above that salary threshold.   Look for the normal top ten list next week.
Paying Up
Calvin Ridley – DK: $7,900
Air Yards Value Score: 91.73
2020 Air Yards: 2,063 (No. 1 among qualified wide receivers)
2020 Air Yards Share: 41.4-percet (No. 2)
2020 Unrealized Air Yards: 968 (No. 1)
The Air Yards leader of 2020 appears posed to repeat as the Air Yards king in 2021. Calvin Ridley enters his first NFL season without Julio Jones as his teammate, and last seasons time without Julio on the field foretells a huge fantasy season incoming. Ridley averaged 160 Air Yards in the contests the Julio did not play in 2020 and averaged over 20 fantasy points per game. Ridley should feast on Arizona's injury riddled secondary and is THE wide receiver to spend big on at Draftkings.
5) Tee Higgins – DK: $4,700
Air Yards Value Score: 61.84
2020 Air Yards: 1,262 (No. 24)
2020 Air Yards Share: 27.1-percent (No. 39)
2020 Unrealized Air Yards: 651 (No. 16)
Tee Higgins enjoyed a break out rookie campaign last season amassing 67 receptions, and  908 receiving yards across 16 games. It is noteworthy to point out that Higgins played in more than half of the offense snaps in only 14 of those 16 games. Higgins was seldom used in his rookie debut in week one seeing only 22.4-percent of the snaps and exited week 17 with a hamstring injury after running only one route. Therefore, his overall stat line from last season looks a lot more impressive than it appears. Now with last years Air Yards face-planter A.J. Green in Arizona, and rookie Ja'Marr Chase struggling after taking a year off from football, Higgins is the favorite to lead the Bengals in Air Yards week one against the Minnesota Vikings and perhaps the rest of the season.
4) Brandin Cooks DK: $5,300
Air Yards Value Score: 64.21
2020 Air Yards: 1,354 (No. 13)
2020 Air Yards Share: 29.6-percent (No. 29)
2020 Unrealized Air Yards: 561 (No. 25)
Brandin Cooks returns to a Texans team that looks wildly different from the squad from last season. With Deshaun Watson in legal limbo, Tyrod Taylor will be under center for the Texans against Jaguars passing defense that gave up the 12th most points to the wide receiver position in 2020. While Taylor is a huge downgrade at the position, Cooks should have little difficulty maintaining and will likely improve his Air Yards Share from last season considering the other options at receiver on the roster. If your looking to stack Jaguars in week one Cooks makes for a great correlated lineup option.
3) Marquez Valdes-Scantling – DK: $3,700
Air Yards Value Score: 72.01
2020 Air Yards: 1,100 (No. 32)
2020 Air Yards Share: 28.6-percent (No. 31)
2020 Unrealized Air Yards: 661 (No. 14)
A familiar face to last seasons Air Yards Value Index, Marquez Valdes-Scantling was, and has been, throughout his three-year career, a boom-bust fantasy option. His league leading 17.5 yards of average target distance results in highly volatile fantasy outcomes.  However, despite his inconsistencies, he remains locked into the WR2 role in the Packers offense behind Davante Adams. While Adams will be fed against a thin Saints secondary, camp hype around a potential fourth year breakout for Valdes-Scantling could translate to immediate week one production and DFS success for MVS.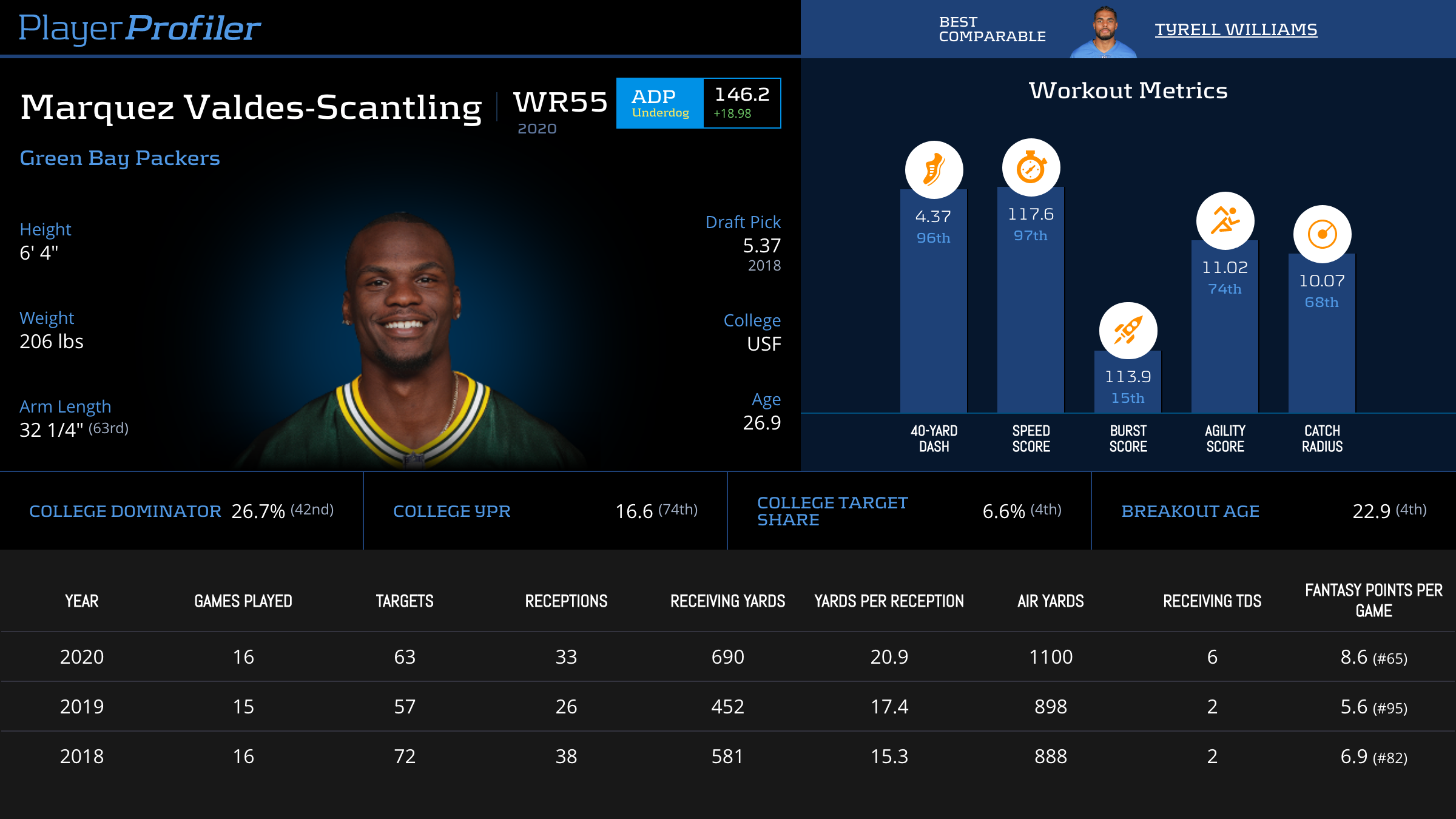 2) Jerry Jeudy – DK: $ 4,800
Air Yards Value Score: 85.57
2020 Air Yards: 1,536 (No. 6)
2020 Air Yards Share: 31.5-percent (No. 22)
2020 Unrealized Air Yards: 965 (No. 2)
Jerry Jeudy was the Broncos go-to receiver after Cortland Sutton's  season ending injury last season. Unfortunately, due to errant throws (4.17 Target Quality Rating, No. 104) and drop issues (73.2-percent True Catch Rate, No. 105), Jeudy was unable to convert many of the Air Yards that came his way into fantasy points. Now with Sutton returning, Jeudy will look to rely on the deadly accuracy of newly named starting quarterback Teddy Bridgewater to help score fantasy points. While Sutton may eat into Jeudy's Air Yards Share, it is possible that Jeudy becomes Bridgewater's primary read and the WR1 in Denver. With Giants All-Pro cornerback James Bradberry likely lining up against Sutton, Jeudy will have an opportunity to feast against the remaining members of the Giants secondary.
1) Marvin Jones – DK: $3,600
Air Yards Value Score:94.39
2020 Air Yards: 1,398 (No. 11)
2020 Air Yards Share: 28.6-percent (No. 32)
2020 Unrealized Air Yards: 607 (No. 20)
Marvin Jones is the only wide receiver on the list to have changed teams. Moving from the top receiver on the depth chart after Kenny Golladay's injury in Detroit, to competing for targets with D.J. Chark, and Laviska Shenualt, Jones will look to establish himself in the target pecking order in week one. Jones historically has a high average target distance among qualified receivers as he has failed to place outside no. 33 at the position since 2016. It should shock no one if Jones is the preferred downfield target of Trevor Lawrence as opposed to the more expensive Chark (DK: $5,800).
A brief note: A.J. Green (DK: $3,800) and Darius Slayton (DK: $3,800) did not make the list despite scoring high in the model. Green was redacted last year due to league leading inefficiency (-24.8 Production Premium, No. 221). Green, now on the Arizona Cardinals, needs to prove something before he makes it back on the list. Slayton's starting role in the Giants offense is presumably replaced by Kenny Golladay, so we will have to wait and see how his usage pans out in week one before he makes the list again.
Good luck to everyone in Week 1. May all your Air Yards be realized.