After creating a stack focusing on the quarterback position, typically finding your stud running back is next. Finding running back Milly Maker values are key since studs don't have to be high priced. Finding one who is less expensive and correlates with a defense can yield exceptionally positive results in cash games and is helpful in GPPs. However, not every running back has a connection with their defensive units. 
Some argue the correlation between a defense and a running back exists because they will see more runs in the fourth quarter when they are up. The scoring differential leads to more passing from the opposition. The theory makes sense, but when most teams are up, their defense leans to more of a prevent defense. They allow fewer big plays, but being less aggressive also leads to fewer sacks and turnovers. 
Only 34.3-percent of the time did a defense finish with 10 or more fantasy points who also had a running back finish with over 20. In addition, there was one Milly Maker-winning lineup in 2020 with a DST-back stack. There is a correlation, but defenses who are part of pass-heavy games both sides are the ones to target. For tournament purposes, shoot for the most opportunities.
So which running backs are values for Week 1, and should their defense be considered?
Running Back Milly Maker Values
Miles Sanders: $6,500
Opponent: Atlanta
Defense Overall Rank 2020: No. 20
Defense DOCE Score 2020: 0.77 (No.10)
The hate towards Miles Sanders is real and justified. He was a player drafted in the first round and repeatedly let fantasy gamers down. However, spite plays a massive role in defense when it shouldn't. With DFS, you must have ice in your veins and use moments that burn you as a lesson instead of a rule.
Throw the experience you had with Sanders in the trash. 
In the games Jalen Hurts started, he targeted the running back 2.2-percent less than the rest of the Eagles quarterbacks. In addition, he attempted one less pass per game than Carson Wentz. 
However, while targeting Sanders, Hurts completed 69.2-percent of his passes compared to Wentz's 48.7-percent. Although you can discount Nick Sirianni's offense targeting the running back fifth-most in the NFL due to having Philip Rivers at quarterback, you can't ignore the 28.6-percent of the targets going to the backs in Week 1 of the preseason. Top it off with a 22.2-percent Target Share in Week 2, where the Eagles lost 45-0, and we could be on to something.
With Sanders resting in Week 1, Jordan Howard got the start. Howard ran routes on three of the four pass plays called. The same Howard who has never had more than 30 receptions in a season. 
Although the Falcons were solid against the running backs in 2020, the defense was ravaged by injuries, specifically in the secondary. If they've improved whatsoever, Sanders should be in for some work out of the backfield. His 2.71 (No. 24 among qualified running backs) Yards Created per Touch while his beat-up line offered a 59.3 (No. 13.) Run Blocking Efficiency rate should be a testament to what he's capable of if the line is healthy. 
In two of Sanders' final three games in 2020, he finished with 32.6 and 18.4 points on DraftKings.
Eagles Defense: $2600
Feel free to stack an Eagles defense that was also torn up due to injuries in 2020. Not only will they have returning starters, they also added four more to their defense. After an unlucky year in 2019 where Matt Ryan threw 16 (No. 18) Interceptable Passes, with 14 converting to interceptions, he came back to 2020 with a vengeance. Ryan said, hold my beer and threw 38 (No. 1) Interceptable Passes with only 11 converting. Although he didn't fumble as often, he still took the fifth-most sacks. 
With a healthier offense line, Ryan could be less susceptible to interceptions and sacks. However, losing Julio Jones could be a big hit to Ryan finding open receivers. Jones had a 1.86 (No. 53) Target Separation rate. Meanwhile, Russell Gage had 1.59 (No. 114) and Olamide Zaccheaus had 1.53 (No. 130). If rookie Kyle Pitts can create separation, maybe that could allow Ryan not to throw passes into tight coverage. However, with the loss of Jones, and Darius Slay to cover Calvin Ridley, the Eagles defense should force plenty of turnovers. 
The most critical factor was both teams were top six in plays per game, and the Falcons were fourth in passing attempts. Even with Arthur Smith taking over as the head coach, Mike Davis is no Derrick Henry. Don't expect those passing numbers to change much.  
The Eagles were third in sacks and second in pressure rates for 2020. So feel safe rolling them out in cash and expect multiple turnover opportunities in GPPs. 
Nyheim Hines: $5,000
Opponent: Seahawks
Defense Overall Rank 2020: No. 18
Defense DOCE Score 2020: 1.63 (No.32)
I would love to go Jonathan Taylor here, but trust in the DOCE – Dump Off Containment Efficiency – Score. At only $5,000, Nyheim Hines will not only be a sexy Flex option, but could also slide into a running back slot for those pricier quarterback-receiver stacks. The Seahawks only played 13 pass-catching backs last season, but they gave up the position's fourth-most fantasy points in the air. Plays run and Game Script played a part. 
With the Seahawks up most of the time, they allowed the most plays per game (69.6). Don't expect that to change in Week 1 of 2021. Even with a new Seahawks offense, this will be a high-scoring game.
Nyheim Hines is a Flex Play in 2021 Fantasy Football ⚡ pic.twitter.com/y3kjZUxNHF

— RotoUnderworld (@rotounderworld) July 15, 2021
My one reserve is if Carson Wentz plays, he only targeted the running back on 17.2-percent of his passes in 2020. As mentioned above, he wasn't accurate while doing so. But at $5,000, Hines only needs a handful of receptions and a touchdown to pay off. He could be a lineup breaker.
Meanwhile, on the other side of this game, Chris Carson is a steal at $5,900 since both defenses should be faded.
Chris Carson: $5,900
Opponent: Colts
Defense Overall Rank 2020: No. 12 
Defense DOCE Score 2020: 1.21 (28th)
Chris Carson's utilization early in the 2020 season had gamers thinking he could be the fantasy MVP. Before the Week 6 bye, Carson had 61 carries for 289 yards with 21 receptions for another 140 yards and a total of six touchdowns. His 19.98 Fantasy Points Per Game were fourth amongst running backs. In four of those five games, he at least tripled his cost on DraftKings and never even hit a bonus. A big reason as to why was his usage inside the five.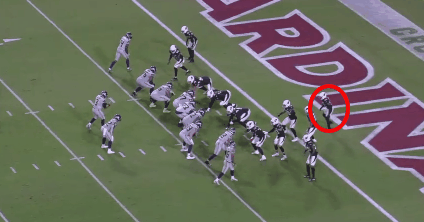 Carson saw seven opportunities inside the five before the bye, scoring on three of them. Following the bye, he only had three, one being the infamous Budda Baker chase-down in Week 7 prior to Carson's injury. Following his four-game absence, not only did his red zone touches drop, but his work in the passing game did too.
It's unsure what new offensive coordinators Shane Waldron's system will look like, but there should be plenty of opportunities to score if it's anything like the Rams. The concern is the lack of targets to the Rams running backs across 2019 and 2020. However, Russell Wilson should see plenty of chances to check down to the running back with D.K. Metcalf and Tyler Lockett taking the top off defenses. 
The Colts had the fourth-worst DOCE score and added edge rusher Kwity Paye. The pressure could force Wilson to dump the ball off more often, setting up Carson for a Week 1 smash.
Raheem Mostert: $5,800
Opponent: Lions
Defense Overall Rank 2020: No. 31
Defense DOCE Score 2020:  1.08 (No. 24)
Raheem Mostert is a player most are fading in fantasy, and rightfully so. Although he's been wildly effective, he hasn't been consistent or able to stay on the field. Part of the lack of work is due to the running back committee approach by Kyle Shanahan, while the other part is injuries. However, Mostert's big-play ability is undeniable, especially when considering he has running back Milly Maker value written all over him.
The Lions added third-round rookie Alim McNeill and veteran Michael Brockers to the defensive line, the latter of which struggled in 2020 defending the run. With the "new" system brought in place, which was similar to the one previously in Detroit, the Lions hope to get more pressure on the quarterback. Fortunately for Mostert, defending the run seems to be an afterthought. 
Five players rushing the quarterback (three interior linemen and two edge rushers) leaves two off-ball inside linebackers to contain against the 49ers wide-zone run scheme. Two examples of these defenses were at opposite ends of the spectrum in 2020: The Jaguars and Saints. A new Lions defensive coordinator, combined with a reinvigorated offensive line and fresh legs for Mostert, could lead to a colossal ROI on $5,800. 
 James Robinson: $6,400
Opponent: Texans 
Defense Overall Rank: No. 32
DOCE Score: 0.86 (No. 18) 
If the Jaguars want to win in Week 1, they will do it with a heavy dosage of James Robinson. Following the season-ending injury to Travis Etienne, things are looking up for the JRob truthers. However, for DFS he's a risky play. His inefficiencies from 2020 might have been the fault of the offense, but the offense hasn't shown great in preseason, even with the addition of Trevor Lawrence.
In 2020, Robinson recorded 238.2 (No. 6) Weighted Opportunities, but his 0.83 (No. 35) Fantasy Points Per Opportunity left a bit to be desired. Much had to do with his offensive line only scoring a 37.6 (No. 46) Run Blocking Efficiency rating, but outside of the addition of Andrew Norwell, not much has changed. Against the Texans though? It's worth taking a shot.
Since 2000, there have been 17 quarterbacks to attempt 30+ passes as a rookie in Week 1. Only three results in wins. If the Jaguars are going to beat the Texans, they will have to get Robinson going. He will probably have a high roster % but I'm rolling him out around 20% in DFS.

— Chase Vernon (@ff_intervention) August 25, 2021
With Etienne being injured so close to the season, expect there to be a decently high percentage of ownership in all contests for Robinson, who is far from a free square. He was only worth rostering in four tournament contests in 2020. Against the Texans, he disappointed in both matchups. However, with the loss of their best run defender in J.J. Watt and eight new starters in a different system, expect plenty of opportunities to get chunk gains and Breakaway Runs. If he can snag 21 touches against the Texans after averaging 21.4 last year, he could have a massive week.
Running Back Milly Maker Runners up
Jonathan Taylor: $8,000
Opponent: Seahawks
Defense Overall Rank 2020: No. 18 
Defense DOCE Score 2020: 1.63 (No. 32)
Although I went with Nyheim Hines due to the DOCE score, Jonathan Taylor isn't coming off the field if he catches fire. The Colts will need to feed their best players if they want to beat the Seahawks. However, if Taylor gets stuffed a handful of times, which is especially likely if Quenton Nelson doesn't play, the Colts will likely abandon the run-heavy game plan. 
At $8,000, Taylor would have to cross the 20-point threshold, which he very well can do, but play him sparingly as there is much more risk than reward.
Antonio Gibson: $5,900
Opponent: Chargers
Defense Overall Rank 2020: No. 8
Defense DOCE Score 2020: 1.52 (No. 31)
Antonio Gibson makes a ton of sense at first glance. He's $5,900, garnering all the praise in the world from his team, and looks to take on an increased role. If everything were perfect, I would be running on Twitter and shouting from the mountain tops, "Gibson at $5,900?!?" However, be cautiously optimistic. Some running back Milly Makers can be deceptive.
Almost as horrific as the Seahawks, the Chargers had the second-worst DOCE score. The Chargers played 13 running backs who qualified as pass-catchers. The score of the running backs was 12.5, which insinuates the majority of them didn't have a defined pass-catching role or weren't efficient. The only back the Chargers faced with an above-average grade was Alvin Kamara. 
The Chargers still allowed four of the 13 running backs to score double-digit points in the air while allowing a player like Clyde Edwards-Helaire to tack on 9.2 points. Josh Jacobs' receiving production in Week 15 against the Chargers turned him from an RB3 DFS bust to a borderline RB1.
My concern with Gibson lies in his role.
Does J.D. McKissic just disappear or will he still take third down and hurry-up work away from Gibson? Ryan Fitzpatrick also presents a hurdle as he only targets the running back on 17.5-percent of his attempts. 
Gibson shouldn't be played for his rushing ability since the Chargers were top 10 in touchdowns allowed to the running back on the ground. Although they allowed the 13th-highest explosive play rate to running backs, Derwin James' return should alleviate pressure in the secondary, allowing the Chargers to be more cautious against the run.
Gibson is still an option if he assumes the passing game role, but like mentioned above: be cautiously optimistic.     
Conclusion
Exploitable matchups at receiver are typically my go-to. However, some values are too good to pass up. Using the backs mentioned above should allow you to gain a solid floor while also maxing out with a ridiculous ceiling. 
Week 1 is always the most challenging week to gauge with so many unknowns. I wanted to include some form of the Broncos backfield while getting some action with the Cardinals, but playing them as anything more than a one-off is just throwing away cash. Be smart while investing in the running back Milly Maker values. Instead, maximize your ROI by utilizing the known values and roles while cashing in on bonuses running backs will obtain through the receiving game. Now, go make some money.