This is the Hitchhiker's Guide to RB: Week 13! If you are new to the column, this is the place we talk all things running back streaming. Each week we discuss running back usage, matchups, and waiver opportunities to convert the least amount of capital into a playable running back position on your fantasy teams.
If you did not read the introductory edition of the column, I strongly recommend checking it out here:
Introduction
The weekly project of this column is to stream the highest-scoring running back we can using only a select group of bench running backs and the waiver wire. Additionally, I hope this article allows you to think critically about the inputs involved in fantasy production at the position that will inform how you play fantasy football.
In each article, I will briefly recap the week that was at the running back position. Then, I will discuss the status of our existing running back bench and whether to make any transactions on our official roster. Lastly, I will discuss potential waiver options and designate my plays of the week.
Often, I will mix in other tangents week-to-week addressing roster management, draft strategy, backfield shifts, potential beneficiaries from a major injury, or an examination of team or player usage trends.
Note: Any data not from Playerprofiler, or otherwise sourced, is via Pro Football Focus.
Week 12 Recap – League-Wide
Below are the top 24 running backs from Week 12 excluding Monday Night's game along with the overall top 24 running backs in points per game. I have also placed our stream score both weekly and season-long into the chart.
The color coding is as follows:
Teal = drafted in the top 24 at their position by 4for4's ADP aggregator.
Yellow = drafted outside the first eight rounds.
Green = drafted outside the first eight rounds, and selected plays from our "roster" (see last week's article)
Pink = players on our roster, not played last week
Purple = players not on our roster that were recommended plays off waivers last week
Orange = Un-drafted
White = does not fall into any of the aforementioned categories: mid-round post-"dead zone" running backs
Note: Rhamondre Stevenson's ADP rose to 8.10 (94) just days AFTER the pre-season version of this piece was finalized. At the time it was written, he was drafted outside the first eight rounds and thus streamer-eligible per our criteria.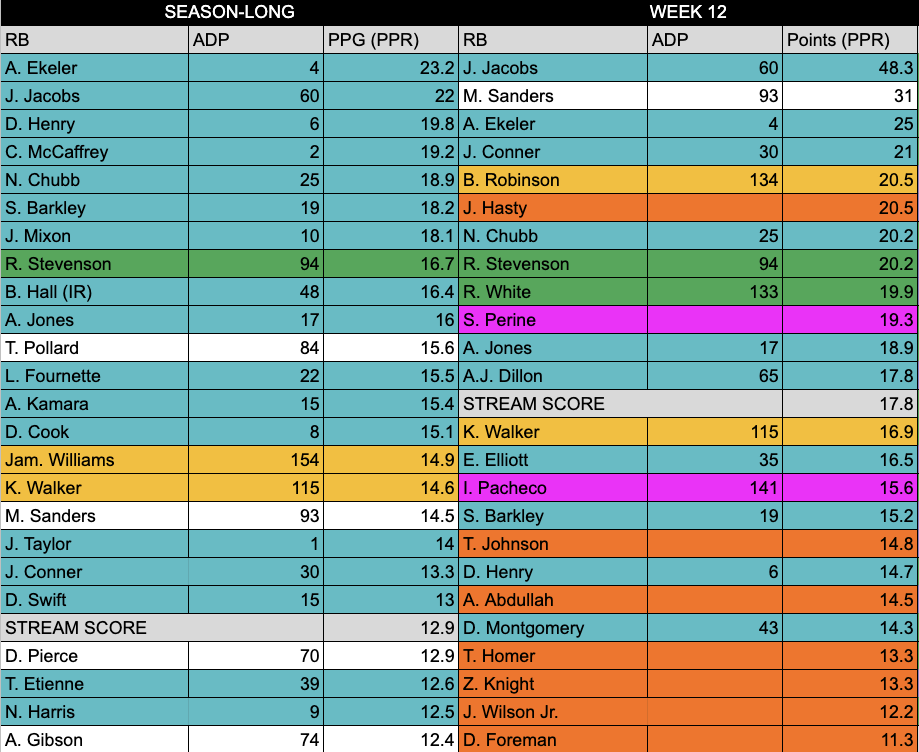 It was always bound to be an attractive streaming week given recent injuries giving way to all-purpose backups in feature roles. Each spot starter came through with top-24 performances led by Rachaad White. His 19.9 fantasy points without a touchdown on 91-percent snaps portend a massive ceiling for the round three rookie should Fournette miss further time.
Undrafted RB Craziness
However, due in part to mid-game injuries and in part to the reign of chaos, eight (!!!) un-drafted running backs (ADP north of 200) posted top-24 scores pending Monday Night Football in a week without byes. All that being said, the biggest story of the week ought to be the man at the top: Josh Jacobs. The former first-round pick had the game of his life on Sunday posting an astounding 303 yards from scrimmage, including an epic walk-off touchdown.
Josh Jacobs – Certified League Winner
We've talked about him in detail at least twice in this column, and I want to again stress just how high a level he is playing at this year. PFF rates him the best among all running backs in both rushing and overall grade. He is No. 12 in NFL Next Gen Stats' Rush Yards Over Expected per attempt (RYOEPA).
Of the twelve rushers with at least 150 carries, he ranks only behind Nick Chubb. Jacobs ranks No. 6 in Playerprofiler's Juke Rate and first in total tackles evaded. When combining film and data-based measures of running back quality, and accounting for both efficiency and volume, Jacobs has as good an argument as anyone to be the league's best performing running back this year.
Lord knows I've not been Jacobs's biggest trumpeter over the years. But it would be foolish not to celebrate a player commanding elite fantasy value by force of talent and will under a new regime.
Usage Notes
You all know I have a mind for the theoretical and that's where I want to focus this edition's weekly commentary. But first I wanted to offer some brief thoughts on backfields of note:
The Jets
Zonovan 'Bam' Knight was activated over James Robinson this week. He worked in as early as the first drive and played more than Ty Johnson prior to and after Michael Carter's ankle injury. It appeared their plan was to use Knight in James Robinson's role of the past month, Carter in his as the 1A on early downs, and Ty Johnson as a pure third down back.
If Carter is out for any extended time, Knight would thus be my preferred option. I would expect James Robinson to be activated and have a role. but there is little reason to expect him to carry more value than Knight. Robinson grades out No. 5 and No. 7 worst in RYOEPA and ROE-percent – the percentage of rushes over expectation – respectively. When a player plays poorly, then gets demoted, we can infer the coaching staff is not anxious to get him back on the field.
The Commanders
Brian Robinson re-asserted control over this backfield with a 64-percent opportunity share after seeing Antonio Gibson gain on him in recent weeks. I would not read into the weekly fluctuations of this backfield until there is a more fundamental usage shift. Robinson is the preferred option in short yardage, and Gibson is the preferred passing game weapon. The particulars of their split on early-downs fluctuates game to game seemingly by performance / matchup / vibes. Gibson remains the preferred start overall because he can hit in a wide range of game scripts.
The Jaguars
Travis Etienne injured his foot on the opening drive. He was never ruled out, and Doug Pederson claimed that he was held out of the game out of caution. However, Pederson mentioned the team would still evaluate further. For his part, Etienne said he would be ready to play next week.
Given the likelihood Etienne is healthy, and the looming addition of Darrell Henderson, there is not much we can discern from today's game that will help us moving forward. If somehow Etienne and Henderson are both inactive, Hasty is the clear workhorse over Snoop Conner. However, we are likely looking at a much different backfield composition in Week 13 than Week 12.
The 49ers
Following Sunday's game, we received news that Elijah Mitchell suffered his second MCL sprain of the season. As a result, Mitchell will miss at least six weeks. Additionally, Christian McCaffrey finished the game but was bothered by knee tendinitis. The expectation is McCaffrey will play through this issue, but it leaves a window open for a second back to emerge as a standalone contributor and valuable handcuff.
Jordan Mason was the third back into the game Sunday, but you should target Tyrion Davis-Price ahead of him. Back in Week 1, when Mitchell suffered his first injury, Mason was active and Davis-Price was not as with Week 12. Mason did not play a snap that day over Jeff Wilson and Kyle Juszczyk.
Mason has only seen work in the last two games due to blow out script and multiple injuries leaving him as the only active half-back remaining. His active-status on game days is owing to the fact he plays special teams, while Davis-Price does not. Neither back is assured of anything, but first priority should go to Davis-Price. He was the recipient of in-game carries the last time San Francisco was whittled down the bottom of their running back depth chart.
POST-PUBLISH EDIT: The Steelers
Oy Vey.
As you know (because I have to keep doing these late edits), I file this pre-Monday night. Of Course after filing, Najee Harris suffered an abdomen injury and at-present his status for next week (and beyond) is unclear.
Had this been a month ago the directive would be simple: ADD JAYLEN WARREN.
However, since then Warren has suffered his own hamstring injury missing the past two games.  Benny Snell led the backfield with 28 snaps to Anthony McFarland's 21. They ran the same number of routes with Snell leading in touches; 13 to 8. Watching the game, it appeared McFarland was part of the initial game plan, serving as a change of pace option to Najee Harris. However, once Harris left, they turned increasingly to Snell as the lead rusher with McFarland taking on an enhanced complimentary role.
We will need more information on Harris and Warren's health but for now here is how I view the backfield:
Jaylen Warren becomes the number 1 waiver priority: He was the only running back aside from Harris to play meaningful snaps when both were healthy and he was already playing several passing downs. Whether or not he is back this week, he has the best chance of serving as an eventual bell cow if Harris's injury is long term.
Make Benny Snell the priority over Anthony McFarland. However, he should only be added where you need immediate help this week. He requires both backs ahead of him to remain hurt in order to have value, and he is already losing a chunk of reps to McFarland.
Thoughts on Proxy Variables and ADP Trend Analysis
Now for the theoretical.
Spending a 7 month off-season re-litigating the precise definition of which arbitrarily-assigned draft picks comprise the "dead zone" and which round "zeroRB" can take RBs to decide which strategy Josh Jacobs winning your 2022 league supports in 2023 will be my Joke origin story https://t.co/YE2rRYAh8t

— Jakob Sanderson (@JakobSanderson) November 28, 2022
I've mentioned it before both in this column and on twitter, but it has always struck me as notable how large a spread there was in Josh Jacobs' draft position between formats.  I use 4for4's ADP aggregator for my ADP you see in the chart and for my streaming eligibility cut-offs when I chose my "roster" in August. This ADP combines all major redraft platforms as well as Underdog Best Ball ADP.
ADP
Jacobs carried an aggregated ADP of 60, with ADPs of 36, 49, 54, and 54 on CBS, NFL, Yahoo! and ESPN respectively. He was – in all his current living glory – a dead zone back in your home league.
However, it is not quite that simple. The below chart from DraftSharks shows his ADP in the FFPC Main Event over the summer. If you were drafting early, you were buying as a dead zone back. By late draft he was commonly going into Round 7: my most definitions "post-dead zone."
A similar downward decline occurred in Best Ball with Jacobs closing at an ADP of 82 on Underdog, which is the back of the seventh round.
I don't say all this to re-litigate Jacobs who in hindsight would have been a steal in Round 2. Instead, the tweet I quoted from James Brimacombe, and its ensuing discussion, caused me to think about how we will view his season when it comes time to making "takeaways" from the 2022 season regarding draft strategy.
Dead-Zone Survivor or Zero-RB Hero?
The increased focus on ADP trends over time is in my opinion a net positive for the industry. Team construction is an essential portion of drafting well, and this column relies on that notion. I also believe there is a legitimate signal we can glean from analyzing market tendencies over several years and the results which flow from them. However, it is important we remain aware of which signals are causal and which are proxies.
What does that mean? Let's dive in.
Proxy Variable
A proxy variable is a variable with proven predictive value over time that is not inherently causal of the result you are using it to predict.
For Example: 
I tell you that the best Peaches purchased in British Columbia taste best when they are cheapest to buy.
If you choose not to be inquisitive, you could go to the grocery store every day, check the price of peaches, and when they drop into the bottom quartile of daily price you buy them. On the whole, you will likely derive good results from this strategy. However, there is a potential cost to doing so.
To fill in the blank, British Columbia is a peach-growing province. Peaches are generally picked between July and September and thus that is when peaches in grocery stores are freshest. It is also when they carry the lowest shipping and storage cost, resulting in cheaper products. Therefore, it makes perfect sense that cheaper peaches = tastier peaches, but we know that the price of the peach has no actual causality here. If we took the exact same peach, and increased or decreased the price, it would taste the exact same.
Price here is a proxy variable for taste. While the season is the causal variable.
Application to Football Analysis
Fantasy Football is FILLED with proxy variables. One great example is the weight we place on year-of-declare in dynasty, or breakout age.
These metrics tell us nothing about a player's actual skillset. D.J. Moore has never caught a pass BECAUSE he broke out at 18. John Ross didn't drop a pass because he played a fourth year in college. We use these metrics because many causal aspects of fantasy football analysis are unquantifiable. Even film-based analysts commonly assign numerical grading to trait analysis. Then, film grinders use their grading scale to predict eventual fantasy value. Assigning weight to proxy variables allows us to make sense of a difficult game. Additionally, it allows us to attempt to discern useful patterns to inform our future decisions.
I plan to write more in-depth about potential blind spots of the declare status conversation this off-season as we lead up to rookie drafts.
The Pitfalls of Proxy Variables in Analyzing ADP Trends
Analysis of ADP trends is one of the most fertile landscapes for proxy variables in fantasy football.
As I wrote in my piece on the Running Back dead zone last year;
A player's ADP is not the reason they fail. There is no causal impact on performance based on where a fantasy gamer drafts a player. We need to delve further to unearth the real cause of this trend, and if there is life within the dead zone.
The process of that article was to diagnose trends among dead zone running backs from a wider sample of fantasy draft seasons, and then assess whether there were intuitive reasons why those types of backs are drafted in that area, and why that group may be more likely than not to fail. The idea being; if we can derive the causal variables the proxy is attempting to gather, we can better refine our analysis, and have increased confidence in choosing when to apply and not apply the larger trend of "dead zone" running backs in our leagues.
This is especially necessary as these proxy trends become more universally acted upon. We are after all not playing against an ADP, but against other people with access to the same information we have.
Picking the Right Peach
Let's take it back to the peach example. Pretend that nobody can put together the seasonal impact of peach taste. Instead they are just blindly buying during low-priced days, and doing so with conviction.
Eventually, the lack of demand during high-priced out-of-season periods will necessitate price reduction. Soaring demand during the in-season period may drive the prices up. Eventually, the market will manipulate itself to the point that price is no longer a useful indicator of taste.
I think this is a useful thought exercise both in terms of assessing Jacobs' season reflectively and as a warning of future analysis on dead zone/ ZeroRB backs.
I shared this thread earlier in this column, but at the nadir of Jacobs' ADP I posted a series of tweets questioning the basis of Jacobs' ADP and discussed the possibility he was being punished for larger trends in how we view fantasy football extrinsic to Jacobs himself. Again I want to stress that I did not draft even an at-market exposure of Jacobs this year, so not spinning this as a win.
Jacobs' ADP feels like step 1 in Westworld's Bicameral mind.

The voice of the "gods" – aka cool analysts we like – tell us to fade. But we still have not (Likely neither has any of us) developed the full comprehension of WHY we're doing that and how to apply it systematically

— Jakob Sanderson (@JakobSanderson) September 6, 2022
Striving for Causality
I don't have the room in today's column to fully assess why Jacobs may have been a better pick in foresight than I thought. However, there are two key takeaways I want hit on:
The permeation of the "Running Back Dead Zone" stream of analysis may have pushed what would have typically been a much earlier selection outsize the dead zone entirely to the point he became a foreseeable value. This would be backed up by his comparatively low ADP on higher stakes sites with players more attuned to this mode of analysis.
At any ADP he may have plausibly held, he would have been a league winner this year. The fact he was drafted in the seventh rather than the third had zero bearing on his play this year, and post-season analysis which obscures this fact should be viewed with a critical eye.
Looking Forward
I look forward to a thorough analysis of the 2022 season when it concludes, and as always I wish to assess the year's biggest hits and misses – both my own and by the market – to examine if there are potentially actionable process notes we can glean from them. However, key in this should be an attempt to fold in these standout results within a larger sample of comparators rather than treating each outcome as if it was destined to happen. As well, analysis of draft strategies – ZeroRB, HeroRB, RobustRB etc. – needs to be done with recognition of the specific players which drove the success of each, and the degree to which those hits were consistent with the larger strategy or an isolated success begetting coincidental impacts.
Dead-Zone RB, Zero-RB, Jacobs-RB
In other words, if the reason a certain draft construction worked is because it was more likely to involve Josh Jacobs, the question isn't how to re-create that draft strategy, but how to identify future hits in Round 7 which may or may not share similarities to Jacobs.
Notably, the Raiders star was not the only massive hit from this range of the draft this year. Between Jacobs, Rhamondre Stevenson, Tony Pollard and Miles Sanders, it was a great year to draft mid-range RBs. A question to examine this year is whether there is legitimate proxy signal to the value of RBs in this range, what causal variables it is picking up if so, and if it is likely to be re-created in a similar ADP range next year or if it was just the pocket where individually strong bets happened to fall in a given year. Lastly, will the market (once again) out-level itself to price up running backs which may have once resided in rounds six-nine in chase of this profile hitting big again.
Final Thought
There will be ample time to dive into these ideas in the off-season and I won't any further today. However, I will leave you with this: if you ever find yourself in an argument about whether Jacobs's massive season means the end of the Running Back dead zone or the coronation of Zero-RB, and that argument devolves into a series of "But Actuallys" regarding his ADP and arbitrary definitions for draft strategies by round, just leave the conversation.
Week 12 Recap – Our Roster
This is the portion of the column where I walk through the six backs we have 'rostered,' with an eye toward their rest-of-season outlook.
Streaming Rules
For those joining us in progress, here is the process for the weekly streaming choices.
In the introductory column, I chose one RB in each of the rounds, 9-14, based on those available at each round using 4for4's ADP aggregator. That is my starting "roster."
Each week I will address whether to add any running backs available on waivers and if so, who to drop.
Because your team is not mine, my weekly plays will not only consist of my "rostered" running backs. Instead, I will recommend a play from each of three categories. (see below)
My streaming "score" each week will be the average of my play in each category. My "preferred" play will count double and MUST come from a running back on my "roster." If I choose to make a waiver back my preferred play, I will outline who I am cutting from my existing bench for that running back.
The Categories
Bench Streamers: The selected running backs in the introductory article plus and minus any transactions published throughout the year in this column. If a drafted player gets injured, I retain one injured reserve spot.
Premium Waiver Streamers: This group is comprised of any running back with less than 67-percent roster-ship on Yahoo leagues as of the first waiver run of the week. It can include both generally un-drafted players as well as previously drafted players who have been widely cut by managers.
Deep Waiver Streamers: This group is comprised of any running back with less than 33-percent roster-ship on Yahoo leagues. The same rules apply as above.
Current Roster
Our current roster is the six running backs on our existing roster. Those running backs are:
Rhamondre Stevenson (20.2)
Rachaad White (19.9)
Isiah Pacheco (15.6)
Isaiah Spiller (4.2)
Latavius Murray (10.8)
Samaje Perine (19.3)
Roster Stock Watch
Status Quo
Isiah Pacheco
Pacheco contributed his best fantasy output of the season in Week 12 in his first game after Clyde Edwards-Hellaire's injury. The only reason I chose status quo over "stock up" was that his role is fundamentally unchanged. He had already usurped 'CEH' entirely as covered here two weeks ago. Ronald Jones was activated to play the change-of-pace role on early downs and Jerick McKinnon remained the pass-down compliment. The Chiefs played entirely from ahead in this contest leading to a higher snap and opportunity share than we would typically project for Pacheco.
However, we can continue to solidify him as an RB2 option going forward with 20+ touch upside in positive script.
Stock Up
Rachaad White
When Giovanni Bernard was activated from Injured-Reserve I won't lie that it caused me some minor anxiety. We had no sample of White as a passing down option alongside a healthy Bernard, and I expressed that I felt there was a 20-30% chance Bernard would take passing downs to ease White's load as he transitioned to a feature back.
That did not occur. Rachaad White played 91-percent of snaps, only ceding a handful of snaps to Ke'shawn Vaughn while Bernard never saw the field. White's pass-catching profile was on full display, converting 9 targets into 9 catches and 45 yards. There are not many backs capable of 20-point weeks without a touchdown but White was within a whisker of the feat.
Should Fournette miss further time White is a mid-range RB1. However, if Fournette is back I'm still viewing White as a high-end RB2. There is little running room to be found behind the Bucs offensive line this year. However White has out-played Fournette on the margins and led in snaps 28-22 in their last game together prior to Fournette suffering his injury. Don't expect 91-percent of snaps again, but I'm projecting 60-percent plus for White alongside 'Lombardi Lenny' until further notice.
Rhamondre Stevenson
At this point we're beyond imparting outsized relevance upon injuries to Damien Harris. However, Stevenson stretched his 20-percent target share streak to five games and now appears locked-in to an even better role in the run-game for as long as Harris remains sidelined. Stevenson is an RB1 in any case, but possesses top-five usage when Harris misses.
Samaje Perine
Any concerns that Perine would cede work to a healthy Chris Evans were dissuaded in this contest. The former Oklahoma Sooner acted as a complete bell cow on an 80-percent snap share bogarting 23 of 26 opportunities including seven targets. His passing game involvement keeps the floor high even in a tough matchup like he had this week. If Joe Mixon misses another week, safely project Perine as a borderline RB1 in a potential shootout with the Chiefs.
Latavius Murray
Latavius Murray was thrust into a workhorse role in the absence of every other Bronocs running back and played 83-percent of snaps. The offense is abysnal but Murray himself ran well with 92 yards on 13 carries. It is possible he loses passing downs once again to Mike Boone when activated off injured reserve, but consider Murray the bell cow in the run game until further notice. This grants him viable RB2 value moving forward.
Stock Down
Isaiah Spiller
The return of Josh Kelley from Injured Reserve spelled the end of Spiller's time as the primary backup in Los Angeles. While Spiller solidified his place above Sony Michel – a healthy inactive – he was out-sapped by Kelley 14-8. Kelley is certifiably not good, but Spiller has not shown enough to deserve playing time over anyone yet and it appears the coaching staff prefer the third-year player. Spiller can be safely dropped while Kelley becomes the more intriguing end-of-bench hold.
The Result – Week 12 Plays
Rhamondre Stevenson continues to crush souls and make dreams come true in the stream score. However, he was joined this week in double digits by Rachaad White and Latavius Murray leading to a strong stream score of 17.8. We have now worked our way up to 12.8 points per week on the year; solidly within the top-24.
The Waiver Wire Priority List
Among everyone rostered in 67-percent of leagues or fewer, here is your Week 5 waiver priority list.
NOTE:
*CON* = Contingent Value-focused use case
*SA* = Standalone Value-focused use case
*STASH* = Role projected to grow organically throughout the season
Feel Free to adjust this priority depending on your need for immediate starting value.
Jaylen Warren – CON
Samaje Perine – CON
Gus Edwards – SA
J.K. Dobbins – Stash
Tyrion Davis-Price – CON
Darrell Henderson – CON
Zonovan Knight – CON
JaMycal Hasty- CON
Kyren Williams – SA
Alexander Mattison – CON
James Cook – CON
Benny Snell – CON
Jerick McKinnon – SA
Tyler Allgeier – SA / CON
James Robinson – CON
Cam Akers – SA
Josh Kelley – CON
Deon Jackson – CON
Jordan Mason – CON
Darrynton Evans – CON
Week 13 Transaction
We are dropping Isaiah Spiller for James Cook.
Cook continues to work ahead of Nyheim Hines and it does not appear likely to change any time soon. This is still Devin Singletary's backfield, but Cook provides contingent upside and some lingering hope of role expansion. As the number of remaining weeks draws to a close this roster spot becomes increasingly churn-able.
Week 13 Picks
Preferred Play: Rhamondre Stevenson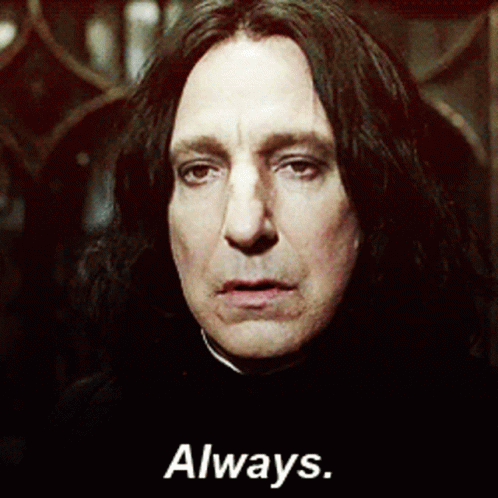 Premium Play: Gus Edwards (OR: Samaje Perine if Joe Mixon Misses)
I must say it is rather aggravating that our bevy of formerly sub-33-percent rostered backs have all grown up into over-67-percenters overnight. Rachaad White, Latavius Murray and Isiah Pacheco have all out-grown eligibility for any section aside from "Preferred Play." However, if you are a loyal reader of this column I must imagine you have multiple of these option at your disposal.
Because we have rules we need to follow however, we must scroll further down. Samaje Perine – 64-percent owned – is an auto-play if Joe Mixon misses another contest. Failing that I will choose Gus Edwards who returned to dominate rushing work for the Ravens in Week 12.
Edwards played a season-high 50-percent of snaps and saw 16 of 19 carries agains the Jaguars including a touchdown. The vaunted Denver defense is more beatable on the ground than in the air, having given up 100 yard rushing performances to each of Travis Etienne, D'Onta Foreman and Josh Jacobs this year. Expect the Ravens to go with a run heavy approach and feature Edwards while likely playing from ahead vs. the Broncos' hapless offense.
Honorable Mention: Kyren Williams
Deep Play: TBD (Baseline: Zonovan Knight)
This category is far too reliant on pending injury news to recommend a play at the moment. However, in case I cannot finalize one prior to the closing of waivers, here is where my head is at among sub-33-percent rostered options.
Your floor is Zonovan Knight. Pick him up in the 100-percent of leagues he is available and prepare to start him if Carter misses this week. Also pick up Tyrion Davis-Price. Christian McCaffrey appears likely to play through his injury but if he is managed, 'TDP' can fill a possible standalone role.
Lastly, provided you have no better options available on your roster, add JaMycal Hasty (and preferably Darrell Henderson) off waivers in the case Travis Etienne (and Darrell Henderson) cannot play next weekend. He's the best option available here. I will update this later in the week to reflect any other changes or options.
POST-PUBLISH EDIT: consider the Steelers backs in this mix as well. Prioritize Warren as discussed, with Snell a secondary priority ahead of Hasty but below Knight. Davis-Price should be prioritized over all these options aside from Warren if you do not require a Week 13 streamer.
The Final Word
Thank you once again for reading this column, and I look forward to its continued development over the course of the season. Also, credit to Pro Football Focus for providing data I was able to use in this column in addition to the incredible wealth of information on PlayerProfiler.
Happy Hitchhiking!