This is the Lessons Learned: Week 12 article! When there is so much going on, what should fantasy gamers and sports fans focus on? This is the question I will answer for you in this episode of "Lessons Learned." In this series, I've tried not to call out the obvious or advise trading for guys that no one will trade away or claiming guys not on any deep or competitive league's waivers. Here are Week's 12 lessons learned:
1) This is Why We Stash & Hold Rookie Backup RBs!
In the NFL, running back is a position of attrition. With the singular nature of the RB position, wherein one player can garner most if not all of his team's opportunities, we consistently preach stocking up on backup RBs in drafts and on waivers.
We're not talking about adding every Dare Ogunbowale, Ty Johnson or Zonovan Knight that gets some carries. But when that backup joins a strong offense and looks like Tampa's Rachaad White, a third-round 2022 pick with an 84th-percentile Speed Score, 87th-percentile Burst Score, and a 18.9-percent (98th-percentile) College Target Share, all the better! White was behind Leonard Fournette who was a soon-to-be-28-year-old with a history of ankle and hamstring issues. We needed to draft White aggressively. The opportunity would come. And it has.
With Fournette ruled out in Week 12, it was Rachaad time. He earned 80-percent of Tampa's RB carries and all their targets. Though not particularly efficient running, his 64 yards on 14 carries were buoyed by a 35-yard gain on his second carry, and his nine catches on nine targets for 45 yards helped him to 19.9 fantasy points. With this a second consecutive 100-yard performance, the Rachaad White genie is officially out of the bottle. Even when Fournette returns, White will get a good share of touches and may have taken a firm grasp of the receiving role.
Action: Next year, again target backup running backs on good offenses especially rookies with decent size and pass-catching chops. Then exhibit extreme patience. This year, Zamir White, Isaiah Spiller, Jaylen Warren, and Hassan Haskins might still be available on waivers this year and are worth adding now should their starters be forced to miss any time.
2) Welcome to the Big Time, Trevor!
Labeled a "Generational QB" at the 2021 NFL draft, Trevor Lawrence's rookie season was a disaster. But then again, he never had a chance. His receiving corps (or should that be "corpse?") gave him just 1.61 Average Yards of Target Separation and 2.78 Yards After Catch per Target. They led the league with 43 drops. Lawrence saw a below-average Protection Rate, had no Travis Etienne, little defensive support, and was "led" by Urban Meyer.
Hand it to ownership and GM Trent Baalke, though. After that debacle, they brought in a real NFL head coach in Doug Peterson. They spent money on professional-albeit-not-spectacular receivers in Zay Jones and Christian Kirk. Additionally, they boosted their offensive line, signing Pro Bowl guard Brandon Scherff.
Good Signs
With a better surrounding cast, and in just his second season, Lawrence is already starting to deliver on the promise so many showered on him last year. His 2022 O-line is giving him an 89.9-percent (No. 4) Protection Rate. His Interceptable Pass Rate, No. 1 last year, is now No. 25. Only Geno Smith and Tua Tagovailoa have a greater season-long Pass Completion Percentage than the 70.1-percent Lawrence has posted in the last six weeks. In those six games, Lawrence has five QB1 finishes.
Ranked No. 15 with 16.7 Fantasy Points per Game heading into Sunday's matchup with the first-place Ravens, Lawrence is fast approaching QB1 status. His Sunday performance was the signature performance of his young career as he completed 78-percent of his 37 attempts for 321 yards and three scores. This was highlighted by a last-minute game-winning touchdown drive and two-point conversion.
Action: If Jacksonville adds a big-time rookie receiver next year to go alongside Jones and Kirk, confidently draft Lawrence early in 2023 drafts.
3) Derrick Henry Starting to Show his Age
In both 2019 and 2020, Derrick Henry posted at least 378 carries at over five yards a pop. But rather than lessen his workload to start 2021, the Titans opted to lean even harder on their 6-foot-3, 247-pound bell cow. The Titans gave him 219 carries in their first eight games. This is a pace that would have smashed Larry Johnson's 416-carry record.
Signs of Wear
As I reported in this column last year, Henry's 2021 Weeks 7 and 8 performances hinted at signs of wear: a very un-Henry-esque 2.7 Yards per Carry in those two games before losing the next nine games to a Jones fracture. The 2.2 Yards per Carry in his playoff return were attributed to rust. With last year's issues, you'd think they'd pull back on his workload this year. But, no, his 248 carries through 12 weeks again lead the league. And as was the case last year, as the season rolls along, and the carries pile up, his numbers are slipping. Henry accounted for just 2.8 yards a carry in the last three weeks. Sunday's 38 yards on 17 attempts were saved by one long pitch and catch that a younger Henry would have taken to the house.
His year-to-date 4.2 Yards per Carry sits at RB35, which is just behind Eno Benjamin and Clyde Edwards-Helaire.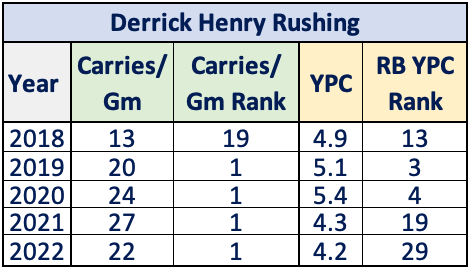 While his productivity has slipped, his volume has not. That volume, plus red zone work and a great upcoming schedule, will carry his fantasy prospects for the rest of this year. We'll have to look elsewhere in 2023, though.
Action: Derrick Henry turns 30 next year, and his workload is showing in his performance. In dynasty, move him if you've got him even if he has had a strong last few weeks. Maybe a strong finish will raise his trade value a bit. Next year, look elsewhere no matter the draft value. You won't want him on your starting rosters in 2023.
4) Is Christian McCaffrey Now Just a Guy?
Of course not. But, in San Francisco, Christian McCaffrey is one of the guys. While being traded to a far better team helped his and his new team's NFL prospects, it's been a drag on his fantasy output.
Instead of the 80-, 90- or even 100-percent Snap Shares he saw in Carolina, in the City by the Bay he's on the field 2/3rds of the time. The Niners have other options, including the talented-but-too-often-hurt Elijah Mitchell. Even if Mitchell is out, they'll just cycle in another guy. The Niners don't trail very often and, when they do choose to throw, they have far better weapons than the Panthers have seen in a long time, if ever. And this means San Francisco doesn't have to repeatedly dump off to their dazzling but undersized running back.
It's showing in the numbers. In Carolina this year, McCaffrey averaged 19.7 (No. 4) Fantasy Points per Game. This is close enough to his RB2 ADP. In San Francisco, his 18.5 fantasy points per game are greatly skewed by that Week 8 40.3-point outburst against the Rams. In his other games, he's averaged 13.1 points, which are low RB2 numbers that put him in the Cordarrelle Patterson neighborhood. Not bad, but it's not what fantasy expected or needed from McCaffrey.
Action: McCaffrey is still a great weapon, but San Francisco doesn't need to lean on him as Carolina did. When the 2023 draft season comes, remember he's now a cog – an important cog – but not the whole wheel. Treat him as a low-end RB1 or high RB2 and let other fantasy managers overpay for the name.
5) Draft Every NFL Team's Lead Back
Don't think about contract status. Don't worry if the team drafts a back in the 4th round. And don't worry if the lead back isn't a great athlete. If he is an NFL team's lead back, is young, a pass catcher, and/or entered the league with strong draft capital, draft him. And if you can draft him at a discount, like you could with Josh Jacobs this year, even better.
No one wanted Jacobs this year. He was drafted as RB27 despite finishing last year with 15.1 (No. 13) Fantasy Points per Game. He's not a great athlete, and the Raiders didn't extend his contract. However, he's the same guy that saw the No. 9-most running back pass targets last year and had an 84.4-percent (No. 4) Catch Rate. His 76 Evaded Tackles ranked him No. 7 amongst running backs. Additionally, the Raiders added the league's top wide receiver, and their quarterback's best college buddy, with the obvious intent to increase their scoring opportunities.
After Jacobs' Week 12 explosion against Seattle – 33 carries for 229 yards, two scores, and six catches for 74 receiving yards – he's now posted six RB1 finishes and an RB2 in the last eight weeks.
Action: Next year, don't overthink things. Make sure every lead running back is rostered. If the guy happens to be big, catches the ball, is still young, and was an early NFL draft pick, welcome any ADP discount you can get.
6) Mike White?  No, I Refuse to Buy In
Yes, Mike White put up a great game on Sunday. Anyone who can put up 300 yards passing and three touchdowns against an NFL defense must have some talent. The thing is, I'm not sure the Chicago Bears – especially minus starting DBs Jaquan Brisker, Kyler Gordon, and Eddie Jackson – qualify as an NFL defense.
As I called out in one of these lessons last year when White emerged to post a great game against Cincinnati, this is the same Mike White that completed 62-percent of his college passes and threw 31 picks in Conference USA and the American Conference. He's not an athlete.
White didn't post a single workout metric about the 40th-percentile. He owns a 78.2 (13th-percentile) SPARQX score. His collegiate career rushing total of -470 yards (yes, that's a "minus") has to be some kind of a record. Against that level of competition, White didn't break out until he was 21.5 (30th-percentile). Even still, the Cowboys saw enough of something to select him in the 5th round of the 2018 NFL draft. He never saw the field as a Cowboy or any NFL action until last year.
After that one magical 2021 start, he threw one score and four picks in his next two starts, and we didn't see him again. So this is the guy we're going to lean on for our 2022 fantasy playoff run? No, it's not. If you need to add him, don't bother because you're not near the playoffs. He may be better than Zach Wilson right now, but that's not exactly a ringing endorsement. The Jets also don't have the Bears on their schedule again.
I will not post any waiver claims for White  even if I can place $0 bids. I'd rather not take the chance that he finds his way onto my roster and somehow onto my active lineup.
Action: There is no action required. Don't claim him. This year, we really want our opponents to add him and use him against us in the weeks to come.
7) Next Year, I'm Drafting a Kicker!
I know, I know. I've been among the throng that laughs at whomever drafts a kicker early. But since it's been a crazy 2022, I think it's apt that I end this series talking about a kicker.
I have to tell you, I'm tired of watching Justin Tucker put up double-digit fantasy points for more weeks than not. I'm tired of seeing the bonus points he gets for 40+ and 50+ point field goals and the volume he gets kicking for a team that doesn't score or give up a ton of points. I'm tired of wasting time and a waiver claim on a guy like Younghoe Koo only to see him miss two extra points and then drop him for someone else the next week.
Justin Freaking Tucker
I grimaced Sunday as I watched Tucker nearly beat Jacksonville Sunday. He fell just a yard or two short on a 66-yard attempt. As I watched it, I felt it was more likely than not that he was going to make it. That wouldn't be the case with the kickers I added in the last round. If I'm in a league next year where we have to select a kicker, I'm going to select a good one. And don't even get me started taking about defenses!
Action: Next year, go ahead and laugh at me, I'll have Justin Tucker on my roster and won't have to think or write about kickers at all next fall. And maybe in a week or two next year, my kicker will help my team beat yours.
Final Note: This is my final 2022 Lessons Learned. Thanks so much to Seth Diewold, Matt Kelley, and the whole Player Profiler crew for the opportunity to share some thoughts each week this year. I enjoyed it and hope you've found some of the notes interesting. The more I've written, the more I've learned there is a lot for me to learn. With our game having so many variables and so many moving parts, predicting our game with the kind of accuracy PlayerProfiler does is a real skill. I hope to get there myself someday.