The dreaded Tight End Wasteland is a term that has become all too familiar in fantasy football. It's a place you never want to be, but also a place that can be hard to avoid. We can't all be lucky enough to land a set-and-forget tight end. Last season, only four averaged over 15.0 full PPR Fantasy Points Per Game. To put it into perspective, there were 20 WRs and 17 RBs averaging over 15.0 FPPG. So even in eight-team leagues, chances are there's at least a couple teams disappointed in their tight end week-to-week.
Tight end also isn't a position like running back where the volume will just go down to the back-up if injured. A handcuff doesn't necessarily make sense for a tight end.  In the three games George Kittle missed last season, his two backups, Charlie Woerner and Ross Dwelley, only combined for 10 targets. Kittle had 3 games with 10-plus targets alone last season. With all this in mind, it shows just how important it is to secure your tight end position both in your starting lineup and your bench in case of injury. So let's take a look at some prime candidates for a solid season to help us avoid the tight end wasteland next year.  Let's go ahead and start with the studs that you'll have to draft a little earlier, but for good reason.
The Usual Suspects
Mark Andrews
Starting out with last year's TE1 is a no brainer. Mark Andrews was as consistent as it gets, and when he hit his ceiling, he won your week. Expect more of the same this season as well. Andrews led the Ravens, and the entire position, with a 26.6-percent Target Share last year. He's the alpha receiver on the Ravens offense. Here's a list of other stats that he led all tight ends in last season: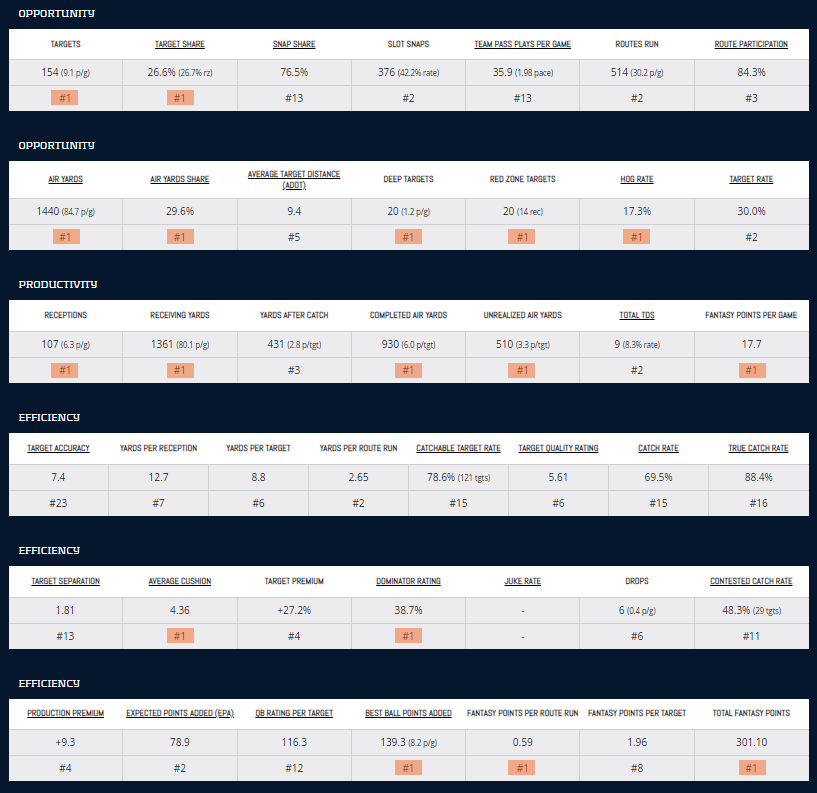 Last season was nothing but domination, and Lamar Jackson even missed five games. With a healthy Lamar, there's no telling how much higher Andrews' ceiling can go. Maybe some of his league-leading 510 Unrealized Air Yards last year become realized this year. Two years younger than George Kittle and four years younger than Travis Kelce, Andrews has firmly set himself up to be a valuable fantasy tight end for years, and is PlayerProfiler's TE1 in all fantasy formats.
Kyle Pitts
Kyle Pitts was the first rookie tight end to go for over 1,000 yards receiving in 60 years. Because of that, the expectations are high for his second season in the NFL. However, there's a new sheriff in town at quarterback in Marcus Mariota. The receiving corps also got worse with Russell Gage joining the Buccaneers, so Pitts may be drawing tougher coverage. Last season, he led all tight ends with a 15.1 yards per reception average, but also in drops with nine. We can reasonably expect the drops to go down in Year 2.
Mariota started for the Titans for four seasons before being benched for Ryan Tannehill. Tennessee didn't have a spectacular receiving corps in those years, much like the Falcons don't have one now. Instead of throwing to players like Rishard Matthews, Mariota decided to feed phenom tight end Delanie Walker. He sprained his ankle Week 1 of the 2018 season, so they only had three years together. But in those three years, Walker never had less than 100 targets and never finished below TE6. Coincidentally enough, 2018 was also Mariota's worst season where he finished as QB32. Take a look at the similarities between the two players' profiles below.
Mariota has had a couple years to sit back and watch and is being given another opportunity. Pitts may be just what Mariota needs to get back to his No. 2 overall draft pick expectation. And Mariota may be just what Pitts needs to reach his TE4 overall expectations.
Travis Kelce
Travis Kelce is PlayerProfiler's TE3 in dynasty formats. Personally, it's hard to stomach. Kelce will be nearing 33 years old at the beginning of the season, just five months younger than Rob Gronkowski. That's not to say you can't produce great numbers towards the end of your career, it's to urge caution. Kelce has been nothing but consistent his entire career, having been the fantasy TE1 or TE2 every year since 2016. He never had less than 80 receptions or 1,000 yards in those seasons either.
However, Tyreek Hill is gone, and the Chiefs will need to lean heavily on Kelce. He only had a 22.3-percent (No. 4) Target Share last season, so expect that to go up. What you need to decide is if that's necessarily a good thing. Can a 33-year old tight end produce all season? Maybe. Can Kelce handle being the most covered receiver all season? Maybe. Betting on him isn't necessarily a bad thing. But if you do bet on him, secure a backup to be sage. These are probably the reasons that Kelce is No. 3 instead of No. 1 this year.
George Kittle
George Kittle is another premiere tight end that has some question marks around him this season. Experts around the league are expecting Trey Lance to start for the 49ers. In Lance's limited play last year, there were two games where both he and Kittle played. In Week 4, Kittle had four receptions for 40 yards on 11 targets. In Week 17, he had one reception for 29 yards. Doesn't inspire confidence, but these are also rookie numbers, so it's hard to really draw a parallel. However, it is probably okay to assume that Lance would do at least similarly to Jimmy Garoppolo considering the system is the same.
One thing that is important to note though is that Kittle's production went down at the end of last season. Including the playoffs, he only scored 38.4 points (6.4 per game) in his last six games. It wasn't like he was out either, never having less than a 94.0-percent Snap Share. He also hasn't played an entire season since 2018. So to avoid the tight end wasteland, if you do draft Kittle, treat it similarly to Travis Kelce and secure a tight end for your bench too.
Darren Waller
Darren Waller's profile is hands down the best in the league. He beats out Kyle Pitts in every category PlayerProfiler measures except arm length. And even then, we are talking about a 0.25-inch difference. Pitts and Waller are the same height. Waller weighs more, is faster, has a bigger Catch Radius, the list goes on. However, there are question marks surrounding the Raiders offense in general this coming season. On paper they look excellent, especially after trading for Davante Adams. Derek Carr and Adams played together at Fresno State, so there should be some chemistry there. They also went out and got Patriots offensive coordinator, Josh McDaniels, who hopes to take the offense to the next level. But it remains to be seen how targets will be distributed.
Adams commanded a WR-leading 32.0-percent Target Share last season with Green Bay. Hunter Renfrow demanded 21.8-percent of the Raiders targets last year, and you'd hope it'd go up after his breakout season. However, Waller still put up 665 yards and two touchdowns even though he only played 11 games and demanded only a 24.2-percent (No. 3) Target Share. Assuming he plays a full season and that defenses won't be able to completely hone in on him, he should have a good year.
McDaniels got the ball to tight ends in New England. And it doesn't make sense to go away from such a talent in Waller. We will get a taste of the new offensive schemes this preseason. That will hopefully shed some light on where the targets will be going in this offseason. For now, it's too hard to tell and it appears there may be too many mouths to feed. Hopefully talent wins out and Waller can continue to display his athleticism.
T.J. Hockenson
T.J. Hockenson will be coming back from a broken thumb that kept him out of the last five weeks of the 2021 season. Brandin Cooks, Calvin Johnson, Julian Edelman, and Sterling Shepard have all broken or fractured their fingers/thumbs and returned to play at the same level as before the injury so it isn't that big of a concern. It has also been proven that D'Andre Swift and Hockenson can both succeed at the same time, with both scoring over 20 points in Week 1 last season.
However, it has not been seen if Hockenson and the newly risen Sun God, Amon-Ra St. Brown can succeed together. Not to mention, the Lions also signed D.J. Chark. It is similar to the situation that Darren Waller is in, where they just may be too many mouths to feed. Swift's 6.0 targets per game last season essentially ties him for first with Leonard Fournette, Christian McCaffrey, and Austin Ekeler. St. Brown averaged around 11 targets in the weeks Hockenson was out, and averaged 25.18 Fantasy Points Per Game in that span.
Luckily though, we will see how Dan Campbell feels about the roster. The Lions were chosen as the team for the new season of Hard Knocks. Hopefully that series will shed some light on how the targets will be distributed. Even if St. Brown and Swift take up 17 targets per game on average, there should still be about 50-percent of the targets left with Jared Goff averaging 35.3 attempts per game last season. If you have of any of the named players in dynasty leagues, you should definitely tune into Hard Knocks to learn more.
Dallas Goedert
Dallas Goedert finished last season with a bang, averaging 16.4 Fantasy Points Per Game in his last 5 appearances. This stretch started after a game with Gardner Minshew at the helm against the Jets in Week 13. Goedert finished the game with six catches, 105 yards, and two touchdowns. Jalen Hurts and Nick Sirianni appeared to learn their lesson and use Goedert more. His last four games were all with Hurts, and he averaged 10.25 targets, 5.25 catches, and 81.5 yards per game in that span.
The glaring issue is that he didn't score any touchdowns. In fact, he finished the year with an abysmal 12.0-percent Red Zone Target Share. However, Zach Ertz was with the team for a portion of the season, so he was technically splitting tight end duties. Next season, you hope that the heavy usage continues and that red zone targets go up.
This play in the playoffs last year clearly shows that Hurts trusts Goedert. Hurts finished last year as the QB9 overall, and also ranks in at QB9 on PlayerProfiler's dynasty and seasonal QB rankings. He's a great fantasy QB, but the fact that he is dual threat does affect Goedert's value. Hurts had 10 rushing TDs last season in 15 games, meaning he scores a rushing touchdown in two thirds of his games. That eats into Goedert's opportunity to score, but the yardage and targets should still be there. Hurts should also hopefully take a third-year leap. The Eagles have three first-round draft picks and hopefully will use at least one of those on an offensive weapon to take some heat off of Goedert and Devonta Smith.
Rob Gronkowski
Rob Gronkowski still hasn't technically announced he's playing next year. But with Tom Brady returning, you have to assume he'll at least give it one more go. If he does return, you already know exactly what you'll be getting: a tight end with an extremely high ceiling, a pretty low floor, and probably at least one injury across the season. But, O.J. Howard is finally leaving Tampa, signing a 1-year deal with the Buffalo Bills. His only competition next year looks to be Cameron Brate, so essentially the tight end targets are Gronk's to lose. If you do roll the dice on Gronk, make sure to read Part 2 of Avoiding the Tight End Wasteland, since you should definitely get an insurance option for your bench.
Conclusion
These guys are no stranger to the tight end spotlight. They are almost always brought up as the top-tier guys. This year though, there seems to be an even clearer drop-off in terms of expectations. Mark Andrews and Kyle Pitts are TE1a and TE1b no doubt. Travis Kelce and George Kittle should have some ceiling games, but have some injury concerns. Darren Waller, T.J. Hockenson, and Dallas Goedert all appear to be in a great spot, but may have some issues getting targets. As far as Rob Gronkowski goes, we don't even know if he's playing. If he does play, he should provide excellent value even if he misses some games due to injury. If you enjoyed this write-up, stay tuned for part 2 where we will look at the next tier of tight ends.