F**k them picks or love them picks, the Super Bowl between the big market Los Angeles Rams and the draft-centric Cincinnati Bengals was proof that there is not one surefire formula to be competitive at a high level in the NFL. Likewise, there are numerous paths to a fantasy championship in dynasty leagues, but one universal concept is buying low and selling high to take advantage of value discrepancies among league mates. Although many people love trade negotiations, others get intimidated and are risk-averse; fearing that their return may be perceived as the "loser" in the deal (which in dynasty is not a simple evaluation given that situations change every year, injuries happen, and values fluctuate). Thanks to smart people and technology, there are now numerous sites that host their own versions of trade calculators based on each site's dynasty rankings.
At PlayerProfiler, dynasty rankings are assigned based on each player's Lifetime Value (LTV) which is a valuation metric that approximates a player's fantasy points scoring potential above replacement for the remainder of their career. Those calculations are then used in the Trade Analyzer to assess the packages involved in the deal. The extensive data is used to eliminate the subjective perceptions that managers have towards certain players.
While my first article may appear to be an endorsement for PlayerProfiler's incredibly beneficial Dynasty Deluxe package (Trade Analyzer included), it is more so to highlight discrepancies between their LTV rankings versus other popular ranking sites. Especially in the WR3 landscape. I opted to compare dynasty wide receivers 25 through 50 on PlayerProfiler against a popular crowdsourced ranking site – KeepTradeCut.com (KTC). This source reflects "the market" by gauging how its users value three players of similar production by asking them to keep one, trade one, and cut the other.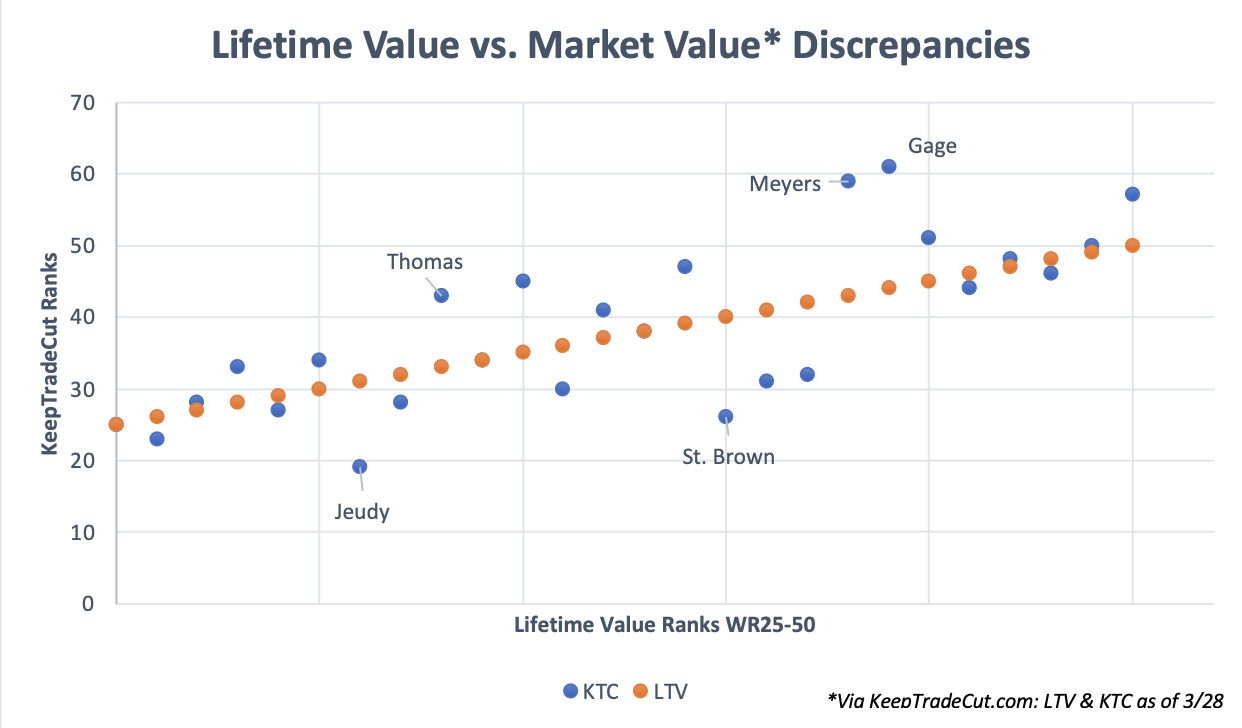 WR3 Landscape Sell Candidates
Jerry Jeudy
When assessing value in the wide receiver market through the graph above, one of the largest discrepancies was Jerry Jeudy, whose LTV rank of WR31 was 11 spots lower than on KTC (WR20).
The rise in both rankings is thanks to Denver's trade for Russell Wilson, an immense upgrade for Denver's quarterback position in the post-Peyton Manning era. While it cannot be dismissed that Jeudy's production will increase with Wilson, Courtland Sutton is being appraised in the market around WR28. This despite having proven production, and that his knack for stretching the field compliments Wilson's love for the deep ball.

Wilson has ranked top five in Deep Ball Attempts in five of the seven years that we're tracked the stat. Per the Podfather, ranking Sutton above Jeudy should not be considered a contrarian thought until we see otherwise.
Amon-Ra St. Brown
Priced at WR26, Amon-Ra St. Brown is another player whose market price is highly debated amongst the fantasy community and for good reason.

From Weeks 13-18, ARSB was posting Cooper Kupp-like numbers to carry him as the overall WR2 within that span. St. Brown finished as a WR1 in five of six games within that stretch, helping many people to fantasy championships with an overall WR2 finish in most leagues' championship week. Targets are earned. And while no one is arguing over his production, there is cause to pause. The uptick in production and opportunity coincided with injuries to the team's top pass-catchers T.J. Hockenson and D'Andre Swift. This left Kalif Raymond and Josh Reynolds as the only other receiving options.
A strong rookie campaign resulted in 119 (No. 23 among qualified wide receivers) targets with 3.66 (No. 17) Yards After Catch Per Target  and 1.91 (No. 34) Fantasy Points Per Target. But a 6.8 (No. 100) Average Target Distance shows that St. Brown has the talent to create yards after the catch despite not being used as a vertical threat, capping his ceiling when Hockenson and Swift are both healthy.
WR3 Landscape Buy Candidates
Jakobi Meyers
The greatest difference in perceived player value between these ranks is a certified record holder (LTV WR43, Market WR59).
No one has more receiving yards before their first touchdown than Jakobi Meyers. And he is being valued as though touchdown regression is imminent. Like he didn't lead his team with 126 (No. 20) targets, 83 (No. 16) receptions, and 867 (No. 29) receiving yards, garnering seven-plus targets in 11 out of 18 games. In terms of opportunity, he also led the team with a 24.4-percent (No. 20) Target Share, 29.3-percent (No. 32) Air Yards Share, and second to Hunter Henry in Red Zone Target Share at 18.1-percent. Reasons for hesitancy involve the run-first offense headed by an inexperienced quarterback in Mac Jones and his historical lack of touchdowns, but a 25-year-old who has commanded a 24.0-percent Target Share and 32.0-percent Air Yards Share over the past two years should carry more value than the market suggests.
Michael Thomas
Another record-holder. A mere three seasons ago, Michael Thomas broke the single-season receptions record, finishing with 374.6 (No. 1) fantasy points.
Thomas ruptured his ankle ligament in Week 1 of 2020, which ultimately led to conflict between him and the Saints with reports claiming that the organization persuaded him to play on a busted ankle in hopes of making one last playoff push with Drew Brees. This resulted in offseason surgery and caused him to miss the entirety of the 2021 season, plummeting his market value to WR42. His LTV rank of WR33 considers his resume of producing seasons in the top-10 of Fantasy Points Per Game when healthy. And given that he has had ample recovery time to prepare for 2022, look for Thomas to continue to receive an abundance of targets and dominate in Air Yards Share.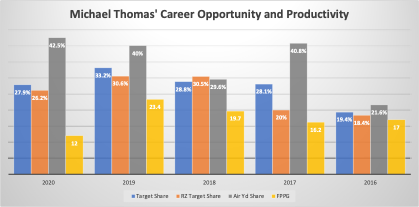 Take Action
Instead of paying a premium for Jerry Jeudy and Amon-Ra St. Brown, pivoting off those in the WR3 landscape with inflated market values gives the opportunity to capitalize on the return of investment needed to acquire them in the first place. Trading away young players that are perceived to be more valuable than what their profiles dictate in exchange for depreciating assets with proven production allows for more creativity in formulating trades with the additional assets acquired or to rebuild a roster by acquiring future draft picks on top of proven talent that are past the age-apex curve.