I've got a fever, and the only prescription is more Underdog Fantasy drafts. There is nothing else that allows you to feel the euphoric highs and harrowing lows of drafting in such a user-friendly way. The serotonin highs that come with a successful draft are borderline indescribable. Needless to say, the fantasy community is hooked.
As Michael Jordan would say, I have a "competition" problem. Drafting scratches the gambling itch that burns within all of us fantasy players (please gamble responsibly), and I can't seem to get enough of it. What's even more thrilling is pushing your chips in among the industry's best. I've frequented lobbies with a few different analysts, but I've tested my hubris most against the DOA (Director of Analytics) himself, Josh Larky.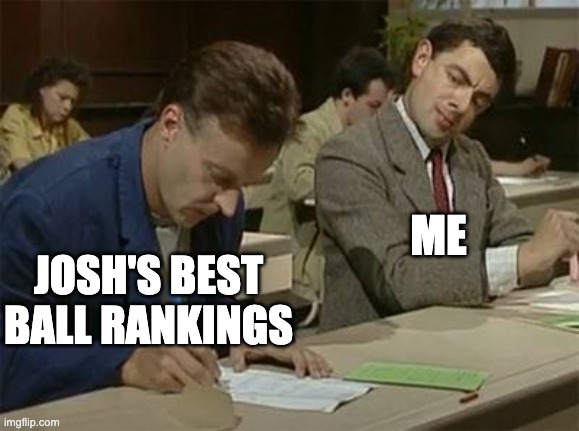 Not many people have the stones to purposefully go toe-to-toe with the man who created the Ultimate Draft Guide and PlayerProfiler's Top 200 Best Ball Rankings, but I do (because I paid for the right to copy his rankings). With the help of some advanced stats and metrics I will analyze some of the picks from each of our teams and the processes that went behind them to determine who won this round of the Underdog Showdown.
The Breakdown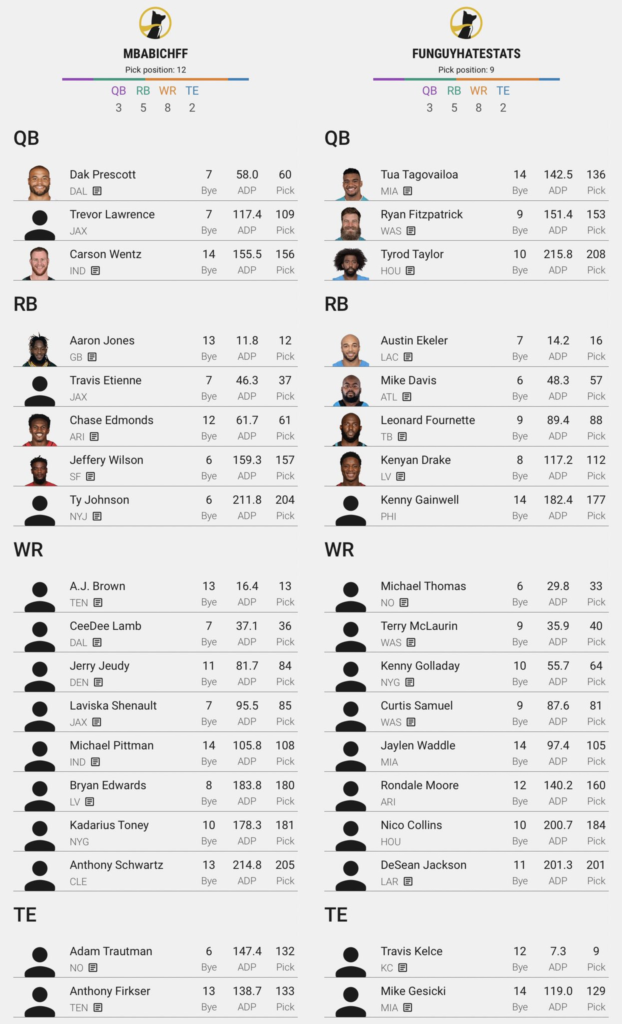 Team Larky
Quarterback
In an ode to J.J. Zachariason, Josh went late-round QB and took Tua Tagovailoa in the 12th round. He displayed the elite accuracy he showed at Alabama, quietly posting a 7.9 (No. 2 among qualified quarterbacks) Accuracy Rating, an 80.3-percent (No. 3) Catchable Pass Rate, and a 43.2-percent (No. 10) Pressured Completion Percentage. Tua began his true breakout campaign after returning from injury in Week 12, averaging 17.78 Fantasy Points per Game in that span. More importantly, his pass attempts per game rose from 23.75 to 38.6 in those starts. Jaylen Waddle and Will Fuller's arrivals give him the weapons to take another step forward. Yet still, fantasy games have seemingly thrown in the towel on the young gunslinger's potential. At their price, Dolphins players will be huge values.
If quarterbacks were wines, Ryan Fitzpatrick would be the premium house choice. Aged 38 years, he's gotten bolder and more delectable through the years. Buyers delight in the quarterback who was a QB1 in five of his seven starts in 2020, and averaged 20.13 Fantasy Points per Game over that stretch. Mediocre wine analogy aside, it's time to accept that FitzMagic is as talented as he's ever been. Let's not forget that the last time he had weapons was with Tampa Bay in 2018. That season, he averaged 20.73 FPPG across eight weeks and 27.03 FPPG in his five full games. Now the Magic Man steps into a loaded Football Team offense that added Curtis Samuel and Dyami Brown, and already played at a faster pace than last season's Dolphins. Fitzpatrick is A QB1 at low-end QB2 price. That, my friends, is draft elegance.
Running Back
If there's a 2021 version of Aaron Jones, with overall PPR RB1 in his range of outcomes at a Round 2 ADP, it's Austin Ekeler. In a season interrupted by injury, he compiled 116 (No. 39) carries and 65 (No. 8) targets in 10 games; a reasonable per-game pace for him to maintain over a full season, which would put him at nearly 300 opportunities with over 110 targets. The Chargers will play at an unreal pace, looking to light the field on fire again this season. His efficiency as both a rusher and receiver can very well win someone a million dollars in Underdog's Best Ball Mania.
Austin Ekeler's OC now is Joe Lombardi. The OC that oversaw Alvin Kamara. Last year, Kamara was 2nd in the league in outside receiver snaps by a RB. You need as much Ekeler as possible. #RB7 #PantsOffForEkeler @MyFantasyLeague #NFL #FantasyFootball

— Chris McConnell (@WizardOfRoto) June 11, 2021
This RB room was starting to look like a $10 bottle of vodka. You won't love it, but you know it will get the job done. Mike Davis was a winner this draft season. He will have a stronghold on the backfield touches in Atlanta and will earn his fair share of targets. The Falcons managed to suck over 800 yards and nine touchdowns out of Todd Gurley's walking corpse in 2020. Last season, Davis averaged 14.8 (No. 14) Fantasy Points per Game and is now in a higher powered offense.
Backs like Davis, Myles Gaskin, and Chase Edmonds are proving this "RB dead zone" movement to be a joke. 
Leonard Fournette's outlook doesn't have much certainty. There is no doubt that he is the superior all-purpose back to Ronald Jones, but Uncle Lenny struggled to see a consistent workload in 2020. It remains to be seen which version of him we'll get. He was a fantasy football hero during the playoffs, and was arguably the best offensive Buccaneer during the Super Bowl. Where he becomes a value is with his receiving ability. Thrown into an offense without much time to learn the playbook, he earned a 10.0-percent (No. 21) Target Share and saw fjve-plus targets in five games. If his Target Share isn't consistent, there will be games where he disappears. His upside is what you're buying. In the ninth round, you're getting a massive amount of it at a cheap price.
Wide Receiver
Two picks before me in the third, Josh ripped my heart out of my chest by taking "slant boy" Michael Thomas. He battled through an injury-plagued season and two quarterbacks playing at subpar levels, but still managed to hit the 15 fantasy point mark in three of his seven games, posting a 42.5-percent (No. 1) Air Yards Share. Enter Jameis Winston, who can provide Thomas with higher quality, fantasy relevant targets and elevate his stomach churning -35.9-percent (No. 107) Target Premium. The recency bias-based disrespect put on his name has gone too far, and Josh capitalized on a huge value at WR11 in this draft.
Michael Thomas is SEX ? pic.twitter.com/LDeoYMzyb3

— RotoUnderworld (@rotounderworld) May 26, 2021
Despite being one year removed from finishing No. 12 in Fantasy Points per Game, Kenny Golladay is currently being drafted as the WR26. The concern with Kenny G and his smooooth routes is whether or not Daniel Jones can get him the ball enough. I can't believe I'm saying this, but let's give Danny Dimes some credit. Golladay is a deep threat, and Jones can push the ball downfield. Last season, he posted a 46.2-percent (No. 7) Deep Ball Completion Percentage, with 19 (No. 16) Money Throws. Yes he is a significant downgrade from Matthew Stafford, but subpar quarterbacks can hold up WR1 production. They may not be the next Allen-Diggs combo, but Golladay and (maybe?) Jones are poised to out-perform expectations this season.
In case you haven't heard the news, the Underworld LOVES the NFC East in 2021.
The Football Team averaged 40.8 (No. 8) Team Pass Plays Per Game, and Ryan Fitzpatrick will certainly keep the pace. Josh was able to pull off a cheap stack with milly-maker potential after drafting Terry McLaurin and Curtis Samuel (whose ADP is a slap in the face considering his situational upgrade and No. 26 rank in Best Ball Points Added). McLaurin's 41.2-percent (No. 4) Air Yards Share, among his other opportunity and productivity metric rankings, show that he's a pure alpha in this offense. He wins everywhere, as seen in Matt Harmon's Reception Perception. Samuel and Dyami Brown will marginally decrease McLaurin's Target Share, but there is plenty of volume in Washington for him to finish as a WR1. 
Terry McLaurin wins at a superstar level in #ReceptionPerception:

– 78.6% success rate vs. man coverage (97th percentile)
– 78.9 percent success rate vs. press (90th percentile)
– Double covered at a rate similar to elite alpha WRs

Full profile:https://t.co/3xmvkSbjeC pic.twitter.com/jiA1hT17ui

— Matt Harmon (@MattHarmon_BYB) June 9, 2021
Tight End
Josh led off with the king of tight ends, Travis Kelce. Not much that has to be said about the man. Kelce finished as the most valuable tight end by a wide margin, and his 143.3 (No. 1) Best Ball Points Added checked in seventh out of all players. Kelce is funneled targets like no other, seeing over a 24.0-percent Target Share and 15.0-percent Hog Rate in back-to-back seasons. The Chiefs have cemented their full trust in Kelce and Tyreek Hill to continue to command the majority of targets. Showing no signs of slowing down, he looks to be a top 10 contributor again in 2021.
When Kelce is on your best ball team, you will rarely see another name in your starting tight end slot. That didn't stop the DOA from grabbing Mike Gesicki, a tight end drenched in upside. I've written before about how he will always be one of "my guys." While the team struggled to find its identity, he saw elite usage around the field. From Weeks 13 through 17, following Tua Tagovailoa's thumb injury, Gesicki averaged 13.7 (No. 3) Fantasy Points per Game with a 20.36-percent Target Share while missing Week 15 and playing through injury in Weeks 16 and 17. He will be a favorite target for Tua this season, and at an ADP of TE11, you're too low on him.
Team Babich
Quarterback
If you love Best Ball, you love Dallas. It's a simple equation. With Dak Prescott at the helm, the Cowboys have one of the league's highest powered offenses. Prescott's pre-injury production last year was mind blowing: 27 (No. 30) Deep Ball Attempts, a 55.6-percent (No. 3) Deep Ball Completion Percentage, 1.2 (No. 8) Red Zone Carries per Game, 45.1 (No. 11) Best Ball Points Added, and the list goes on. While he might not have the rushing upside you'd like, Prescott has everything he needs to be a best ball star quarterback in 2021: talent, a high powered offense, a solid supporting cast, and negative Game Scripts.
No one has a clue what Urban Meyer's plans are for the Jaguars, but we can assume the team who averaged 41.2 (No. 6) Team Pass Plays per Game and faced a -8.2 (No. 32) Game Script last year will throw a lot again. Trevor Lawrence walks into a fantasy quarterback's dream: an offense loaded with playmakers that will constantly be playing from behind in a shootout-prone division. This was a stack pick, a move many will argue is unnecessary and potentially even a bad process in non-tournament entries. However, when a team offers this much potential at value, it's never a bad idea to take shots at their playmakers (at or near that player's value).
Normally, I'd be fine leaving this draft with just Lawrence and Prescott, but since this bonehead started stacking teams with the same bye week, I was still in need of a Week 7 warrior.
Recency bias would tell us Carson Wentz is washed, but Wentz upon a time he was performing at an elite level with Frank Reich puppeteering the offense. Time, as they say, is a flat circle. Reunited with Reich and now finally having a reliable offensive line and receiving core, I'm willing to expose myself to a few shares of the former MVP candidate in the back of the 13th round. Drafting a third quarterback because of bye week issues is another questioned move by myself, and not one that I'm happy with. Although it's not ideal to have two QBs with the same bye week, at most I lose 25 points in my lineup. Replacing that by drafting Wentz eliminates another chance at a hidden gem like Rondale Moore (coincidentally another pick of Josh's) who could provide much more than that to my roster. 
Running Back
I started this draft the way I start 55-percent of my best ball drafts, by taking Aaron Jones. Even if Aaron Rodgers chooses Jeopardy! over football's version of Who's the Boss?, Jones is still a value at the back of the first. If David Montgomery and James Robinson can each post top seven Best Ball Points Added marks in their anemic wastelands of offenses, Jones will have no problem. 
The running back talent after Round 3 is thin, and drafting them can be especially difficult when you have 22 picks in between your two consecutive draft slots. Seeking stability in my RB room, I added my guy Travis Etienne 10 picks above ADP. I'm not afraid of the so-called "RB dead zone." I'll buy Etienne all over the fourth round. He has home-run potential and should lead this backfield in touches despite James Robinson's presence. He likely won't see 200 carries, but he will be lining up all over the field and getting peppered with targets.
Code Breaker Ep. 7: @jlarkytweets dives in deep to uncover the true value of RB rush attempts and RB targets, and how this speaks to Travis Etienne's upside in fantasy football?

? https://t.co/ouf8CBg5zv pic.twitter.com/qfqaiXbRkd

— RotoUnderworld (@rotounderworld) May 14, 2021
Most mid-round running backs are nothing special, just another brick in the wall. Chase Edmonds is ready to run right through that wall. Opportunity is king in fantasy football, and Edmonds will see plenty this season. In 2020, he saw 165 (No. 25) Weighted Opportunities while playing second fiddle to Kenyan Drake. There are 270 precious touches now up for grabs, and Edmonds looks to finally be the team's lead back. The risk is plentiful. He flopped when given the keys during Drake's injury. I'm willing to bet on his efficiency through his first three years (albeit on minimal touches) coming to fruition in his new lead back role.
Wide Receiver
A benefit of drafting near the back end of the opening round is that you can leave the first two rounds with both a bell-cow RB and at least a top four receiver. I grabbed a potential top five RB and still got to draft A.J. Brown (your favorite receiver's favorite receiver). This pick is a great example of how fickle this game can be. When this draft was done, Brown had a rock solid case to be the WR1. The addition of Julio Jones lowers his ceiling slightly, but let's not forget that Brown has scored a touchdown on over 15-percent of his career touches and has set production efficiency metrics aflame in back-to-back seasons. He is the three-legged alpha. While the pick may be a slight reach now, Brown still has the overall WR1 in his realm of possibilities.
CeeDee Lamb's underwhelming debut season can be chalked up to playing with three backup quarterbacks and running a limited route tree. His alignment was quite static in 2020. Matt Harmon's Reception Perception profile on Lamb reassures any doubters that he can win anywhere. Now that Dak Prescott is healthy and the Cowboys will diversify their receivers' usage, Lamb has the potential to finish as a WR1 and outscore his teammate Amari Cooper. I pulled the trigger in hopes to grab Dak at the next turn.
The Cowboys heavily deployed CeeDee Lamb as a slot receiver in 2020 but with a 72.5% success rate vs. man coverage in #ReceptionPerception, I have 0 doubt he can win anywhere. Changes in 2021?

Full profile:https://t.co/aglUO7zAni pic.twitter.com/UakmdgcPBY

— Matt Harmon (@MattHarmon_BYB) May 26, 2021
Two mid-to-late round sophomore receivers that I cannot get enough of this season, especially in Best Ball, are Jerry Jeudy and Laviska Shenault.
You'll be hard pressed to find another fantasy relevant receiver who saw lower quality targets and more Unrealized Air Yards than Jerry Jeudy. He still saw impressive volume numbers for his debut season, and managed two games with over 100 receiving yards and a touchdown. Now paired with the much more accurate quarterback, Jeudy could take the (Teddy) Bridge (water) to fantasy stardom.
The excitement for Laviska Shenault is growing rapidly now that we've entered "looks good in shorts" season. At first glance, his production and efficiency are ugly enough to scare drafters away, evidenced by his Underdog ADP has falling 12 picks since May 12th. Once you consider context and the changes the team has undergone, you realize the tale of Shenault isn't a nightmare, it's a fairytale. He's Rapunzel, locked in the tower of misusage and uncatchable targets. Yet he still managed to produce 1.99 (No. 26) Fantasy Points per Target and eight games with at least 10 fantasy points. Trevor Lawrence is the prince, ready to rescue Shenault so he can have the breakout season he deserves.
Tight End
It's all about vacated targets, and the Saints have plenty to go around. Adam Trautman, fantasy football's Captain America, now rises from the ash heap of Jared Cook in an offense that doesn't have a cemented No. 2 target. He was both efficient and reliable on his 16 targets last season, earning 2.38 Fantasy Points Per Target (unqualified finisher). He is already primed for a massive opportunity increase, and with Jameis Winston this offense can boom in a major way. The ADP is correcting, but he is still the biggest value at the TE position in 2021.
A pick that has aged like expired milk sitting outside on a hot day (okay maybe I'm overreacting), Anthony Firkser's value took a massive hit in all formats following Tennessee's acquisition of Julio Jones. The Firkser hype was primarily propelled by Tennessee's 47.9-percent available Target Share. His performance last season was average at best, but he did earn an 18.3-percent (No. 2) Hog Rate and notched an overall TE1 performance in Week 6. While his upside took a significant dip, Firkser will be deployed often and should still be considered as his ADP falls. 
The Overview
Since this draft, Julio Jones has become a Titan, Jeff Wilson tore his meniscus, and my dreams of out-drafting the king of ratios were squashed like a bug. At running back, Josh's squad is deeper and has more floor, but the boom-potential of my top three backs gives me the slight nod at the position. For receivers, my core has potential, but Josh's has just as much upside with a more certain floor. A victory for him in this category. As for the lesser positions, I have a major edge at quarterback while Josh has a significant advantage at tight end. Travis Kelce out-produced every quarterback in Best Ball Points Added by a wide margin. Unless Dak Prescott keeps up his record 2020 pace, Josh's advantage at tight end actually outweighs mine at quarterback.
Josh and I both drafted solid teams. We both executed the 3-5-8-2 positional build, but our positional priorities differed. I chose to grab a solidified QB1 and bolster my running back core early. Josh went with an elite TE, patiently waited for three late-round quarterbacks, and obtained a receiving core loaded with upside all while managing to not sacrifice an excess amount of running back depth. This draft was a utopia of potential, and a sound guide to some of the high-potential players and teams to be targeting.
What was proved in the end is that when you trust the rankings and let the draft guide your choices, both of these strategies (among many others) will yield successful teams.
The Winner
After a nail-biter of a contest, I officially crown Josh Larky as the first Underdog Showdown Champion. He was the winner from the jump, and time has only hurt my case. In terms of value, potential, and overall decision making, Josh proved why he's the professional. 
Left side for me. Elite positional advantage at TE while still getting a solid RB1 in Ekeker and I love the MT / McLaurin duo. Could very well end up with a top 5 RB, WR1 overall & TE1 overall. Putts you in a pretty good spot. Love the Tua/Waddle, Fitz/Terry & Tyrod/Nico stacks.

— Jeremiah (@FF_Padawan) May 25, 2021
The People's Champion
The people of Twitter still get their fair say in the matter. The votes have been counted. Winning by a margin of nine votes to four, the first reigning People's Champion of the Underdog Showdown: yours truly (please, please…hold your applause). The case for my roster was a lot stronger at the time of the draft. I appreciate the votes, but now the tides have turned. Regardless, It's going to be a tight race for first place in this $5, 12-team draft.