So you've got the promo code UNDERWORLD and you're high-fiving yourself, ready to start drafting on Underdog Fantasy with our new Top 200 Rankings for their platform. You're backing the truck up, ready to have some fun drafting and make some money in the process. We get it, there's that certain, unmistakable excitement that overtakes your body when you commit to a draft.
This article will help you better understand our rankings, feel more prepared with roster construction strategy, and give you some insight into players we have above/below consensus based on their Underdog ADP (watch this video to upload our rankings to Underdog from the "World Famous" Draft Kit, so they're personally with you in the draft room at all times). 
Just a quick review, since the scoring format and positional requirements are important, especially for best ball. Underdog is Half PPR, starting 1 QB, 2 RB, 3 WR, 1 TE, and 1 FLEX. All drafts are only 18 rounds, so you have to make each pick count. This isn't one of those 2.5 hour drafts where you're forced to take the Jets' fourth-string RB in the 27th round. Who has time for that?!
While Underdog has some 3-person, 6-person, and 10-person drafts, as well as large-field tournaments, this article is primarily focused on Underdog's main bread and butter: the 12-person drafts.
Quarterback
The general strategy at quarterback is getting two QB1 types early. We aren't quite sure why, but quarterbacks have been going later on Underdog than on other full PPR best ball platforms. Quarterbacks score the same amount of fantasy points in both PPR and Half PPR, since a team can only run so many trick plays/Philly Specials each season. Most quarterbacks have ZERO receptions, yet RBs/WRs/TEs all catch passes; and in Half PPR, those three skill positions score fewer fantasy points than in full PPR.
Think about it with an instructive example: we can revisit the famous 2020 game where the Cardinals beat the Bills 32-30 after DeAndre Hopkins leapt up in triple coverage to haul in the game-winning touchdown pass.
A keen eye will note that it was Andy Isabella as the first WR to celebrate with Hopkins. +2 in my dynasty rankings. pic.twitter.com/bTHuAFJEyS

— Kyle Dvorchak (@kyletweetshere) November 16, 2020
Let's look at the stat lines of three Bills players, in both Half PPR (Underdog scoring) and full PPR:
Josh Allen: 284 passing yards, 2 passing touchdowns, 2 interceptions, 38 rushing yards, 1 reception, 12 receiving yards, 1 receiving touchdown (thrown by Isaiah McKenzie on a trick play)
Cole Beasley: 11 catches, 109 receiving yards, 1 receiving touchdown
Stefon Diggs: 10 catches, 93 receiving yards, 1 receiving touchdown
In Half PPR (Underdog) formats, Allen has 28.86 fantasy points, Beasley has 22.4 fantasy points and Diggs has 20.3 fantasy points.
In full PPR, Allen has 29.36 fantasy points (remember, one reception on a trick play), Beasley has 27.9 fantasy points and Diggs has 25.3 fantasy points.
Notice that both Diggs and Beasley scored roughly five fewer fantasy points in Half PPR. Yet Allen scored about the same amount of fantasy points. This is why the value of QB relative to the skill positions increases in Half PPR. We've run the numbers, and the advantage you gain with two mid to high-end QB1 types greatly outscores taking two middling QB2s, or a QB2 and a backend QB1. And it's also generally suboptimal to burn a third roster spot on a QB; the low-end QB2 and high-end QB3 types rarely enter your starting lineup.
If you want to get the 30-35 point spike weeks from a high-end QB1, you have to pay up. And we're telling you, it's worth it in Half PPR. We view Ryan Tannehill as roughly the firewall. You want to get two QBs early enough that your second is at least as good as Tannehill.
A guy we really like at ADP is Dak Prescott, and a guy we're currently below consensus on at ADP is Aaron Rodgers. 
To view our full top 200 Underdog best ball rankings, you can subscribe to our Draft Kit here.
Running Back
In Half PPR, the relative value of RBs increases too, much like quarterback. Running backs typically log fewer receptions than WRs and TEs, so they are less affected when moving to Half PPR scoring.
We believe it is optimal to get multiple bell cow RBs within your first 3-4 picks in the draft. You *can* go heavy on WRs early in the draft. We even outline a potential start to your draft that involves WRs we like at the end of this article. But we know the RB position dries up really quickly. You don't want to get stuck rolling the dice on multiple backup RBs, needing one or both to hit to stay competitive.
Ideally, you're drafting 4-5 RBs, with three of them being high-upside starters. Remember, you can only start two RBs and there's one FLEX spot; at a maximum, only three RBs can enter your starting lineup each week.
If you're taking most of your RBs later in the draft, then taking six of them is permissible. Also note that pass-catching RBs like Nyheim Hines, Tarik Cohen, and J.D. McKissic will be slightly devalued in this scoring format being that they have more value when getting a full point per reception.
A guy we really like at ADP is Clyde Edwards-Helaire, and a guy we're currently below consensus on at ADP is J.K. Dobbins. 
To view our full top 200 Underdog best ball rankings, you can subscribe to our Draft Kit here.
Wide Receiver
The wide receiver position is fairly deep to begin with. And the relative value of this position is the most devalued when comparing full PPR to Half PPR best ball scoring. Add those two factors together, and it's a position we recommend spending many later round picks on, rather than early round picks.
While we believe QB and RB are relatively more valuable positions, we also understand you have to start three WRs each week. If you're grabbing QB and RB early, you should have 8 or 9 WRs on your roster after 18 rounds. In the final few rounds of Underdog drafts, all high-upside QBs are gone, all starting RBs (and some backups) are gone, and the high-upside TEs are usually gone, too. 
However, in these later rounds, there are still several WRs we like who project to be starters in 2 and 3 WR sets on their respective teams in 2021. Using our Top 200 Rankings, you can find WRs in the final rounds who we can project to see at least 75 targets. But you'll never find that type of projected usage in the later rounds at RB/TE.
A guy we really like at ADP is Amari Cooper, and a guy we're currently below consensus on at ADP is Adam Thielen.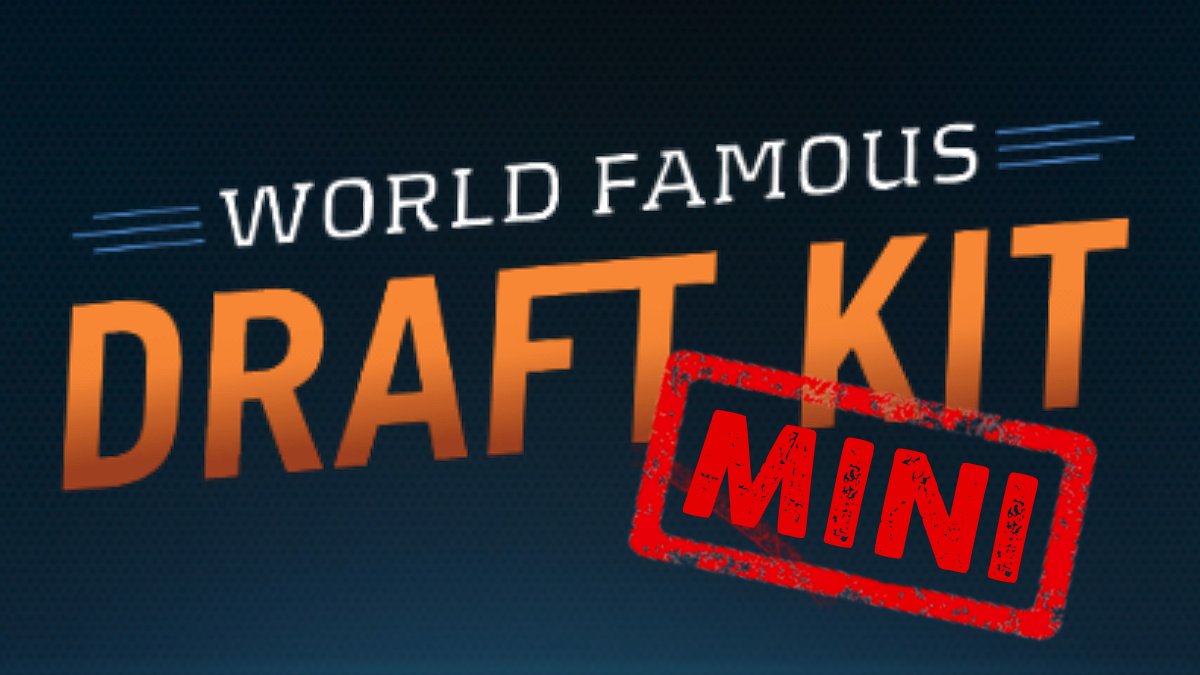 To view our full top 200 Underdog best ball rankings, you can subscribe to our Draft Kit here.
Tight End
Tight ends don't score a lot of fantasy points, and even with the Big 3 (Travis Kelce, George Kittle, Darren Waller), we aren't recommending you spend up for them in the first two rounds of drafts. The tight end position is unpredictable each year, heavily dependent on touchdowns, and a very oft-injured position.
Some other best ball platforms are TE-premium, where TEs get more points per reception than RBs/WRs; in those cases, you'll see TE ADPs pushed way up, and the relative value of the elite players increases. However, when it's Half PPR across positions, we don't suggest investing heavy draft capital into this position.
Ideally, you're taking 2 or 3 TEs. We view Robert Tonyan as the firewall for a 2 TE build, where T.J. Hockenson–Logan Thomas or Dallas Goedert–Robert Tonyan is passable if you want to stay skinny at TE and dedicate more roster space to other higher-scoring positions. If you aren't grabbing 2 TEs in the middle rounds, we advocate for a 3 TE build. And if you cannot resist the urge to draft Kelce/Kittle/Waller early, then one more mid-late round starting TE can complete the position for you.
A tip for TE is to scan the depth charts, and see which TEs you realistically think can be the first, second or third option in their team's passing game. This is why we're ahead of consensus on Hockenson, who looks like the top passing game target in Detroit right now. We all saw what happened with Kittle in 2018 when given elite volume. Hockenson has the draft capital, the prospect pedigree, and the above average athleticism to take advantage of his favorable spot atop the Lions passing depth chart. On the other end, we're below consensus on Noah Fant, who will most likely be behind Courtland Sutton and Jerry Jeudy on the depth chart, while also competing with K.J. Hamler and Albert Okwuegbunam for targets.
To view our full top 200 Underdog best ball rankings, you can subscribe to our Draft Kit here.
Stacking
This article has not been focused on tournament strategy, mainly 12-team best ball strategy. In tournaments, you're encouraged to go with more unique and fragile lineup constructions. Stacking is very much a necessity to stand out in a pool of 1,000s or 10,000s of teams. 
If you're new to best ball, stacking is taking players from the same team. Generally a QB and one of his WRs. The idea behind stacking is to capture spike weeks from high-scoring teams and game environments, while also double-counting touchdowns. Essentially, the double-count works as so: Patrick Mahomes throws a 50-yard TD pass to Tyreek Hill. If you have both of these players, you get double credit for this play. Mahomes gets 50 passing yards and a passing touchdown, and Hill gets 50 receiving yards and a receiving touchdown. Also, a play like this can help a game devolve into a shootout, with both teams passing and scoring more; so two quarters later, you could see another 25-yard touchdown pass from Mahomes to Hill, and you're well on your way to being the highest-scoring team in the league for that week.
However, in a 12-person best ball draft, we don't recommend crazy ADP manipulations to get "sexy" stacks. Sure, it'd be nice to have a QB-WR from the same team. Or a QB-WR-WR from the same team. Or even a QB-WR-WR-TE from the same team. But it's not necessary, especially if you're taking players well above ADP to make it happen. We wouldn't recommend taking any early round players more than 2-5 spots ahead of where we have them ranked. And we suggest reaching no more than 1 to 1.5 rounds early towards the end of drafts to get a stack with later round WRs/TEs.
RB-Heavy Start
Here's an example of a draft start on Underdog through seven rounds leaning on RB early in the draft. To view our full top 200 rankings and complete a draft start like this one, subscribe to our Draft Kit today! 
WR-Heavy Start
Here's an example of a draft start on Underdog through seven rounds leaning on WR early in the draft. To view our full top 200 rankings and complete a draft start like this one, subscribe to our Draft Kit today! 
The End
We hope you enjoyed this article on best ball strategy on Underdog Fantasy. Best of luck drafting, and don't forget to check out our Draft Kit!
Follow Josh Larky, PlayerProfiler's Director of Analytics on Twitter (@JLarkyTweets), where he's frequently posting screenshots from his numerous Underdog best ball drafts.