Welcome in to the Week Two Edition of the Hitchhiker's Guide to Running Back! The column where we talk all things running back streaming, attempting to convert the least amount of capital into a playable running back position on your fantasy teams.
If you did not read the introductory edition of the column I strongly recommend checking it out here:
Introduction
To sum up, the aim of this column is to stream the highest scoring running back we can using only a select group of bench running backs and the waiver wire. As well, I hope this article allows you to think critically about the inputs involved in fantasy production at the position that will inform how you play fantasy football.
While the introductory column was heavy on theory, each weekly column will be more practical. In every column I will briefly recap the week that was at the running back position. Then I will discuss the status of our existing running back bench and whether to make any transactions on our official roster. Lastly, I will discuss potential waiver options and designate my plays of the week. Roughly every four weeks I intend on writing a more expansive version of the column in which I will address larger trends in scoring to assess the viability of running back streaming in general outside of our weekly plays.
In other weeks, I may do some data dives on backfield-level trends to identify under-rostered and cuff situations worth targeting. Unfortunately, we have such a dearth of data after just one week, that this will be a fairly thin version of the piece, albeit a crucial one given what is historically a critical week of waiver wire decisions.
Week One Recap – League-Wide
Below are the top 24 running backs in PPR points not including Monday Night Football. I file this column prior to the Monday Night Kickoff each week, so the Monday Night participants will always be added in the following week.
The color coding is as follows:
Teal = drafted in the top 24 at their position by 4for4's ADP aggregator.
Yellow = drafted outside the first eight rounds.
Green = drafted outside the first eight rounds, and existing on our "roster" (see last week's article)
Orange = Un-drafted
White = does not fall into any of the aforementioned categories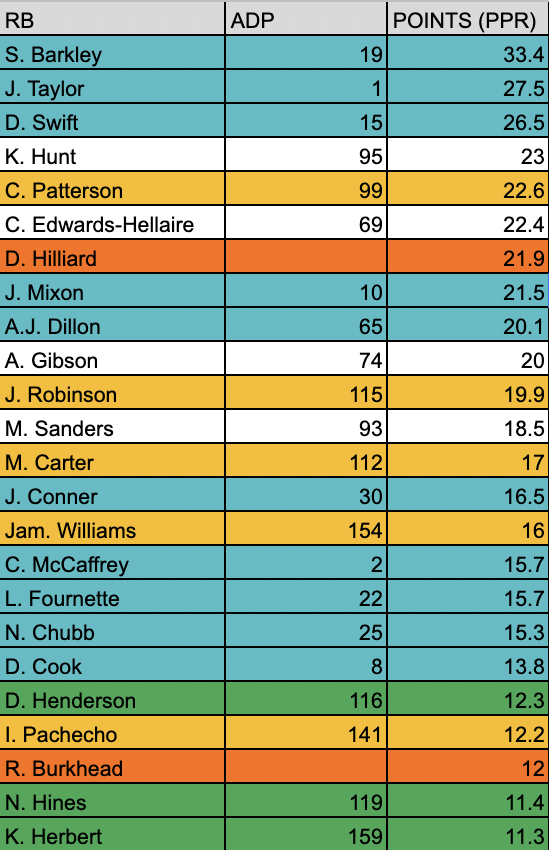 At a systemic level, a "good" week for Zero and Hero RB teams is one in which the high drafted receivers are able to capture a greater share of value over replacement than the highly drafted running backs. As discussed last week, early in the season is when we often see the highest consolidation of highly drafted running backs in the top spots and that held true this week, at least at the very top.
However there were ten streamers who cracked the top 24, edging out last year's total by one. However, a top-24 performance from either of Javonte Williams or Rashaad Penny will reduce that figure. When considered next to the back-drop of elite performances by receivers it was a strong start however for players employing a receiver heavy start.
Each of the top seven receivers eclipsed 25 PPR points and all seven were drafted in the top three rounds. It will be fascinating to watch this continue to evolve.
Streaming Rules
For those joining us in progress, here is the process for the weekly streaming choices.
In the introductory column I chose one RB in each of rounds 9-14 based on those available at each round using 4for4's ADP aggregator. That is my starting "roster."
Each week I will address whether to add any running backs available on waivers, and if so, who to drop.
Because your team is not mine, my weekly plays will not only consist of my "rostered" running backs. Instead I will recommend a play from each of three categories. (see below)
My streaming "score" each week will be the average of my play in each category. My "preferred" play will count double, and MUST come from a running back on my "roster." If I choose to make a waiver back my preferred play, I will outline who I am cutting from my existing bench for that running back.
The Categories
Bench Streamers: The selected running backs in the introductory article plus and minus any transactions published throughout the year in this column. If a drafted player gets injured I retain one injured reserve spot.
Premium Waiver Streamers: This group is comprised of any running back with less than 67-percent roster-ship on Yahoo leagues as of the first waiver run of the week. This can include both generally un-drafted players, as well as previously drafted players who have been widely cut by managers.
Deep Waiver Streamers: This group is comprised of any running back with less than 33-percent roster-ship on Yahoo leagues. The same rules apply as above.
Current Roster
Our current roster is the six running backs on our existing roster. Those running backs are:
The Good
All in all it was a strong week for our roster making transactions rather difficult. The brightest star is of course Darrell Henderson. The former Memphis Tiger played 82-percent of his team's snaps and dominated usage in all situations. In fact, his route participation of 82-percent was second only to Saquon Barkley among running backs. While he was not able to punch in a score or provide much in terms of efficiency, his usage profile was that of an RB1. He faces a much softer matchup in Week 2 vs. Atlanta and will be an auto-start unless Cam Akers shows signs of taking back this backfield. Henderson has led this backfield to opne each of the last two seasons before ceding it away eventually. However, I am optimistic he will be a weekly lock as our preferred play for at least the immediate-term.
Nyheim Hines
Nyheim Hines was mostly as expected; he is a weekly streaming option until better contingent upside options become available. Jonathan Taylor did however run a considerable amount of routes and out-targeted Hines seven to six. Hines' contingent value may be higher than in years past as I discussed last week, but the weekly slice of the pie may be narrowing.
White and Benjamin – the two high upside contingent plays – were one of two backs to play snaps for their respective teams. It appears they have locked up their backup jobs which is the early-season vote of confidence we needed to keep them on the roster.
Khalil Herbert
Khalil Herbert was the clear backup on Sunday and scored a touchdown, receiving the Bears' lone goal-line series to himself. That being said it was the culmination of a series he played which happened to reach the goal line. Therefore, we should not takeaway that Herbert is the goal line back, however we can take away that when the Bears draw close to the end zone with Herbert, he will not be subbed off the field. All the same, David Montgomery provided just 1.5 yards per carry and was PFF's lowest-graded rusher among all backs with at least 10 attempts in week 1. Positive signs all around on Khalil Herbert's role increasing eventually.
The Bad
The un-mitigated downer of the week was Rhamondre Stevenson. Stevenson ran just four pass routes on Sunday. While he was targeted on half of them, playing behind both Ty Montgomery and Damien Harris in passing situations is extremely bearish on his upside. While he was my first pick and preferred play last week, he was the back I most closely considered cutting in Week 2. That's partly due to the positive notes on the other five, but in large part due to Stevenson's disappointing start.
He remained involved, and touched the ball on 71-percent of his snaps, so perhaps better days are ahead. However, it is a legitimate downgrade. His expected range of outcomes was between a standalone RB2 at best, and at worst a flex play with two-way contingent upside to an every-week starting role. It is now much less clear to what extent his upside contingent upon a Montgomery injury is present or could be realized.
POST-PUBLISHED UPDATE:
Ty Montgomery has now been placed on Injured Reserve. While just eight days ago this would have sent me into a frenzy I'm now more reserved. Based on what we saw, there is little reason to expect Stevenson will inherit Montgomery's full role, as it could either go to Harris, be split amongst him and Harris, or go to Pierre Strong. However, as foolish as it would be to ignore the warning signals of Week 1, our priors need not be tossed aside entirely either. Profiles matter and Stevenson has the best profile for the role of the options available.
Occasionally the first path we seek does not lead us where we wish to go. But fortunately, life's knack for deferring the clearest path, does not always preclude it from finding a way. Often we as fantasy gamers attempt to decipher the game as though it were a pre-crafted plot with discoverable endings hinted at from the first chapter. But in fact the game is much more fluid than that. A coach's first inclinations is not always their lasting one, just as our first is not always the correct one. Stevenson's Week 1 signal was negative, but I am cautiously optimistic he is well-suited to take advantage of the newfound opportunity available.
The Result
Because Week 1's waiver wire was indistinguishable from my last-round "draft" options all three of my Week 1 plays came from these six backs. That will not happen again. However our stream score was an uninspired 8.28 falling three points shy of the top 24. Sadly, that is almost entirely due to Stevenson's double-counting dud. Hines and Henderson were my other two plays for the week, and had either been the preferred play, we would have been right on the edge of a successful streaming week. Based on what I described above, I think the long term outlook is much brighter than the Week 1 result. As discussed at length in the opening article, we tend to see better and more predictable results as the year goes along.
A Note Regarding Use Cases and Roster Management
The idea of a "use case" is central to tracking the viability of our bets, attempting to remain objective best we can in assessing new information, and in ensuring that we aren't failing to see the forest through the trees when we manage our roster.
It is important to understand that the viability of a player to start the next week is only as important as the number of starting slots to fill, and the odds their presence over the next best alternative is meaningful. Very few games are decided by start/sit decisions and fewer still by ones which are directionally foreseeable. Often times, if you are dropping a preferred long term play for a minimal short term gain it is best to avoid doing so.
Drafting with Intentionality
We should draft with intentionality about the type of bets we are making for our teams, and that does not cease after Week 1. Eno Benjamin and Rachaad White are players who were drafted based on a use case that involved very limited standalone value, but significant contingent value. The way we assess indicators from early season has to be in line with that use case. Is the offensive environment the high value one we were buying into for running backs? Do these backs have the backup role secured? The precise percentage of touches they have in their standalone role we aren't starting is ultimately incidental.
On the other hand, with a player like Khalil Herbert, a large portion of the bet was whether he could usurp David Montgomery as the starter. If the bet was purely contingent, there are better ones to make than the Bears backup. That did not happen immediately as it did with Henderson – but that does not mean it never will. In fact, as noted above the early indicators are positive. What we need to do moving forward is track growth from here.
The Waiver Wire
At this point of the column I will discuss waiver wire running backs primarily with a focus on start-ability in Week 2. On occasion, I will sprinkle in some takes for deeper league stashes as they emerge. Good examples of that are other situations similar to Benjamin in Arizona, in which we receive a clearer answer on who the backup is in a strong offensive environment. Samaje Perine, who played all 26 snaps in relief of Joe Mixon Week 1, fits this description as well.
The Injury Replacements
Two starting running backs appeared to suffer an injury on Sunday: Najee Harris and Elijah Mitchell. Fortunately for the Steelers, it sounds as though Harris has avoided a major injury scare.
Tests today on Steelers' RB Najee Harris' foot injury came back negative and there is a belief that, according to a source, he "should be good to go" Sunday vs. the Patriots.

— Adam Schefter (@AdamSchefter) September 12, 2022
This puts us in a tricky spot from a streaming perspective. Jaylen Warren played every running back snap in Harris' absence. If the starter is unable to play, Warren is the clear-cut number one streamer off the wire this week given his expected workload. However, this early in the year, I would struggle to spend a significant amount of FAAB or use a high-waiver priority on a back who may not even give us one start. If you can use the Schefter tweet to grab Warren for a reasonable percentage of your budget, I would still do so. At worst, he is a strong handcuff locked into the backup role with apparently significant contingent value.
Jeff Wilson Jr.
Elijah Mitchell on the other hand is slated to miss two months with a knee injury. While that opens up the possibility of a long-term waiver addition, the 49ers backfield is less appealing. Jeff Wilson Jr. was the only tailback to see offensive snaps after Mitchell's injury, but the role is much less lucrative than Pittsburgh's. Kyle Juszczyk plays snaps in passing situations, and Deebo Samuel and Trey Lance combined for 22 rushing attempts.
Only 18 NFL teams this week had more total rushing attempts than the 49ers had from their QB and WRs.

— Jakob Sanderson (@FF_RTDB) September 13, 2022
The Matchup
Jeff Wilson Jr. has a great matchup against Seattle, making him a viable Week 2 start, but I certainly would not blow the FAAB coffers on him. He does not provide much in the passing game, has limited upside if he gets the entirety of the RB1 role, and is hardly assured that role. Jordan Mason was active over Tyrion Davis-Price Week 1 but did not see an offensive snap. This makes me feel inclined to think he was activated based on special teams. I would rather spend $1 FAAB on "TDP," or even Mason, than chase Jeff Wilson. However, for a Week 2 desperation RB2, Wilson is your man.
49ers backfield thoughts
• Jeff Wilson is the initial leader in the clubhouse
• Mason active over TDP but saw ZERO offensive snaps so would lean TDP between the 2

Juszczyk will play pass downs, Lance and Deebo will carry the ball often. There's not much there tbh

— Jakob Sanderson (@FF_RTDB) September 12, 2022
The Surprises
The two un-drafted running backs who hit in the top-24 were Dontrell Hilliard and Rex Burkhead. Hilliard scored twice but played just 14 snaps as a change-of-pace back and ceded nine passing situation snaps to Hassan Haskins. He can be left on the wire but may turn out to be a useful best ball pick. Burkhead, however, played 71-percent of snaps, dominated pass-down work and saw considerable usage in all situations. I am highly skeptical the later part of that equation holds all season-long, but the pass-down work absolutely could. In an upcoming matchup against the Broncos where negative game script can be projected, Burkhead is a strong streaming option once again.
James Robinson and Jamaal Williams
James Robinson and Jamaal Williams are both available in more than a third of leagues. Robinson should be the number one waiver priority if available. He has the best path to coalescing a large share of his backfield without injury. He saw 49-percent of snaps in Week 1 but dominated rushing work. I prefer Etienne straight up, but Robinson should be rostered in every league and is a viable RB2 start in his own right.
Isiah Pacheco comes in 31-percent rostered, but his Week 1 performance was more noise than signal. He was the recipient of just four snaps of the first 56 preceding a garbage time drive in which he scored a touchdown. Jerick McKinnon is the preferred add in Kansas City.
Week Two Transactions
I am making zero transactions this week to my official roster. Realistically, given the parameters on roster percentage I set (33-percent ownership maximum), I could likely pick up Warren or Burkhead and drop them for Eno Benjamin or Khalil Herbert again next week… but that just feels like cheating. I need to give Stevenson a longer leash than one week, and the other bets have all progressed as we hoped for at least the time being.
If I was to make transactions, my priority list within the parameters would be as follows:
Week Two Picks
Preferred play: Darrell Henderson Jr.
Honorable Mention: Nyheim Hines, Khalil Herbert
Henderson's role is unmatched by any other potential streamer and if it holds this week against Atlanta he could be a top-10 projected play overall. Henderson and his double-counting score is my best hope to get on track immediately post-Week 1.
Premium Play: James Robinson.
James Robinson should continue to cede work to Travis Etienne, but compared to all other options below 67-percent ownership, Robinson's role feels most secure. He does not need to be the benefactor of injury news, nor negative game script to have a chance at a useable week. Robinson should remain involved in the offense next week, with his pay-off likely dependent on whether he finds the end-zone.
Based on the little data we have, I would categorize his role as similar to that of Devin Singletary or Miles Sanders. He does not monopolize any portion of the offense and cedes a majority of pass-down work, but does not appear to be phased out of receiving work – at least on early downs. This leaves him as a touchdown dependent, fringe RB2.
Deep Play: Rex Burkhead
Honorable Mentions: Jaylen Warren would be my pick here if Najee Harris is inactive. However, unless we get news of this prior to waiver bids Tuesday, I'm working under the assumption that I would not bid enough to get him in most leagues. My other honorable mention is Jeff Wilson Jr.
Burkhead's role is remarkably fragile with the existence of rookie Dameon Pierce as the nominal starter. However, should his Week 1 role hold, it is not dissimilar to that of David Montgomery or Chase Edmonds. These are backs who handled a majority of work in passing situations but ceded a split including short-yardage work on early downs. With a projected negative game script on tap, Burkhead should be the clear leader in touches.
The Final Word
Thank you once again for reading this column and I look forward to its continued development over the course of the season. Also credit to Pro Football Focus for providing data I was able to use in this column in addition to the incredible wealth of information on PlayerProfiler.
Happy Hitchhiking!