Height

6' 2"

Weight

228 lbs

BMI

29.3

(33rd)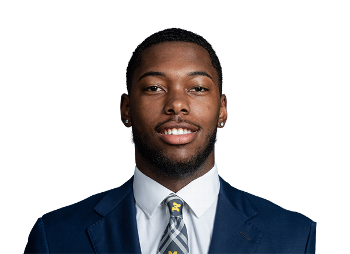 Draft Pick

4.26

2022

College

Michigan

Age

22.5
Workout Metrics
40-Yard Dash
Speed Score
Burst Score
Agility Score
Bench Press
High School Workouts
40-Time
Speed Score
Vertical Jump
20 Yard Shuttle
Scouting Grade
College Dominator

College YPC

College Target Share

SPARQ-x
Hassan Haskins Bio
Hassan Haskins was a 3-star prospect from Eureka, MO. He was late in the recruiting cycles, but committed to play at Michigan. He joined the MIchigan Wolverines in 2018, but didn't produce until 2019. Haskins shared the backfield with Zach Charbonnet, but was second in attempts and rushing yards. He had greater efficiency than Charbonnet and was used similarly in the passing game. Haskins ended the season with 622 yards and 4 touchdowns. Read More
Hassan Haskins College Stats
Year

Year

Games

Games

Rush Attempts

Rush Atts

Rushing Yards

Rush Yrds

Total Touchdowns

TDs

Receptions

Rec

Receiving Yards

Rec Yrds

Target Share

Tgt Share

Age

Age

School

School

2019

6

(RB)

121

622

(4 tds)

4

6

(3 tgts)

40

1.4%

19

Michigan

2020

6

(RB)

61

375

(6 tds)

6

0

(3 tgts)

0

1.4%

20

Michigan

2021

14

(RB)

270

1,327

(20 tds)

20

18

(22 tgts)

131

5.6%

21

Michigan
Player Popularity Index (PPI) ranks PlayerProfiler page views over the last 30 days. For example, the No. 1 PPI player page is the most frequently visited page in recent weeks.
Who is Hassan Haskins
2020 caused the Wolverines to play a shortened season. The season ended as a down year for Michigan with the Wolverines going 2-4. Hassan Haskins used the down season to assert himself as the alpha dog in the backfield alongside Blake Corum, Zach Charbonnet, and Chris Evans. He had a breakout performance against a down Penn State team where he put up 101 yards and 2 touchdowns on 17 attempts.
Hassan Haskins carried over his previous year's production into the 2021 season. Hasskins had 6 games with over 100 rushing yards and averaged 19 attempts per game. Remaining the alpha running back he had almost 130 more rush attempts and almost 400 more yards than the next highest rusher. On the season, he totaled 1,327 yards and 20 touchdowns. He received an invite to the senior bowl, but pulled out due to an ankle injury.
Hassan Haskins was selected in the 4th round of the 2022 NFL Draft by the Tennessee Titans. In an open backfield, Haskins will probably be the odds on favorite of backing up Derrick Henry. On a run first team and not excelling in the passing game, Haskins is a high floor play in all formats.
News & Advice
Get Hassan Haskins news, rankings updates and draft pick advice, straight to your inbox!