"Knowing is Better than Wondering" – Meredith Grey.
By now, we know stacking quarterbacks with pass-catchers is key to unlocking your fantasy ceiling. We may not yet know which stacks are set for takeoff in 2021, but if you read Part I of this series, you know the Anatomy of a League-Breaking Stack. If you have yet to read this piece, click on the link below! Otherwise, let's dive into the stacks most likely to break your league!
A Refresher on the Criteria:
In Part 1, we looked back seven years at the stacks who've made the largest impact in seasonal leagues. These are included below.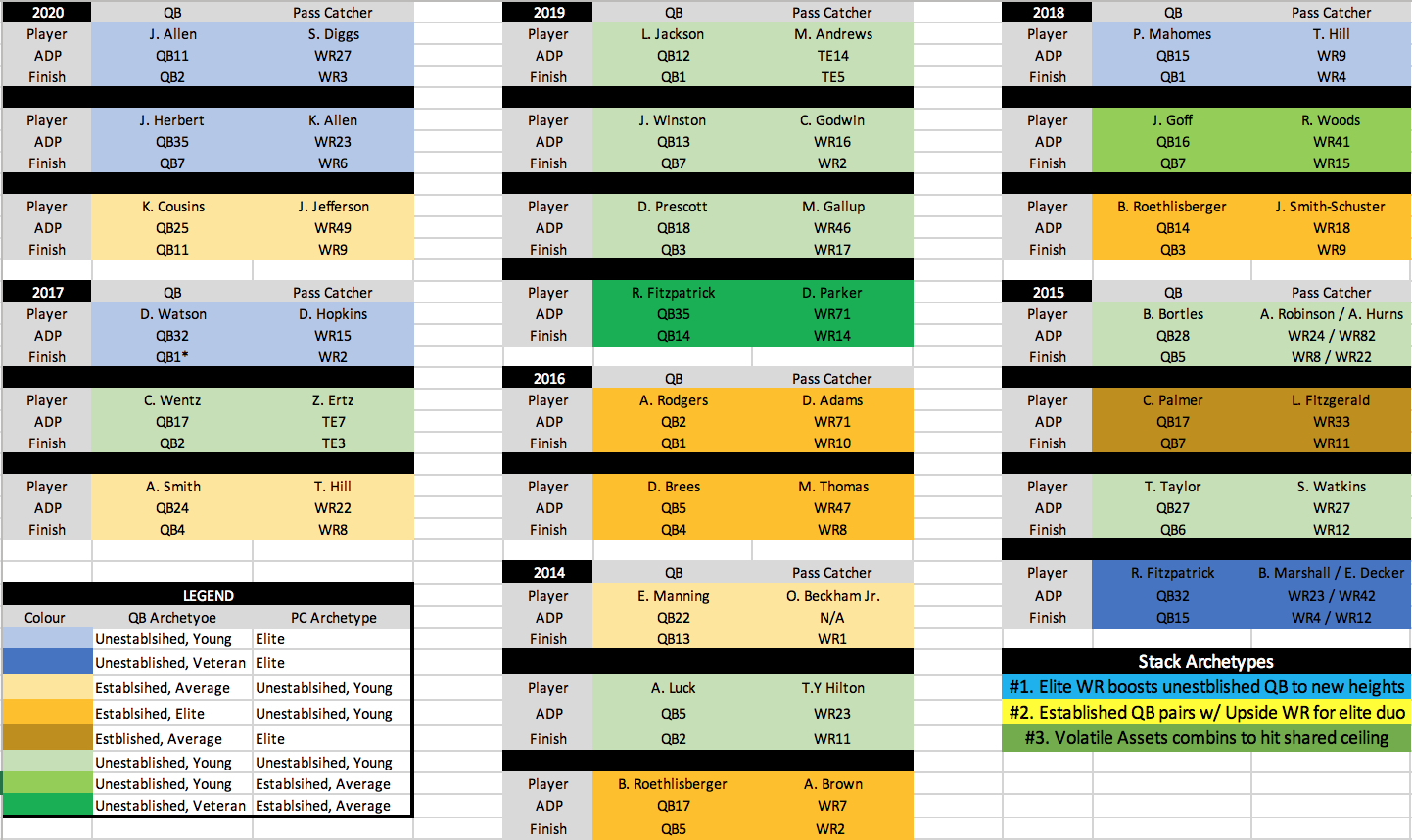 We noticed three archetypes of stack emerging over time, coloured in blue, yellow, and green respectively.
1) An elite wide receiver pairs with an unestablished quarterback, vaulting both to new heights

2) An established quarterback pairs with a young wide receiver to reach a shared ceiling

3) Two volatile assets reach their ceiling outcome together
From here, we crafted criteria for the league-breaking stacks to look for in 2021. A reminder: we are not looking for the highest scoring stack. Instead, we are searching for the stack who will most surpass ADP in a correlated fashion, giving you the largest edge in your leagues. To define the parameters, I am using Underdog best ball ADP; though this process can also apply to redraft formats; especially Superflex.
1) ADP that allows both QB and WR to greatly surpass expectations (quarterbacks drafted in the first eight rounds and pass catchers drafted in the first three are excluded)

2) A quarterback or wide receiver in their first three years in the league

3) Any pass catcher in the stack beyond their rookie contract must have a history of elite production

4) Suppressed market value due to elements of situational uncertainty or disadvantage
Based on the above criteria, we established the following list of candidates for 2021's league breaking stacks. Since releasing part 1, I've been narrowing this list down to five finalists I'll reveal and analyze today.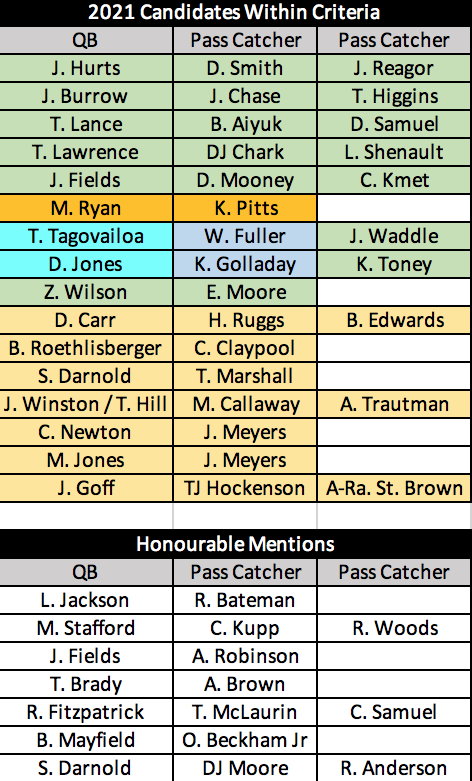 Final Cuts:
Before diving into the top five countdown, it's time to touch on four stacks that fell just short. Each of these are stacks I am bullishly above market on for 2021.
Ben Roethlisberger & Chase Claypool
If you read part 1, you already got a sneak peak of this one. It really comes down to how enticed I am by the profile of Chase Claypool heading into his sophomore year. From last article: Per the Data Analysis Tool, no wide receiver among the impressive 2020 rookie class drew more targets per route than Claypool's 25.2-percent (No. 16 among qualified wide receivers) Target Rate. His perception as a low-volume option is due to his 65.9-percent (No. 90) Route Participation rate.
This stack is a straightforward bet. If Claypool earns a full-time role in 2021, and maintains his per-route efficiency and volume, he will surely smash his ADP. Given Ben Roethlisberger's cost, it would not take much for Claypool to drag his quarterback well-past ADP alongside him.
Trey Lance & Brandon Aiyuk
Months ago, this may have been a contender for the top slot. But as the 49ers have skyrocketed up draft boards, I fear much of the value has been sucked out of Trey Lance (QB10) and his stacking options. If any combination from Santa Clara hits it big this year, I'll bet on Brandon Aiyuk being part of it.
Even at his increased price tag (WR21), Aiyuk is being drafted behind his WR16 Fantasy Points Per Game finish from his rookie season; a rare occurrence. While many are worried about a target squeeze, Aiyuk looks the part of an elite wide receiver; topping all rookies in success vs. man coverage according to reception perception. What if he establishes himself as the new alpha in San Francisco, building on his 23-percent Target Share? Combine this with a banner rookie campaign out of Lance and the ceiling is immense.
Justin Fields & Cole Kmet
Let's stick with the rookie quarterbacks. Justin Fields comes into the NFL with an exceedingly impressive college resume as a passer, and is faster than most running backs. The fantasy ceiling is huge out of the gate. If the former buckeye pays off his upside, it can't only be on the back of Allen Robinson.
Cole Kmet (TE18) is one of the best bets for upside among late round tight ends. The sophomore from Notre Dame boasts a Speed Score and Burst Score above the 80th-percentile, and cleared a 75.0-percent Snap Share every week after the bye. We know tight ends and quarterbacks have correlated ceilings due to a shared reliance on passing touchdowns. Take Kmet as a late-round addition to your Fields team and leave yourself with plenty of room for profit.
Daniel Jones & Kenny Golladay
For Daniel Jones backers, last year was less 'Danny Dimes' and more 'Damnit Danny.' But we have seen a young quarterback elevate their play significantly when paired with an elite wide receiver. Jones was at his best throwing deep in 2020 (46.2-percent Deep Ball Completion Percentage, No. 7) and is due for positive regression from his 53.1-percent (No. 48) Red Zone Completion Percentage. Enter Kenny Golladay: a red zone monster who does his best work down the field. Could it be a match made in heaven?
Golladay has always been an efficient big play threat. The former Lion averaged 10.3 (No. 6) yards per target, 2.35 (No. 22) yards per route run, and 18.3 (No. 4) yards per reception during his breakout 2019 campaign. The question is whether a player whose career high Target Share is 22.0-percent can develop into an all-around alpha receiver. The complimentary skillsets and attractive ADPs (QB28 and WR32) made for a tempting addition to the final five, but ultimately Golladay's lingering hamstring injury pushed it just off the list. Brave drafters should consider buying this stack at its depressed price; especially if we get good news on Golladay's health.
The Final Five
Without further ado, here are the five stacks most likely to break your league wide open in 2021.
No. 5) Jalen Hurts & Devonta Smith
While many stacks have seen their ADP soar in recent weeks, the premium Eagles pairing is going in the other direction (QB11 and WR36). Fade the noise. There's no denying Jalen Hurts' accuracy issues last year, but the notion he cannot throw based on one month's sample is absurd. This is the same player who entered the league with a 94th-percentile QBR and 98th-percentile yards per attempt at Oklahoma. He also flashed the ingredients of a fantasy superstar last year. In 16 quarters of starting action, Hurts racked up 301 yards rushing; a pace that could challenge for the league lead. As well, his 17 Deep Attempts in this time would have tied Justin Herbert for No. 8 in Deep Attempts Per Game. If Hurts can approach league-average accuracy, his play style offers top five fantasy upside. One path to an improved Hurts comes via his new No. 1 receiver.
Heisman winner Devonta Smith, who boasted an off the charts 37.5-percent (98th-percentile) Target Share and 51.3-percent (96th-percentile) College Dominator Rating at Alabama, is a substantial upgrade to Philadelphia's barren wide receiver room. Smith's ADP fell nearly a whole round after an MCL sprain, but he has already returned by pre-season week two. He looks A-Ok. If the first round pick establishes himself as the clear alpha, he can crush his ADP. He'll also give Hurts a reliable target he never had last year, and bump the remaining Eagles weapons into more favourable roles.
No. 4) Sam Darnold & D.J. Moore
Yes, the criteria was missed by one year. But there is no denying the correlated ceiling of this pair. Let's start with D.J. Moore: a certified stud receiver. Moore was cast into a downfield role in 2020; ranking No. 6 in Deep Targets and No. 2 in Air Yards Share. Paired with Teddy Bridgewater and his No. 28-ranked Air Yards Per Attempt, the odds were stacked against Moore breaking out to the full extent of his capabilities. Nonetheless, he finished top ten in yards, and Target Rate (per route). What's kept Moore out of WR1 territory is touchdowns; a stat which can hardly be blamed on him in an offense with a league-low 33 passing touchdowns over the past two years.
12 teams the past two years have thrown for as many TDs in 1 season as the panthers have the last 2 years combined.

Sam Darnold doesn't have to be good for DJ Moore to smash his ADP. He just needs to be not horrendous.

— Jakob Sanderson (RTDB) ↗️ (@FF_RTDB) August 20, 2021
The red-headed stepchild of this stack is Sam Darnold. I'll save you the trouble of reading his ghastly 2020 stat line; but rest assured he was among the league's worst quarterbacks. However, as mentioned in part 1, a late-round quarterback being dragged to mid-QB2 status by an elite wide receiver performance can create major value in best ball and Superflex. The former third overall pick gets a fresh start in Carolina with by far the best weapons of his career. Priced at the tail end of best ball drafts, your interest should at least be piqued to see if Darnold and Moore can elevate each other and your team.
No. 3) Trevor Lawrence & Laviska Shenault
This stack is the epitome of what this study is supposed to point us toward. Recall this chart from part 1, which showed year two wide receivers as the best bet for a breakout season.
Further, J.J. Zachariason found that the first receiver drafted in an ambiguous depth chart is one of the most likely breakout archetypes. Laviska Shenault boasted an impressive 24.0-percent Target Rate in year 1. While there are a number of weapons in Duval county, there is no established alpha. D.J. Chark has never reached a 24.0-percent Target Rate in three pro seasons. The speedster flashed potential in 2019, but the year 2 player with the far superior college profile is the more enticing bet to reach a league-breaking ceiling. Marvin Jones is a high-end compliment likely to outperform his ADP, but the 31-year-old is a known quantity. This is the type of ambiguity we chase in fantasy: his competitors for targets make Shenault's floor shaky, but none are a true threat to the ceiling outcome we crave, and all boost the efficiency of the offence.
The other piece to this party is of course Trevor Lawrence. Despite being among the most lauded quarterback prospects of all time, his ADP is quite affordable at QB16. Lawrence, who rushed for 563 yards in 2019, has more rushing upside than given credit for. Between the three aforementioned receivers, Lawrence will have his choice of explosive targets. But if Shenault can develop his route tree in 2021 to pair his elite YAC skillset with an alpha wide receiver role, this pairing could be the driving force of a high-octane offence.
No. 2) Joe Burrow & Tee Higgins
If you're looking to bet on Joe Burrow; you have several choices for how to do so. However, my personal favourite is with Tee Higgins. Another second year breakout candidate, Higgins was one of just three rookies to clear a 20.0-percent Target Share in 2020, while finishing top 25 in Air Yards and top 10 in Deep Targets league-wide. Despite this, he is available at WR22, the fourth rookie in his class off the board. Much of the discount is related to first-round draft pick Ja'Marr Chase; but there is volume a plenty in Cincinnati. While Burrow was healthy, the Bengals' 65-percent neutral situation pass rate ranked No. 1 in the league. Higgins has the opportunity to lead the league's highest pass volume team in targets.
As for Burrow, the rookie was far from perfect in 2020, but he showed signs of high-end potential, ranking No. 9 in Accuracy Rating and No. 12 in catchable pass rate. At QB14 in ADP, his injury risk is fully baked in being drafted behind less mobile quarterbacks Tom Brady and Mathew Stafford, who project to throw less often. Between the addition of Chase and the expected sophomore progression of Burrow, this could be a much improved offense in 2021. With no meaningful WR4 or tight end to draw targets from Chase, Higgins, and Tyler Boyd, Higgins could replicate or improve upon his 20.2-percent (No. 36) Target Share and parlay this into 120-140 targets. Given the breakout potential of second year WRs, I see a higher ceiling for Higgins than Chase as the member of this stack.
No. 1) Tua Tagovailoa & Will Fuller
Each of the previous stacks required a leap of faith that my top rated stack does not. The ADPs of Tua Tagovailoa (QB17) and Will Fuller (WR41) will be smashed even in a median (healthy) outcome. Tagovailoa is being gravely underestimated. With the league's 26th-most efficient supporting cast, he was No. 2 in Accuracy Rating and No. 3 in catchable pass rate in 2020, while ranking a respectable No. 17 in Air Yards Per Attempt. An elite prospect, it makes little sense to not expect a sophomore leap when paired with two exciting new weapons; Jaylen Waddle and Fuller.
Speaking of Fuller, he is the most underrated wide receiver in the NFL. Remember Kenny Golladay? In a tweet from June, I compared Fuller to Golladay over the past two years, and they are shockingly similar. Nonetheless, a massive gap sits between them in ADP despite Tagovailoa projecting as a far better bet than Daniel Jones.
Two 27 YO WRs on new teams

WR-A: (2019-20) – 22GP

? 21% TGT share
? 34% Air Yard share
? 2.40 YPRR
? 10.6 YPT
? 14.7 FPPG
?‍♂️ ADP: 84/91 [BB/DYN]

WR-B: (2019-20) – 21GP

? 20% TGT share
? 30% Air Yard share
?2.39 YPRR
? 10.4 YPT
? 14.9 FPPG
?‍♂️ ADP: 59/56 [BB/DYN]

— Jakob Sanderson (RTDB) ↗️ (@FF_RTDB) June 29, 2021
Fuller hasn't finished worse than his current ADP in points per game since his rookie year in 2016 and boasts two seasons above 15.0 Fantasy Points Per Game.
He now competes with a double-replaced Devante Parker and an explosive rookie in Waddle who has yet to prove the ability to command volume. For anyone thinking 2020 was a mirage; Fuller's Target Share in 2018 and 2019 was just one percentage point lower than last year, and he drew a higher Target Rate per route. Fuller's role as a 20 to 22-percent Target Share receiver with elite efficiency has been stable whenever he is healthy. There is no reason to expect this not to carry over to Miami as Tagovailoa's top target. If you want a stack you can buy at its floor price, with potential for elite correlated upside, there is no better bet.
Final Thoughts
I can only hope this series was as informative for you to read as it was fun for me to write. From thorough data and game theory analysis, we can recognize the importance of stacking in your lineups for all formats. Through an analysis of historical trends, we can identify candidates to make the biggest difference in your leagues. Our final five candidates are set up with sky high upside in 2021, and you should prioritize each in your draft portfolio.