The last installment of the Rookie Range of Outcomes series featured a head-to-head matchup between Zach Wilson and Mac Jones, the two quarterbacks typically left out of the top-3 rookie quarterback conversation. As expected, the top-3 rookie quarterbacks would be the next installment. What separates Wilson and Jones from this group was their floor. The 2018 NFL Draft showed us all that not every hyped up rookie will hit at the next level.
Now it's time to discuss the quarterbacks that dynasty teams with the top picks in SuperFlex rookie drafts selected! Using the Best Comparable Players metric on PlayerProfiler.com, we can determine the fantasy football ceilings and floors for Trevor Lawrence, Trey Lance, and Justin Fields.
Trevor Lawrence
2021 No. 1 overall pick Trevor Lawrence became the fourth-ever first-round quarterback to have a Peyton Manning Best Comparable Player comp. He's only the second quarterback in the database with Manning has his No. 1 comparison. The other first round quarterbacks with a Manning comparison are Matt Ryan, Philip Rivers, and Justin Herbert.
From a dynasty perspective, Lawrence joins fantastic company. Rivers started 15 seasons in the NFL without missing a game. Ryan is about to start his 13th NFL season. Herbert threw for 4,336 (No. 6 among qualified quarterbacks) passing yards and 31 (No. 10) passing touchdowns as a rookie.
Manning is the ceiling for Lawrence, but let's get more specific. He has NFL-recording breaking seasons on his resume. His 2004 (49 touchdowns) and 2013 seasons (55 touchdowns) have a slim chance of being replicated by any player.
Instead, Manning's 2012 and 2014 seasons for the Denver Broncos represent Lawrence's ceiling.
He was top-8 in pass attempts in both seasons, and top-3 in passing touchdowns. With a 94 (97th-percentile) Scouting Grade in high school, Lawrence went on to become the No. 1 college recruit in 2018, and three years later became the No. 1 pick in the NFL Draft. Georgia high school records in passing yards and passing touchdowns held by Deshaun Watson were replaced by Lawrence.
In both seasons, Manning topped 37 touchdowns and over 4,500 yards. He averaged 19.4 and 19.5 Fantasy Points Per Game in 2012 and 2014, respectively. In 2020, those performances would be outside the top-12. The preferred type of quarterback has changed in the NFL. Pocket passers are valued less than years past, while dual-threat quarterbacks are becoming more and more common. Lawrence has the arm talent of Manning plus rushing upside the Hall-of-Famer lacked. In 40 college games, Lawrence rushed for 18 touchdowns, highlighted by his 563 rushing yard season in 2019.
Lawrence has two former No. 1 overall picks in his five Best Comparable Player comps, while the other three quarterbacks are non-first round quarterbacks.
Jared Goff, the other No. 1 overall pick, represents Lawrence's floor.
Goff's 2019 and 2020 seasons represent the worst-case scenario. Two weaknesses have plagued his career to this point in the NFL. One, interceptions and a high interception rate. Two, no rushing upside in fantasy football. His 4.82 (55th-percentile) 40-Yard Dash mirrors Lawrence's 4.78 (78th-percentile) 40-Time, as does his 102.3 (13th-percentile) Burst Score to Lawrence's 28.3 (17th-percentile) Vertical Jump. Goff never finished a collegiate season with a positive rushing yardage total.
However, from an athletic comparison, we have to remain open to the idea that Lawrence won't be able to produce on the ground the way he did at Clemson.
At California, Goff threw over 500 passes in each of his three seasons. Meanwhile, Lawrence only topped 400 attempts (407) once. Comparing Lawrence's and Goff's breakout seasons in college, there is an unflattering similarity. In 2013, Goff threw 10 interceptions on 530 passes, which resulted in a 1.89-percent interception rate. Lawrence, in 2019, threw eight interceptions on 407 passes, which resulted in a 1.97-percent interception rate. In the past two seasons in the NFL, Goff has finished top-12 in both Interceptable Passes and Danger Plays. His 48 (No. 3) Danger Plays in 2019 played a part in the Los Angeles Rams starting to move on from him.
Goff finished with a 16.7 (No. 21) Fantasy Points Per Game average in 2020 and 15.5 (No. 20) FFPG in 2019. Another struggle of Goff's is his Deep Ball. He finished outside the top-30 in Deep Ball Completion Percentage in both 2019 and 2020. If Lawrence isn't able to become a rushing threat a the next level and his arm talent does not translate, then he becomes Goff. In single quarterback redraft leagues, he would be a quarterback streamer at his floor. In dynasty football, he would become an unexciting asset that nobody is trading for.
Lawrence's ceiling is top-5 fantasy quarterback that leads NFL in passing yards and touchdowns. His floor is a low-QB2 that becomes a fantasy football non-factor.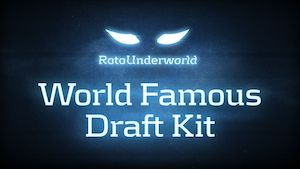 Trey Lance
48 touchdowns and one interception in 19 career games. No, those aren't your created player's stats in Road To Glory Mode in NCAA '14.  These are the numbers that Trey Lance put up in college football from 2018-20. Only Jalen Hurts (1,298) had more rushing yards during the 2019 college football season than Lance (1,100), and Lance led the position with a 6.5 YPC average.
The NFL is a copycat league and teams are valuing dual-threat quarterbacks properly.
Since 2017, Patrick Mahomes, Deshaun Watson, Sam Darnold, Josh Allen, Lamar Jackson, Kyler Murray, Daniel Jones, and Justin Herbert make up eight of the top-15 quarterback rushers. Including these eight quarterbacks, 12 of the top-15 quarterback rushers were also first round picks.
Lance did not run the 40-Yard Dash at his pro day. We only have his High School Workouts available to us thanks to Cody Carpentier, but his 4.92 (17th-percentile) 40-Time doesn't match up with his 1,100 yard rushing performance in 2019. A GPS tracker measured one 44-yard touchdown at 21.54 MPH, which would have led all NFL quarterbacks. I mention this because his analytical profile doesn't include elite dual-threat quarterbacks that readers may have expected such as Jackson, Hurts, or Russell Wilson.

Kyle Shanahan's passing offenses are efficient. Since 2015, they have finished in the top half of the league in passing yards every season. This is despite finishing No. 20 or worst in pass attempts in three of the six seasons. Shanahan's second season as the offensive coordinator of the Atlanta Falcons in 2016 led him to his first head coaching gig. Despite ranking No. 26 in pass attempts, Matt Ryan and the Falcons finished with the second-most passing yards in the NFL. Thanks to a 7.1-percent Touchdown Rate and 9.3 yards per attempt, Ryan finished with a 22.0 (No. 2) Fantasy Points Per Game average.
Stafford's season in 2019 was cut short by an upper thoracic vertebral fracture, but he was on pace for 5,000 yards and 38 touchdowns. He finished 2019 with 20.8 (No. 4) Fantasy Points Per Game. His 6.5-percent (No. 4) Touchdown Rate and 8.6 (No. 2) Adjusted Yards Per Attempt remain his career-highs.
I'm aware that these are lofty ceiling expectations for a rookie quarterback coming out of the FCS. Heck, the San Francisco 49ers have finished in the bottom half of the NFL in pass attempts in each of the last three seasons. Ryan's performance in 2016 is proof that a low passing volume Shanahan offense CAN produce these big numbers. Ryan's stat line in 2016 was 4,944 yards and 38 touchdowns. Even if Lance can't match Stafford's or Ryan's passing yardage, he can make up fantasy production for it with his rushing abilities.
Lance's floor is Blake Bortles' seasons in 2016 and 2017.
Hear me out. Bortles had five straight seasons with 300-plus rushing years in 2014-18. This rushing floor kept him fantasy-significant between the 2015-17 seasons. Bortles threw 47 interceptions in 48 games, the most in the NFL. His fantasy finishes in total fantasy points were: QB4 (2015), QB9 (2016), and QB13 (2017). Playing all 16 games in each of those seasons helped, so how about Fantasy Points Per Game? QB5 (2015), QB15 (2016), QB17 (2017).
Bortles was a small-school (UCF) prospect similar to Trey Lance (North Dakota State). Bortles, in 2016 and 2017, did throw for a combined 44 touchdowns, but his touchdown rate was QB20 in both seasons (per ProFootballReference). The last quarterback to come out of North Dakota St finished dead last in the NFL in 2020 with a -55.90 (No. 82) Expected Points Added mark. He had 42 (No. 4) Danger Plays, 30 (No. 2) Interceptable Passes, a 69.7-percent (No. 32) True Completion Percentage, and 70.6 (No. 32) True Passer Rating.
I'm of course talking about Carson Wentz. Despite analytically being the worst starting quarterback in the league last season, Wentz averaged 16.9 (No. 20) Fantasy Points Per Game, thanks to his 22.9 (No. 13) rushing yards per game and 5 (No. 6) rushing touchdowns. Thanks to his mobility, Lance can be the worst quarterback in the NFL and still started in SuperFlex leagues as shown by the other former North Dakota State Bison.
Lance's ceiling is THE top fantasy quarterback and his floor is a mid-QB2 capable of countering interceptions with rushing ability. In this rookie class, his combination of ceiling and floor is unmatched. 
Justin Fields
Early in the 2021 draft process, Justin Fields was penciled in as the No. 2 overall pick behind his former Georgia high school football rival, Trevor Lawrence. When the 2021 Draft started though, he tumbled down the draft past QB-needy teams such as the Atlanta Falcons, Carolina Panthers, and Denver Broncos. Fields' Best Comparable Player comps are interesting because despite running a 4.51 (99th-percentile) 40-Yard Dash, Robert Griffin is the only mobile quarterback in his comps.
Griffin's 2012 rookie season is Fields' fantasy football ceiling.
Back in 2012, Griffin totaled 319 (No. 5) fantasy points scored and averaged 21.32 (No. 3) Fantasy Points Per Game. Behind his 4.41 (100th-percentile) 40-Yard Dash, he had 815 rushing yards and seven touchdowns on the ground. Since he exceeded 800 yards rushing, only Russell Wilson (2014), Lamar Jackson (2019, 2020), and Kyler Murray (2020) have reached that milestone. Can Fields join this exclusive club?
He has the requisite speed, but his college rushing production didn't match his athletic measurements. Take his most productive rushing season in 2019. That season, he rushed for 484 yards and 10 touchdowns, but only averaged 3.5 YPC. For comparison, fellow rookie Kellen Mond rushed for 501 yards, eight touchdowns, and averaged 4.0 YPC. Fields' rushing efficiency improved in 2020 when he ran for 383 yards and five touchdowns while averaging 4.7 YPC. When compared to the three most recent 800-yard NFL rushing seasons from quarterbacks though, both Jackson and Murray exceeded 1,000 yards rushing in at least one college season.
Where is Fields' floor considering his ominous fall to 1.11 in the 2021 NFL Draft? 
Starting with the 2012 class where Griffin entered the NFL, there have been nine first-round quarterbacks drafted outside the top-10 leading into the 2021 Draft. Lamar Jackson (Pick 1.32) and Deshaun Watson (Pick 1.12) are the only successes, while the other seven make up a lackluster group. Brandon Weeden, E.J. Manuel, Johnny Manziel, Teddy Bridgewater, Paxton Lynch, Dwayne Haskins, and Jordan Love. Yuck.
Haskins is not only on that list, but he's also a top-5 Best Comparable Player comp for Fields. There is a concerning comparison to make between the two former Buckeye quarterbacks. On the surface, both put up impressive numbers in their final seasons. Haskins threw for 4,800 yards and 50 touchdowns, completing 70-percent of his passes, while Fields completed 70-percent of his passes and threw for 22 touchdowns in eight games.
Diving deeper into the numbers, Haskins averaged 10.3 Adjusted Yards Per Attempt in 2018. Kyler Murray and Tua Tagovailoa averaged a full 2.0 AY/A more in 2018, proving why they were drafted top-5 in their class, while Haskins fell to the No. 15 pick. In 2020, Fields averaged 10.1 AY/A. 2021 rookie quarterbacks Mac Jones (12.8), Zach Wilson (12.6), and Trevor Lawrence (10.2) all averaged a higher AY/A, while Trey Lance only played one game. Fields' 2.7-percent Interception Rate in 2020 doubled Lawrence's (1.4-percent), Jones' (1.0-percent), and Wilson's (0.9-percent).
NFL teams might know something that fantasy analysts don't, hence the slide down the draft board. Fields' turnover tendencies and lower AY/A than his 2021 peers can lead to a floor that mirrors fellow top-5 Best Comparable Player comp Jameis Winston's mid-to-low end QB2 seasons from 2016-18, these thanks to 10-plus interception campaigns and finishing top-10 in ProFootballReference's Percentage of Times Intercepted stat.
Fields' ceiling is a league-winning dual-threat quarterback in fantasy leagues and his floor is he's an inconsistent QB2 in fantasy leagues held back by his passing limitations and decision-making; a pseudo-Scott Fish Bowl cheat code quarterback.