The 2021 Rookie Range of Outcomes series continues with a look at two quarterbacks dynasty players need to pick between if they didn't secure a pick that netted them one of the top three rookies.
Using PlayerProfiler's Best Comparable Players feature, this article will look at Zach Wilson's and Mac Jones' player comps to see how well players with similar player profiles have fared at the NFL level.
What is each player's ceiling and floor in fantasy football leagues?
Zach Wilson
Hands down, Zach Wilson has the most electric and dynamic list of Best Comparable Players at the quarterback position. He also has the widest range of outcomes in this rookie quarterback class. Ultimately, Wilson reaching his ceiling comes down to if his rushing ability translates to the NFL level.
Wilson would have been a black box prospect because he did not participate in his Pro Day. Fortunately for the Underworld, we now have High School Workout Metrics thanks to Cody Carpentier. These metrics help project Wilson's athleticism, making him more of a gray box prospect rather than a completely unknown athlete. What stands out is his 36.0 (100th-percentile among qualified quarterbacks) Vertical Jump and 4.26 (89th-percentile) 20-Yard Shuttle.
With 15 rushing touchdowns in 30 career games, including 10 in 2020 alone, Wilson's high school athleticism translated to the collegiate level. However, his 4.84 (53rd-percentile) 40-Yard Dash is not in the same stratosphere as Jalen Hurts' 4.59 (95th-percentile) or Robert Griffin's 4.41 (100th-percentile) marks.
Griffin, before his devastating knee injury, averaged 21.2 Fantasy Points Per Game back in 2012. In four starts, Hurts averaged 23.75 Fantasy Points Per Game. In their starts during their rookie seasons, Griffin averaged 54.3 rushing yards per game, while Hurts averaged 68.0. Griffin averaged 8.0 carries per game and Hurts averaged a stunning 11.5.
Wilson does not have the rushing upside as these two Best Comparable Player comps.
Wilson had 13 games in his 30-game collegiate career with eight or more carries. Griffin, in his final collegiate season, almost matched that total in 12 games, and Hurts exceeded the total with 14 in his final season (out of 14 games too). Wilson will be a tactical scrambler at best in the NFL, not a dual-threat QB.
The current New York Jets running back core had a combined eight end zone carries in 2020. Of the projected top-four running backs on the roster, only La'Mical Perine is over 210-pounds. Wilson fans/fantasy managers will hope that he dominates end zone carries in 2021 a la Josh Allen. Can the 6-2, 214-pound quarterback realistically do that?
Baker Mayfield's 2019 season is Wilson's floor. Mayfield flashed potential with his arm talent, passing for 2,096 (No. 12) Air Yards with 4,667 (No. 9) yards of Pass Attempt Distance. However, he also threw erratic passes, displayed by his 35 (No. 9) Danger Plays and 78.2 (No. 28) True Passer Rating. His 21 interceptions and 7.0-percent times sacked (per ProFootballReference) led to a make-or-break third season in 2020, where people questioned if he would be the franchise quarterback. Remember the last time the Jets drafted a quarterback that "broke" in his pivotal third season?
Jumping from playing Texas State (The Cap-tain's alma mater) and Troy to playing the Bills, Dolphins, and Patriots twice a season will be no easy feat for Wilson. Seeing ghosts in the NFL and finishing outside the top-24 quarterbacks in Fantasy Points Per Game, similar to Mayfield in 2019, is within his range of outcomes.
Wilson's ceiling is low-end QB1, and his floor is that the New York Jets' triennial search for a franchise quarterback continues.
Mac Jones
In 30 college games, Mac Jones finished with 42 rushing yards on 54 attempts, curbing his fantasy football upside. When compared to the only two first-round quarterbacks in his Best Comparable Players list, Jones isn't close to their level on the ground. Joe Burrow topped 300 yards in 2018-2019, and totaled 12 rushing touchdowns. Meanwhile, Baker Mayfield scored at least five rushing touchdowns in each of his three seasons at Oklahoma and surpassed the 300-rushing yard mark twice.

The excitement for Jones in dynasty rookie drafts started with comparisons of his 2020 collegiate season to Burrow's 2019 season. In fact, Jones narrowly beat out Burrow with a 96.1 (100th-percentile) College QBR and 11.2 (97th-percentile) College YPA compared to Burrow's 94.9 (99th-percentile) QBR and 10.8 (97th-percentile) YPA.
Burrow represents Jones' fantasy football ceiling. Before tearing his ACL in Week 11, he averaged 17.8 (No. 16) Fantasy Points Per Game. As discussed earlier, Burrow was the superior rusher compared to Jones, averaging 3.7 (No. 16) carries per game and 13.6 (No. 28) rushing yards per game. Jones and his 4.88 (46th-percentile) 40-Yard Dash and 114.0 (67th-percentile) Burst Score won't translate any better at the NFL level.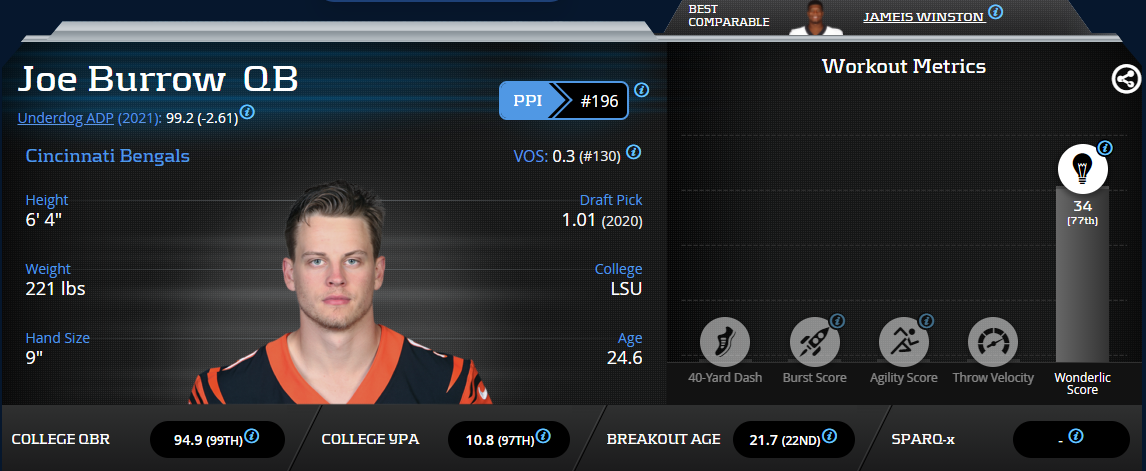 That mid-QB2 season of Burrow's was buoyed by Cincinnati's 39.3 (No. 11) Team Pass Plays Per Game average that hid the ugly ratio of 11 (No. 26) Money Throws to 25 (No. 22) Danger Plays.
Unfortunately for Jones, he did not go to a team expected to pass the ball 40 times per game.
Instead, he landed on the New England Patriots, where they finished with a 29.8 (No. 31) Team Pass Plays Per Game average.
What can a non-rushing quarterback with top-percentile College QBR and College YPA do if he lands on a run-heavy team? Ask Baker Mayfield. Remember, Mayfield was the best collegiate rusher between himself, Jones, and Burrow. In each of the past two seasons, he has averaged under 11 rushing yards per game. On top of that, his lack of passing volume landed him outside the top-24 in Fantasy Points Per Game in both 2019 and 2020.
2020, in particular, is concerning. Mayfield finished with 8.3 (No. 9) Air Yards Per Attempt, 39 (No. 2) Money Throws, an 80.9-percent (No. 8) True Completion Percentage, and 46.6-percent (No. 6) Deep Ball Completion Percentage. His excellent passing productivity and efficiency were all for naught because the Cleveland Browns averaged 32.9 (No. 29) Team Pass Plays Per Game.
Let that sink in for a minute. These three quarterbacks produce NOTHING on the ground. Mayfield was top-10 in several efficiency metrics and he was not even a QB2 in Fantasy Points Per Game. Burrow's team ran about 40 Team Pass Plays Per Game and he was only a mid-tier QB2. Quarterbacks without rushing upside will fail to finish as top-10 fantasy quarterbacks unless they throw for 40 touchdowns and, say, win a Super Bowl.
Jones' ceiling is mid-QB2 in fantasy leagues, and his floor is he's given a Chicago overcoat and sinks to the bottom of waiver wires in non-Superflex leagues.