Welcome in to the Week 8 edition of the Hitchhiker's Guide to RB! This is the place where we talk all things running back streaming. Each week we discuss running back usage, matchups, and waiver opportunities to convert the least amount of capital into a playable running back position on your fantasy teams.
If you did not read the introductory edition of the column, I strongly recommend checking it out here:
Introduction
The weekly project of this column is to stream the highest scoring running back we can using only a select group of bench running backs and the waiver wire. Additionally, I hope this article allows you to think critically about the inputs involved in fantasy production at the position that will inform how you play fantasy football.
In each article, I will briefly recap the week that was at the running back position. Then I will discuss the status of our existing running back bench and whether to make any transactions on our official roster. Lastly, I will discuss potential waiver options and designate my plays of the week.
Often, I will mix in other tangents week-to-week addressing roster management, draft strategy, backfield shifts, potential beneficiaries from a major injury, or an examination of team or player usage trends.
Note: Any data not from Playerprofiler, or otherwise sourced, is via Pro Football Focus.
Week 7 Recap – League-Wide
Below are the top 24 running backs from Week 7 excluding Monday Night's game, along with the overall top 24 running backs in points per game. (Minimum three games played)
The color coding is as follows:
Teal = drafted in the top 24 at their position by 4for4's ADP aggregator.
Yellow = drafted outside the first eight rounds.
Green = drafted outside the first eight rounds, and selected plays from our "roster" (see last week's article)
Pink = players on our roster, not played last week
Purple = players not on our roster that were recommended plays off waivers last week
Orange = Un-drafted
White = does not fall into any of the aforementioned categories: mid-round post-"dead zone" running backs
Note: Rhamondre Stevenson's ADP rose to 8.10 (94) just days AFTER the pre-season version of this piece was finalized. At the time it was written, he was drafted outside the first eight rounds and thus streamer-eligible per our criteria.
In an upcoming column, I hope to go over the season-long results and address some of my biggest misses and hits thus far in 2022. Additionally, I'm going to assess the process that led to each and forecast how those situations will shake out over the remainder of the year.
However, this week saw enough movement in backfields. Therefore, I want to keep this edition more condensed.
Christian McCaffrey was traded, and J.K. Dobbins was placed on Injured Reserve. This led to three wildly different backfields, each of which manifested AFTER my last column was published.
CMC in San Francisco
McCaffrey played a part-time role in his first game with his new team, as expected. All 22 of his snaps came on early downs, and he was phased out as the game became out of reach. However, in the period of time he played, his usage was fantastic and he played well. Of his 22 snaps, 20 resulted in a carry or route. He was efficient with his touches, posting 6.2 yards per touch, and two yards per route run.
It is possible they continue to use Kyle Juszczyk on third down and long situations which would be harmful to McCaffrey's ceiling, but I suspect this is unlikely.
The 49ers gave up a bundle for McCaffrey, and it would be shocking to not see him used heavily.
One aspect of this fit I wanted to touch on was pass-game usage. The 49ers have not used running backs heavily in the passing game since Kyle Shanahan's arrival. However, this has likely been tied to the type of back they have featured.
CMC's Pass Game Upside
The below chart from Campus2Canton shows the college receiving profile of each of Shanahan's lead backs since joining the 49ers. It is not a group chalk full of receiving specialists. Instead, Shanahan has used situational backs in the receiving role such as Juszczyk, Jerick Mckinnon, and Jamycal Hasty.
However, Devonta Freeman saw his two highest receiving yardage totals playing for Kyle Shanahan in Atlanta and played consistently in passing situations as the lead back.
The jist of my thoughts is this:
Kyle Shanahan runs one of the most pre-ordained offenses in the league. He plays a very active role in scheming the desired target open on a given play. It only makes sense that how often the first read in a passing play is the running back is tied to the value-add of the given running back. McCaffrey is a special player. His ability to command and beat favourable matchups in the receiving game based on his versatile skillset is second to none. Kyle Shanahan is a perfect play-caller to take full advantage of this, and potentially do so in an offense which affords him a much higher touchdown ceiling than he had in Carolina.
I posted more here:
Some fantasy thoughts re: CMC trade after a morning to reflect: 🧵

Impact on CMC

Impact on other 49ers

Value of other CAR backs

— Jakob Sanderson (@FF_RTDB) October 21, 2022
The New-Look Panthers
It was difficult to assess this situation coming into the game and continues to be given
Chuba Hubbard
's in-game injury.
In 2021, Foreman ranked middle of the pack with 0.02
Rush Yards Over Expectation per Attempt
(RYOEPA), while Hubbard was second to last with -0.73. Foreman trailed only
Travis Etienne
in RYOEPA this week, with 4.37, despite seeing the third highest percentage of stacked boxes.
The RB on their roster with the best pass game profile is UDFA Raheem Blackshear:

If he gets active on game days, he may wind up taking LDD/2min drill type snaps. Or it could be literally anyone signed off the street in that role.

But the extent of the role is about to change pic.twitter.com/0DFaGnZ3UO

— Jakob Sanderson (@FF_RTDB) October 21, 2022
The Gus Bus Returns
Gus Edwards
returned to the Ravens lineup just as
J.K. Dobbins
exited. He immediately made his presence felt with an RB1 performance.
I would exercise caution in all directions here. On one hand, Edwards' production was much better than his role. Edwards played just 36-percent of snaps and ceded a significant portion of work in all situations, including short yardage and goal line, to both
Justice Hill
and
Kenyan Drake
. He received a carry on 70-percent of his snaps.
This type of role can be fantasy viable in the right circumstance, but it is not consistently so. Last year,
D'Onta Foreman
existed in a similar role, and we have seen
Sony Michel
and
Damien Harris
succeed in similar role as RB2s. However, the upside with
Gus Edwards
is that his role will grow as he plays more snaps coming back from injury. If he is able to crowd out Drake and Hill on early downs, and cede primarily passing snaps, he can be a more similar profile to Ken Walker or early-season
Rashaad Penny
.
Week 7 Recap – Our Roster
This is the portion of the column where I walk through the six backs we have 'rostered,' with an eye toward their rest-of-season outlook.
Streaming Rules
For those joining us in progress, here is the process for the weekly streaming choices.
In the introductory column, I chose one RB in each of rounds 9-14 based on those available at each round using 4for4's ADP aggregator. That is my starting "roster."
Each week I will address whether to add any running backs available on waivers, and if so, who to drop.
Because your team is not mine, my weekly plays will not only consist of my "rostered" running backs. Instead, I will recommend a play from each of three categories. (see below)
My streaming "score" each week will be the average of my play in each category. My "preferred" play will count double and MUST come from a running back on my "roster." If I choose to make a waiver back my preferred play, I will outline who I am cutting from my existing bench for that running back.
The Categories
Bench Streamers: The selected running backs in the introductory article plus and minus any transactions published throughout the year in this column. If a drafted player gets injured, I retain one injured reserve spot.
Premium Waiver Streamers: This group is comprised of any running back with less than 67-percent roster-ship on Yahoo leagues as of the first waiver run of the week. It can include both generally un-drafted players as well as previously drafted players who have been widely cut by managers.
Deep Waiver Streamers: This group is comprised of any running back with less than 33-percent roster-ship on Yahoo leagues. The same rules apply as above.
Current Roster
Our current roster is the six running backs on our existing roster. Those running backs are:
Because of byes and Monday Night Football, there is less to break down than usual.
Nyheim Hines
Hines played his typical, albeit a slightly larger version with Jonathan Taylor returning from an ankle injury. There is no major change to his status, although the switch to Sam Ehlinger may negatively impact his target rate.
Rachaad White
White saw 41-percent of routes this week which tied his season high. However, his share of running back routes (46-percent) was his highest of the season. This is the most positive input yet in his four week trend that has seen his route share average at 34-percent.
Notably, the game which spent the most time in neutral script over the last four weeks was Week 6. In Week 6, he had just a 20-percent route rate. While Tampa Bay's offense struggled in this contest, and did not target their backs at their typically high clip, this backfield – in which Fournette has averaged 17.4 expected fantasy points per game – remains one worth targeting.
White remains a low-end flex for now and an elite contingent option.
Isiah Pacheco
We correctly got ahead of the curve on Pacheco last week in this column. The rookie started in Week 7 and saw an increased role. However, it is not yet a startable one. Pacheco saw the plurality of early down snaps at 41-percent and led the team in carries. But, he did not truly flip Edwards-Helaire and Jerick McKinnon maintained his role.
McKinnon led the backfield in snaps at 44-percent and routes at 43-percent. He also played 24-percent of early down snaps, continuing to play beyond just a third down role. (Though a portion of these were in the two minute drill)
For Pacheco – or Edwards-Hellaire – to be a viable every week start, either McKinnon's role needs to evaporate, or one of these early down options needs to fully usurp the other. The Chiefs score enough points that any consistent member of the offense can luckbox a splash performance. (See: Mecole Hardman in Week 7)
However, Pacheco – and all Chiefs backs – remain flex plays only in the current configuration. McKinnon – who consistently leads in snaps, routes, and short yardage snaps – would theoretically carry the most consistent value, but he does not draw a high enough percentage of targets. Each of these backs' current role exists primarily to frustrate any other options from providing value. Each is a good stash, but we likely need an injury to one of the three to open up value for at least one of the others.
The Rest
POST-DRAFT NOTE:
As you know this column is filed prior to Monday Night Football, but I wanted to quickly come back and address the role changes for Rhamondre Stevenson and Khalil Herbert.
Stevenson played a remarkable 77-percent snaps with Damien Harris back in the lineup. He rotated drives with Harris on early downs, but played every third down, and monopolized two-minute and trail script work. This role gives Stevenson a floor in the high 50s in snap rate and a ceiling in the high 70s as manifested this week. With Patriots trailing, Stevenson converted a season-high eight targets into eight receptions for 60 yards. This pass-game role in trail script solidifies him as a game script proof RB1.
Khalil Herbert also flashed with 41-percent snaps, which he turned into 87 total yards and one touchdown. Previously Herbert played only the third full drive of each half with additional breather snaps as necessary. While Montgomery played the full first two drives as usual, Herbert played on two of three dives in the rest of the half, started the second half, and rotated evenly throughout. He saw 12 carries and 10 routes vs. Montgomery's 15 and 12 respectively.
This now looks like a full blown committee. While Montgomery is the preferred weekly play for now, Herbert has made real gains based on his elite play this season. He's now a viable flex-play every week, and his dynasty outlook is improving significiantly.
The Result – Week 7 Plays
Rhamondre Stevenson once again came through on Monday Night. Along with the scores of Isiah Pacheco and Brian Robinson Jr, our stream score averaged out to a strong 15.5. It is worth noting once again that past recommended pickups in this column – Raheem Mostert, Eno Benjamin and Ken Walker – all provided RB1 weeks if you were able to pick them up and continue streaming them.
The Commanders Evolving Usage
Robinson's role was similar to last week's, though slightly diminished. He led the backfield with three of five short yardage snaps but captured just one of three goal line opportunities, losing the other two to Antonio Gibson. Robinson led the bakcfield in snaps and carries which should be expected in games Washington plays from ahead.
However, the lack of monopoly on goal-line touches is damaging for a back who has almost zero pass game role. Notably, Antonio Gibson cut into McKissic's third down role (40-percent) in this game and led the team in routes. J.D. McKissic has fallen out of streaming consideration for now, though his role may be larger in games Washington trails.
Our "Almost Play" and The Broncos Backfield
For those who did not see the below tweet switching our "deep play," congratulations: you got 10.3 points from Latavius Murray. While Murray found the end zone, he played just 39-percent of snaps. Instead it was Melvin Gordon who re-emerged to lead the backfield once more. It appeared Gordon – who ran 27 routes to Murray's 15 – was the recipient of the benefit from pass-down back Mike Boone suffering an injury.
Marlon Mack – notably not a pass-down back – now joins the backfield. Whether he figures in or not is unclear, but it is likely he will cut more into the rushing pie than the pass downs. If these stick with Gordon, he is the only Bronco back worth considering for now, albeit not a particularly appealing nor stable option. This backfield is likely to remain fluid a la the Ravens' backfield of veteran replacements last year.
The Waiver Wire
The significant waiver opportunity this week is primarily scooping up the remaining members of last week's late-opening opportunities. As well, Michael Carter – once nearly universally rostered – is now available in 34-percent of Yahoo leagues. If he has been dropped, feel free to empty the clip. (Editor's note: This article was written before the news of the James Robinson trade to the Jets).
Lastly, in deep leagues add D'Ernest Johnson. Kareem Hunt has been the subject of trade rumours. Any move with Hunt makes Johnson a viable flex play and a top-five handcuff in football.
The Waiver Wire Priority List
Among everyone rostered in 67-percent of leagues or fewer, here is your Week 5 waiver priority list.
NOTE:
*CON* = Contingent Value-focused use case
*SA* = Standalone Value-focused use case
*STASH* = Role projected to grow organically throughout the season
Feel Free to adjust this priority depending on your need for immediate starting value.
Week 8 Transaction
While we considered dumping Isiah Pacheco for James Cook last week, I have decided to keep Pacheco in case his role grows further. The rookie is gaining traction heading into a bye week, and may see an increased standalone role on the other side of it.
Instead, I will be dropping Nyehim Hines for Cook. I want access to a possible rookie elevation out of their bye week as discussed last week. The combination of Ehlinger's promotion to starting quarterback and Deon Jackson's emergence as a possible handcuff to Taylor diminishes both the contingent and standalone appeal of Hines.
I have been including Gus Edwards as a stash on this list for weeks. However, due to the late week news of JK Dobbins' injury, Edwards surpassed the ownership threshold for us to add him (now 44-percent rostered) between columns. Make sure to add if you can.
Week 8 Picks
Preferred Play: Rhamondre Stevenson
It is always Rhamondre StevenSZN.
Premium Play: Gus Edwards / D'Onta Foreman.
There are mutliples reasonable options here. But in the end it comes down to Edwards or D'Onta Foreman. I've chosen to go with Edwards in the event Hubbard is active this week, with Foreman being my choice in the event he is not. Assuming a healthy Chuba Hubbard, both Edwards, Foreman and Hubbard project for reasonably similar enough roles. While Edwards' pass game involvement is the most limited of the group, I prefer the touchdown equity in Baltimore's backfield than in Carolina's.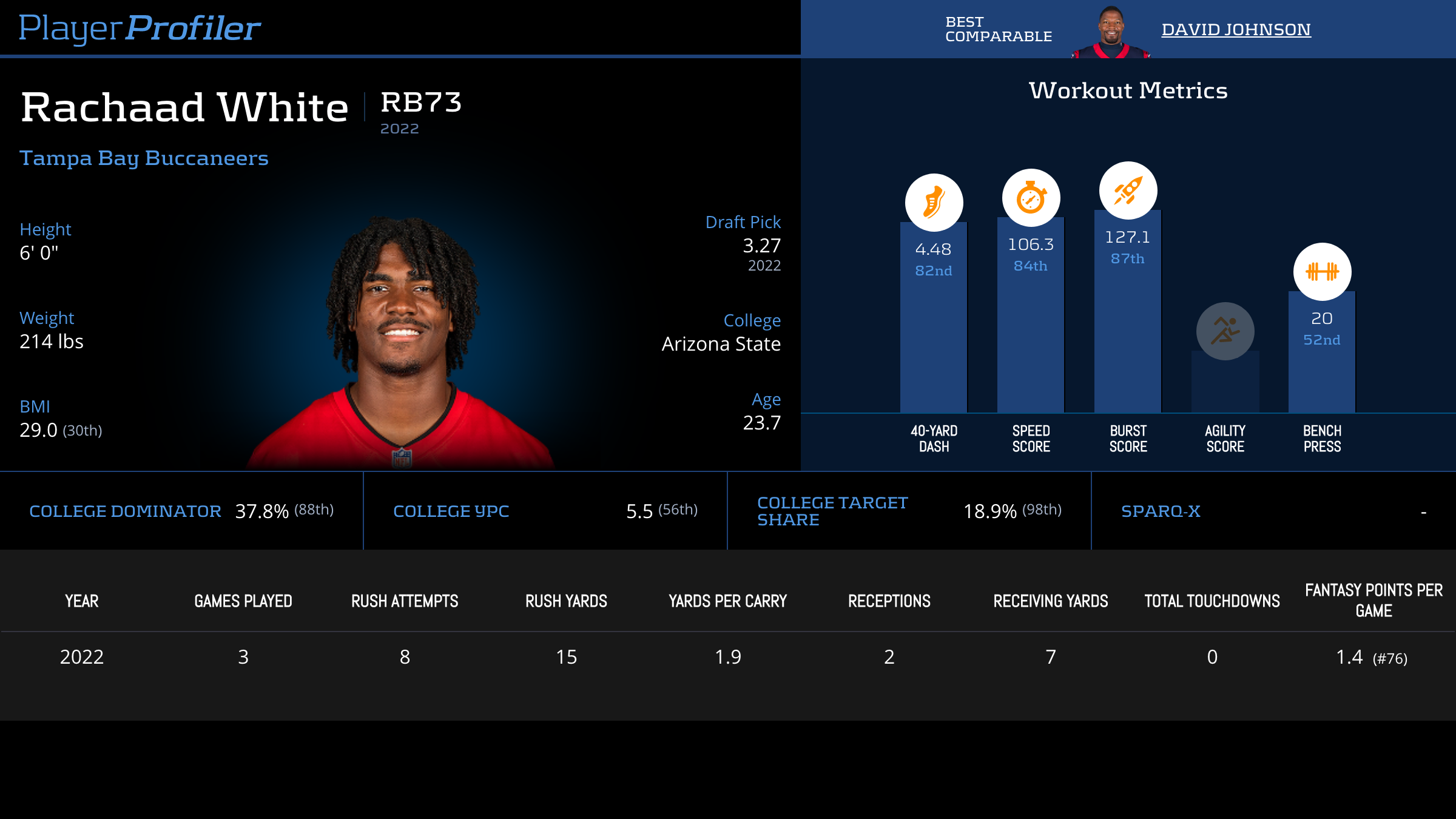 The Final Word
Thank you once again for reading this column, and I look forward to its continued development over the course of the season. Also, credit to Pro Football Focus for providing data I was able to use in this column in addition to the incredible wealth of information on PlayerProfiler.
Happy Hitchhiking!