Welcome to the Waiver Wire Week 13! Thanksgiving has come and gone, and the focus for all fantasy managers moves to one singular goal: The fantasy playoffs. Now is the time to dig in and get your roster in the best possible shape it can be for a three-week sprint. 
The term "League winners" can be tossed around loosely. We hear it in the offseason to hype-up draft picks, and we listen to it in the season to describe players like Josh Jacobs who crushed their ADP and helped put up first-round production despite their mid-round price. 
But under-the-radar names can make massive impacts when it comes to winning championships. Last year, Rashaad Penny, Amon-Ra St. Brown, and Devin Singletary went nuclear in the playoffs. All three, at one time or another, were either late-round draft picks in deeper leagues or waiver wire pickups mid-season. It would have been laughed off if these players were described as "league winners" this time of the year last season. But usage changes, attrition happens, and when opportunity knocks, wild and magical results can sometimes occur. Players like this are why we grind the waiver wire. 
Could Christian Watson or Treylon Burks be this season's St. Brown? Could Isiah Pacheco be this season's Devin Singletary? Probably not, but this is why we continually grind the waiver wire. Put yourself in the best position to add this year's "league winner." 
There have been better waiver-wire weeks this year, but some intriguing additions exist. As always, comb your league's available players because you never know who was cut. This week, there are two teams on byes: Arizona and Carolina.  Next week, however, is brutal as we have six teams out on a bye. Byemaggedon, part two will not be fun at all. You must plan a week and avoid being in a scramble situation. 
Week 14 Bye Week Teams
Atlanta
Chicago
Green Bay 
Indianapolis 
New Orleans
Washington 
(ALL PLAYERS LISTED ARE AVAILABLE IN 25 PERCENT OR LESS OF YAHOO LEAGUES)
Quarterbacks
Mike White | New York Jets
White stepped in for the enigmatic and ineffective Zach Wilson and was named the starter this week, and boy, did he deliver. He passed for 315 yards and three TDs in the rain as New York dominated The Bears.
White also displayed chemistry with Garrett Wilson and Elijah Moore. The Jets' offense is pointing up, and White is firmly on the streaming radar. He is a must-add in Superflex formats and a consideration in single QB leagues. 
Jordan Love | Green Bay 
Aaron Rodgers exited the loss to Philadelphia with a rib injury. Love entered the game and played well. He completed six of nine passes for 113 yards and a TD. The extent of Rodgers' injury is unknown, but Love would be an upside streamer this week against an atrocious Bears defense if he gets the start. 
Kenny Pickett | Pittsburgh
Pickett is coming off a 265-yard performance against Cincinnati heading into Monday Night's game against Indianapolis. The Steelers' schedule has some fantasy-friendly matchups in the next few weeks. Pickett will have every opportunity to build some momentum heading into next season. 
Ryan Tannehill |  Tennessee
Tannehill passed for 333 and 291 yards in his past two games. These numbers are good for his two highest yardage totals of the season. He is squarely on the back-end QB2 radar. 
Running Backs 
(Note: Darrell Henderson is above our roster threshold, but would be a strong speculative addition due to a potential Travis Etienne injury)
Zonovan Knight | New York Jets
James Robinson was Inactive, and Knight burst onto the scene with 103 combined yards. "Bam" Knight out-touched and outproduced Michael Carter (injured during the game) and Ty Johnson combined.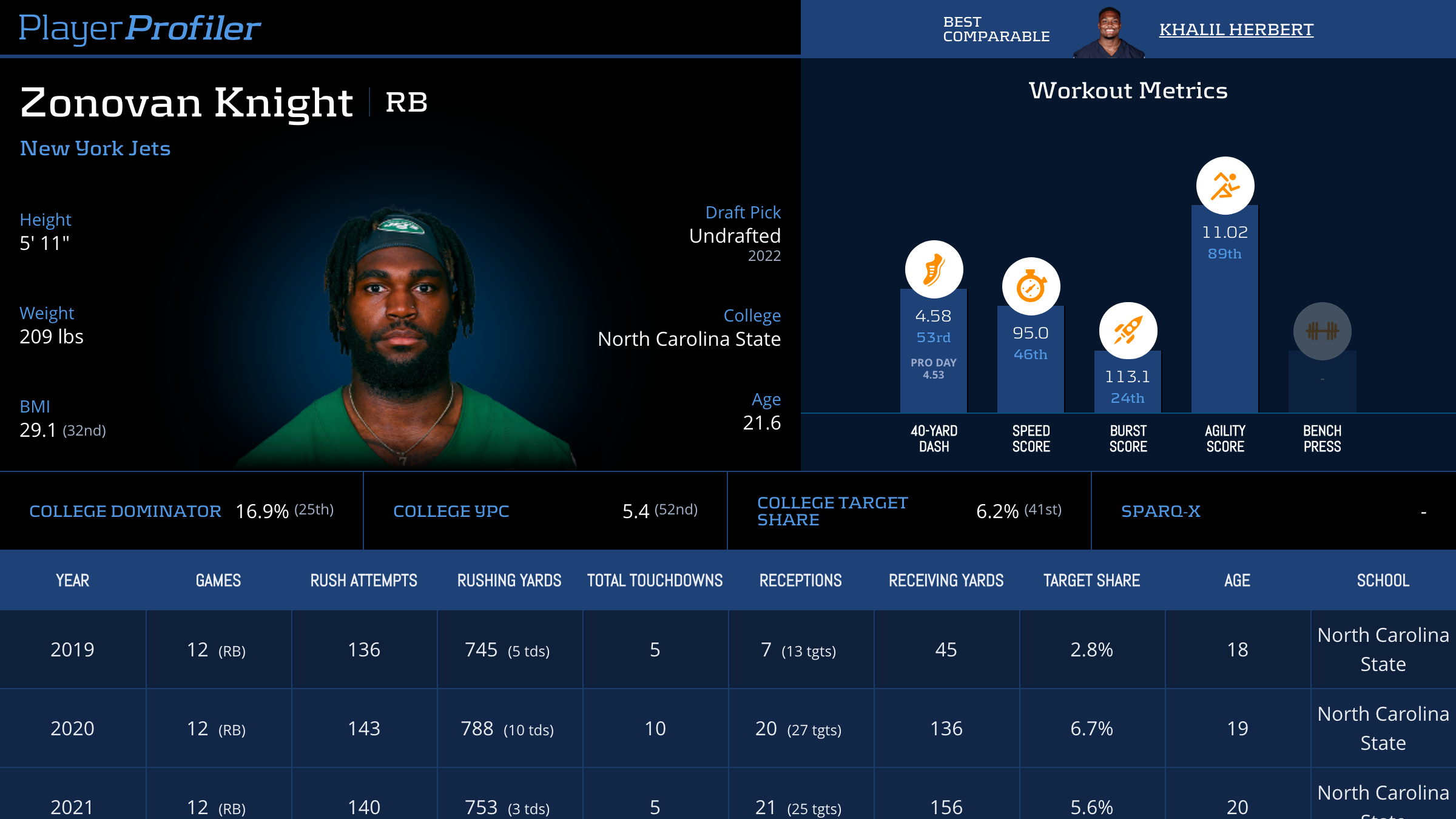 Robinson and Carter's injury status is up in the air for this week. The Jets could continue with a committee backfield, but Knight displayed the burst and ability the Jets have often lacked since Breece Hall went down with an injury. I will prioritize Knight and hope my league mates view him as a one-week wonder. 
JaMycal Hasty | Jacksonville
Travis Etienne exited Jacksonville's win over Baltimore with a foot injury. His status for Week 13 is unknown, although it sounds like he avoided anything serious. Hasty was a player I have written about in previous weeks as an upside handcuff due to his receiving ability, and he put that skill entirely on display with five catches for 67 yards and a TD. He added 28 yards rushing. Hasty should be rostered everywhere, and if Etienne were to miss this week, Hasty would be the Jacksonville back to play. His ceiling will be capped due to the presence of Henderson, but he would make up for the lost rushing touches with added targets in the passing game. 
James Cook | Buffalo 
Cook is one of the better handcuffs (still available) to roster due to the strength of the Buffalo offense. He was hardly used on Thanksgiving Day against Detroit but displayed his ability in Buffalo's win over Cleveland with a season-high 86 yards rushing in week 11. 
Dontrell Hilliard | Tennessee,
Kenneth Gainwell | Philadelphia,
Matt Breida | New York Giants,
Jaylen Warren | Pittsburgh,
This is a weekly reminder that we should be filling our benches with handcuff RBs with pass-catching ability. Warren is out this week against Indianapolis but should return in Week 13. Samaje Perine was in the same boat as these three and showed how impactful he could be as an injury fill-in this past Sunday. 
Mike Boone | Denver
Deep league managers should take a look at Boone. The moribund Denver offense is searching for any spark they can get, and Boone will return from the IR. It's tough to trust anyone on this Denver offense right now, but Boone has receiving ability and would see a lot of touches if Latavius Murray were to miss any time. 
Tyrion Davis-Price and Jordan Mason |  San Francisco
Elijah Mitchell was injured, and it sounds like he will miss significant time. The handcuff RB position in San Francisco is now up for grabs. Mason was active this past weekend and rushed five times for 25 yards. Tyrion Davis-Price should now step back into the mix as well. Before his injury, he was ahead of Mason. Both players should be rostered in deeper formats, and I will bet on Davis-Price in shallower leagues. Only spend a little on either, but we want exposure to the 49ers' offense. 
Wide Receivers
Jameson Williams | Detroit
Williams could make his debut this week. Last week I wrote:  "we are talking about a dynamic, exciting first-round draft pick who could be a Jaylen Waddle-like player in this league. He is a perfect addition for teams that are in great playoff shape and could use a high-upside hammer as a bench stash to put their teams over the top."
Nothing changed- go and add him! If he does not play a down, then so be it. We want players who can post big, impactful fantasy numbers, and Williams fits the bill.  
Mack Hollins | Las Vegas 
I wrote about Hollins last week, but he remains widely available. He had another solid game on Sunday in Vegas' win over Seattle with four catches for 63 yards and a TD. Hollins has five games with six or more targets and has had three games over 52 yards receiving post-bye week. He is nothing special but is a solid bet for double-digit PPR points. Hollins can come in handy during Byemaggedon Part Two. 
Skyy Moore | Kansas City 
Moore continued to see increased usage with five catches on six targets for 36 yards this Sunday. He now has ten catches on 12 targets over his past two games, and it feels like the breakout is coming. He has the explosive play-making ability and was a second-round draft pick. A healthy Kadarius Toney could cut into his new role, but I remain bullish on Moore. He also has the ability to produce on designed runs. 
Van Jefferson | Los Angeles Rams
The Rams WR corps is a mash unit. Cooper Kupp is on the IR, and Allen Robinson is done for the season. Jefferson saw a season-high seven targets on Sunday and caught three for 29 yards and a TD. He has had at least five targets in three of his four games after returning from injury. 
Odell Beckham |  Free Agent
Beckham watch continues. The Cowboys and Giants seem like the two most logical landing spots.
Odell Beckham Jr. was escorted off a plane Sunday after appearing to be coming in and out of consciousness.

Beckham refused requests from the flight crew to exit the plane. After police arrived, it was deplaned, and he exited with no further incident.https://t.co/k5eDqPMWPR pic.twitter.com/ChSYcMMyC3

— Bleacher Report (@BleacherReport) November 27, 2022
This week, we had a bizarre off-field incident where Beckham was escorted off of a plane, but this does not seem like something that will have much of an impact on a team signing him. He would have more of a chance at a higher target share in New York. 
Corey Davis | New York Jets
Elijah Moore is just over our roster threshold, and I would prefer him as an add. However, Davis is also an intriguing addition to the suddenly rejuvenated Jets offense. Davis had a promising workload in his first game back from injury and has had three games with 74 yards or more during the first half of the season. 
Devante Parker |  New England 
Parker had four catches for 80 yards against Minnesota, his second-highest yardage total of the season. The New England WR corps is banged up, and Parker could have an every-down role in Week 13. 
Richie James | New York Giants
James saw an increased role in Wan'dale Robinson's absence. He caught five passes for 42 yards and a TD. His six targets tied for the team lead. Expect James to see a similar target share provided The Giants do not add Beckham. He is a safe play and readily available. 
Tight Ends
Jordan Akins | Houston
Akins led Houston with five catches for 61 yards. He now has three games with 61 yards or more in his last six games played. 
Hunter Henry | New England 
Henry had three catches for 63 yards and nearly had a second TD catch, but the officials overturned it. He is a difficult player to rely on, but he could see an outsized role due to the injuries at WR. 
Austin Hooper |  Tennessee
Hooper has had three straight games with four or more targets. He is a TD-dependent TE2.