As dynasty players move closer to the 2023 rookie draft in their leagues, it's important to remember the results of prior rookie drafts. This helps maintain reasonable expectations among rookie hype.  It also provides a valuable history lesson for those new to dynasty leagues. This is a Dynasty Rookie Redraft: 2018 edition.
First, we will recap what the dynasty consensus was back in the 2018 post-NFL draft for this draft class. Next, we will redraft the first round of a 12-team single quarterback dynasty league using Player Profiler's Lifetime Value Score as a guide. Finally, we will recap six notable players that did not make the first-round cut.
What Dynasty Gamers Thought Then
The 2018 rookie class was perceived as very talented. Generational prospect, Saquon Barkley headlined a strong and deep running back class. Quarterback proved equally as deep led by a nearly analytically flawless prospect in Baker Mayfield and the electric Lamar Jackson. Mike Gesecki, the most athletic tight end in the PlayerProfiler database, spearheaded a deep tight end class.  Debates of Calvin Ridley vs. D.J. Moore for the top dog at the receiver position proliferated on Twitter. This debate came with the understanding the receiver class was also deep.
Looking back at single QB rookie ADP data compliments of Fantasy Football Calculator, the first round looked like this: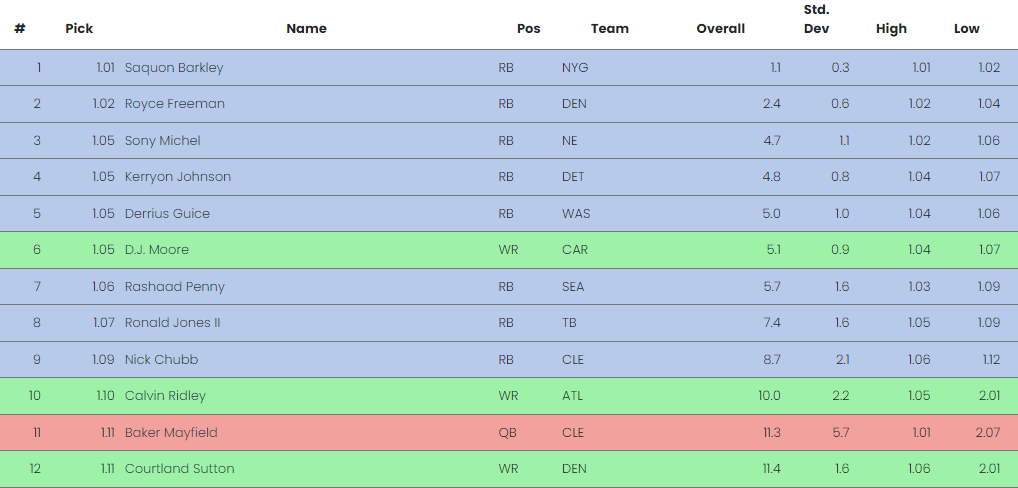 So with that said, now that five years have passed, let's see what it should be like now.
First Round
1.01 – RB Saquon Barkley
The 1.01 in 2018 remains the 1.01 today! The generational hype surrounding Saquon Barkley was justified. Setting aside injury-marred 2020 and 2021 campaigns, Barkley has failed to finish outside the top seven in fantasy points per game at the running back position. He paid off immediate dividends for those holding the 1.01 averaging 24 fantasy points per game in 2018 and bounced back this season to finish as the RB5 in fantasy points per game.
1.02 – QB Josh Allen
Josh Allen is the most interesting riser in this draft class. Allen was the last of the 2018 first-round quarterbacks taken in rookie drafts with an ADP in the third round of single quarterback rookie drafts. For most dynasty players, Allen was seen as a poor bet for future success based on his atrocious 63.2 College QBR (28th-percentile) and sub 60-percent completion percentage. However, despite these poor college production metrics, Allen developed into one of the premier quarterback assets in dynasty, and he's failed to finish below QB3 in fantasy points per game the past three seasons. The idea of drafting prospects like Kalen Ballage and Josh Rosen over Allen seems farcical in retrospect.
1.03 – WR D.J. Moore
D. J. Moore has maintained his dynasty value despite never finishing as a top-12 wide receiver in fantasy points per game. His best season was his sophomore breakout campaign in which he posted 87 receptions and 1,175 receiving yards en route to a WR14 finish in fantasy points per game.
Moore has seen at least 1,500 Air Yards in each season after his rookie year. An uber-talent receiver, in need of consistent, competent, quarterback play, he is a perpetual buy-low in dynasty.
1.04 – RB Nick Chubb
Nick Chubb is the answer to which running back in the 2018 draft class was the consolation prize to Saquon Barkley. Chubb was thought to have had one of the worsts landing spots among his 2018 running back classmates as he was perceived to be stuck in a three-way committee with Carlos Hyde and Duke Johnson, on the Browns. Chubb awarded those who valued his talent, over the situation, finished as the RB24 in fantasy points per game, and led the Browns in rushing his rookie season. He has since failed to finish outside RB10 in fantasy points per game for the past four consecutive seasons.
1.05 – TE Mark Andrews
Mark Andrews, a third-round pick in the 2018 NFL draft, had an ADP about two rounds lower than Hayden Hurst, the tight end the Ravens selected in the first round of the 2018 NFL draft. Despite lesser draft capital, Andrews overtook Hurst on the depth chart and broke out his second season finishing as the TE5 in fantasy points per game in 2019. An elite dynasty tight end asset, Andrews has led all tight ends in Air Yards the past two seasons.
1.06 – WR Christian Kirk
Christian Kirk is coming off the best fantasy season of his career after his first season as the Jaguars' $72 million dollar man.
He set career highs in receptions, receiving yards, Air Yards, touchdowns, and fantasy points. Locked in as the go-to slot receiver for the ascendent Trevor Lawrence, Kirk is set to smash for the foreseeable future.
1.07 – QB Lamar Jackson
Lamar Jackson was perceived as an uber athlete but a raw passer coming out of college which led him to fall in the 2018 NFL draft to the 32nd pick and fall into the second round of 1QB dynasty rookie drafts. It didn't take long for the NFL and dynasty gamers to realize how big of a blunder this was. Jackson set the NFL rushing record for quarterbacks in his second season posting 1,213 yards. This same season he led all fantasy quarterbacks in scoring, averaging a whopping 28.2 fantasy points per game, the highest scoring average all-time among quarterbacks in the PlayerProfiler database. Uncertainty regarding who Jackson will play for in 2023 seems to have depressed his dynasty value and he is a great buy-low where you can acquire him.
1.08 – WR Calvin Ridley
Calvin Ridley's recently lifted indefinite suspension, and uneven 2021 season, places him lower in this redraft than his on-field production would have him.
The NFL has reinstated Calvin Ridley!

He's back! pic.twitter.com/t47Im5lWFu

— PlayerProfiler (@rotounderworld) March 6, 2023
In his last full season of play, Ridley averaged 18.8 fantasy points (No. 5) and led the league with 2.063 Air Yards. Ridley could easily vault up the dynasty ranks again if he becomes the primary receiver for Trevor Lawrence.
1.09 – TE Dallas Goedert
Dallas Goedert's rookie draft ADP was depressed primarily because of his landing spot on an Eagles offense that already had the 2017 TE2 in fantasy points per game in Zach Ertz. Goedert soon proved that landing spots are overrated. He finished as a top 12 fantasy tight end in his second season and his dynasty stock is pointing upward after finishing as the TE5 in fantasy points per game in 2022.
1.10 – WR Courtland Sutton
Courtland Sutton finished as the WR40 in fantasy points per game last season. Unfortunately, this was his best fantasy season in three years.
Whether it's because of injuries or inconsistent quarterback play, Sutton has been unable to recapture the production of what appeared to be a second-year breakout when he averaged 13.9 fantasy points and posted his only 1,000-yard receiving season.
1.11 – WR D.J. Chark
D.J. Chark had a rookie draft ADP in the third round despite second-round draft capital. Dynasty gamers' perception of Chark appeared correct after a rookie season in which Chark saw only 32 targets. However, Chark had an out-of-nowhere second-year breakout finishing as the WR19 in fantasy points per game in 2019. He hasn't come close to this level of fantasy production since but remains a vertical field stretcher that could provide spike weeks if he signs with the right team this offseason.
1.12 – WR Allen Lazard
Allen Lazard was likely a player widely available on dynasty waiver wires after 2018 rookie drafts.  He is coming off his best fantasy season after averaging 11.7 fantasy points per game. However, we are likely looking at his dynasty value peak with the emergence of Christian Watson and Aaron Rodgers potentially leaving Green Bay.
Other Notable Selections:
WR Michael Gallup:
Michael Gallup broke out his second year averaging 17.2 fantasy points per game, amassing 1,107 yards on 66 receptions. Unfortunately, he has failed to match this performance as a result of added target competition in CeeDee Lamb and injuries. He will begin the 2023 season 20 months post ACL surgery and is a tepid buy-low.
RB Rashaad Penny:
Rashaad Penny has flashed the tools that made him a first-round pick in both the NFL draft and in dynasty rookie drafts. However, he has only played in 40 games through five seasons, and injures have torpedoed his dynasty value.
Rahsaan Penny has 337 carries in his 5 year career.

Nick Chubb (349) and Josh Jacobs (340) had more carries in 2022.

— Analytics of Dynasty (@McNamaraDynasty) March 6, 2023
QB Baker Mayfield:
Baker Mayfield started his NFL career with an impressive QB18 finish in points per game in his rookie campaign. However, he failed to progress as a passer and was shipped from the Browns to the Panthers where things went from bad to worse as his -10.9 Production Premium was a career low.  He is a backup quarterback at this point in his career and holds little fantasy value outside of a Superflex stash.
RB Chase Edmonds:
Chase Edmonds was a popular late-round sleeper of many in dynasty rookie drafts. Those truthers who held him on their rosters through his first two seasons were rewarded with RB32 and RB23 finishes in fantasy points per game in 2020 and 2021 respectively. However, Edmonds' dynasty value cratered this season after he was cut by the Miami Dolphins.
RB Nyheim Hines:
Nyheim Hines' fantasy value peaked in 2020 when he caught 63 dump-offs from Phillip Rivers en route to a RB27 in fantasy points per game. After a mid-season trade to the Bills last season, Hines struggled to find fantasy relevance, and this will likely continue into this season.
QB Sam Darnold:
The Jets drafted Sam Darnold in the 2018 NFL Draft. Darnold failed to meet the high expectations of being a top pick.
He has one season in which he completed over 60-percent of his passes. Darnold is a model of inefficiency since entering the league, averaging a -9.0 Production Premium and failing to post a season with a positive Production Premium.
Conclusion
The 2018 draft class is analogous to the 2023 draft class. Like 2018, the 2023 class has a generational running back prospect in Bijan Robinson and a handful of contenders for the RB2 in the class. Quarterback appears deep with a prospect in Anthony Richardson who is even more athletic than Lamar Jackson. Tight end is also deep with the class exhibiting great size-speed scores at the combine. Receiver also has some high notes with Jaxon Smith-Njiba and Jordan Addison debated just as Calvin Ridley and D.J. Moore were. However, five years later, the 2018 class contains about a round and a half of players that have fantasy relevance. It's an important reminder that especially post-NFL combine, these rookie picks have tantalizing upside but a lot of them won't pan out.