Good afternoon fellow dynasty degenerates, or those of you that are draft obsessed, wanting to absorb maximum information on these potential stars. PlayerProfiler is on the cutting edge of prospect evaluation. This article starts the first of a series where I take a close look at the quarterbacks coming out of the college game and into the NFL. We will release these in the order they were drafted in Cody Carpentier's 4.0 Mock. The quarterback covered today is C.J. Stroud.
The list of quarterbacks coming out of Ohio State has not been ideal overall: Justin Fields, Dwayne Haskins, Cardale Jones, and Terrelle Pryor. One of those is not like the others! Let's look at C.J. Stroud's path to the draft and see if he can carry over his success from Saturdays to Sundays.
High School Career
C.J. Stroud played high school football at Rancho Cucamonga High School in California and had an outstanding senior year with 3,878 passing yards and 47 touchdowns. He was the No. 3 QB behind Bryce Young and D.J. Uiagalelei, and far ahead of fellow rookie prospect Anthony Richardson (No. 14). Stroud was rated as a 4-star prospect per 247Sports and chose to play at Ohio State.
College Career
Stroud spent his freshman year as a redshirt, backing up current NFL star Justin Fields. Once Fields went to the NFL, Stroud was the unquestioned starter for the following two seasons. His freshman season was an absolute smash with him finishing as a finalist for the Heisman and Davey O'Brien awards (though he lost them both to Bryce Young).
This is maybe the finest throw I've ever seen CJ Stroud make. MHJ is an alien among aliens. https://t.co/de4Qp2d5EN

— Anand Nanduri (@NanduriNFL) November 27, 2022
He finished his season with an all-time performance at the Rose Bowl. Stroud set records with 573 yards passing and six touchdowns. His following year was another hit. Perhaps his greatest performance was the College Football Playoff against the Georgia Bulldogs. Stroud led the team to 41 points scored against the top defense in the NCAA. He was a finalist again for the Heisman Trophy but lost out to future first-round selection Caleb Williams.
What Scouts Like
Ball Placement
Now, in the spirit of fairness, Stroud got to throw to future NFL stars Marvin Harrison Jr. and Emeka Egbuka, who were arguably the best WR duo in 2022. Stroud had a completion percentage of 66 percent. Additionally, he led the NCAA in passer rating with 177.7. His ball placement on throws wasn't about getting the ball to his receivers. Rather, it was about placing the ball where they could make the catch without losing balance or being led into a vulnerable position against a defender.
Performances in Big Games
I mentioned this game earlier, but his performance in the College Football Playoff game against Georgia was superb. The Bulldog defense allowed an average QBR of 62 through the season, and Stroud finished the game with a 94 QBR.
The Bulldog defense had given up an average of 12 points a game through the season, and Stroud was able to will his team to 41 points scored. His combined stats against Michigan are as follows: 743 yds, 4 TD, 2 INT, QBR: 76. A few fans may be salty that he was on the losing side of those contests, but little blame can be cast on him for those losses.
NFL Combine Performance
The words "fluid, smooth, technical" are everywhere when I read about and watch Stroud's NFL Combine performance. He didn't necessarily blow the place up like Anthony Richardson or launch deep balls that caused a collective gasp from the crowd.
As I walk out of Lucas Oil, two workouts are sticking with me:

CJ Stroud
Jaxon Smith-Njigba

The top-2 performances I saw today were both Buckeyes. And neither was surprising.

— Dane Brugler (@dpbrugler) March 5, 2023
He took command of his opportunity and placed the ball where it needed to be on every single throw. It was a professional QB performance.
What Scouts Don't Like
Refusing to Run
A fun fact I stumbled upon when doing research on Stroud per Nick Ercolano: in his first 27 games, Stroud forced one missed tackle, but in the College Football Playoff game against Georgia he forced three missed tackles. He can make plays with his legs and create space in the pocket, but his rushing upside is limited compared to Levis or Richardson. I do not see this as a flat-out negative to hold against him in the draft process, but in today's NFL, a mobile quarterback can open so much of the playbook to the offense.
Coming from a "QB-friendly" system
This is interesting to me on different levels. Firstly, he didn't operate an air-raid passing offense, but rather, a spread offense with pro concepts. Secondly, are we going to say because he has played with two current NFL wide receivers, and three eventual NFL wide receivers, that he can't play in the NFL? This type of scouting comes off as flawed to me.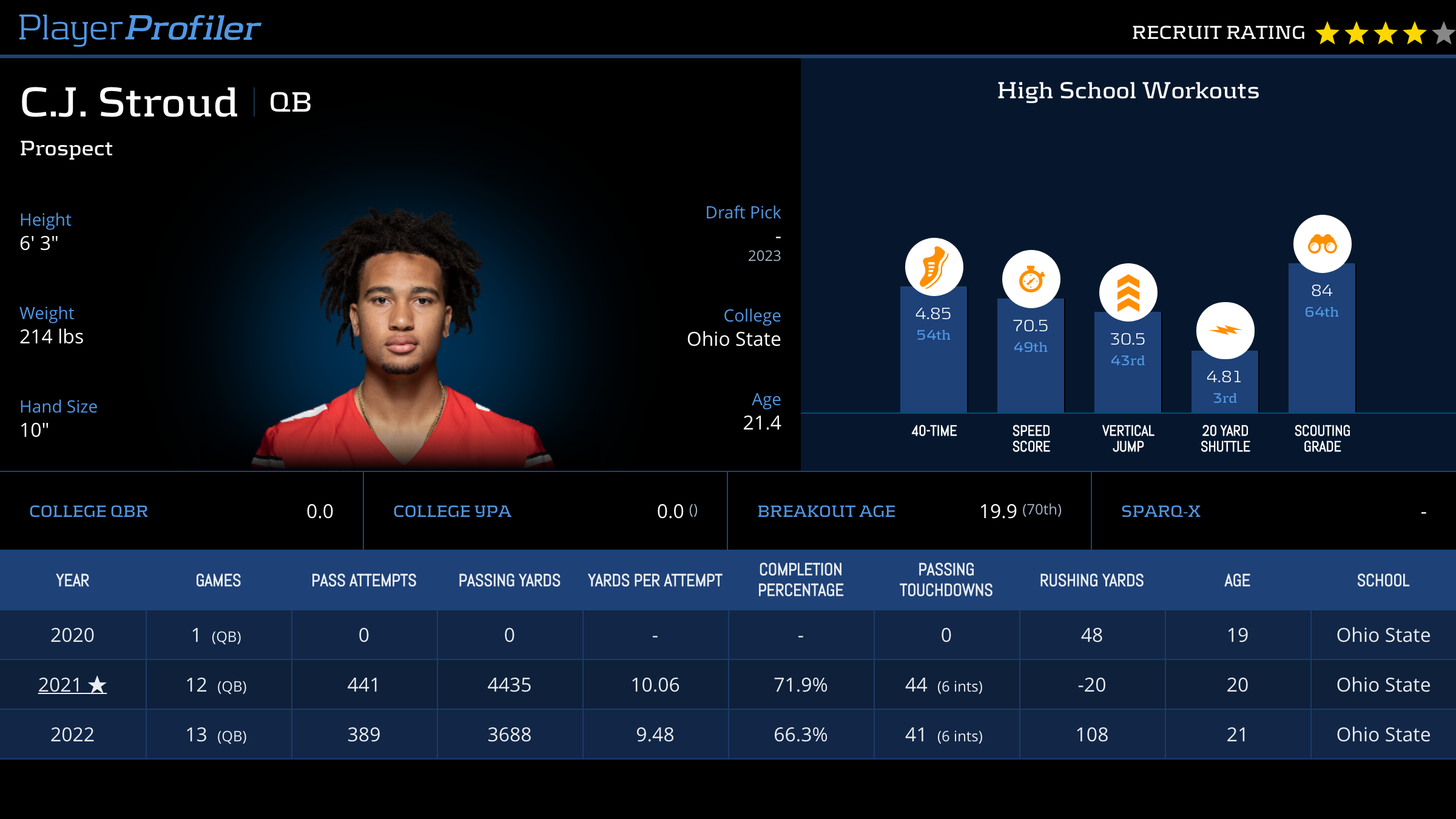 This is not a Colt Brennan situation where he would air it out 60-70 times a game. In fact, Stroud had only 389 pass attempts, placing him outside the top 30 in total pass attempts this season.
Final Thoughts and Player Comparison
Stroud is the quarterback I came away most impressed with compared to all the other quarterbacks in this series. While he may not have the strongest arm in the class, he's the best pure passer available. My comp for Stroud is Jared Goff. Goff has shown that he has the talent to lead a team (such as Detroit currently) where he can galvanize the talent around him and succeed. We have also seen him play more conservatively and manage the offense as he did in LA when he made a Super Bowl appearance.
I can see Stroud's talent and upside, and therefore, we will be in store for fun Sundays with Stroud!