The NFL draft season is an interesting time. First, we compare players based on their production, then we see their athleticism at the combine, and finally we see their draft pedigree and landing spot after the NFL draft. The advanced stats, metrics, and analytical analysis gleaned from each of these events will alter our perception of certain players. Here is a three part series that will illustrate how players' values will change from now until draft day.
Draft Strategy
Before we get into the picks, it is essential to grasp my draft strategy's criteria. I look at college production as a floor, athleticism as a ceiling, and draft capital as trade value. Typically at the top of the draft, I look for players that have all 3 characteristics. As we move towards the middle and the end of the draft, I pick the next best combination of all 3 parameters: floor, ceiling, and draft pedigree. If there isn't a clear winner, I will normally pick the one that fits my current situation. For example, if I am picking late it is because I have a good team. Therefore, I am looking for more ceiling than floor because I can afford to miss on the pick. If I have a bad team I am looking for floor as I am just trying to stockpile fantasy relevant players. I will rarely draft based on draft pedigree unless I feel there are no other choices that fit my draft strategy.
The Picks
Without further adieu, here are the results of our writers rookie mock draft with PPR superflex league parameters.
1.01 – Saquan Barkley, RB
Analyst: Kyle Dvorchak (@ffkylethekid)
Rationale: We've all heard enough Saquon Barkley analysis. An argument to take anyone other than Barkley at 1.01 would be an extremely bold move. One of the only things I don't hear very often about him is his production in the kick return game. In the return game, he managed 426 yards and 2 touchdowns in his final season. Barkley's floor, in a fantasy context, will be the highest of any rookie based purely on volume. Furthermore, his ceiling is as high as any prospect since LaDainian Tomlinson.
Other considerations: None. Just to further reinforce his herculean status, here is an interesting fun fact: Saquon Barkley had more receptions and receiving yards than Auden Tate or Equanimeous St. Brown in 2017!
Author's note: The most interesting thing about this pick is the fun fact. Also, that stat does not indicate good things for the wide receiver class.
1.02 – Derrius Guice
, RB
Analyst: Eric McClung (@ericmcclung)
Rationale: I took Derrius Guice second because that's the best thing to do when Barkley goes first in these drafts right now. There's no reason to overthink it. However, once Baker Mayfield is drafted I might like him as high as second in a superflex league.
Other Considerations: Baker Mayfield
Author's note: Derrius Guice might just be the best LSU running back in the past two years. He wasn't involved much in the passing game but there are a great many film grinders that say he has the traits to be a 3-down back.  Nevertheless, I would draft him at 1.02 and consider any receptions to be a bonus.
1.03 – Nick Chubb
, RB
Analyst:
Frank Gruber (@threedownhack)
Rationale: Chubb is my BPA after the Barkley/Guice tier. Special mix of quickness, strength and burst. Did not consider WR this early.
Other considerations: Nobody.
Editors note: I believe he will be drafted within the first two rounds giving him draft capital, he will light up the combine, and his 47th-percentile College Dominator can be explained based on having another top RB prospect on his team in Sony Michel. Therefore, Nick Chubb checks all the boxes. Therefore, I believe he is a safe selection anywhere starting from 1.03.
1.04 – Rashaad Penny, RB
Analyst: 
Eric Lindberg (@eriiclindberg)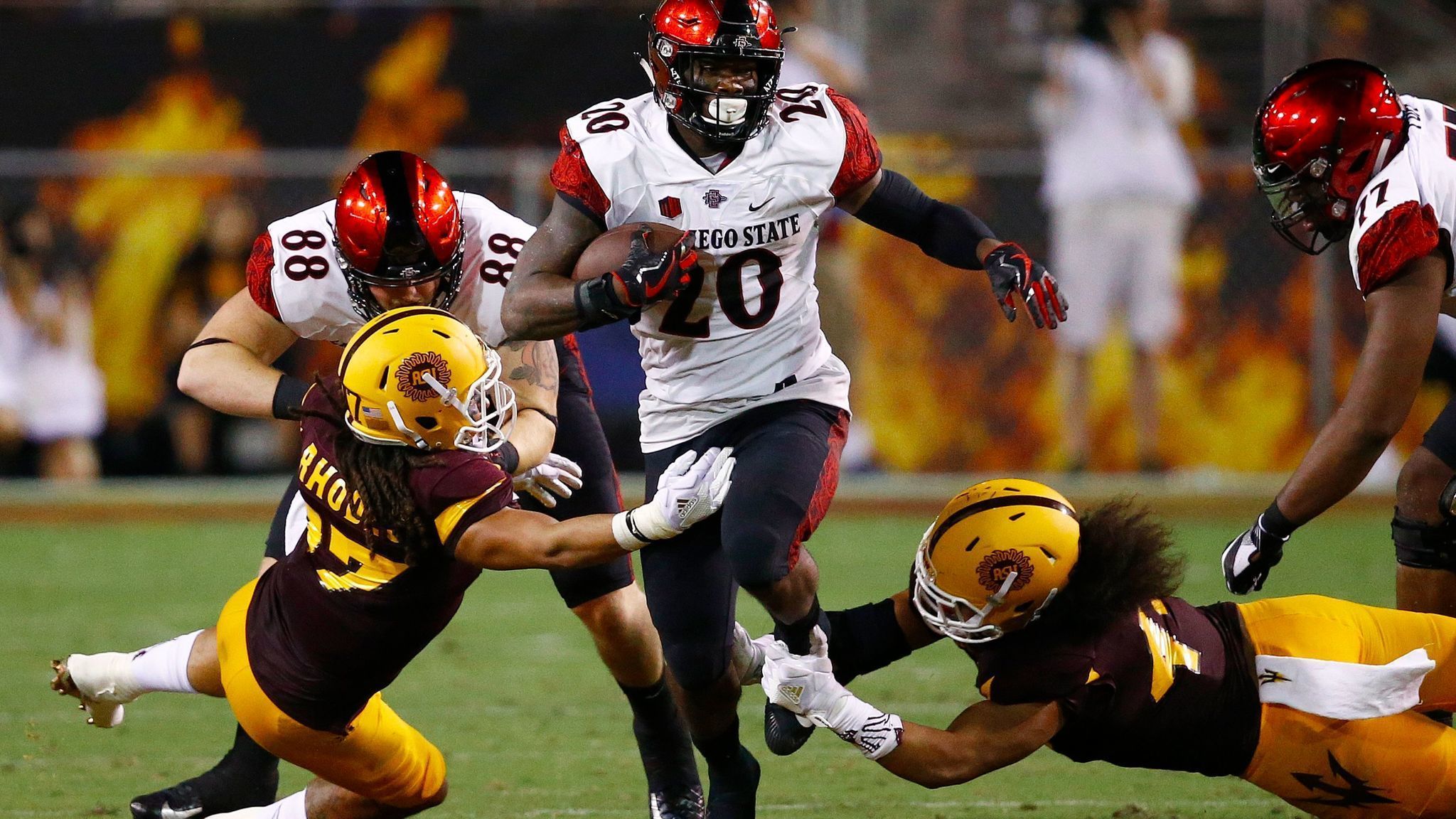 Rationale: I drafted Rashaad Penny at 1.04 because the two running backs I had ranked above him, Barkley and Guice, were unsurprisingly and deservedly drafted at 1.01 and 1.02. Penny has one of the most impressive college rushing resumes of all time, and has displayed the ability to catch passes (42 catches, 479 yards, 6 TDs) over the course of his last three seasons.
Other consideration: Baker Mayfield, Ronald Jones II, and D.J. Moore at 1.04.
Author's note: The only question for me with Rashaad Penny is where will he be drafted. If he is selected in the first 3 rounds of the NFL draft there is a lot to like here. If he goes in round 4 or later I would be more inclined to wait on him and take him near the end of the first round.
1.05 – Baker Mayfield, QB
Analyst:
Miguel Chapeton (@DynastyGuruFF)
Rationale: with the top tier RB's off the board it came down to Ronald Jones, Sony Michel or Baker Mayfield. Seeing as I rank Baker Mayfield as one of the best QB prospects in the last decade it felt irresponsible to take a 2nd tier RB over the #1 QB.
Other considerations: Ronald Jones, Sony Michel
Author's note: Love this pick. Baker Mayfield represents everything I look for in a high rookie draft pick. He is off the charts in every production metric and will likely have the draft capital to back it up. I personally have him at 1.03 in this draft as his profile tells me he will dominate. That being said, if he doesn't go in the top 10 or so of the first round of the NFL draft I will temper my expectations.
1.06 – Sony Michel, RB
Analyst:
Corey Alexander (@calexander323)
Rationale: Once the top players at both RB and QB were off the board, this pick became a bit tricky. I went with Michel because I believe he has the one of the highest upsides of any of the Running Backs available at that point in the draft. While playing alongside Todd Gurley and Nick Chubb, Michel still posted a 27.5-percent (55th percentile) College Dominator Rating. Michel combines patience and elusiveness with straight-line speed. He also demonstrated adequate pass catching ability during his college career, with the receptions dropping off his senior season mostly due to Freshman D'Andre Swift (keep that name in mind for the 2020 draft) taking over the passing down work. Only way his value drops is if he goes to a team that views him as the next Jerick McKinnon and inexplicably squanders his talents, but give him 3-down work and he should be a special player.
Other considerations: Ronald Jones.
Author's notes: Sony Michel is the one RB in the tier below Saquan Barkley that I believe can be a 3 down back. He is expected to weigh-in at the combine at RB protype size around 5-10, 215 lbs. His mediocre College Dominator can be easily explained by having to share the field with Nick Chubb.
1.07 – Josh Rosen, QB
Analyst: 
Daniel Tarditi (@diti51)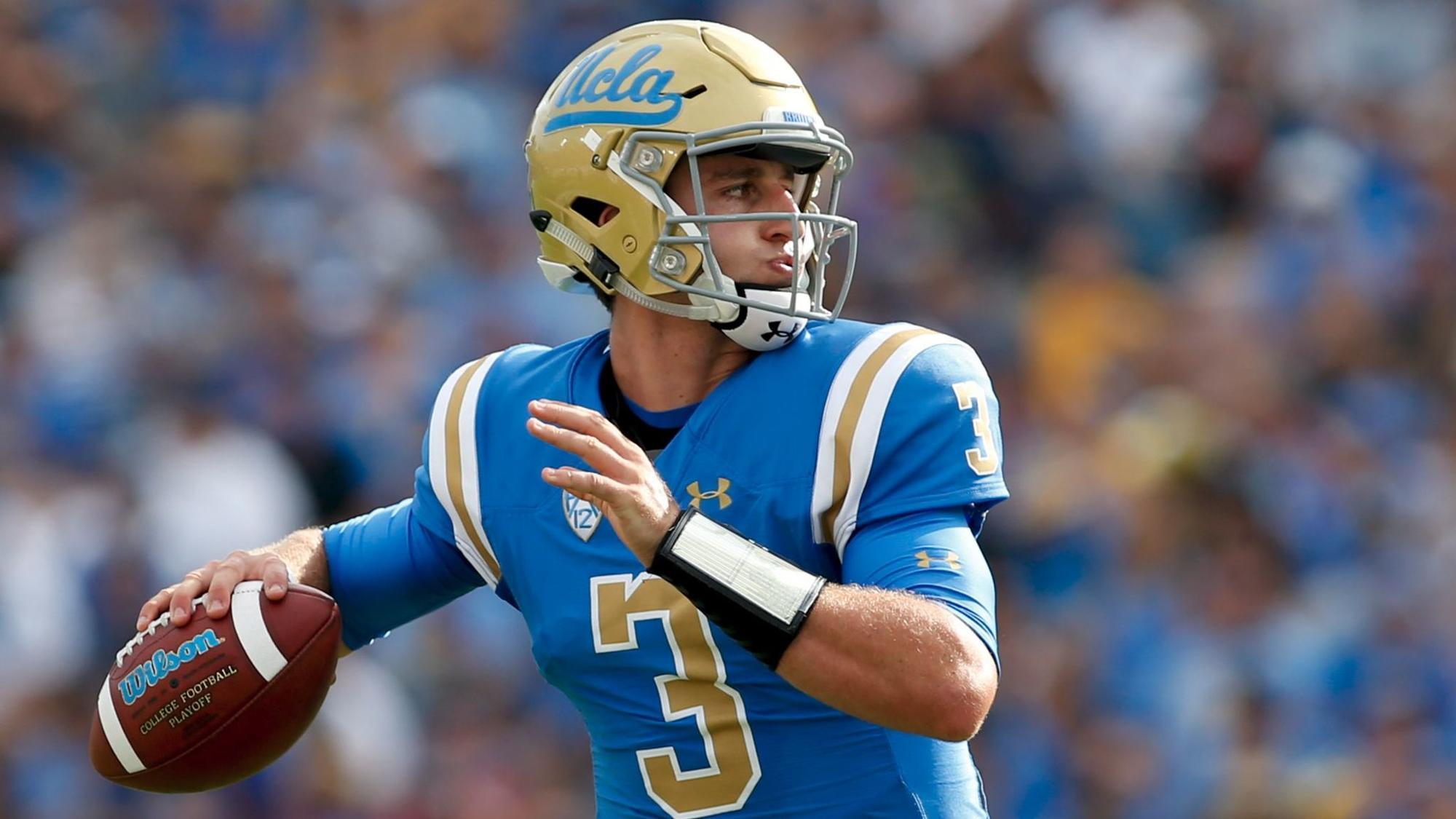 Rationale: With the sixth pick I was hoping Sony Michel would fall to me. When he was picked just prior to me at 1.06 I went with my top ranked QB in Josh Rosen. I debated Sam Darnold or Lamar Jackson but given unknown landing spot I figured Josh Rosen was the least landing spot dependent.
Other considerations: Sam Darnold, Lamar Jackson
Author's notes: Josh Rosen is the first player selected that I do not have in the first round on my draft board. Quarterbacks with 33rd-percentile College QBR's are rarely successful. The best thing about taking Josh Rosen here is that he will be drafted highly in the NFL draft and therefore you should be able to flip for a better prospect at the first sign of good news.
1.08 – Ronald Jones, RB
Analyst:
Mathew Dwyer (@theDynastyMD)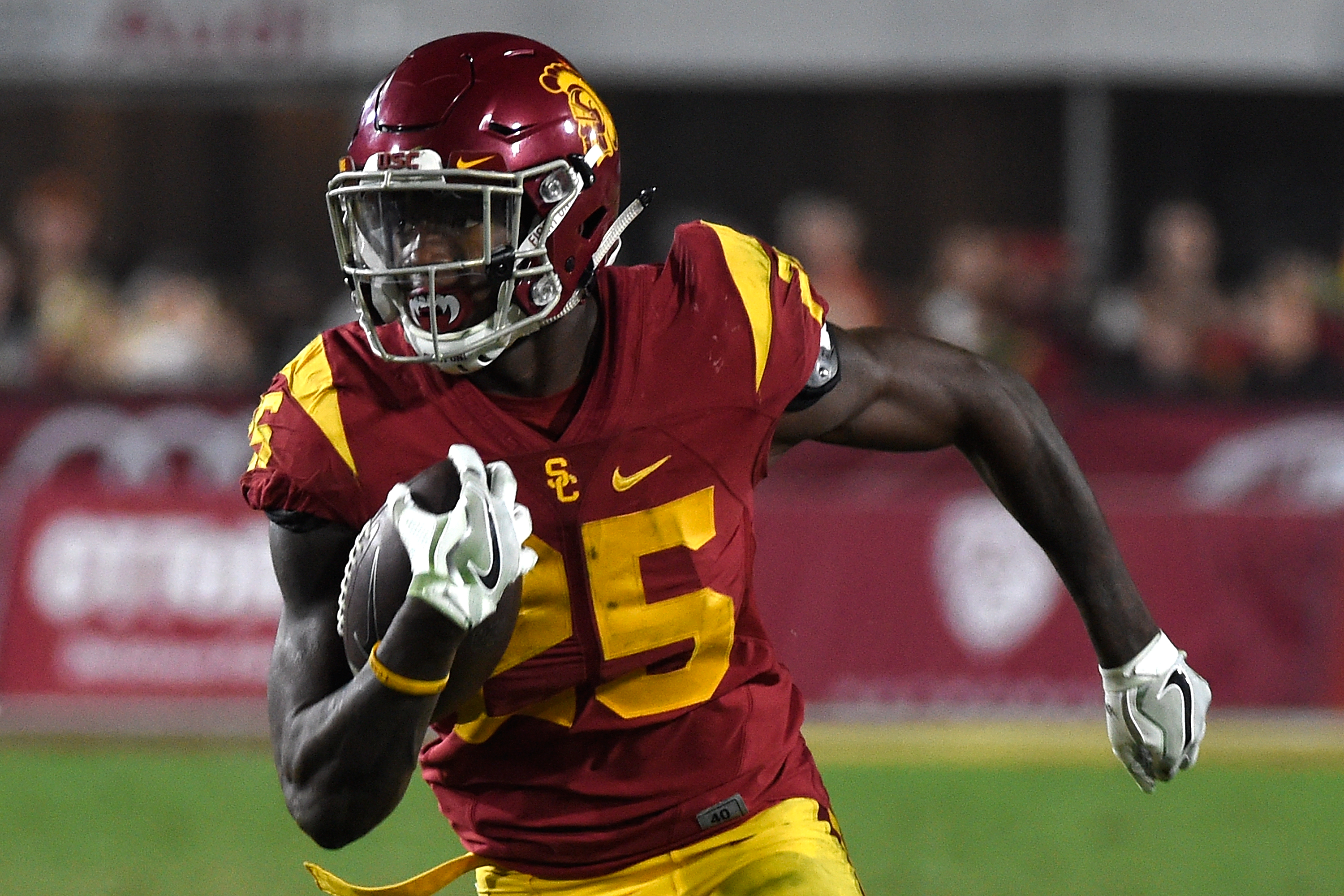 Rationale: I was thinking I'd be taking a QB at this slot but with not knowing whether anyone starts it makes taking a QB in the draft a little worrisome. I was hoping Baker Mayfield would be here but he went 3 picks earlier, so I took one of the safest running backs out there in Ronald Jones who is in my top 4 rbs. To get him here is a pretty decent grab. Only 21.6 with 3 seasons of 1000 yards and over 1600 in 2017 alone.
Other considerations: None
Author's notes: Ronald Jones is expected to have excellent speed and burst at the combine. Combine that with a 74th-percentile College Dominator and a top 3 round pick in the NFL draft and you have a runningback that I can get behind.
1.09 – Sam Darnold, QB
Analyst:
 @dynastygridiron
Rationale: Future top 3 pick. Franchise QB. Checks all the boxes. Considered Lamar Jackson and Mark Walton. If Lamar lands in a good spot, he could jump Darnold. Too many variables this far out to take him over Darnold right now. As we near closer to the draft, I am sure another RB will emerge after the Big 6. If Walton goes within the first 3 rounds, a legitimate case could be made to take him over Darnold.
Other considerations: Lamar Jackson, Mark Walton
Author's notes: I consider Sam Darnold to be a highly safe pick. He wasn't an epic producer in college as evidenced by his 75th percentile QBR, however he broke out at a young age, 19.3 (87th-percentile) and is likely going to be either the 1st or 2nd pick in the NFL draft. If I have a team with an older QB or I don't have depth at QB I will be taking a long look at Darnold in the latter half of the first round.
1.10 – Mark Walton, RB
Analyst:
Matt Kelley (@Fantasy_Mansion)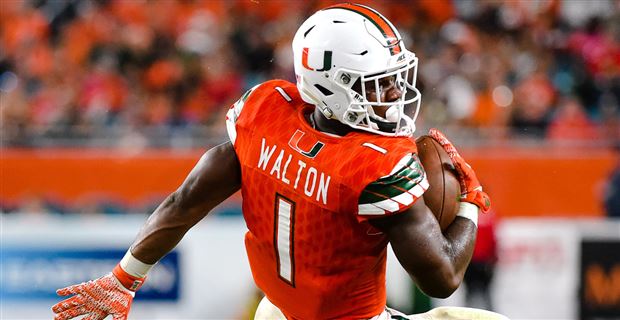 Rationale: Though I have become a Mark Walton hyperbole machine on Twitter, this was an exceedingly difficult selection without athleticism metrics or landing spot data. I was strongly considering Lamar Jackson (sorry Bill Polian), D.J. Moore, Royce Freeman, and Mark Walton. Ultimately, I chose Walton based on his high-floor, high ceiling prospect profile. His floor is relatively high, because given the numerous open satellite back roles across the NFL, the satellite back-plus is the least landing spot-dependent positional archetype. His ceiling is also high, because like Kareem Hunt and Alvin Kamara before him, he possesses an all-purpose skill set with an opportunity to add weight and check in at 210-plus pounds at the NFL Scouting Combine. Further fueling his upside, athleticism matters most for running back prospects, and anecdotal evidence suggests Walton will exceed Kamara's Speed Score and Agility Score.
Royce Freeman was the most prolific runner of the 2018 class but is also more landing spot dependent than Walton. If assured an primary back role, Freeman would inevitably be the top selection at slot No. 10. D.J. Moore is the class of an underwhelming, yet relatively deep, wide receiver class. Comparing talent profiles independent of projected draft capital, the No. 2 WR is not significantly superior to the No. 20 WR in this class. For opportunity cost reasons, investing in QB and RB early in superflex rookie drafts, and then throwing darts on slot receivers in round 3 and beyond, is the most optimal approach. Passing on Moore was still gut-wrenching. Lamar Jackson was tempting, but looking at the prior picks, I wanted to leave open the possibility of the equally polarizing Jackson and/or Josh Allen slipping to me in round 2.
Other considerations: Royce Freeman, Lamar Jackson, D.J. Moore
Author's notes: The biggest concern I have with Walton is his size. If he weighs in over 210 pounds with the athleticism we are led to believe he has per draft Twitter, then he is exactly the type of high ceiling player I look for at the end of the first round. Until he proves that at the combine however I would feel more comfortable taking someone like Lamar Jackson with whom I believe has the highest ceiling among this year's QB pool.
Other's notes: Eric McClung – Podfather grabbing Mark Walton at 1.10 is going to look brilliant if he's healthy and sharp at the combine. The U has produced another fine pro RB.
1.11 – Lamar Jackson, QB
Analyst:

 Pete Lawrence (@_petelaw)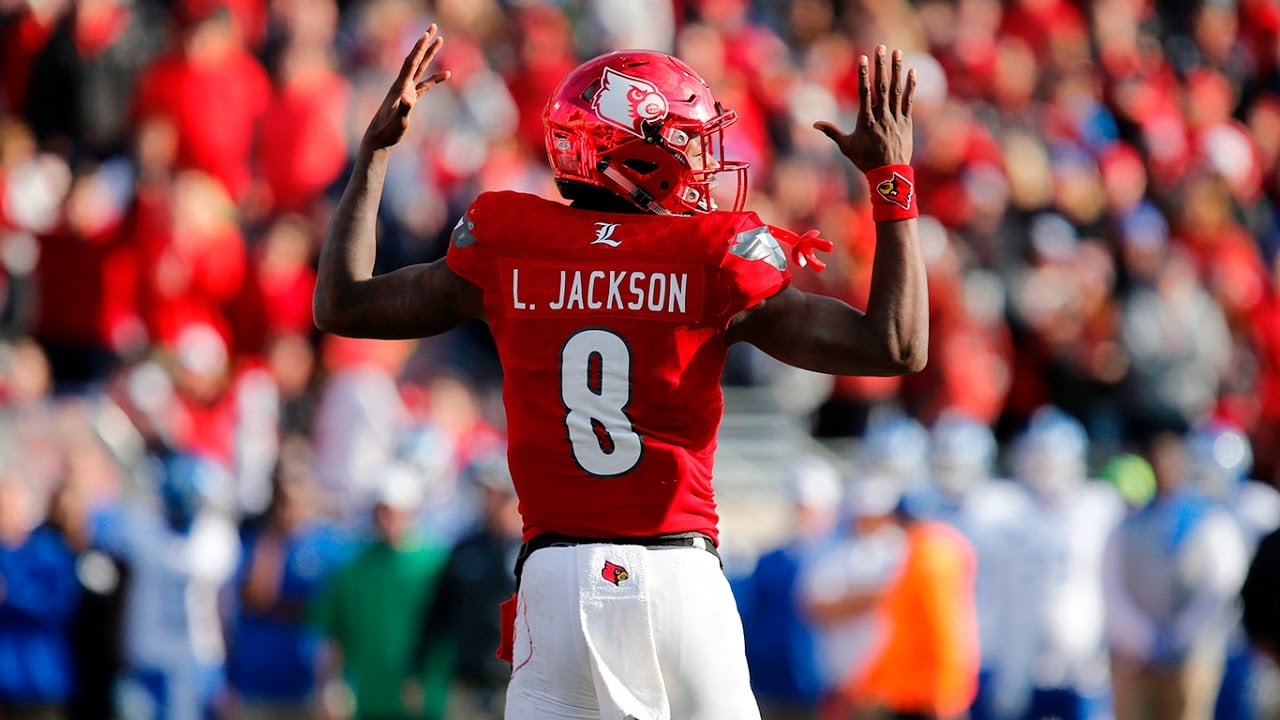 Rationale: SuperFlex league and I just landed the guy with Mike Vick athleticism and a better arm. Lamar Jackson is the Konami Code QB in this year's draft. Even on bad days, his rushing ability will balance out what he contributes with his arm. Jackson posted an 85.0 (89TH-percentile) QBR during his time at Louisville with sub-par weapons in the passing game. He has flaws but at this point in the draft, I'm getting a great QB talent in a SuperFlex.
Other considerations: None
Author's notes: I am certain that this will be one of my most owned players after this draft season. Lamar Jackson represents the ceiling I covet and given that he is going at the end of the first round he is a perfect fit for my strategy.
Other's notes: FFKyletheKid – Not my pick but one I am jealous of. Lamar Jackson may be the player I most look forward to seeing where he'll be drafted. If a team puts their draft capital where their mouth is and takes Jackson to be a starter early in his career he will excel in a fantasy context. His passing stats are lackluster but as a college quarterback with 4132 rushing yards and 50 touchdowns throughout his illustrious career, that may not matter. Tyrod Taylor had his worst year as a starter, per the Data Analysis Tool, and still managed a QB #16 finish. With dismal counting stats for a QB, 16 was his floor. Given a starting role, this could be Jackson's floor as well but his running usage and passing capability could yield the highest upside of any player in a stacked QB class.
1.12 – John Kelly, RB
Analyst: 
Jerry Amole (@HangoverCouch)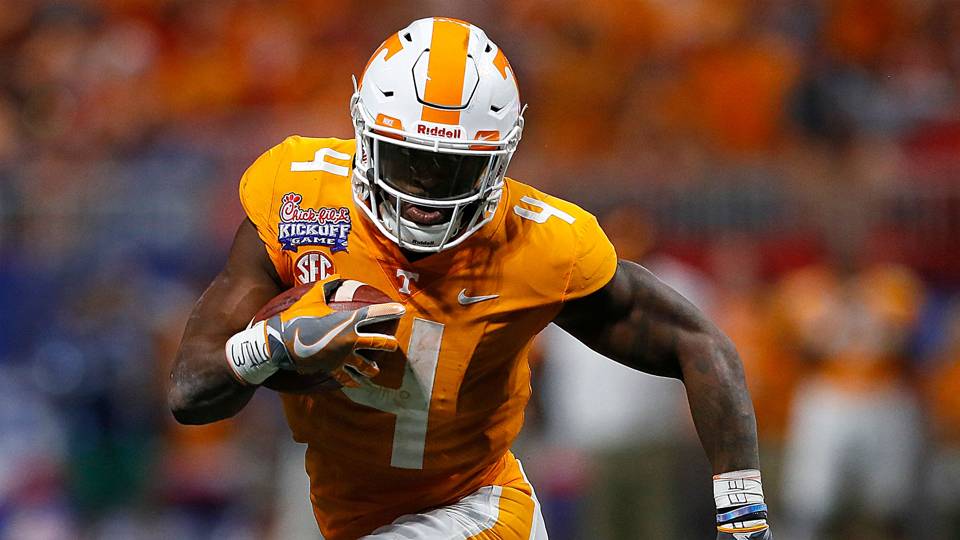 Rationale: With the last pick of the first round, I was surprised to land a quality running back. Despite playing for a bad Vols team that found themselves down by double digits often, John Kelly was still able to put up a 36.5-percent College Dominator Rating (81st-percentile) which was top 5 among the 2018 running back class (even while missing one game due to a suspension). One of the more intriguing stats for Kelly was that he caught 37 receptions on the season showing his versatility in the pass game. If Kelly tests well at the combine, his draft stock should rise so I'm glad I got him where I did.
Other considerations: If I wasn't able to get a solid running back I would have tried to snag one of the top wide receivers from this class, either DJ Moore or James Washington.
Author's notes: John Kelly is an after-contact dynamo that excelled in the passing game. However, he doesn't seem to have the ceiling I would be looking for at this point in the draft based on his size of 5-9 and 210 pounds. I would have rather taken a player like Courtland Sutton in this spot.
2.01 – D.J. Moore, WR
Analyst: K
yle Dvorchak (@ffkylethekid)
Rationale: Even with the immense depth at running back in this draft class and the need for QB's in a SuperFlex league, not a single wide receiver being drafted in the first round is a shock to the system. Moore's 53% College Dominator, 97th-percentile, and his Breakout Age of 19.1, which will approach the 90th percentile, indicate that he is fitting of first round consideration in both rookie drafts and the NFL Draft. The list of drafted players with a 75th-percentile mark or above in both of these metrics includes 19 total players, 10 of which have achieved a top-24 WR season, and five have been in the league for two or fewer years. Moore is in a tier of players that have consistently hit at an NFL level and I expect his career to follow suit. The only concern with Moore is his unique build at 5'11" 215 lbs. If he proves that this won't hinder his athleticism at the combine he should continue to climb the rookie rankings and hold on to the title of "Best WR Prospect" in this class.
Other Considerations: Royce Freeman – Passing on Freeman was difficult because finding player in the second round who can play three-down roles in the NFL is rare. Freeman's College Dominator is impressive (64th-percentile) but combine that with his efficiency, 6.0 YPC (72nd-percentile), and you have an exceptional prospect. Freeman is also likely to be one of the best dual-threat running backs in the class, reaching 26 receptions for 348 yards as a sophomore. Outside of the top five picks of the draft, I see Freeman as having the best chance to attain a workhorse role early in his career.
Author's notes: DJ Moore is a great floor play in my opinion. His College Dominator Rating of 53.5% (97th-percentile) screams high floor to me. Unless he tests well at the combine I think his ADP will likely stay around this part of the draft. If I have a weak team this is a guy I would be targeting in the first half of the second round.
2.02 – Nyheim Hines, RB
Analyst:
Eric McClung (@ericmcclung)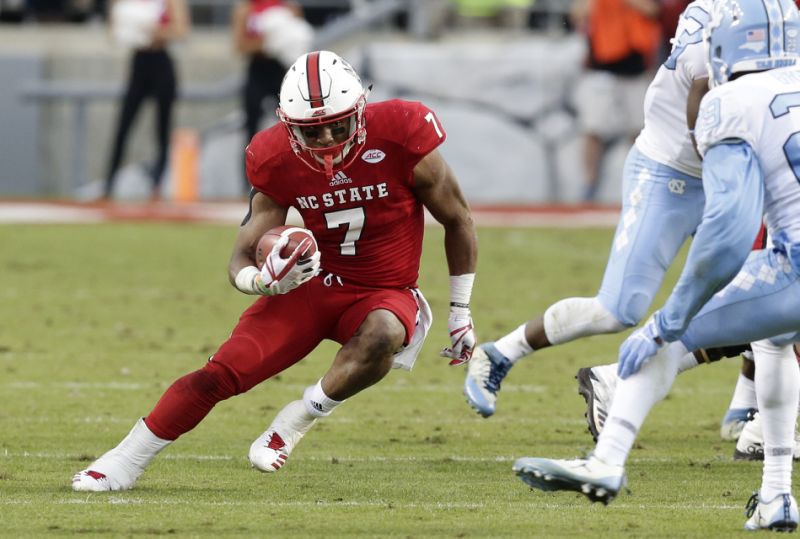 Rationale: Hines was a standout in the return game all three years at NC State and dabbled at receiver before breaking out as a running back last year. Expect to see his draft stock to rise once he runs the fastest 40-yard dash among all position players at the combine. I'm really excited to see that and how well he performs in the other drills.
Other considerations: None.
Author's notes: Nyheim Hines is a player without prolific college production which I believe makes him a dangerous pick for a poor team. He is also undersized as a 3 down back and will likely be a satellite back if he "makes it" in the NFL. I would feel more comfortable selecting a higher floor WR in this range of the rookie draft. That being said, if he runs the 40 as fast as he is expected to he could be an exceptionally explosive player at the next level.
2.03 – James Washington, WR
Analyst: 
Frank Gruber (@threedownhack)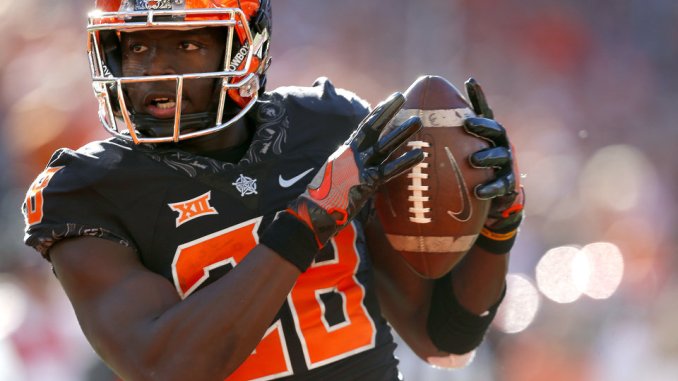 Rationale: Thrilled to get him this late. Elite breakout age (18.4, 98th percentile) and production. Also love Auden Tate; in real life would try to get in a position to select him very soon.
Other considerations: Auden Tate
Author's notes: If James Washington tests well at the combine I would expect to have some analytics fans to start comparing him to Odell Beckham Junior. They are roughly the same size as Washington is expected to weigh in 6-0 205 pounds at the combine. Their College Dominators and yards per reception are very similar, but Washington blows OBj out of the water in Breakout Age as he sports an 18.4 (97th-percentile) Breakout Age. If he shows to be a mediocre athlete at the combine I expect Washington to be selected somewhere towards the 1/2 turn in rookie drafts. If he is an elite athlete, I would take him early, if he is mediocre I would love to get him at the top of the 2nd round on a rebuilding team.
2.04 – Royce Freeman, RB
Analyst:
Eric Lindberg (@eriiclindberg)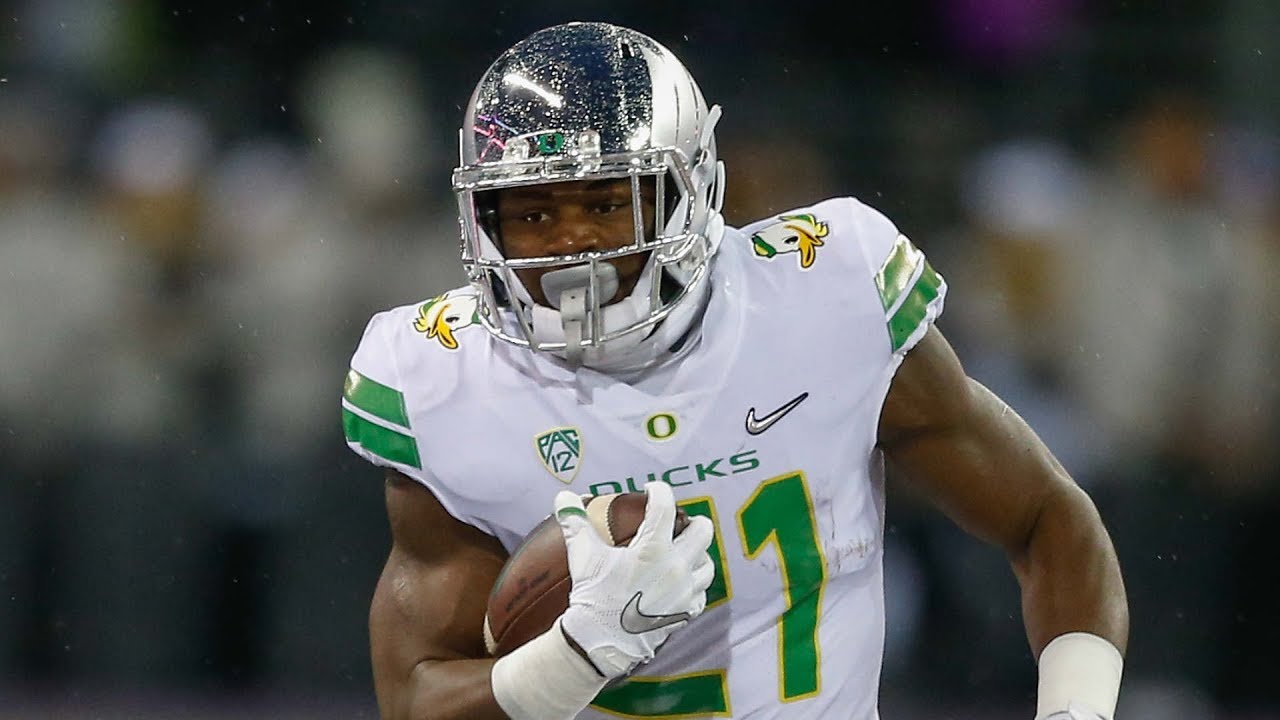 Rationale: At 2.04 I drafted Royce Freeman because his elite combination of rushing and receiving ability was too tantalizing to pass up. As a freshman at Oregon, Freeman put up 1,365 rushing yards and 19 total TDs, in addition to catching 16 passes for 158 yards. He improved on his pass catching ability as a sophomore, catching 26 passes for 348 yards. Freeman is built for the modern-day NFL and will not be a liability on 3rd down, opening up many opportunities to catch passes for whichever team is fortunate enough to draft him. I also considered Christian Kirk and Courtland Sutton at 2.04 and as much as I love Kirk, I believe Freeman was the safer pick at this point in the draft.
Other considerations: Christian Kirk, Courtland Sutton
Author's note: If Royce Freeman did anything just a little bit better I would love him. He has size, years of college production, passing down work, but nothing really stands out. He seems like a safe bet to get a role in the NFL but I think his ceiling is in the RB 2/3 range. If he tests well or gets drafted earlier than I expect I would feel a lot better about drafting him.
2.05 – Christian Kirk, WR
Analyst: Miguel Chapeton (@DynastyGuruFF)
Rationale: The Big WR names like Courtland Sutton and Calvin Ridley loomed large but Ridley just wasn't productive enough and Sutton just strikes me as too raw. Kirk feels like a player who can step in and become a PPR machine in the slot day 1.
Other considerations: None.
Author's notes: Christian Kirk is another WR in this draft that I just feel safe with. He is another high floor, low ceiling type in this draft. He is a target of mine for teams that can't afford to swing for the fences.
2.06 – Courtland Sutton, WR
Analyst:
Corey Alexander (@calexander323)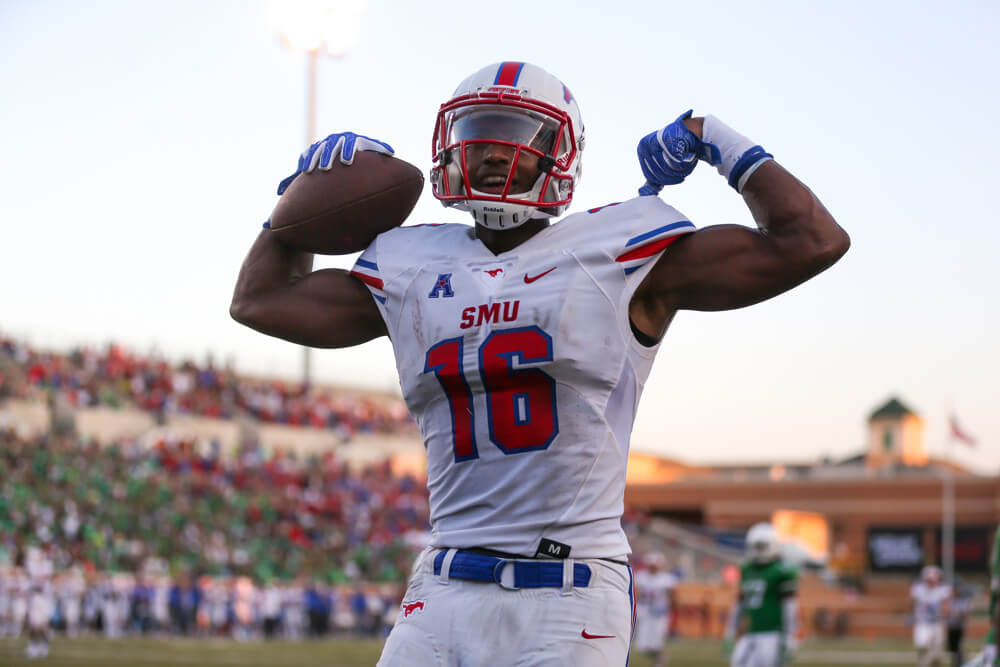 Rationale: There are still some concerns surrounding Sutton at this point, a few of which will be answered (or proven) at the upcoming Combine with the questions surrounding his athleticism. We also have to consider the fact that Sutton wasn't the most productive receiver last season at SMU and that drops his value as well, but an encouraging sign is his TDs and Yards Per Reception remained almost identical from Sophomore to Junior seasons. I think the contributing factor was that Ben Hicks/Trey Quinn developed a connection similar to a Ryan Tannehill/Jarvis Landry (low yards-per-attempt and low yards-per-reception), and this contributed to the decline of stats for Sutton. He has adequate dominator rating (36.9% – 73rd percentile) and breakout age (19.9 – 66th percentile – which is actually his first year playing the position full time after converting from DB the year prior). I agree with the other participants of this Mock that right now you should pass on him in the first round of a Superflex draft (and really in any rookie draft), especially with the abundance of talented RBs available. But if everything goes well for Sutton, this is the lowest value you will see him have.
Other considerations: Josh Allen, Michael Gallup, Anthony Miller
Author's notes: This is a player I am targeting on my win-now teams. He is expected to measure in around 6-4 and 220 pounds. He has been productive at the college level but it was against inferior competition. The combine will be big for Sutton, if he performs well I will be looking to draft him at the end of the first round.
2.07 – Calvin Ridley, WR
Analyst: Daniel Tarditi (@diti51)
Rationale: In second round I was targeting Courtland Sutton or Calvin Ridley as my top ranked WRs. Auden Tate was a close third choice but Ridley should excel in the slot.
Other considerations: Auden Tate
Author's Notes: Calvin Ridley's production remind me a lot of Mike Williams in that given his hype leading up to the draft his production was wholly underwhelming. I also expect Ridley to be selected in the top half of the first round which would give him high draft capital. He is exactly the type of player I would draft based on draft capital and look to flip at the first opportunity.
2.08 – Michael Gallup, WR
Analyst: 
Matthew Dwyer (@theDynastyMD)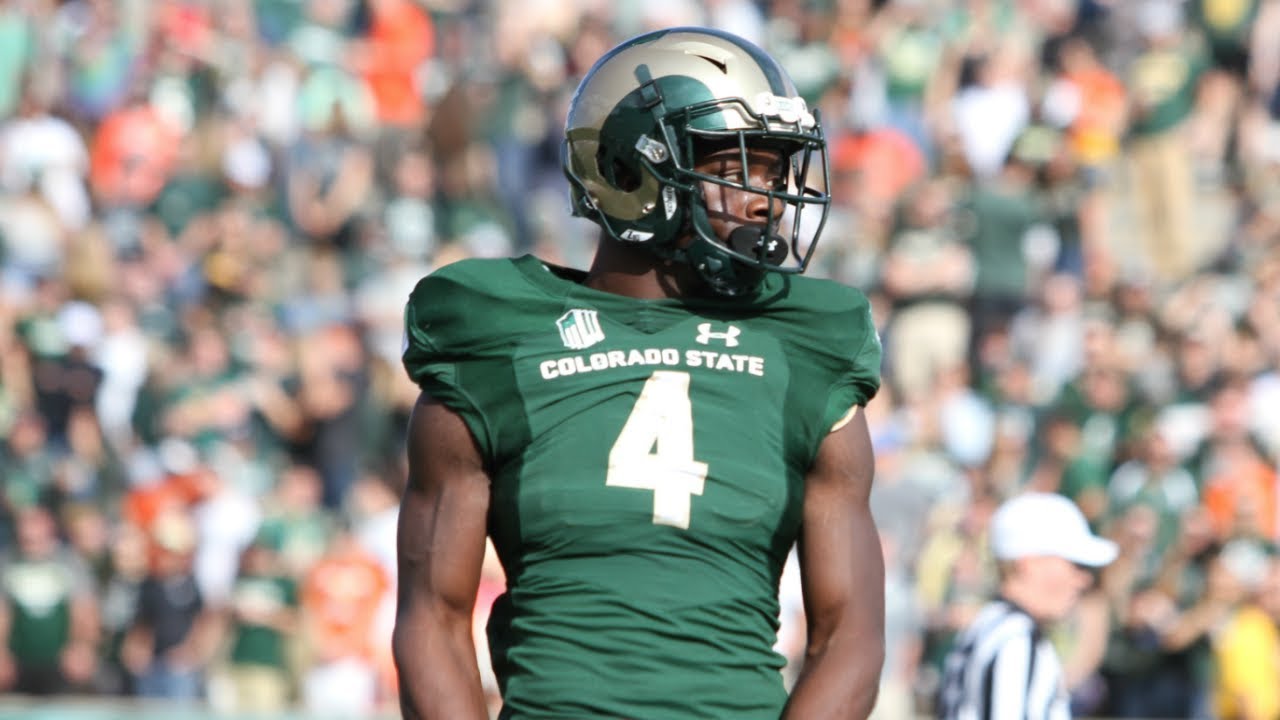 Rationale: While people throw darts at their wide receivers I wanted one name. I've been a strong advocate for Gallup. I'll gladly take him here in the second round and forget Josh Allen on the list. With Lamar Jackson gone this was a easy pick for me. 22 years old and 2 seasons full of production.
Other considerations: Josh Allen
Author's notes:  As we near the end of the second round I am looking for sky high ceilings. Gallup is average size at 6-1 and 202 pounds, so if he does have the WR1 ceiling I covet at this stage it will have to come from his athleticism. As of right now I am putting him in with the high floor, low ceiling group of WR's until I see him run at the combine.
Other's notes: @ericmcclung – Michael Gallup was a really sharp pick at 20. He was very productive both years at Colorado State.
2.09 – Kerryon Johnson, RB
Analyst: 
@dynastygridiron
Rationale: KerrYAWN Johnson may be right, but his value in the late 2nd round is too good to pass up. I am not really convinced Kerryon Johnson is a future starter in the NFL but if selected in the 2nd or 3rd as rumored, draft capital alone should give him instant opportunity for carries. With the right situation, opportunity > talent. I also considered Josh Allen and Auden Tate. Both prospects require a bit more patience as it will likely be more than a year or two to see their development at the next level.
Other considerations: Josh Allen, Auden Tate
Author's notes: Kerryon Johnson is the type of player I would feel comfortable drafting a little earlier than this based on his safe floor and the instant value return of RB's as they produce earlier than WR's for the most part. If he lasts this long I would take him here for sure. He doesn't strike me as a perennial RB1 type which is what I am looking for in the latter half of the second round so I would be trying to trade him to a team that just needs players if he has a reasonable start to the year.
2.10 – Josh Allen, QB
Analyst:
Matt Kelley (@Fantasy_Mansion)
Rationale: Viola! After starting the #NeverJoshAllen hashtag, it may seem hypocritical to actually draft Allen, but the pick was purely rational. Quarterback thirst is real in superflex formats, and regardless of a highly erratic arm, Allen was the only player left on the board with draft capital juice. Josh Allen may look like the quintessential bust QB, but most second round rookie picks bust anyway. Investing in Allen and his projected first round draft capital and a likely starting role ensures value retention heading into the 2018 regular season. I will look to regain my street cred by trading Allen after he first productive start.
Other considerations: None
Author's notes: This is the type of player I am looking for in the late 2nd round. I believe Josh Allen will likely bust, but if you are picking late in the round you can likely afford the bust. If he does somehow hit, the sky is the limit for him.  Look to sell at the first sign of good news, or if you are a believer hang on for the ride.
2.11 – Kalen Ballage, RB/WR
Analyst: P
ete Lawrence (@_petelaw)
Rationale: I feel more confident that Ballage is an elite level physical talent that was improperly utilised on the Sun Devils offence. He posted only four 100 yard rushing games and one of these was against the abysmal Texas Tech defence in 2016 that couldn't stop the most anaemic of High School offences. I might be very wrong on this one but for a physical talent like Ballage, I'll take him at 2.11.
Other considerations: None
Author's notes: I have to agree with Pete on this one. Ballage could be an absolute monster based on his build and athleticism. Again the bust factor doesn't worry me when picking this late.
Other's notes: @ericmcclung – Kalen Ballage is humongous and is going to be the workout warrior of the combine. His usage and production at Arizona State was very erratic, but a steal at 23rd.
2.12 – Auden Tate, WR
Analyst: Jerry Amole (@HangoverCouch)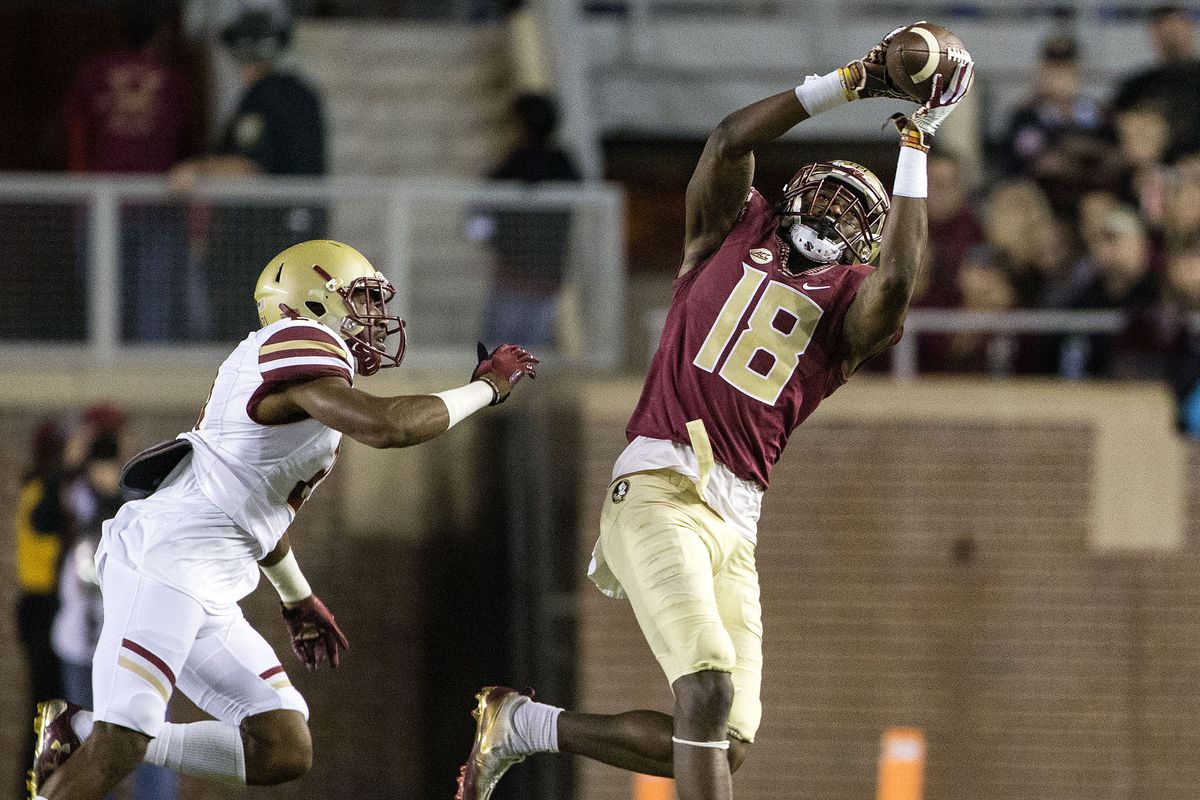 Rationale: With the last pick of our mock draft I selected the player I felt has the highest upside, Auden Tate. Tate is an athletic freak at 6-5, 225-pounds. His size and innate ability to track and catch contested balls makes him a red zone dream for any NFL quarterback. This proved true by his 10 touchdowns on 43 receptions. Even though Tate's 2017 total yards and receptions might not look impressive in a vacuum, he still posted a 74th-percentile College Dominator Rating and 75th percentile Breakout Age, both positive signs for a wide receiver who just turned 21 a month ago. This was all in spite of playing through a nagging shoulder injury all year and losing his starting quarterback in the first game of the season. Scouts may question Tate's top speed but his size and agility all but make up for his speed. Tate is the ultimate buy low candidate.    
Other considerations: Considering the superflex format of this draft, my only other consideration at this draft slot was QB, Mason Rudolph.
Author's notes: Auden Tate has a more attractive profile than most are willing to admit. His counting stats weren't impressive but his College Dominator RAting and Breakout Age were impressive. If I am trying to hit a home run Tate is a good bet. The only thing that would be concerning is if he doesn't run fast or jump high at the combine.
Conclusion
That is the end of our first rookie mock draft. As we learn more about the players after the combine expect to see a lot of change in the draft order. It will be interesting if any workout warriors push their way up draft boards or if anyone has a poor combine to drop their value ala Dalvin Cook last year. Stay tuned for a follow up mock after the NFL scouting Combine.