This is Best Pick 'Em Player Props Week 6! NFL player prop over-unders are extremely profitable in the long run, and we've learned a lot from the first few weeks of the season about teams' identities, players' limitations, and game scripts we can depend on going forward. Let's take advantage. Welcome back to my pick 'em series where I try to find the right selections for you. In these articles, I review selections from the previous week, then give out my favorite player prop pick 'ems for the upcoming weekend on the DFS pages of Underdog Fantasy and Sleeper.
In each article, I'll explain why I see value on the selected props. I will also accompany the article with at least one sample slip. Players who want to tail the picks can head over to the designated platform and join either Underdog or Sleeper using promo code UNDERWORLD for a full deposit match up to $100. Players who want to get a head-start building their pick 'em cards earlier in the week can also visit PlayerProfilers' DFS Dominator tool. It is here where fantasy gamers can navigate over a dozen prop leans by me and some other staff a day or two before I reveal my final picks in this article. These picks will be located in the Underdog Pick Generator on the website.
Week 5 Review
In Week 5, my leans were a showcase. The Underdog Pick Generator was an exhibition of winning. For those who got in early on the action by tailing some of these, you probably ate in bunches.
Masterclass: my Week 5 🏈 @UnderdogFantasy player prop pick 'em leans go 9-2. 😎

Weekly…

💰 Friday mornings: these leans up on the Underdog Pick Generator of https://t.co/ThwUiaogRU's DFS Dominator.

📝 Saturday mornings: my final card up as article, with some new selections. pic.twitter.com/pC3ulvgu8i

— Ahaan Rungta (@AhaanRungta) October 11, 2022
However, I managed to pick out some losers for the article. As a result, it ended up being a rough go on the final card. Last week's final wagers can be viewed in this article. It's time to right the ship in Week 6.
Sleeper play: Tyler Allgeier OVER 8.5 receiving yards, Allen Robinson OVER 36.5 receiving yards
The rookie running back Tyler Allgeier received targets in back-to-back games entering Week 5. With Cordarrelle Patterson shelved on the injured reserve, Allgeier got his first NFL start and naturally received a career-high in touches with 13 carries. However, he was left without a target even in a come-from-behind gamescript against Tampa Bay. Instead, Marcus Mariota attempted only 25 passes. Only two of those passes were targeted at running backs. Both of those targets went to Avery Williams—a poor guess from my end.
Williams was the two-minute drill specialist for Atlanta, and Allgeier also conceded plenty of early-down snaps to Caleb Huntley. An ugly backfield could get uglier in Week 6 if Damien Williams makes his return against San Francisco.
For our other leg, it was a continuation of pain and another step closer to the white flag for the Allen Robinson hopes in 2022. Robinson got a good cornerback matchup and a perfect games cript as the Rams played catchup for a majority of the game. That didn't help him much as Cooper Kupp, Tyler Higbee, and Ben Skowronek served as the Rams' top three options. Robinson finished yet another contest with a bust performance. He posted three receptions on five targets for just 12 yards. Notably, Robinson is still one of seven remaining players in the NFL with a red zone target in each of the first five weeks of the season.
Underdog play: Chase Claypool UNDER 32.5 receiving yards, Hayden Hurst OVER 2.5 receptions
Fading Chase Claypool has been a fairly sustainable process for the majority of this season. Regardless of quarterback, he hasn't been efficient with his targets. Claypool had a season-high 35 receiving yards in Week 3.
That changed late in the game in Week 5. The Steelers were blown out by the Bills, and Claypool set season-highs in routes run (50), targets (9), and receptions (5). He still only drew 68 air yards and cleared the over in his last reception. Claypool finished with 50 yards receiving. For now, we'll chalk it up to losing on the anomaly week. Claypool must prove he can earn targets in other game scripts before we start believing in him long-term again.
This set us up for our first prop shutout of the season in this article series, but we avoided it on primetime with Hayden Hurst. A confusing pick 'em line at 2.5 at the time of publishing, this reception total went up to 3.0 hours after the article went live. I advised pick 'em players to tail anyway at the new line. Indeed, Hurst took advantage of a Tee Higgins injury and a Baltimore defense determined to shut down Ja'Marr Chase. The veteran tight end finished the night with seven targets and season-highs in receiving yards (53), air yards (49), and receptions (6). Notably, he also drew three red zone targets for the first time since Week 17 of the 2020 season.
Week 5 Legs: 1-3; overall -1.00u

YTD: 10-10; -0.50u
Week 6 Picks
Pick No. 1 (Sleeper): Cooper Kupp (LAR) OVER 0.5 receiving touchdowns

This is the first time I am taking a touchdown prop as a pick 'em. Touchdowns are volatile. There's a reason they are usually plus-money on sportsbooks. This is the exception. If the Rams are to do their job in this get-right spot for them, Cooper Kupp must do what he's best at doing—expose defenders in the red zone. Indeed, Kupp's "anytime touchdown" prop is juiced to a -145 price on sportsbooks as of now. He has only one rushing touchdown since last year, so this prop would be nearly equivalent to the one we're getting on Sleeper.
Kupp is one of the best players in the game and continues to be Stafford's go-to man. Even in a rocky offense this year, his dominator rating (59.9-percent) ranks No. 1 at his position and his eight red zone targets ranks No. 8. The Panthers rank No. 19 in the NFL in pass DVOA and have allowed a receiving touchdown to a wide receiver in three of their five games this season. This includes two No. 1 options (Deebo Samuel, Marquise Brown). The Rams' 26-point implied total is tied for fourth-highest on the Week 6 slate. Expect scoring—and expect Kupp to lead from the front.
Pick No. 2 (Sleeper): Devin Singletary (BUF) OVER 20.5 receiving yards

This prop, like the previous one, is juiced to -140 or higher on sportsbooks right now. We'll take advantage of some added value offered by Sleeper. Both the Bills and Chiefs have individual implied team totals of more than 25 points in this highly-anticipated contest (ranking in the top six on the slate). This clues us into offensive players putting up plenty of yards. This season, the Chiefs have allowed at least one opposing running back to go over this number in all five games:
Singletary shouldn't have much competition from teammates in the backfield for this task. His 24 targets, 111 routes run, and 53.9-percent route participation rank No. 7, No. 6, and No. 10 at his position, respectively. This year, Singletary's receiving volume has been fairly straight-forward to read. He's gone over his number by plenty in the two games where he received at least a 60-percent snap share. Singletary has gone under in three games where he didn't due to blowout. The game script is very likely not going to be in the blowout department. Take the over.
Pick No. 3 (Underdog): Adam Thielen (MIN) OVER 4.0 receptions


It might be icky that this line has a possibility of pushing. However, getting this is free insurance of not missing your prop if we fall short by one catch especially given that this line is set at 4.5 on sportsbooks right now. Thielen has made at least five catches in 10 of his 17 games since last year alongside the elite WR1 in Minnesota, Justin Jefferson. With Xavien Howard back to the Miami lineup with no injury designation, Jefferson will have his hands full. He'll see plenty of defensive attention by the team that rosters the Pro Bowl CB1 but still ranks No. 32 in the NFL pass DVOA as a defense.
In two of the last four weeks, Miami has allowed a pass-catcher that isn't the top option on the team to clear this line (seven receptions by Cincinatti's Tee Higgins, seven receptions by Buffalo's Isaiah McKenzie). Thielen has seen seven targets in four straight games. Even though the Dolphins aren't healthy at quarterback, the sportsbooks think this will be a competitive game as the game spread is currently set at just 3 points in favor of Minnesota. Expect the Vikings to keep the foot on the pedal in this passing game and utilize their veteran Thielen in volume.
Pick No. 4 (Underdog): Michael Gallup (DAL) OVER 40.5 receiving yards


Once again, I'll close this episode with a primetime prop. The talented wide receiver Michael Gallup should have a significant role in this divisional game on Sunday Night Football. Lead wide receiver CeeDee Lamb is officially listed as questionable, but the beat reporters are confident he's going to be a go for this game.
Yet again, we're going to be wary of a talented pass-catcher seeing clamps from an elite defensive player. Lamb will draw plenty of coverage from cornerback Darius Slay whose +30.1 coverage rating on PlayerProfiler ranks No. 10 in the NFL. Slay has allowed fewer than 20 total yards in three games this year and has shut down stars like Justin Jefferson and Terry McLaurin. Meanwhile, Gallup will see the priority of the remaining workload as the No. 2 pass-catching option for Dallas. The sportsbooks are projecting Dallas to be playing catchup in this game. This is suggested by the 6.5-point spread in favor of Philadelphia.
Gallup has only played in two games this season. However, he cleared this number in Week 5 against the Rams despite the Cowboys playing from ahead for the majority of the game. With the Cowboys likely drawing a more negative game script, Gallup is likely set to clear this line. This is also something he did in five out of his seven healthy games last year.
Example Slips
If you want to tail these picks verbatim, these are our recommendations. Play these player prop pick ems:
0.5u wager on a play with the 2 Sleeper picks, using

all-in

payout; profits 1u if both picks hit

0.5u wager on a play with the 2 Underdog picks; profits 1u if both picks hit
Your entries should look like this.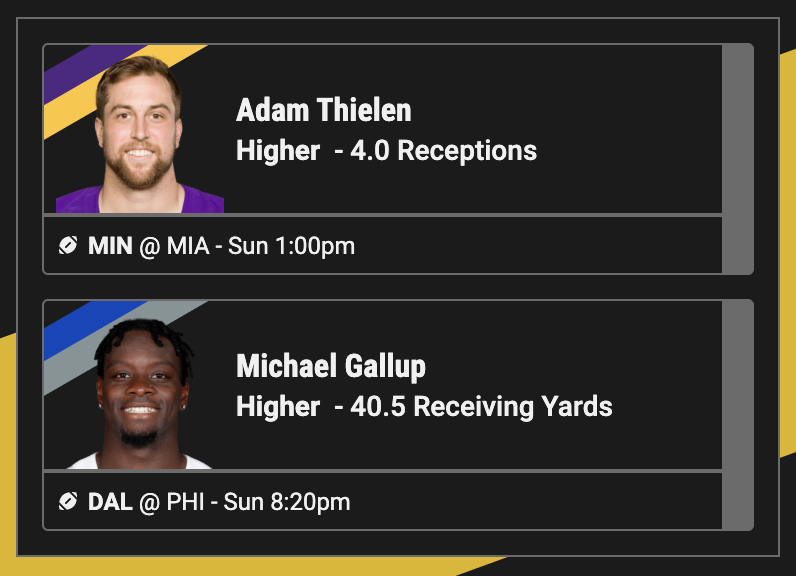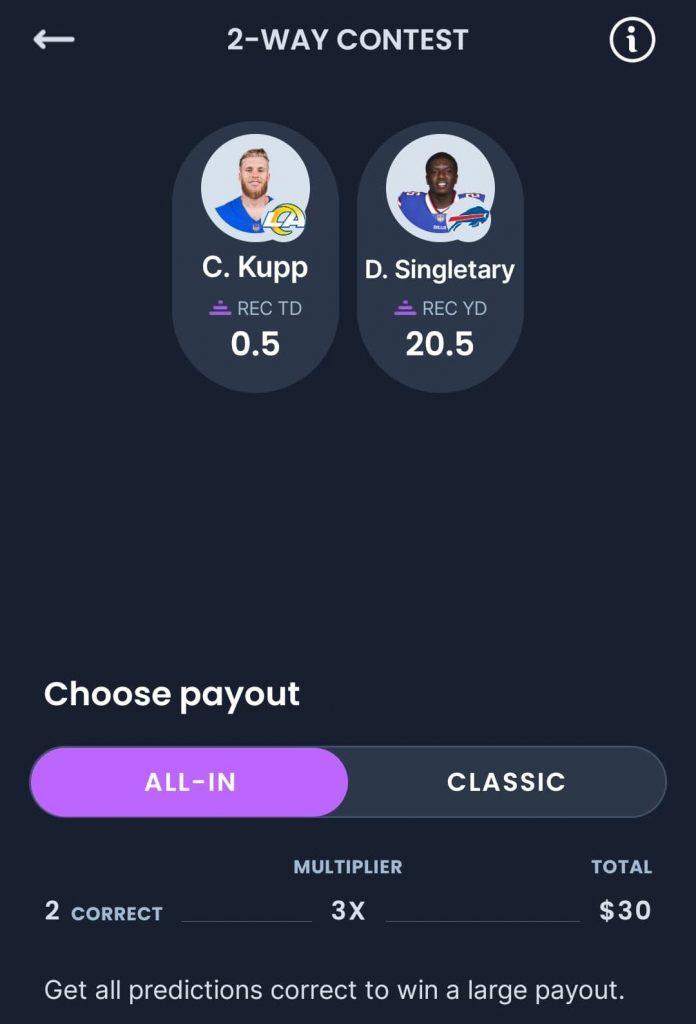 To read more about wagering player props and how to find edge, you can check out Seth Diewold's Beginner's Guide to Prop Betting. To get a deposit match up to $100 on either of these sites, use promo code UNDERWORLD upon entry.