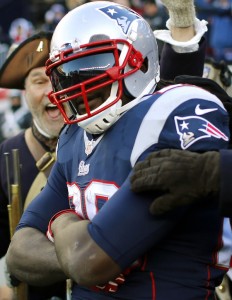 Though his completion percentage remains near the bottom of the league, like a young Matthew Stafford, Blake Bortles' fantasy output is propelled by a dynamic supporting case.
Without a Dion Lewis-caliber back on the roster, the Patriots must modify their offensive game plan to include less RB screens and RB pass routes and more between the tackles runs. In other words, more LeGarrette Blount.
After Steve Smith went down with a injured back week 4, Kamar Aiken averaged 77.5-yards and 8-targets a game operating as Joe Flacco's defacto go-to receiver.