Ah, the offseason, the time when dynasty managers evaluate their teams with the itch to make trades. Which players should fantasy gamers look to sell-high or ship off of their fantasy squads? And which players should we target for them? For this article, we're looking at dynasty sell-high candidates at running back. For reference, we'll use PlayerProfiler's Dynasty Deluxe Rankings to help find fair values and trade targets. Since every dynasty league involves different roster and scoring settings, we'll assume PPR and Superflex.
A personal dynasty strategy of mine is to have a solid core of wide receivers and figure out when to trade away running backs, since they tend to lose value more quickly. Selling high before the oft-mentioned age-26 decline is not a hard and fast rule, but it's usually a good idea. Todd Gurley, who experienced a steep fall from grace at 26.6 years old, comes to mind. Better to be a year early than a year late, especially since most running backs have a small window.
Chris Carson, Free Agent
This one hurts a bit as a Seahawks fan, but Chris Carson tops the list of dynasty sell-high candidates. In 2019 and 2020, he finished inside of the top-12 amongst qualified running backs in Fantasy Points per Game. Currently, Carson is 26.4 years old and he meets the warning sign of age. Meanwhile, he's also a free agent with recent reports that the Seahawks likely won't re-sign him. That said, let's dig into a few key advanced metrics based on his 2020 season
Carson finished with a 57.9-percent (No. 20) Opportunity Share, 53.2-percent (No. 22) Snap Share, and 156.8 (No. 29) Weighted Opportunities. Although he shared touches and opportunities, Carson ranked highly in the efficiency metrics. He finished 2020 with a 15.7 (No. 11) Fantasy Points per Game average and a 15.5 (No. 12) mark in 2019. He averaged 5.4 (No. 17) Yards Per Touch, recording 40 (No. 24) Evaded Tackles with a 22.5-percent (No. 24) Juke Rate. Furthermore, had a 21.0-percent (No. 23) Dominator Rating, meaning he accounted for 21-percent of the total team yards and touchdowns. The Seahawks offensive line helped, offering him a 91.3 (No. 8) Run Blocking Efficiency rating. All that falls in line with shared opportunities and extreme efficiency, punctuated by his +30.3 (No. 2) Production Premium.
Potential Trade Targets
On PlayerProfiler's Dynasty Deluxe Rankings, Chris Carson ranks No. 31 among running backs between Ke'Shawn Vaughn and Ronald Jones. He's a sell-high candidates due to his age and uncertain landing spot/role. A few running backs to target in trades include Vaughn and Jones, with the preference to Jones assuming Leonard Fournette doesn't return to Tampa. Vaughn is more of a buy-low candidate at this point, so others may not value him that highly. Other running backs to target include Austin Ekeler, and James Robinson. At worst, consider trading him away for Tony Pollard (RB37) or Myles Gaskin (RB36), but expect a bit more in return given the name value. 
Leonard Fournette, Free Agent
It's fair to say Leonard Fournette dominated in the NFL postseason. He ranked No. 1 with 86.8 total fantasy points at the running back position and was No. 2 behind Cam Akers with a 21.7 Fantasy Points per Game average. He rounded out the postseason with 300 rushing yards and three rushing touchdowns, also catching 18 of 21 targets for 148 receiving yards and one touchdown. After fellow Bucs teammate Ronald Jones suffered a quad injury, Fournette took advantage of the opportunities. 
Fournette remains a dynasty sell-high after riding the "Playoff Lenny" hype. Shortly after the Super Bowl, the Buccaneers reportedly wanted him back with the team. Then earlier this week on February 14th, a report surfaced that Bruce Arians noted they almost cut him before the postseason run. Say what? That gives a small snippet of how the team felt about him towards the end of the 2020 season. 
The story behind "Playoff Lenny" this season, it almost didn't happen.

Leonard Fournette was almost cut after being an healthy inactive on Week 14, via @NFLSTROUDhttps://t.co/g5lBtE2XDL pic.twitter.com/pKJmuoixCj

— Dov Kleiman (@NFL_DovKleiman) February 14, 2021
At this point in his career, Fournette will likely share backfield opportunities. With 132 (No. 32) Weighted Opportunities and averages of 4.5 (No. 48) Yards Per Touch, and 0.98 (No. 46) Yards Created Per Touch, it indicates he isn't overly explosive and productive with shared touches. However, the +5.9 (No. 24) Production Premium gives us a slight glimmer of hope. Yes, the team gave him most of the opportunities and he produced in the playoffs, and we can use that as leverage in trade discussions. 
Potential Trade Targets 
Currently, Leonard Fournette ranks No. 33 among running backs and No. 117 overall in the Dynasty Deluxe Rankings on the site for Superflex leagues. A few notable players to target in a trade include Denzel Mims, Michael Pittman, or Jalen Reagor. Buy low on all those sophomore receivers due to Fournette's playoff dominance, age (26.1), inefficiencies, and unknown landing spot.
Melvin Gordon, Denver Broncos
Notice a trend here at running back? Older running backs end up as the top dynasty sell-high candidates. In Melvin Gordon's case, he's a bit older than Chris Carson and Leonard Fournette at 27.9 years old. How does the saying go? Better to be a year early than a year late? The Broncos signed Gordon to a two-year deal in 2020, so he's an unrestricted free agent in 2022. 
---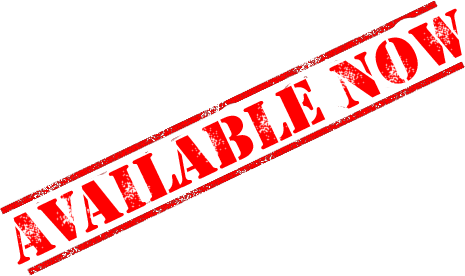 ---
Throughout the 2020 season, Gordon shared touches with Phillip Lindsay, but typically led the backfield. He finished the season with a 62.9-percent (No. 16) Opportunity Share, 44 (No. 25) targets, and 198.1 (No. 13) Weighted Opportunities. Pretty solid, especially in PPR leagues with the target volume at running back. Gordon logged 986 (No. 9) rushing yards, 32 (No. 27) receptions, and 158 (No. 42) receiving yards. We appreciate the Weighted Opportunities, but he struggled a bit with efficiency.
Potential Trade Targets
Melvin Gordon's lack of efficiency shows up in his 4.6 (No. 41) Yards per Touch average and -6.6 (No. 52) Production Premium. However, he performed well in a few other efficiency metrics with 59 (No. 12) Evaded Tackles, a 23.9-percent (No. 21) Juke Rate, and a 1.28 (No. 28) Yards Created per Touch average. These metrics should help boost trade arguments at his age. He ranks a bit lower than Leonard Fournette in the Dynasty Deluxe Rankings, and the same sophomore receivers listed previously apply as trade targets. Almost every dynasty trade depends on the other manager's team needs, so consider that while attempting to deal him to a competing team. 
Kenyan Drake, Free Agent
After signing a one-year deal with the Arizona Cardinals, Kenyan Drake is currently an unrestricted free agent. At a surprising 27.1 years old, he reached career highs across the board, particularly in the rushing department. In past seasons, he received more receiving opportunities and production, but not so much in 2020 since Chase Edmonds served in that role. Drake earned 31 (No. 38) targets while Edmonds earned 68 (No. 6) targets.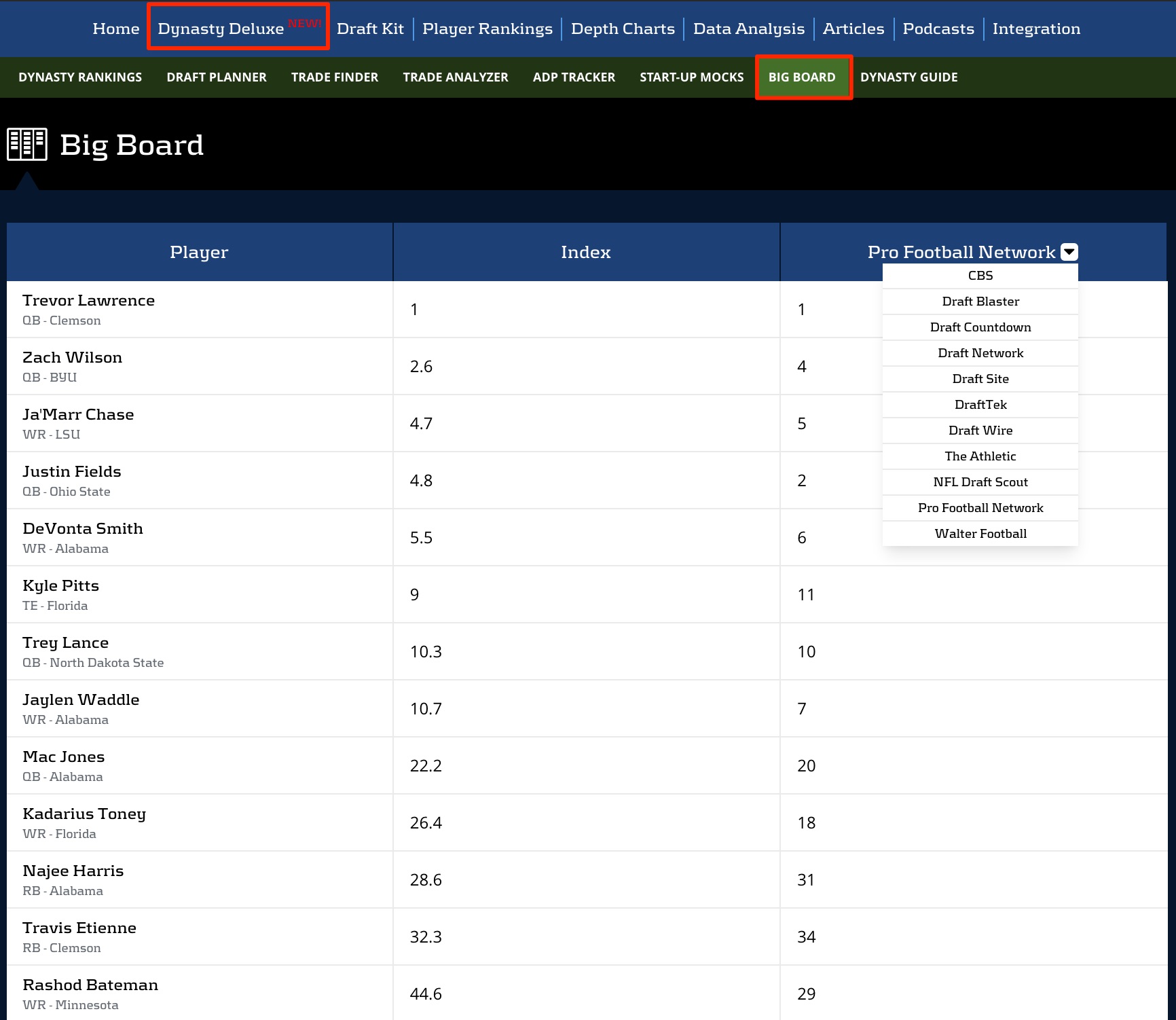 – Check out the Dynasty Deluxe "Big Board" for 10+ Mocks from across the industry.
In 2020, Drake led the Cardinals backfield with a 66.0-percent (No. 13) Opportunity Share and 192.1 (No. 15) Weighted Opportunities. He had 955 (No. 12) rushing yards and ten (No. 10) total touchdowns, yet only averaged 12.8 (No. 24) Fantasy Points per Game. The lack of receiving production and efficiency contributed to those RB2 numbers. Another advanced metric that stands out – his 0.71 (No. 101) Fantasy Points per Opportunity. Yikes. When running backs receive a relatively high volume of opportunities, they tend to rank decently in the efficiency metrics, particularly in Evaded Tackles and Yards Created. Unfortunately, Drake struggled with a 4.1 (No. 57) Yards per Touch average and a -16.3 (No. 68) Production Premium. His 33 (No. 28) Evaded Tackles, 173 (No. 37) Yards Created, and 0.66 (No. 55) Yards Created per Touch were further proof of his continued inefficiency.
Potential Trade Targets
The tricky part with Kenyan Drake involves the negative perception of the fantasy community. From conversations with fantasy players and analysts, Drake feels unappreciated, meaning we should temper expectations for a trade package in return. The Dynasty Deluxe Rankings reflect that, ranking him as the No. 158 player overall. Package him in a deal with another player for a Brandin Cooks-type upgrade at wide receiver. Or see how much the Corey Davis or Robby Anderson manager believes in them.
David Montgomery, Chicago Bears
We're going a bit younger here, but David Montgomery ends up as the final running back among our dynasty sell-high candidates. Emphasis on sell-high here since he crushed down the stretch. From Weeks 1-9, he averaged just under 18 total touches with 76 total yards, two total touchdowns, and 12.0 Fantasy Points per Game. In the first three games before he tore his ACL, Tarik Cohen shared snaps and touches.
However, down the stretch, Montgomery faced weak run defenses, which led to massive RB1 production. He suffered a concussion in Week 9, and then missed a few weeks. After the concussion, he averaged over 23 touches and 137 total yards per game with eight total touchdowns and 25.7 Fantasy Points per Game. From Weeks 12-17, he finished inside the top-8 each week among fantasy running backs. That's the perfect definition for dynasty sell-high candidates – finished the season as an RB1, but realistically more of a mid or back-end RB2.
Outside of that ridiculous second-half stretch, we have some season-long metrics to help with trade negotiations.  Montgomery boasted a 73.9-percent (No. 7) Opportunity Share, 255.0 (No. 5) Weighted Opportunities and 68 (No. 6) targets, but Cohen will eat into the RB Target Share when he returns in 2021. Montgomery logged 1,070 (No. 5) rushing yards, 54 (No. 5) receptions, and 438 (No. 4) receiving yards, which feels like his peak season and outcome. Since he received so much volume, he totaled 61 (No. 11) Evaded Tackles, 449 (No. 4) Yards Created, and a 20.3-percent (No. 31) Juke Rate. 
Potential Trade Targets
We can't emphasize this enough – sell-high while you can with his RB1 finish to 2020. On the Dynasty Deluxe Rankings, a few notable players near David Montgomery include Brandon Aiyuk, Tee Higgins, Terry McLaurin, and Chris Godwin. Smash accept if you're able to receive any of those players in return. Even if you need to pair another small piece with Montgomery, they're all worth the trade price.