Welcome in to the Week 12 edition of the Hitchhiker's Guide to RB! If you are new to the column, this is the place we talk all things running back streaming. Each week we discuss running back usage, matchups, and waiver opportunities to convert the least amount of capital into a playable running back position on your fantasy teams.
If you did not read the introductory edition of the column, I strongly recommend checking it out here:
Introduction
The weekly project of this column is to stream the highest-scoring running back we can using only a select group of bench running backs and the waiver wire. Additionally, I hope this article allows you to think critically about the inputs involved in fantasy production at the position that will inform how you play fantasy football.
In each article, I will briefly recap the week that was at the running back position. Then, I will discuss the status of our existing running back bench and whether to make any transactions on our official roster. Lastly, I will discuss potential waiver options and designate my plays of the week.
Often, I will mix in other tangents week-to-week addressing roster management, draft strategy, backfield shifts, potential beneficiaries from a major injury, or an examination of team or player usage trends.
Note: Any data not from Playerprofiler, or otherwise sourced, is via Pro Football Focus.
Week 11 Recap – League-Wide
Below are the top 24 running backs from Week 11 excluding Monday Night's game along with the overall top 24 running backs in points per game. I have also placed our stream score both weekly and season-long into the chart.
The color coding is as follows:
Teal = drafted in the top 24 at their position by 4for4's ADP aggregator.
Yellow = drafted outside the first eight rounds.
Green = drafted outside the first eight rounds, and selected plays from our "roster" (see last week's article)
Pink = players on our roster, not played last week
Purple = players not on our roster that were recommended plays off waivers last week
Orange = Un-drafted
White = does not fall into any of the aforementioned categories: mid-round post-"dead zone" running backs
Note: Rhamondre Stevenson's ADP rose to 8.10 (94) just days AFTER the pre-season version of this piece was finalized. At the time it was written, he was drafted outside the first eight rounds and thus streamer-eligible per our criteria.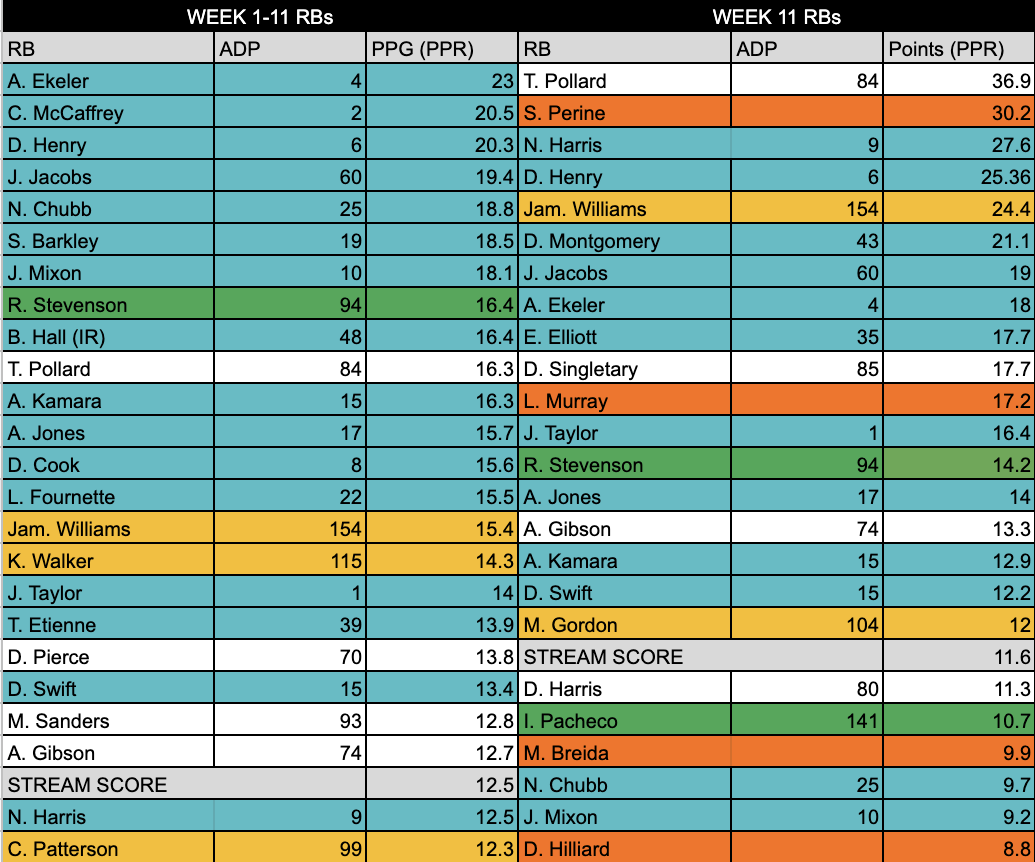 This week was eventful but more than anything a reminder of the primacy of variance. Latavius Murray and Samaje Perine provided two of the top 'ZeroRB' spike weeks but likely only assisted your best ball teams. Each succeeded in large part due to in-game injuries from their teammates and/or touchdown luck. Speaking of touchdown luck, Tony Pollard and Jamaal Williams, two of the most successful later running back selections, both scored a hat trick in Week 11. Ironically both backs – who have enjoyed success due to injuries from teammates – had their top performance of the season this year with Ezekiel Elliott and D'Andre Swift both active.
A Big Week for the ZeroRB stars of 2022
What Pollard and Williams have been able to accomplish in part-time roles all season has been remarkable, even if they've admittedly ran hot. This type of game is always the ceiling scenario for Williams who is essentially the James Conner of 2o22 with his run of goal-line touchdowns. We've talked about Williams plenty here when D'Andre Swift missed games early in the season, and honestly, his role has hardly changed. The primary driver of Williams's variance game to game has been script rather than who else is active around him. He is the primary early-down rusher with possession over 80-percent of work inside the five. The complimentary early-down and pass-down roles opened the year as entirely D'Andre Swift's domain.
That role then fell to Craig Reynolds upon Swift's injury and is currently being split between Swift and Justin Jackson with Reynolds on injured reserve. My long-term expectation is for Swift to eventually regain his role but that may not even occur in 2022 (or ever).
I have tried for the last 90 minutes to decide on a dynasty take for D'Andre Swift and I'm sorry but I do not have one

— Jakob Sanderson (@JakobSanderson) November 16, 2022
In the meantime, the Lions are a run-first offense that has played well of late. Continue rolling with Williams as an RB2 regardless of Swift's status. I would consider him similar to D'Onta Foreman but on an offense we have greater confidence in.
Tony Pollard
Tony Pollard is the one who knocks. Every piece of his efficiency, the fact he has a standalone role, and the notion he can out-snap Ezekiel Elliott 39-21 in any game is a reflection of what he's earned due to his level of play. Pollard is one of the most efficient rushers in the NFL.
Make sure to note the subtle fake of an angle route to freeze the linebacker and give him the space he needs to run by him all the way to the house. There are not many running backs with his mix of speed, sophistication as a receiver, and ability to add value in all aspects of the run game.
TONY POLLARD DOES IT AGAIN!!!!!!pic.twitter.com/95BRqRoagz

— BetMGM 🦁 (@BetMGM) November 20, 2022
While I expect the Cowboys backfield to move back near 50-50 due to Jerry Jones's Zeke obsession, Pollard needs to be in lineups every week given his playmaking upside. I can only hope we see Pollard in an every-down role next season.
The Samaje Pe-Line
I do primarily dynasty content in the Bulletproof Fantasy Football discord. One of my common refrains in dynasty advice is to never roster a wide receiver below the "Pe-Line." Essentially, what I mean by this is that past a certain threshold of wide receiver, there is no upside in their profile likely to provide meaningful enough starting value in any circumstance. You're better off cutting them for the cheapest available backup running back.
Samaje Perine – by virtue of Joe Mixon surviving a season and a half without injury and a career full of mediocrity – has often been that player. What Perine does have going for him, however, is an all-purpose skillset and a high-value contingent role in a top offense. One of the best profiles to stash on benches is a large running back who can play pass-downs. Perine has handled over 70-percent of passing downs for the Bengals this year, and at 233 pounds can fulfill a workhorse role when called upon.
I called this the "competent plodder" profile in previous articles.
Expectations Moving Forward
Joe Mixon suffered a concussion in Week 11 paving the way for Perine to add to his ceiling after already scoring two touchdowns. Chris Evans was inactive with a knee injury and Perine out-snapped Trayveon Williams 46-8. Evans may be activated next week, but Perine has clearly been the most trusted option as Evans has yet to top five-percent of offensive snaps.
In Week 5 of 2021, Joe Mixon played partial snaps after being slowed by an ankle injury the previous week. Perine played 61-percent of snaps to Evans' 10 in relief of Mixon. This is the only sample we have of these backs being deployed in respect of a Mixon injury after a week of preparation.
Because Perine has yet to provide proof of concept, his projection is fragile. But the most common way handcuff running backs fail is being scripted out of inefficient performances and having an unexpected challenger take pass work. We at least know Perine dominates passing downs with or without a Mixon injury, so even if he splits carries he can provide RB2 value.
The only sticking point is Perine faces the Titans top-ranked rush defense next week. Given the new protocol on concussions, Mixon should be projected to miss that contest but he may need to miss additional weeks in order for Perine to take advantage of better spots vs. the Chiefs and/or Browns.
Finding the Next Perine
This late in the year, you are fully within your rights to empty the FAAB clip on Perine even if his likely outcome is a one-week spot start in a bad matchup. We just don't know how many more chances you'll get to find waiver wire value.
However, you should also use this chance to stash other "Pe-Line" candidates. There are no byes in Week 12 which provide the perfect chance to prioritize contingent upside on your bench. The following backs are under 50-percent owned, have played as the clearcut backup recently on their teams, and profile as most likely among the reserve options to play pass-down work.
Jaylen Warren: Had worked into a timeshare with Najee Harris prior to suffering an injury in Week 11. Monitor his health before bidding. Benny Snell would be the current favorite to take on backup duties should Warren miss time but has never been used in a passing-down role.
Alexander Mattison: Mattison profiles as no different of a bet in 2022 than in any other year. Dalvin Cook has merely been healthy. Should that change Mattison immediately becomes an every-week start.
Kyren Williams: Williams led the Rams in snaps today so calling him a reserve may be unfair. Nonetheless, he seems the best bet of any Ram at the moment to have an every-down role in their range of outcomes given his immediate takeover of passing downs. (96-percent of two-minute drills and third downs)
Isaiah Spiller: Has usurped Sony Michel for the backup role on the league's most fantasy-friendly offense for running backs.
Trestan Ebner: Was the clear-cut backup with Khalil Herbert on injured reserve. Had over a 10-percent target share in his final college season.
Deon Jackson: Returned from injury and resumed the backup role. He has a more limited package than Nyheim Hines but played 100-percent of the two-minute drill. Has been the lead rusher and pass-down back whenever Taylor has missed.
Week 11 Recap – Our Roster
This is the portion of the column where I walk through the six backs we have 'rostered,' with an eye toward their rest-of-season outlook.
Streaming Rules
For those joining us in progress, here is the process for the weekly streaming choices.
In the introductory column, I chose one RB in each of the rounds, 9-14, based on those available at each round using 4for4's ADP aggregator. That is my starting "roster."
Each week I will address whether to add any running backs available on waivers and if so, who to drop.
Because your team is not mine, my weekly plays will not only consist of my "rostered" running backs. Instead, I will recommend a play from each of three categories. (see below)
My streaming "score" each week will be the average of my play in each category. My "preferred" play will count double and MUST come from a running back on my "roster." If I choose to make a waiver back my preferred play, I will outline who I am cutting from my existing bench for that running back.
The Categories
Bench Streamers: The selected running backs in the introductory article plus and minus any transactions published throughout the year in this column. If a drafted player gets injured, I retain one injured reserve spot.
Premium Waiver Streamers: This group is comprised of any running back with less than 67-percent roster-ship on Yahoo leagues as of the first waiver run of the week. It can include both generally un-drafted players as well as previously drafted players who have been widely cut by managers.
Deep Waiver Streamers: This group is comprised of any running back with less than 33-percent roster-ship on Yahoo leagues. The same rules apply as above.
Current Roster
Our current roster is the six running backs on our existing roster. Those running backs are:
Rhamondre Stevenson (14.2)
Darrell Henderson (0.9)
Rachaad White (BYE)
Isiah Pacheco (6.2)
Isaiah Spiller (4.2)
Jerick McKinnon (1.4)
Status Quo
Rhamondre Stevenson
Damien Harris remained the ceremonial starter in return from illness but it matters not. Stevenson played 78-percent of snaps and had his fourth consecutive game with a 22-percent target share:
Rhamondre Stevenson has seen at least a 22% target share in each of his last four games.

— JJ Zachariason (@LateRoundQB) November 21, 2022
This immense workload was despite an uncharacteristically inefficient rushing performance with just 26 yards on 15 carries compared to 65 yards on eight totes for Harris. Stevenson remains an every-week elite option for as long as this role continues and there is no indication it will not.
Jerick McKinnon
It was an empty day in the box score for 'Jet.' However, McKinnon's role remained mostly unchanged from previous weeks in which he'd been more productive. He led the backfield n routes and snaps as he often will outside of uber-positive game script. The Clyde Edwards-Hellaire injury is more helpful to Isiah Pacheco than McKinnon due the overlap of the former two on early downs and McKinnon's more distinct usage. However, it never hurts to have another option in your backfield go down.  He remains a low-floor, low-ceiling flex play.
Rachaad White
White was on bye this week.
The rookie from Arizona State will look to build on his first career 100-yard game in his first career start when he next takes the field.
Stock Up
Isiah Pacheco
Isiah Pacheco officially usurped Clyde Edwards-Hellaire in Week 10, but injury was added to insult in Week 11 for the former first-rounder. After 'CEH' left the game early with an ankle injury, Pacheco rushed for 107 yards on 15 carries. While the rookie's vision has been questioned, he's graded out as an effective rusher this year. Pacheco sits No. 8 in NFL Next Gen Stats' Rush Yards Over Expectation per Attempt (RYOEPA). Notably, he also ranks a strong No. 15 in percentage of rushes over expectation.
For comparison, in a similar role in the same offense, Edwards-Hellaire ranked No. 5 to last in RYOEPA and dead last in percentage of rushes over expectation. In part, this may be due to Pacheco getting the bulk of carries in terrific matchups vs. the Jaguars and Chargers, but he has legitimately played well.
His ceiling remains limited by McKinnon's domination of passing down snaps. However, we forget that 'CEH' –  an inferior talent in a similar role – was putting up RB1 production to open the year. Eventually, Pacheco will find the end zone.
Isaiah Spiller
The 4th-rounder from Texas A&M has fully usurped Sony Michel for backup duties, out-snapping Michel 16-5 behind Austin Ekeler on Sunday night. Make no mistake, Ekeler is a singular talent. However, this offense flows through the running back position in all situations and this makes it a high-contingent value role. Remember Justin Jackson was able to provide RB1 overall value in his lone start last year.
Spiller lacks athleticism, but has a bell-cow college profile with adequate size and a 76th percentile target share. He would be a plug and play option should Ekeler suffer an injury.
Stock Down
Darrell Henderson
Consider me extremely unconvinced that Henderson is an inferior player to either Cam Akers or Kyren Williams. However, it is not my assessment that matters. Even if the deployment reverts back to previous weeks, the Rams' offense is broken and now likely without Matthew Stafford (concussion). Henderson can be safely dropped after playing just four snaps in their Week 11 loss.
EDIT: Henderson was reportedly dealing with a knee injury that flared up in pre-game warmups. Therefore it is possible his role has not diminished as much as this game implied. Nonetheless, if the Rams backfield remains a three-way committee there is no point to prioritzing any portion of it.
EDIT x2:  Darrell Henderson was waived by the Rams in what can only be described as an upgrade for his possible value. Not a single portion of how Sean McVay has managed his backfield has made any sense this year, and this is in keeping with that.
I am excited for Henderson to find a new home, and hope this was per his request. Kyren Williams is the preferred add in this backfield as it now moves to a two-man committee. Neither are more than flex plays.
The Result – Week 11 Plays
Rhamondre Stevenson led the way with 14.2, however, each streamer chipped in manageable performances with 10.7 from Isiah Pacheco and 7.3 from Kenyan Drake. Our total stream score was a low RB2 11.6. We now stand at 12.5 for the year-long average: the RB22.
The Waiver Wire Priority List
Among everyone rostered in 67-percent of leagues or fewer, here is your Week 5 waiver priority list.
NOTE:
*CON* = Contingent Value-focused use case
*SA* = Standalone Value-focused use case
*STASH* = Role projected to grow organically throughout the season
Feel Free to adjust this priority depending on your need for immediate starting value.
Isiah Pacheco – SA
Latavius Murray – SA
Samaje Perine – CON
Damien Harris – SA / CON
Gus Edwards – SA
J.K. Dobbins – Stash
Alexander Mattison – CON
Isaiah Spiller – CON
Kyren Williams – SA
Cam Akers – SA
James Cook – CON
Jerick McKinnon – SA
Tyler Allgeier – SA / CON
Jaylen Warren – CON
Deon Jackson – CON
Trestan Ebner – CON
JaMycal Hasty- CON
Keaontay Ingram – CON
Ronald Jones – CON
Justin Jackson – CON
Week 12 Transaction
We are dropping Darrell Henderson for Samaje Perine.
LATE EDIT: We are also dropping Jerick McKinnon for Latavius Murray after the release of Melvin Gordon.
Expect Murray to return to his early-down time-share role as the season progresses. But with Chase Edmonds and Mike Boone still injured, Murray only has Devine Ozigbo and Marlon Mack to compete with. It is within his range to be an every down bell-cow for at least this week.
Week 12 Picks
Preferred Play: Rhamondre Stevenson 
I'm running out of ways to write the obligatory "yes obviously play Rhamondre" line in the column each week. Please tweet me suggestions.
Premium Play: Rachaad White
There is quite literally zero reason for White to still be under 67-percent rostership but alas such is the case. Don't let Fournette's injury cloud the fact that White handled 56-percent of snaps BEFORE his backfield mate left their Week 10 game. I expect it will remain a timeshare, but White should be the preferred option over Fournette unless or until momentum swings back the way of the veteran. White should be projected over Fournette this week, and if either is to become a full-blown bell cow you'd have to bet on the rookie with all the wind at his back coming off his first 100-yard performance.
Deep Play: Latavius Murray
The first draft of this column had Samaje Perine listed as the play here, but since Melvin Gordon's release, I have updated it to Murray. Similar to Perine, Murray is a play only for expected volume. In a vacuum, I prefer Perine because he has had a greater share of passing down usage this year. However, the gap in the matchup between an elite one for Murray with the Panthers, and a poor one for Perine with the Titans, swings me to Latavius.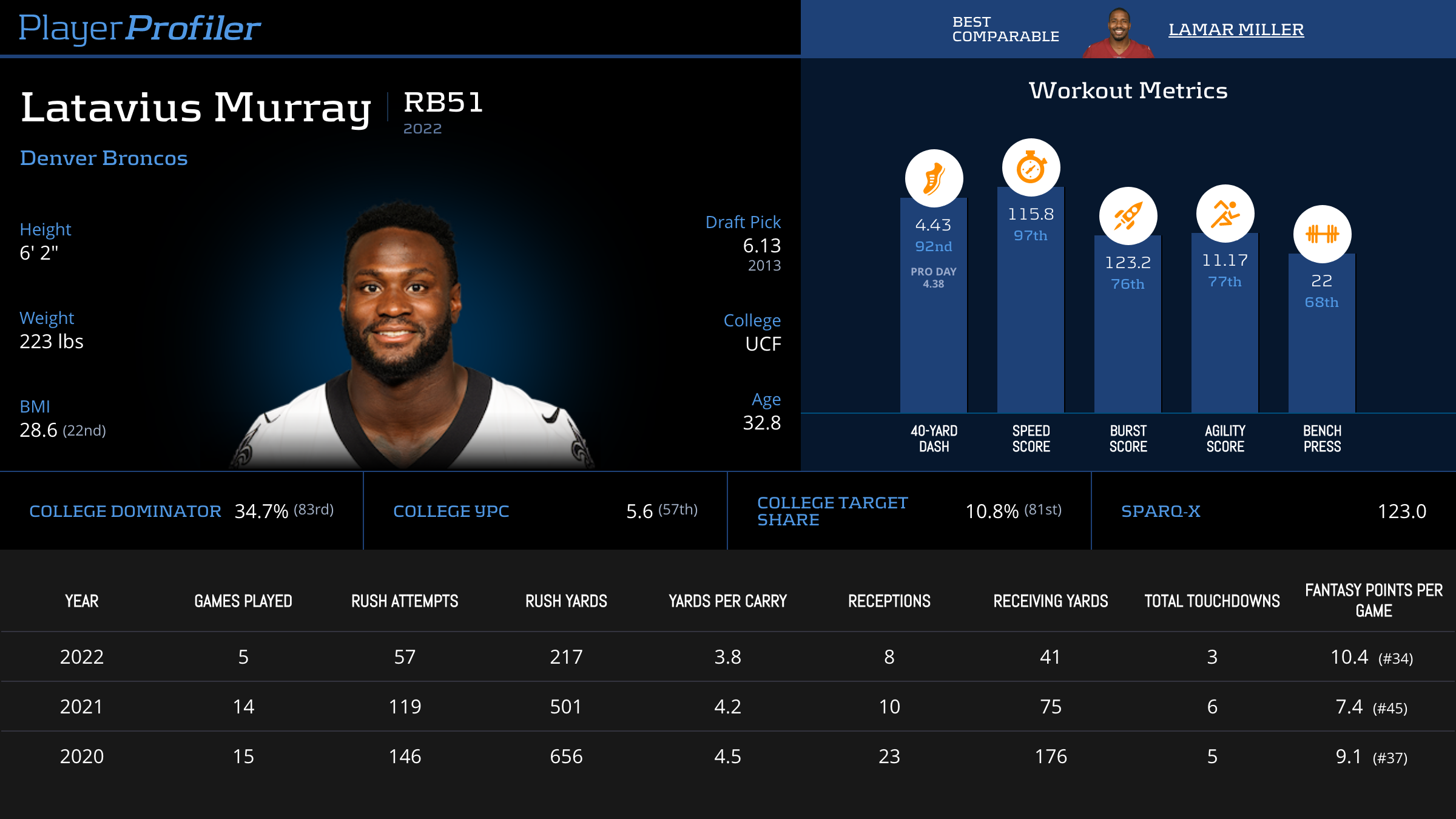 The Final Word
Thank you once again for reading this column, and I look forward to its continued development over the course of the season. Also, credit to Pro Football Focus for providing data I was able to use in this column in addition to the incredible wealth of information on PlayerProfiler.
Happy Hitchhiking!