In this article, seasoned high stakes player Andrew Schellenberg guides fantasy gamers though a high stakes strategy. This strategy will help guide fantasy gamers in their FFPC high stakes draft this summer. 
"I heard he doesn't draft anymore…"
Certainly feels that way to me, and maybe to you too – if you know me. You probably don't know me, and maybe you don't care to, but I'll talk about myself anyway.
At best, I am the Kramer, but more likely the Newman on the GOAT District podcast – popping in unexpectedly, with the only invitation extended by myself to myself. A Real Housewives, "Friend Of," but not main cast. Here for the sloppy drinking, volume joke shooting (even if they are understood by the few Bravo x Fantasy Football managers), and certainly less funny than I think I am.
This year, I have been drafting less due to a number of reasons.
However, don't think I have not been watching, listening, reading, following…
A digression.
How timely to write this during the "Rate Limit Exceeded" Saturday. As it turns out maybe I will be following and drafting even less than current state. Time to touch grass and lower than stratospheric golf handicap.
Back to it.
Coming Out of Hibernation
So why come out of hibernation now? FFPC's Main Event is now live. FFPC's signature event with one (1) million to the first-place team after a three-week shoutout from Weeks 15-17. Check this link for full scoring and prizes for the Main Event, but in short it is redraft, single QB, TE premium. The Main Event opened with slow drafts on July 4, 2023 and ends with online drafts and Vegas in-person drafts in September.
It would be fiscally irresponsible to draft a Main Event team without properly understanding the landscape. So I decided to draft (and review for your reading pleasure) a FantasyPros Championship ("FPC") team.
Not Perfect, but Still Helpful
It's not a perfect one for one relationship. A few key notes:
This tournament also has one (1) million to the first place team. Though the FPC is much more of a gauntlet to run through.

20,000 teams in the FPC vs. 4,000 teams in the Main Event.

This tournament has been drafting since before the NFL Draft, and therefore the Main Event may be an opportunity to "reset" the ADP value.

Can't stomach taking Rhamondre Stevenson at 2.12 today in the FPC because you were drafting him at the 4.12 in April? No problem, the new tournament likely carries much of the ADP over, but you don't need to factor in assessing where value was and instead can focus on where value will be by September.

Don't focus on the wrong things, I have no idea if Rhamondre StevenSZN was ever at 4.12. You get the point.

Lastly, this tournament has a lower entry fee so fellow managers may be more willing to push a zero RB build where the Main Event drafters may be more conservative and push RB up the board.
Enough preamble, to the draft!
1.02
The Pick: Ja'Marr Chase, WR
The Thoughts: Did not even give it another thought once Justin Jefferson was off the board. PlayerProfiler's 1.01 via Theo Gremminger's and Player Profiler's world famous draft kit. No other players really in consideration here. It's a build decision. Let's start with a WR and then we can get creative to outpace my 20,000 closest friends.
2.11
The Pick: Chris Olave, WR
The Thoughts: That was tight. The usual suspects went off the board through 2.07. Three players in the queue with three picks to go.
Devonta Smith went at the 2.08.
Mark Andrews went at the 2.09
Had to survive one pick to get Olave, and luckily for me Team 3 grabbed Najee. Hey! I am happy if Team 3 is happy! If Olave had been picked there, I would strongly have considered the Chase / Higgins start.
Did you have fun at the end of the second round? Hard hitting analysis… the end of the second round is not fun. Bland, boring. Chase / Higgins starts should not be on the mind as frequently as ADP would suggest. Derrick Henry despite his shoot out schedule feels like a dead zone back at the end of the second. Mahomes in the second is a tough click as well. After Olave there's a very flat tier of WR that all feel better as a late third round pick than a second-round pick.
Do you use any resources: Yes, no free ads. There's this website called FantasyMojo. This website has all FFPC ADP. It also has the last three days of FPC ADP.
The Pick: Jahmyr Gibbs, RB
The Thoughts: I'M DOING SOMETHING!
I had the opportunity for both Tee Higgins and Jahmyr Gibbs. Tee Higgins would have almost forced a Joe Burrow in Round 4 pick. Spoiler Alert. I did not take Tee Higgins and if Team 3 was ready to block the Chase stack (they were), they and others almost certainly would have for the Chase and Higgins double stack.
Admittedly, once I drew the 1.02, I knew I could get Gibbs at 3.02. I'm excited about the Detroit offense. Rookies gain value during the year, and there is the free opening Thursday Night Football look unique to these high stakes contests.
4.11
The Pick: Christian Watson, WR
The Thoughts: Bet on second year WRs. I had the choice between Drake London and Watson, but I have a clear preference for Watson. I did hope that London would come back to me.
General draft through Round 4: Teams 3 and 4 both have a rainbow build – one each of QB, RB, WR, and TE. Visually appealing this build suggests balance, but in fact limits firepower. If that's a build you are looking to use, it requires player precision. You have to hit the nuts on the QB and TE, or you've lost ground on the field.
5.02
The Pick: Kyle Pitts, TE
The Thoughts: I have learned no lessons from 2022, but at least he's cheaper this year?
Falcons Offense Thoughts: If I was drafting more frequently, I would be actively looking to select one of Bijan, London, and Pitts. Those three are too young and too talented to all be held back. Pitts in 2021 was an incredible rookie season, so I'm banking on talent with this pick.
6.11
The Pick: D'Andre Swift, RB
The Thoughts: In the moment, it was holy heck is Rachaad White going to fall? He went 6.09. Nice. Swift is a fine pick too, in my humble opinion, of course. Now connected to a high-powered offense, I have seen Swift look the part on the football field.
His unceremonious usage in 2022, his departure, and the crowded backfield in Philly are keeping his value in the RB dead zone. He has the pass catching ability and upside to return value, and a lot of his downside is included in his purchase price.
7.02
The Pick: Mike Williams, WR
The Thoughts: Here's a tweet if Twitter still existed, "All of 2023 is a dead zone after Jefferson and Chase. My Column:" For positions in consideration, it was really Williams or Marquise Brown. Love Hollywood Brown this year as I drafted him in the first FPC I did.
Rainbow Restrictions: As discussed earlier, it is tough to take a QB and a TE early in these FFPC drafts. Justin Fields was almost two rounds of ADP value at 7.02, and by the time he was drafted at 7.06 was 24 picks past ADP. Congratulations to Team 6. Arguably (to myself), he should have been in contention for my selection at the 7.02.
8.11
The Pick: Elijah Moore, WR
The Thoughts: No lessons learned from 2022 – ugh this is the same verse I just did.
Expanded Thoughts: This was to potentially set up a stack with Deshaun Watson. Order of operations required Moore to be selected first. Team 1 already had Mahomes and heard from them later that Moore would have been picked at the turn.
9.02
The Pick: Devon Achane, RB
The Thoughts: I decided against the stack. Biplap Mandal, legend, astutely pointed out on the High Stakes Fantasy Football Hour with Eric Balkman and Ferrell Elliott that he was sure Watson was the pick at 9.02.
He's right.
This was the pivot pick of the whole draft.
There's a Dalvin Cook sized shadow looming over Achane's current ADP, and it is depressed slightly from just after the NFL Draft. Opting for sexy young RBs who could pop late season or flame out is the exact bet we should be making in these large field redraft tournaments.
Further Note On Watson: He would have been an excellent pick here. I am bullish on the Browns. Team 11 had just taken Njoku at 8.02 to pair with Amari Cooper at 4.02, so there was less than a zero chance that Watson was coming back. Sadly, for Team 11's double stack dreams, Watson was off the board at 9.07.
10.11
The Pick: Skyy Moore, WR
The Thoughts: Does this qualify as no lessons learned in 2022 or bet on second year WR? Either way, I am excited for getting some of the band back together. Volume is king in fantasy football. The most talented players often get those opportunities, and on Kansas City, I'd be interested in arguments as to who is the most talented. I think it's Toney, and so does the market, but Moore in the 10th is a good access point to Mahomes.
11.02
The Pick: Tank Bigsby, RB
The Thoughts: Existential crisis time. Do I have too many rookie RBs? It's not rookie fever or dynasty brain. Rookies, if they are talented, trend up through the end of the season. Ideally, I won't be counting on Achane or Bigsby early in the season. Gibbs has enough draft capital (and as mentioned above the free Thursday look) that between Gibbs and Swift, I should have at least one bankable RB1.
Quick Hits, and Yes A Note About QB Drafting:
I drafted Rondale Moore at 12.11. He's still the last of the draftable WR, and I want to be out of the WR game by Round 12.
If Pitts is bad again, then this team is dead anyways. I have no real interest in Conklin.
Both tilting and true, it is a mistake to draft two QBs if you took an early round QB. This team waited on QB, especially after the Watson decision. There were a few options that went to teams who had taken one prior to Round 6. Yes, I am tilting and mad online, and also this is an upside limiting move. So much happens over the summer, and you want access to volatility at RB and WR, not QB. To say nothing of the double defense drafter…

And yet, I took two QBs. Who knows if they work out. Love is an unknown, and Kyler is hurt. I look forward to hating my life on waiver Wednesdays.

Always pay attention to the "somebody knows something" guys. Not drafting for a long time impacted my late round darts. I was less plugged in than some of the grinders were trending. Often these darts get steamed up (see Jerome Ford, YIKES, and Pierre Strong), and so the wise drafter sees where the next dart throw is. Point being, I don't love Malik Davis and Cade Otton. Don't copy those.
Lastly, Jerome Ford. For now, this is the ceiling at which I would draft him. I don't mind the steam and the bet especially if drafters push Nick Chubb at the 1 / 2 turn. Theo Gremminger had a great perspective on handcuffing that we can apply here (even if it is not a handcuff). Theo's rule of thumb was handcuff 10 rounds away from the stud, that's where Ford is now.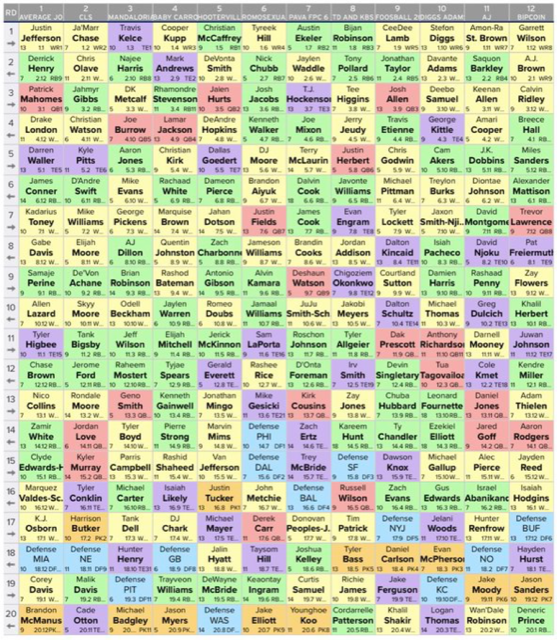 Conclusion
Overall, I'm pleased with the team. This team has a lot of upside picks with minimal dust in sight. Getting Watson vs. Achane correct will determine whether this is a million-dollar winner, league winner, or just another dud in a season of twenty thousand of them.
– 💵Sign up at the FFPC➔ Click Here! and get $25 OFF your first team with promo code: UNDERWORLD.