We all have them. The players we attach ourselves to over the course of the pre-draft process. The ones we try our damnedest to draft or acquire in fantasy football. For better or worse, these are the players we end up attaching our reputations to as fantasy players and/or analysts. This series will focus on both sides of that particular coin.
In this new Underworld venture called Studs and Duds, we will talk about one player we planted our proverbial flag on that was a hit and one that was a bust. Along the way, we'll be using PlayerProfiler's advanced stats, metrics and analytics to analyze the process, figure out how and why these players hit/busted, and decide whether we want to target/fade said players next season.
Prior to his season-ending suspension, Will Fuller had been averaging 17.2 Fantasy Points per Game, the No. 7 mark among qualified wide receivers. He was a winning asset on a weekly basis, posting multiple top 10 positional finishes.
How Many Leagues Did You Have Him In?
Every redraft league save for SBFX, where one of the biggest Fuller touts, Adam Levitan, beat me to him. Fuller was a target of mine in the fifth or sixth round in every typical redraft league I had this season, and I was able to roster him almost everywhere.
When Did You Know He Was One Of Your Guys?
I've always been a fan of Fuller and his week-winning upside. His 4.32 (99th-percentile) 40-yard Dash speed makes him one of the fastest players in the NFL. His utilization in the Texans offense prior to 2020 made him a candidate for boom weeks. However, his injury history and sporadic production behind DeAndre Hopkins made him frustrating to roster for many.
In prior seasons, I would acquire Fuller when those who drafted him had enough of his Weekly Volatility. This season though, the "all-in" moment came for me when his average draft position barely rose after Hopkins' departure from the Texans.
Why Did You Like Him So Much?
With Hopkins inexplicably traded to Cardinals prior to the start of the season, Fuller was left as the primary target for Deshaun Watson in the Texans offense. However, Fuller's average draft position remained depressed for a few different reasons. Firstly, his "injury prone" label. He has yet to play a full season in the NFL, in large part due to a myriad of injuries ranging from an ACL tear to hamstring strains. Secondly, the uncertainty around whether Fuller or newly-acquired Brandin Cooks would ascend to the target hog role in the Texans offense. For some odd reason, people thought Fuller's 20.7-percent (No. 35) Target Share from 2019 would simply disappear with Cooks in town. Finally, and likely the most prominent reason, many fantasy football players were likely burned by his prior inconsistent performances.
The above narratives, assuming they were applicable in the first place, went too far on Fuller and depressed his ADP too much. He was priced closer to his floor rather than his ceiling outcome. His ADP was closest to Michael Gallup, the third receiving option on his team, and Marquise Brown, the first receiving option on a run-first offense. Fuller's ceiling was clearly higher than both of theirs. This is the reason why I eagerly drafted him in almost every league. I think a fair ADP would have been somewhere in the late third, early fourth round.
What Did You Learn?
You don't really learn as much when you get something right as opposed to when you get something wrong. However, if I were to take a lesson away from the process of drafting Will Fuller, it would be to target players in drafts where the ADP skews closer towards the bottom percentile outcome of a player. Especially when the ADP is driven down by narratives not based on numbers. For example, Fuller's injury proneness was and continues to be overrated in fantasy. Further, his Weekly Volatility had a strong chance of changing with Hopkins no longer in Texas. When drafting outside of round three, it is beneficial to target the players with the highest ceilings and ignore their floors.
Where Would You Be Comfortable Drafting Him In 2021?
Fuller signed a one-year deal to play for the Miami Dolphins this season. He is currently going just inside the top 100 players drafted in ADP. Assuming his price remains this depressed, I will likely roster him everywhere again. I'll be more than happy drafting him one to three rounds higher than this current ADP. He will likely go nowhere near here, but this is where his ceiling is. He should have no issue seizing the WR1 role in Miami, and will also elevate the fantasy football production of Tua Tagovailoa. In fact, a Tua-Fuller stack sounds like a great Best Ball combo.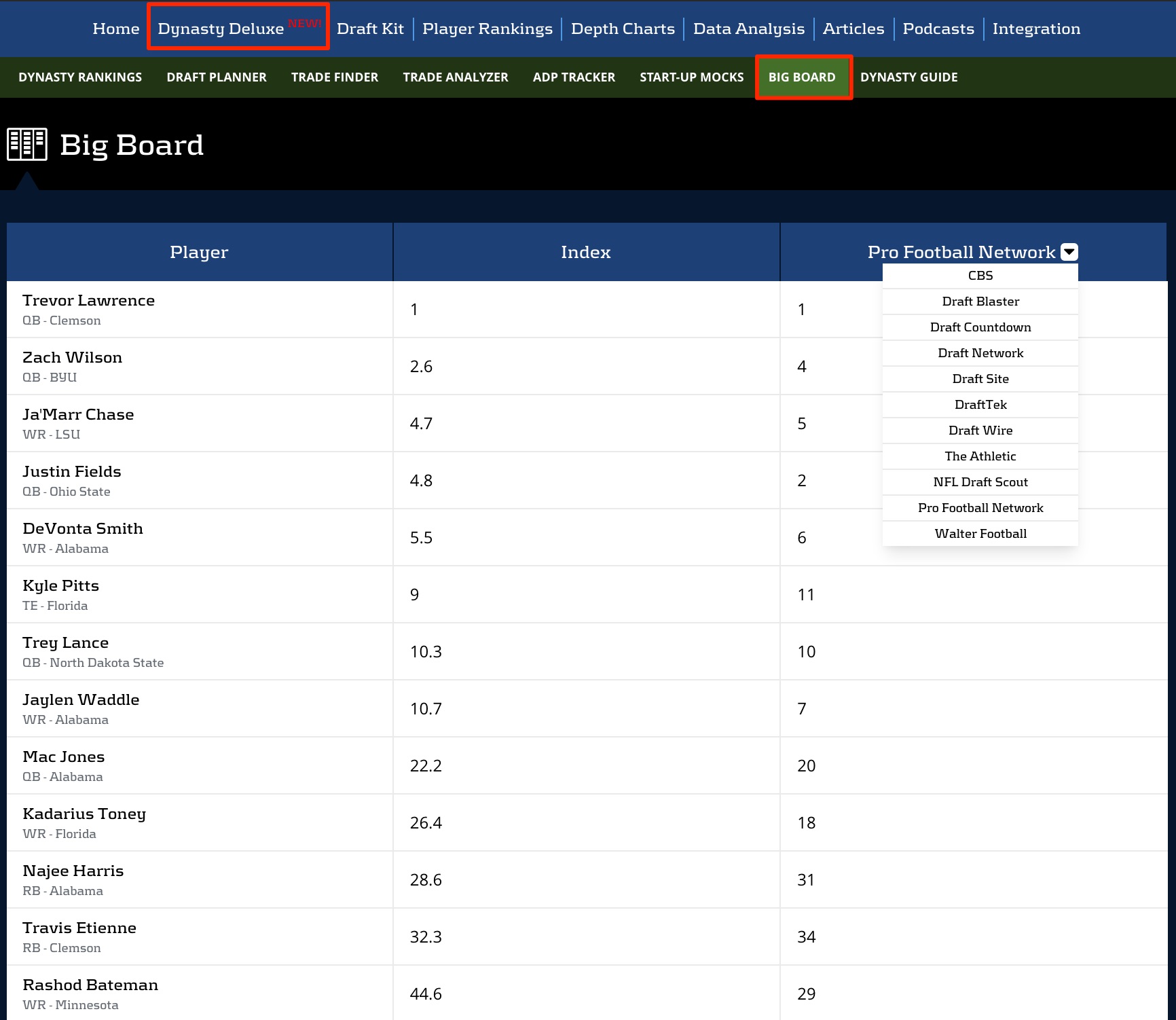 – Check out the Dynasty Deluxe "Big Board" for 10+ Mocks from across the industry.
Drafted as an RB1 in most leagues, Miles Sanders finished as the RB18 in Fantasy Points per Game with a 13.9 FFPG average. While Sanders did not flame out as badly of some other running backs picked ahead of him: like the injured Saquon Barkley or Christian McCaffrey, or the inefficient Clyde Edward-Helaire, he was still a player that I had a hard time confidently starting on a week-to-week basis.
How Many Leagues Did You Have Him In?
I drafted Sanders anywhere I was picking close to the end of the first round. Overall, I rostered him in 50-percent of my redraft leagues.
When Did You Know He Was One Of Your Guys?
I was a big fan of Miles Sanders as a prospect and drafted him in many leagues in his rookie season. His 120.3 (76th-percentile) SPARQ-x score, above-average 8.4-percent (64th-percentile) College Target Share, and 211-pound frame fits the profile of an every-down workhorse.
His productive end to the 2019 season, where he averaged 17.2 Fantasy Points per Game after Philadelphia's Week 10 bye, led me to believe that he would not only take over as the team's bellcow running back in 2020, but that he would excel in that role. When the Eagles failed to add any additional running backs of note via free agency and the draft in the offseason, it was game on!
Why Did You Like Him So Much?
When picking towards the back of the first round, all the surefire bellcow backs are gone. At this point, you have really two options: embrace a zero RB approach or take who you perceive to be the best players available regardless of position. When there is a running back whose increased offensive role I have a strong conviction about, I usually lean towards the 'best player available' strategy. For me, Miles Sanders, was one of those running backs. It turned out that this hunch was right. He was provided a 77.0-percent (No. 3) Snap Share and a 76.3-percent (No. 6) Opportunity Share, clearly receiving bellcow usage. He was also efficient with his usage, averaging 5.6 (No. 8) Yards per Touch and 1.67 (No. 10) Yards Created per Touch.
Where things went wrong was not in projecting his usage and skill, but in projecting the effectiveness of the Eagles offense. Philadelphia's inability to generate offense as a result of Carson Wentz's regression as a passer, and an oft-injured offensive line, stifled any hopes of Sanders reaching his RB1 ceiling. Wentz was afforded an 82.0-percent (No. 29) Protection Rate, and Sanders an 86.4 (No. 17) Run Blocking Efficiency rating. Unable to generate consistent offense, the team zapped Sanders' upside. Facing negative Game Scripts, he scored only six (No. 25) Total Touchdowns all season, the same amount as Jerick McKinnon and Giovani Bernard.
What Did You Learn?
Philadelphia's offensive line woes and ability to nuke their entire offense was a factor I greatly underestimated heading into the 2020 season. This information was readily available towards later fantasy football drafts, but I ignored it. I thought Sanders' talent would transcend any potential problems with the Eagles offense. I was wrong. Early-season injuries on the offensive line, especially to key players, is something I will pay more attention to moving forward.
Where Would You Be Comfortable Drafting Him In 2021?
With the offensive line now healthy and the Eagles fully committed to Jalen Hurts (editors note: we hope), I still will be targeting Sanders as an early-round pick. He is currently being drafted in the late second, early third round. This makes him a bargain considering his usage last season. The offensive line will only get better, and his 2020 season confirmed his status as a bellcow moving forward.