In this weekly series, I'll outline my five favorite picks for the Sunday slate and provide a sample slip. As always, mix up the combinations and sacrifice a lamb or two.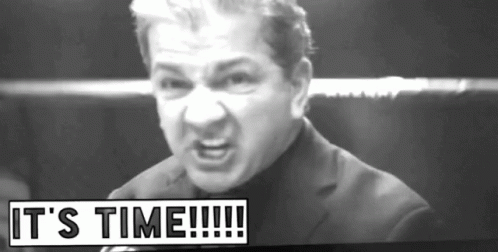 Week 13 Underdog Pick'em Plays
Cordarrelle Patterson OVER 75.5 Rush + Rec Yds
Confidence Level: Higher than high
Vegas predicts that the divisional matchup between Tampa Bay and Atlanta will be the highest scoring game of the weekend, with a 50.5-point total. And the beloved Cordarrelle Patterson will be the beneficiary, hitting the OVER with ease. Patterson is one of the most efficient "running backs" in the NFL, posting a +29.7 (No. 1 among qualified running backs) Production Premium. His 12.2 (No. 1) Yards Per Reception and 6.8 (No. 1) Yards Per Touch will be on full display against Tom Brady and the Buccaneers.
Leonard Fournette UNDER 103.5 Rush + Rec Yds
Confidence Level: High
Tom Brady and the Tampa Bay WR group are due for a bounce back and it will come at the expense of Leonard Fournette. While Fournette has been an effective player, he has only hit the OVER on this line in four out of 11 games this year. Also, he smashed the OVER last week with 131 total yards, but both Mike Evans and Chris Godwin saw season lows in receiving yards. If the pendulum swings back towards Evans and Godwin, then Fournette will hit the UNDER.
Ja'Marr Chase OVER 64.5 Rec Yds
Confidence Level: High
Ja'Marr Chase is coming to smash the OVER in another game with a high total of 49.5 points. It can be difficult to take the OVER on a player who has hit the UNDER in four consecutive games, but I'm here to make the case that he's due for a big bounce-back game against the Chargers. Three of the past four games were blowout victories for the Bengals, which have contributed to Chase's subpar receiving yards. On the contrary, the competitive matchup against the Chargers will provide more opportunity for Chase to rack up yards with his 99.4-percent (No. 2) Route Participation and 41.6-percent (No. 4) Air Yards Share. 
Matt Ryan OVER 1.5 Pass TDs
Confidence Level: Medium
The logic behind taking the OVER on this line is simple: First, the Buccaneers have one of the best rushing defenses in the league. Second, the Falcons have an implied team total of 20 points. Matt Ryan will hit the OVER unless Younghoe Koo kicks three fields goals. The good news is that Koo has averaged 1.3 Field Goals Per Game, so the odds are in favor of Ryan hitting the OVER.
Tyler Conklin OVER 30.5 Rec Yds
Confidence Level: Medium
Tyler Conklin OVER 30.5 receiving yards rounds out my Underdog Fantasy Pick'em slip this weekend. Conklin has been a productive tight end this season, averaging 37.5 Receiving Yards Per Game on a 14.5-percent (No. 16 among qualified tight ends) Target Share. He has hit this line in six out of 11 games this season, and he has a good chance to hit on it again because Detroit allows the sixth-most receiving yards to tight ends.


Week 12 Recap (4 for 5)
I will recap my achievements and shortcomings for last week's slip at the end of each article.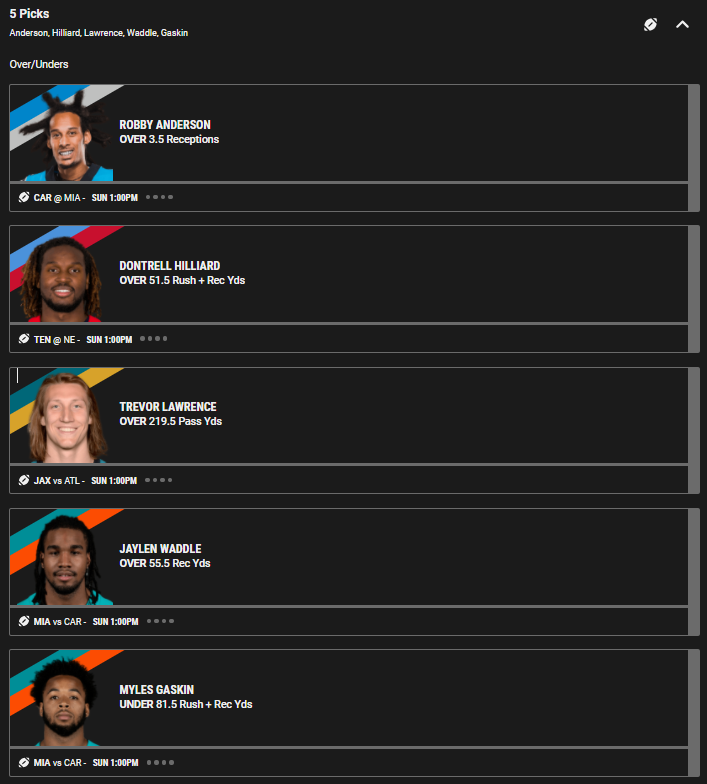 Robby Anderson OVER 3.5 Receptions❌
Cam Newton is not back, after all. Newton finished with a 23.8-percent Completion Percentage on 21 attempts. Cam is back…to the bench. D.J. Moore's 47.6-percent Target Share proved that he is the best WR on the team. Robby Anderson appears to be an afterthought once again, with four targets and one reception.
Dontrell Hilliard OVER 51.5 Rush + Rec Yds
The Titans leaned on the running game against the Patriots, resulting in solid opportunity for Dontrell Hilliard to hit the OVER. Hilliard smashed this line with 133 total yards.
Trevor Lawrence OVER 219.5 Pass Yds
I can't say that I'll be taking many OVERS on Trevor Lawrence moving forward. Lawrence completed 42 pass attempts for 228 yards at a low 5.4 Yards Per Attempt. He has been inefficient on high-volume, so playing Lawrence props on Underdog Fantasy is like playing with fire.
Jaylen Waddle OVER 55.5 Rec Yds
This line proved to be a gimme. Jaylen Waddle crushed the OVER with 137 receiving yards on 10 targets. Last week, I said that Waddle hit the OVER on this line in four out of five games played with Tua Tagovailoa. Make that five out of six games.
Myles Gaskin UNDER 81.5 Rush + Rec Yds
With all due respect, Myles Gaskin sucks as a rusher. Gaskin had 16 carries for 49 yards at 3.1 yards per carry. And as predicted, Carolina made it difficult for Gaskin to produce as a receiver, limiting him to three receiving yards on two receptions.