Some fantasy gamers don't want to read boring fantasy advice. Sharp fantasy gamers want actionable advice. Sharp gamers look at fantasy football like a stock market, while other gamers never got the clue.
Congratulations, you're sharp.
That said, here are seven receivers going outside of the top 125 in Underdog ADP with more-likely-than-the-market-thinks paths to WR3 value. That is, top-36 value on a points-per-game basis. Or about 13.0 Fantasy Points Per Game. And almost every receiver below has monster upside shall an unfortunate injury occur to their counterparts higher up on the depth chart. We'll call these receivers solid floor plays that are free, with WR1 upside.
Emmanuel Sanders (Underdog ADP: 131.7)
Like with Julio Jones, the only "logical" debate against Emmanuel Sanders is age. Sanders totaled a 2.23 (No. 15 among qualified wide receivers) Yards Per Route Run clip last season, one of the most predictive stats for fantasy football purposes. He's not washed. He averaged 11.8 (No. 40) Fantasy Points Per Game last season, but stepped up in Michael Thomas' absence. In Weeks 2-5 with Thomas out, before getting hurt himself, Sanders was fantasy football's WR22. This includes two top-24 finishes, with a top-28 finish as well. In the timeframe, he totaled 7.75 targets per game on 31.25 routes run per game (24.8-percent Target Rate). Production-wise, he averaged 5.75 catches per game and 72.25 yards per game. This includes at least four receptions in 3-of-4 contests and 55-plus receiving yards in 3-of-4. Thomas returned for Weeks 9-14.
Meet the Metric – True Catch Rate ?

✍️ @aaronstew09

➡️ https://t.co/sn7aq06ysi pic.twitter.com/Dv2du9MFh4

— RotoUnderworld (@rotounderworld) June 7, 2021
Since he played for a Saints team averaging the seventh-fewest Team Pass Plays Per Game, we won't look at Sanders' cumulative numbers. Though to close out the season in Weeks 15-17, he was fantasy football's WR23. He now joins the Bills, who targeted receivers at a league-leading 74.9-percent clip. For context, the offense targeted backs at the fourth-lowest rate and TEs at the third-lowest. The Bills offense finished No. 3 in Pass DVOA to end the season as well. At cost, Sanders is a good bet to make to occupy John Brown's 5.8 vacated targets per game on a Bills team averaging the 13th-most Team Pass Plays Per Game. Gabriel Davis truthers be damned!
Nico Collins (ADP: 193.6)
Nico Collins is a double-digit round dart throw in the same way Justin Jefferson and Brandon Aiyuk were last season. Not saying he'll produce the same way, but this is only an upside play. The Texans will be bad, meaning lots of passing for whoever is under center. The defense finished second-worst in Football Outsiders' Weighted DVOA, which emphasizes the second half of the season. Then, DraftKings set the team's over/under win total at 4.5.
Fantasy managers should not make a habit of going against Vegas.
Will Fuller, now in Miami, vacates 6.8 targets per game on a Texans offense that averaged 37.2 (No. 18) Team Pass Plays Per Game. All in all, the Texans offense has 194 vacated targets. Brandin Cooks will lead the team in targets, but he can't command every one. Randall Cobb, who was set to work underneath in the slot fishing short, high-percentage middle-of-the-field targets, is now gone. This leaves potential X receiver Nico Collins. He's primed to be a weekly second-half stat stuffer – sorry, Keke Coutee truthers!
Olamide Zaccheaus (ADP: 204.2)
Olamide Zaccheaus totaled an 81.2-percent Snap Share and nine targets on 33 routes run (27.3-percent Target Rate) in Week 4 when Julio Jones left the game with an injury. He turned it into an 8-86 receiving line and 16.6 (No. 19) fantasy points. He flashed again in Week 9 with Calvin Ridley out of the lineup. Zaccheaus had a 73.1-percent Snap Share and six targets on 29 routes run (20.7-percent Target Rate). He put up a 4-103 receiving line and 20.3 (No. 16) fantasy points.
Well, Jones is now gone.
Zaccheaus boasts a 73rd-percentile College Dominator Rating, a 96th-percentile College Target Share, and an 87th-percentile Breakout Age. New play-caller Arthur Smith just led his old offense, the Titans, to the third-highest Pace of Play last season as well. More plays mean more fantasy points. Zaccheaus is a Z receiver, so he'll be on the field with Ridley in 2-WR formations. It's wheels up for the undrafted receiver!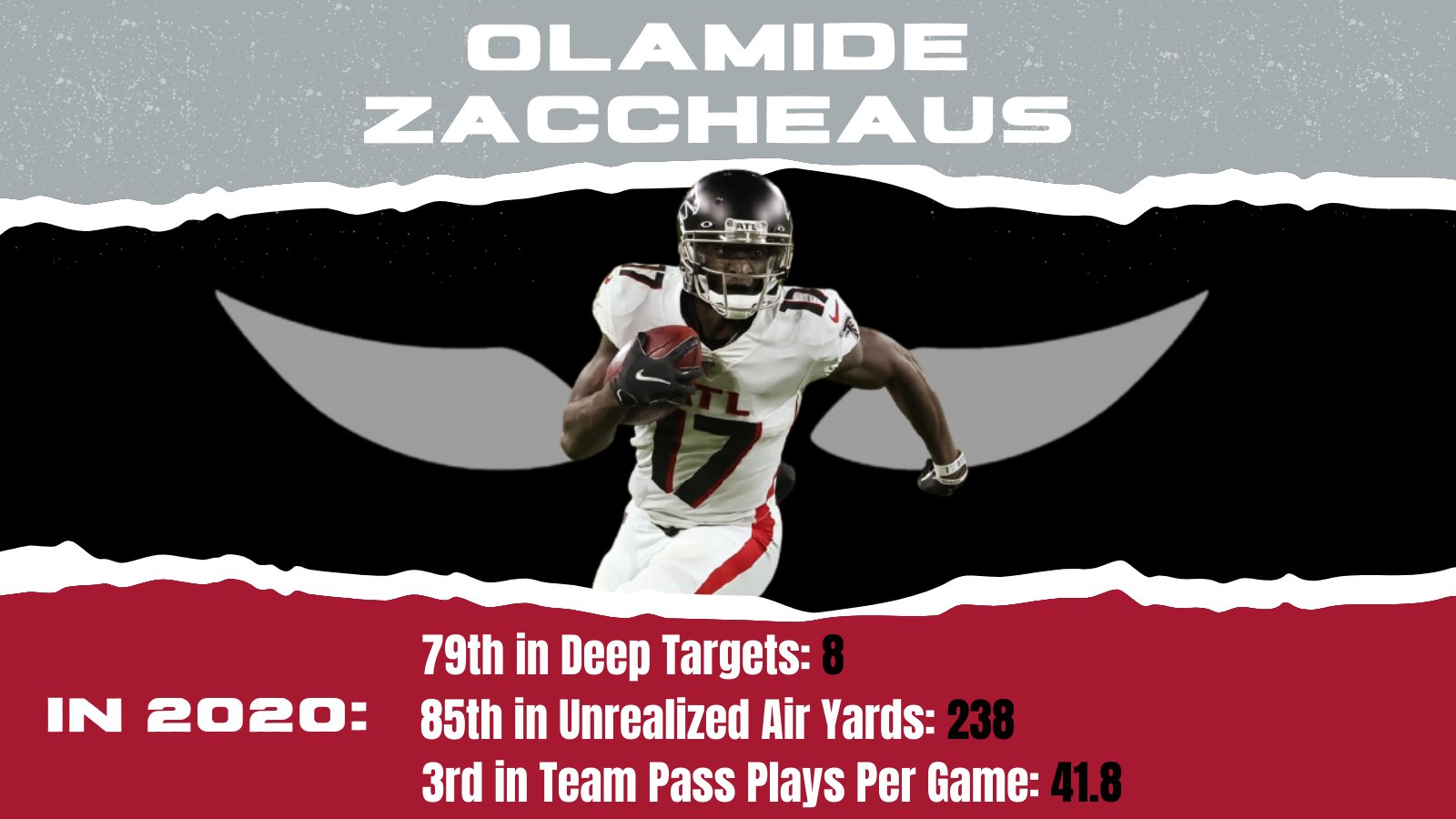 Breshad Perriman (ADP: 169.0)
Breshad Perriman is purely a volume-based play. The Lions have league-leading 360 vacated targets, or 64.1-percent. New playcaller Anthony Lynn's L.A. offense ranked No. 5 in situation-neutral Pace of Play last season. The Lions defense ranked dead last in Football Outsiders' Weighted DVOA to end last season. The team's over/under win total's set at 5, meaning the offense should be in comeback mode. If there's a receiver to bet on in Detriot, it's Perriman. From Weeks 15-17 in 2019, with Mike Evans and Chris Godwin both sidelined, Perriman averaged 8.7 targets per game. He posted three consecutive 100-yard receiving lines with four total touchdowns. He finished in the top-15 each week. At cost, it's worth seeing if he's got enough juice for one last squeeze. Somehow, he's still only 27.9 years old.
Sterling Shephard (ADP: 150.5)
A bet on Sterling Shepard this season is a bet on a jump in play from Daniel Jones. The Giants offense has 134 (No. 15) vacated targets, or 26.8-percent. With the arrival of alpha receiver Kenny Golladay, the hope is that the newly-signed receiver raises the lid of the offense. With Golden Tate gone, Shephard should play more in the slot. In the final two games of last season with Tate sidelined, Shephard totaled 22 targets on 72 routes run (30.6-percent Target Rate). He parlayed the opportunity into 17 receptions and 189 receiving yards. He logged 22.7 (No. 11) fantasy points in Week 16, and 33.6 (No. 4) fantasy points in Week 17.
Sterling Shepard has just 2 drops on 123 receptions since the start of 2019 ? pic.twitter.com/pW0iKy3oFd

— RotoUnderworld (@rotounderworld) February 14, 2021
Shephard is the only "floor play" of the seven receivers listed. Ironically, he'll be in line for the most spike weeks if the best-case scenario hits. He is one of two receivers listed to have the same QB as the year before, and is the only one to have his role basically defined before training camp.
Demarcus Robinson (ADP: 195.0)
Along with Sammy Watkins last season, Demarcus Robinson routinely played over Mecole Hardman. Robinson "boasted" a 68.6-percent (No. 78) Snap Share as opposed to 44.5-percent (No. 128) for Hardman, with 30.9 routes run per game to Hardman's 20.3, and both receivers averaged 3.9 targets per game. With Watkins gone, Robinson is a good dart throw at cost compared to Hardman. Both receivers have a clear path to becoming Kansas City's No. 2 WR, admittedly. The Chiefs averaged the seventh-most pass plays per game and were the seventh-fastest offense in situation-neutral Pace of Play last season. The offense finished No. 2 in Pass DVOA to end the season as well. Attaching yourself to Patrick Mahomes with Robinson is not a bad way to end your drafts.
Travis Fulgham (ADP: 210.3)
Travis Fulgham popped up last season like an RKO out of nowhere. From Weeks 4-8, he averaged 8.8 targets per game on 35 routes run per game (25.1% Target Rate). He turned it into 5.8 catches per game, 87 yards per game, and three top-15 weekly finishes. Fantasy football's WR4 in this timeframe, Fulgham totaled 12 targets on 75 targets over the next two games. But he recorded just a single catch in each contest. From Week 12 onward, he averaged 2.2 targets per game. No one knows what happened. Except for Eagles WR Coach Aaron Moorehead.
Basically, defenses adjusted and the receiver was playing hurt. Preseason will be our final judge before draft season, but at cost, Fulgham offers the most upside of the receivers in his range. League-winning upside. Know when to hold them and know when to Fulgham.