Buy into Ascending Offenses Before They Lift Off
Last offseason, we identified Ascending Offenses poised to make a meteoric rise in 2022. Every NFL season, there are offenses that put some premium pieces in place and rocket into orbit in one season's time. The Bengals went 4-11-1 in 2020 and then climbed their way into Super Bowl LVI the very next season. The Eagles made an unimpressive postseason showing in 2021 and then soared into Super Bowl LVII last season. We are often skeptical of these offenses until they have proven themselves. By the time an offense reaches great heights, however, it's too late. Ascending assets like the 2022 Eagles: Jalen Hurts, A.J. Brown and Devonta Smith, are now difficult to acquire. In redraft and dynasty, we gain an edge by anticipating which offenses will ascend in the next season, not waiting until they have already displayed elite production. That is when their prices are also soaring.
Fantasy finishes in 2022:
A.J. Brown — WR6
DeVonta Smith — WR15
Dallas Goedert — TE5

Played ~half their season in an poor gamescripts due to blowouts.

PHI has good draft picks but it's fair to think the secondary could see a downgrade in 2023. More shootouts for Jalen Hurts? 👀 pic.twitter.com/DcHdIl3Ixj

— Ahaan Rungta (@AhaanRungta) March 10, 2023
Now is the time to start identifying 2023's up-and-coming offenses based on their offseason moves. That's how we stay ahead of the game and acquire players at a discount before their values get inflated by their on-field success. In that spirit, let's look back at the offenses we predicted would ascend in 2022. Three out of four of the offenses we identified in last season's Ascending Offenses article reached high altitudes – the Eagles, Dolphins and Lions. The fourth – the Jets – had some offensive pieces show promise, but the offense was generally limited by Zach Wilson and an underperforming offensive line. Below, we detail how pieces from these offenses performed. We also address how we can improve our process for identifying ascending offenses.
Philadelphia Eagles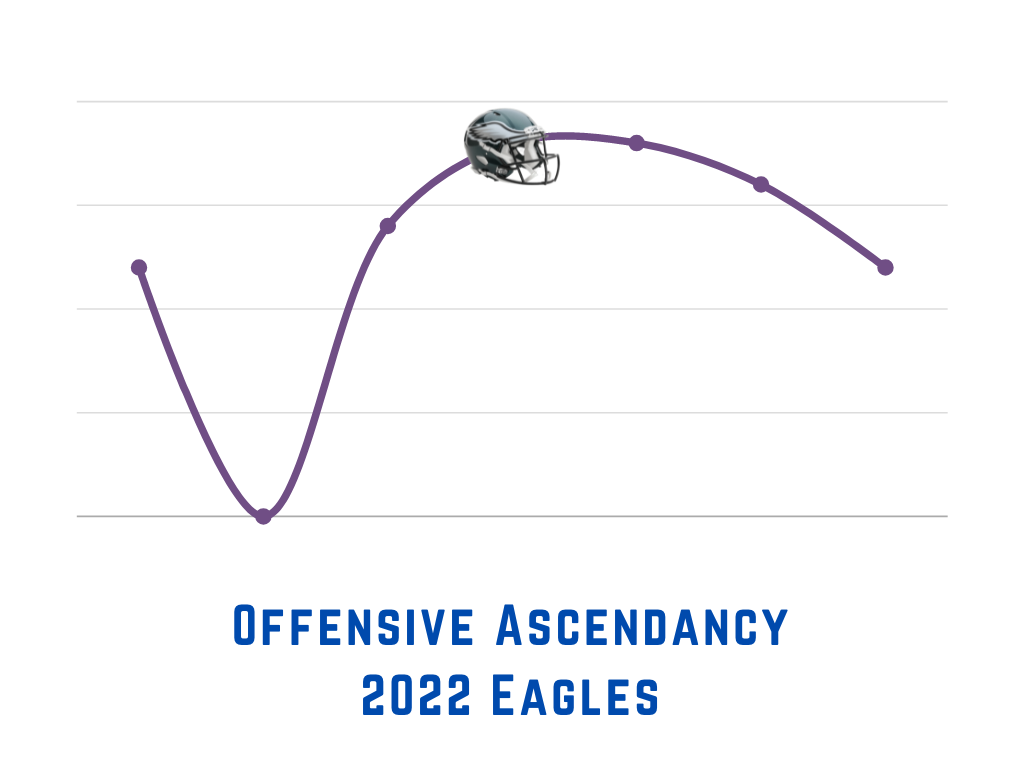 The Eagles' offense took a big step forward in 2022 and is reaching the peak of the ascendancy curve (above). The addition of A.J. Brown and the advancement of Devonta Smith and Jalen Hurts made the Eagles' passing offense one of the league's most dangerous. The players we predicted would significantly outdo their preseason value were Hurts and Smith. That turned out to be spot on. They each delivered well ahead of their fantasy ADP. Brown did as well.
How the Ascending Assets Performed
Hurts was being drafted in the sixth round (QB6) by ADP ahead of the season. He finished as QB1 in points per game (PPG), ahead of Patrick Mahomes and Josh Allen. Hurts was also No. 6 at the position in Expected Points Added (EPA, 141.9) in 2022, up from 89.2 (No. 16) in 2021.
He improved his accuracy rating from 7.4 (No. 26) to 8.0 (No. 8). His True Passer Rating improved from 65.5 (No. 29) to 97.8 (No. 4). This was all while sustaining strong rushing production. He led the league with 13 rushing touchdowns in 2022 just as he had in 2021 with 10. He also ran for 760 yards (No. 4) which was just 22 fewer than when he led the league in 2021 with 782.
Smith and Brown composed one of the league's most dangerous receiver duos in 2022. They each improved on their 2021 production. Smith recorded over than four fantasy points per game (15.0, no. 14) more in 2022 than in 2021 (10.9, no. 36). He was no. 11 in Yards Per Team Pass Attempt (YPTPA) with 2.23 after being at No. 16 (1.85) the previous year. Brown was WR8 with 17.6 fantasy points per game (PPG) for the Eagles in 2022 after being WR24 (13.9) with the Titans in 2021. He was WR2 in yards after the catch with 543 in 2022 after having just 248 (No. 38) the previous season. Brown also improved his YPTPA number to 2.79 in 2022 (no. 2), after he was No. 12 (1.93) in that metric in 2021.
Miami Dolphins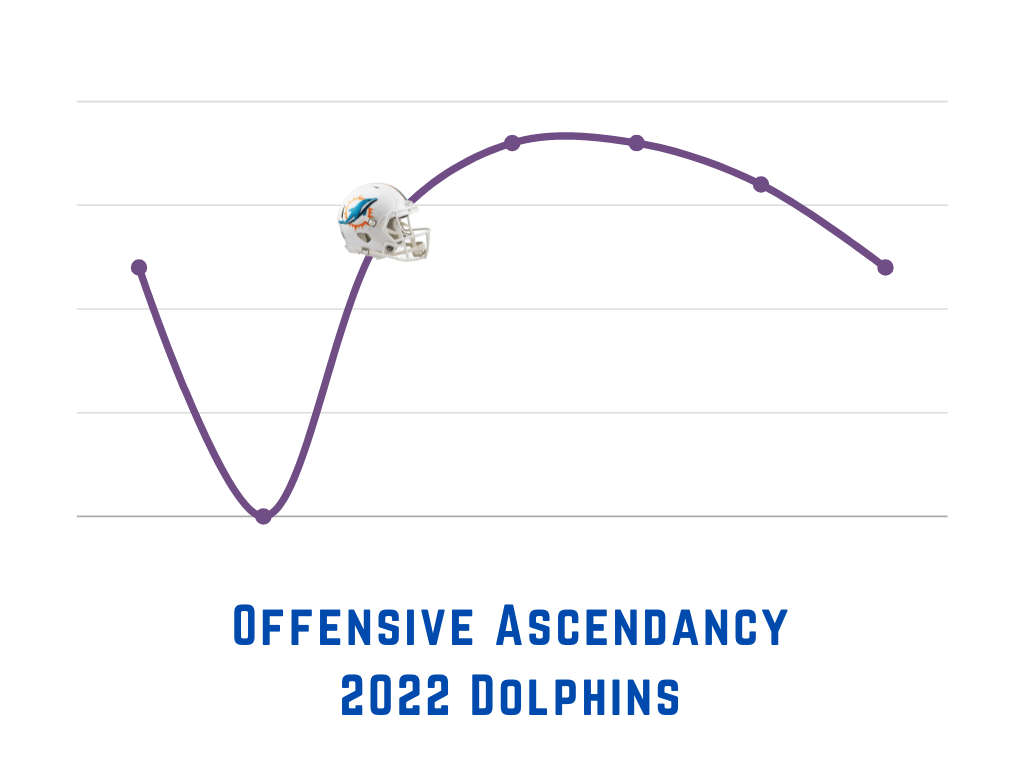 The Dolphins had one of the hottest offenses during the early part of the 2022 season. Hired in the offseason, Mike McDaniels wasted no time tooling up and installing a dynamic offense. He added one of the league's most irreplaceable talents in Tyreek Hill. Tua Tagovailoa continued to be one of the most competent facilitators in the league, playing point guard for one of the league's most potent passing attacks. An auxiliary asset, Raheem Mostert, delivered ahead of his ADP, powered by the steam of the Dolphins' offense.
How the Ascending Assets Performed
The Dolphins' proficient pass-catching pair, Hill and Jaylen Waddle, were both highly drafted in 2022. They both delivered. Hill's 2.93 YPTPA led the league and he was No. 2 in EPA with 107.6. These are improvements over his 2021 figures when he was No. 17 in YPTPA (1.84) and No. 4 in EPA with 83.6. Waddle also improved on his impressive rookie season, leading the league in yards per reception in 2022 with 11.7 (9.8 in 2021, No. 89). He was also No. 4 in yards per route run (YPRR) with 2.81 after being No. 42 in 2021 with 1.87.
Tua was QB3 in EPA after being QB22 in that metric the season before. He also continued to push the ball down the field effectively, leading the league with 8.8 Adjusted Yards Per Attempt (AY/A) and continuing to lead the league in Deep Ball Completion Percentage (50.0-percent).
His 40 Money Throws were second-most in the league in 2022, even as he played in only 13 games. He recorded just 22 (no. 19) Money Throws in 2021. He also improved to 18.4 PPG (no. 9), up from 14.7 (no. 21) in 2021.
We told you to go get running backs Mostert and Chase Edmonds since they were the lowest-priced assets. Mostert returned value on his 12th-round ADP, scoring 16-plus points in a third of his games. He was RB29 with 10.5 PPG after being drafted as RB44. Edmonds was a bust – RB55 with 5.7 PPG, even though he was being drafted as RB35, ahead of Mostert.
Detroit Lions
The Detroit Lions are putting the pieces together to be perennial postseason contenders with Dan Campbell captaining the ship. Their offense continues to improve after assembling a solid offensive line and with Jared Goff's steady hand under center. Amon-Ra St. Brown, plucked from the fourth round of the NFL Draft in 2021, has turned out to be a diamond in the rough. The biggest recipient of the Lions' high-octane offense in 2022, however, was Jamaal Williams. Williams found the end zone more than any back in the Lions' history.
How the Ascending Assets Performed
In last season's Ascending Offenses article, we told you St. Brown and Jameson Williams were the value plays. Williams did not get on the field enough to prove out his value. St. Brown improved on his remarkable rookie season. He earned a 32.3-percent (No. 3) Target Share in 2022, improving on his 2021 rate (24.7-percent, no. 31). He was also WR5 with 77.4 EPA in 2022, after being WR119 (7.4) in that metric the previous season.  St. Brown finished the 2022 season as WR10 in PPG with 16.7. He was WR26 in PPG in 2021 with 13.4.
As stated, Jamaal Williams was a big recipient of the Lions' success. He was No. 2 in the league among running backs in both red zone touches (57) and total touchdowns (17). He also ended up No. 18 in fantasy points per game with 13.3. This helped Williams far outdo his ADP of RB49 (14th round overall).
Even with only one real receiving threat, Jared Goff was No. 2 among quarterbacks in EPA with 175.3 in 2022. His EPA number in 2021 was just 28.0 (no. 24). He was also no. 7 in Yards Per Attempt (7.6) and Deep Ball Completion Percentage (44.7-percent) in 2022 after being No. 27 (6.6) and No. 24 (35.7-percent) in those metrics in 2021. The Lions are poised to continue adding weapons ahead of the 2023 season. They have already upgraded their running back room, signing David Montgomery in free agency.
New York Jets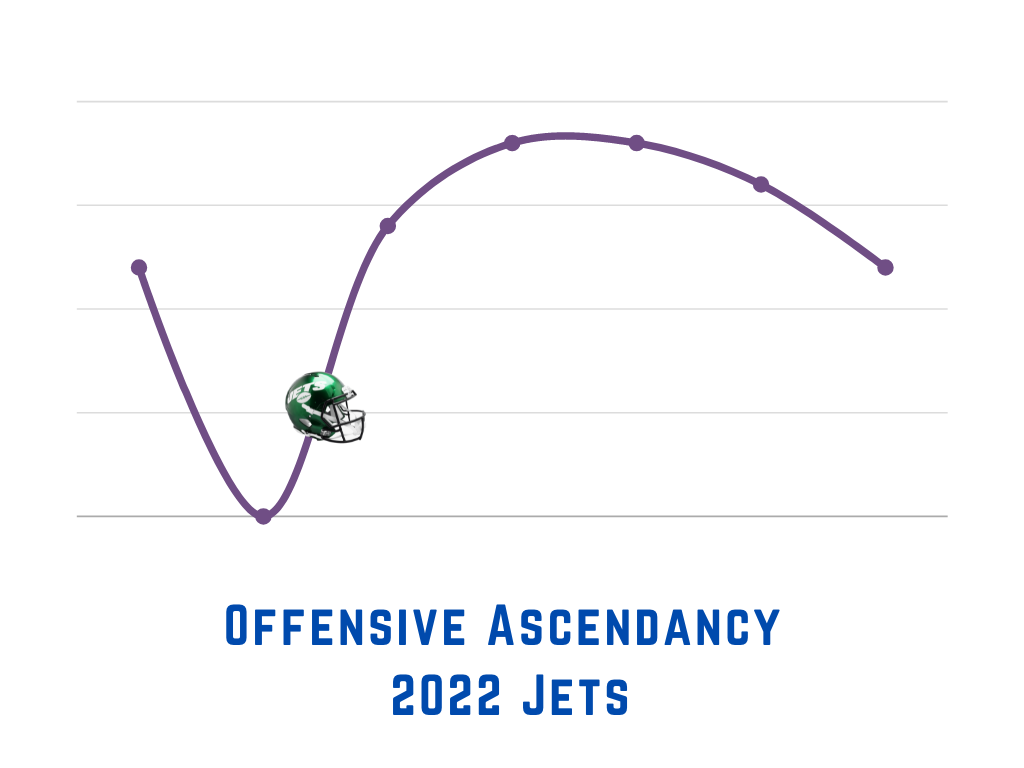 Robert Saleh overcame an injury to star running back Breece Hall and Zach Wilson's lackluster play to lead the 2022 Jets to a 7-10 record. They finished just 4-13 the year before. The Jets' offensive weapons are not the problem. It was Wilson who faltered, finishing no. 34 in Accuracy Rating (6.9) and True Completion Percentage (59.7-percent) in 2022. His True Passer Rating (66.3) was no. 33 in the league. The Jets' offensive line also struggled, ranked dead last by Football Outsiders' Offensive Line Stats. Needless to say, the Jets' offense was not a top unit.
How the Ascending Assets Performed
Editor's Note: This article was written before Elijah Moore was traded to the Cleveland Browns.
Still, some of the Jets' young skill position players showed some flash. We told you to go get Breece Hall, Elijah Moore, and Garrett Wilson. Hall was being drafted in the fifth round by ADP. Moore was going in the eighth round and Wilson in the 12th. Hall was no. 3 in Yards Created Per Touch before he was injured. He was also tops in the league in Juke Rate (50.0-percent) in his seven games played. Garrett Wilson was Offensive Rookie of the Year even with the challenges at quarterback. He racked up 83 receptions (No. 16) and 1,103 (No.14) receiving yards on the year. Moore suffered from low target volume (66, No. 63) and Target Quality. He was No. 98 in Target Quality (3.12) and Catchable Target Rate (54.5-percent). Moore was getting open, however. He was No. 12 in Target Separation (2.14) and 25th in Route Win Rate (44.2-percent).
83 receptions. Over 1100 yards. Offensive Rookie of the Year. All with bad QB play.

With Aaron Rodgers at the helm, I can't even imagine what kind of season Garrett Wilson is going to have on the #Jets next year 🔥

BIG sophomore season incoming 😤 pic.twitter.com/5i704hJgiy

— Harrison Glaser (@NYJetsTFMedia) March 18, 2023
The skill position players are in place for the Jets. They are working on a trade for four-time MVP Aaron Rodgers who will improve the passing attack and make the whole offensive machine go. The Jets should also shore up the offensive line to complete their ascent.
Takeaways to Improve Our Process
Top-End Talents Can Still Deliver on Value
Although there are some deep discounts on players like the Dolphins' and Lions' running backs, the top talents on each team can also yield a return on investment. When an offense is soaring, the high-priced assets hit ceiling outcomes. Alpha receivers like Tyreek Hill and A.J. Brown were values in 2022 even at their more expensive ADP's. Amon-Ra St. Brown was also a steal at his round six ADP. It is not just the lower-priced assets we should target.
Don't Bank on A Big Turnaround
It was too large a leap to assume Zach Wilson would become a productive facilitator in year two of his career. Although he was drafted No. 2 overall in 2021, he did little in his rookie season to indicate he could lead the Jets to new heights last season.
Looking back, Mike White was more effective than Wilson leading the Jets' offense in 2021. Wilson was running for his life behind a porous offensive line in 2022, but it also became clear he is not going to deliver on his draft capital. Tua showed more poise and accuracy than Wilson in 2021. It was not such a jump to project that he would take more steps forward in 2022.
Drill Down on Offensive Line
Though it is difficult to know which offensive lines are going to come together and perform, it is worth investing time to study teams' offseason moves at o-line. The offensive line is the infrastructure necessary to make the offense strong. As we saw last season, the Eagles' elite offensive line paved the way for their success. In fact, the Eagles', Dolphins', and Lions' offensive lines were all top ten according to Football Outsiders. The Jets' offensive line was dead last.
Locking The Pieces into Place
In future Ascending Offenses articles, we will identify the teams that are putting the right pieces together ahead of 2023: their offensive system, QB, weaponry, and offensive line. Teams are already making moves pre-draft to put together a crew prepared for lift-off. Quarterbacks and other components are getting locked into place. The NFL Draft will give us more large pieces of the puzzle. Watching where teams invest their resources will give us a clear picture of which offenses and players will hit their ceilings in 2023.