Here we are at Week 17 of the NFL season, and it's the first ever Week 17 where most of us are playing our fantasy championships! This is the first year with the new 18-game regular season, so yes, it is the longest season ever. There is an impressive slate of games for Sunday, but I want to take a closer look at the Miami Dolphins and Tennessee Titans matchup and how eerily similar they are. Each with dominant alpha wide receivers and headache-inducing running back by committees. Enough with the chatter; let's dive in with the Dolphins!
Miami Dolphins
Waddle-ing His Way to the Record Book
Jaylen Waddle has become the focal point of this offense, and he's done this at a historic pace. The record for most receptions by a rookie is Anquan Boldin with 101 over 16 games. Waddle currently has 96 (No. 6 among qualified wide receivers) receptions, with two games left in the year. So how is he doing it?
First, the hands.
He has only 2 (No. 74) drops out of all 128 (No. 10) targets this season, good for a 1.6-percent (No. 11) Drop Rate. Tua Tagovailoa has leaned on him, and frankly, he's got no reasons to not look his way. He's played 346 (No. 12) Slot Snaps, so the Dolphins are not afraid to move him around the formation, but what makes him special is his speed. His 93.3 (48th-percentile) Speed Score is comparable to NFL burner Tyler Lockett. He also runs a 4.37 (96th-percentile) 40-yard dash, so his speed being moved around the formation has only caused headaches for opposing defenses. He is a strong WR2 and should be in all lineups for championship weekend. The Miami backfield…. well, at least they all contribute to wins for the team. Just not your fantasy team.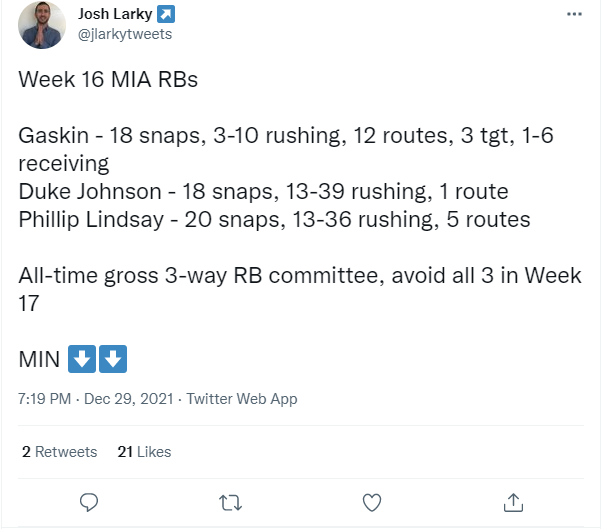 We have ourselves a nasty three-way split in the backfield. There have been games earlier in the year where Myles Gaskin carried the load and finished as a top 12 fantasy running back four times this year. Duke Johnson rewarded his loyal truthers with an overall RB1 scoring performance in Week 15 against the Jets. Phillip Lindsay was out with an injury, but came back in Week 16 and received more snaps than all other running backs on the team. So moving forward, we can't play any of these running backs with any confidence. There is a scenario where we see a RB2 performance emerge from the rubble of this backfield, but I'd rather enjoy watching the star receiver on the offense.

Tennessee Titans
Return of the King
Speaking of star receivers…
Last week, we saw the return of A.J. Brown, and Tennessee didn't exactly ease him into the game after being on the IR:
It has not been an easy year Brown. Battling multiple injuries and leaving a few games early, he has only had three games where he finished in the top 5 receivers in scoring.  The Titans offense, now without Derrick Henry, have been forced to put the offense on Brown's shoulders when he is healthy. This is reflected by the 42.8-percent (No. 2) Air Yards Share, trailing only Justin Jefferson. He also has a 19.5-percent (No. 5) Hog Rate, just behind other established alphas Cooper Kupp and Davante Adams. Ryan Tannehill may be forced to lock on to him because of the current receiver situation for the Titans. With Julio Jones and Nick Westbrook-Ikhine currently on the COVID-19 list, the only other available wide receivers are Chester Rogers, Dez Fitzpatrick, and Racey McMath.
Something tells me he should have no problem establishing himself as the clear No. 1 overall against that trio of receivers.
While Jaylen Waddle wins with quickness and speed, Brown just overpowers the defense with size and strength. And oh yeah, he still has speed too! It's the fantasy championship weekend… you're playing him. Don't get cute. Now let's see how the Titans backfield is shaping out:
Let's Not Rush To Judgement
While Miami has a nearly unrecognizable leader of its backfield, Tennessee at least has clearly defined roles for their running backs.
D'Onta Foreman is the leader in terms of carries and has two weeks where he finished in the top 15 of fantasy points scored by running backs. The Titans have a run-heavy offensive philosophy, which has meant more work for him, but he isn't much of a contributor in the passing game. In a year where Cam Akers has set the standard for Achilles recovery standards, let's not forget that Foreman had a torn Achillies and is still producing in the NFL. If the Titans can keep a lead and stay in control of the game, he will have a big game with a massive opportunity to receive carries and milk the clock to victory. The other running back to take a note of is Jeremy McNichols.
McNichols is second to Foreman on the depth chart, but has run more routes than him over the last three weeks combined. I want to add him in because, as mentioned earlier, there are many wide receivers trending to be out for the match up Sunday. So it's trending that we see more of McNichols or even Dontrell Hilliard lined up as a receiver, or in on passing situations together to help fill the void that the team has. Nobody on Earth can replicate what Derrick Henry does on the field, but Foreman has done an admirable job along with his teammates of creating a patchwork rushing attack, it's just incredibly difficult to trust them on championship Sunday.
Cliff Notes:
QB: Tua Tagovailoa and Ryan Tannehill are mid-to-low end QB2s.  I would prefer Tua over Ryan, but don't expect much from both of them.
RB: D'Onta Foreman is a risky Flex at best. Honestly, you're better off staying away from the running backs in this game; it's far too unpredictable.
WR: A.J. Brown has WR1 upside. Start him. Start Jaylen Waddle. DeVante Parker is risky to use after getting zero targets from last week, but I can see a path for him to work out as a flex.
TE: Mike Gesicki is a middling TE2. He can be used if no other options are available. At this point with tight end, you're just crossing fingers and hoping for a touchdown.
Summary:
The Titans and Dolphins both had big wins last week, but the Dolphins are the toast of the town after winning seven straight games. The Titans have to win out, or hope the Colts lose to get in the playoffs as a division winner. Meanwhile, for the Dolphins, they need to keep winning in order to enter the playoffs by a low seed due to the success of divisional opponents Buffalo and New England. With two defensive-minded coaches, I would be shocked to see this game go into a shootout. With that in mind, and with the limited offensive approach both teams have, I expect the Titans to come out on top 24-21, and get one step closer to the playoffs. Good luck to everyone this Sunday!