Turn Back the Clock
Imagine it's 2019.
You turn on HBO's Hard Knocks and hear about a dominant tight end showing out in every scenario, Darren Waller.
The castoff from the Ravens with two substance abuse suspensions? Yes, that's him.
The idea hits you: you can draft this Waller as a late-round TE value.
You think, "maybe he is as good as he looks in preseason."
You draft Waller, and everyone in the draft room laughs to themselves.
Waller goes on to post career-high numbers with a 90-catch season and is the best overall player on his team.
You are torching every fantasy league where you used this approach.
The Case for Waller
As a career therapist, Waller intrigues me as a case study of a high-profile NFL player successfully navigating his struggle with addiction. He's one of the most likable players in the NFL. He is highly active in recovery communities across the United States. In interviews that discuss his successes and failures, Waller, much like Josh Gordon, was enabled by those around him based on his immense talent and stature.
His progression in recovery from addiction should be held in high regard and is the benchmark for future NFL players fighting their demons. Waller has shown by his actions that it is possible to navigate addiction, and he has done this more successfully than any other player in NFL history. Waller has combatted a life- and livelihood-threatening issue while in the NFL spotlight. In 2023, it's a good bet he will integrate himself seamlessly into the Giants' organization and become their top pass-catching option, after a return from injury. It wouldn't be the first time he has made a comeback.
Risk/Reward
Here is the question we should be asking when we push in our chips on a tight end with elite potential like Waller: "Are there players we're missing out on in the same draft range that are going to help us win leagues?"
Fantasy gamers who enjoyed the prime years of Antonio Gates, Rob Gronkowski, Jimmy Graham or Travis Kelce know the joy of autopiloting through the fantasy season with a weekly advantage at the tight end position. The problem is that the elite tight end advantage most of the time comes with a high price tag which causes savvy fantasy gamers to think twice. Waller didn't demand a huge sacrifice to draft in 2019, however, and he won't this season. He is currently going in the seventh round in Underdog drafts. There are no other tight ends going in that range who offer the same league-winning positional advantage as Waller does.
Lessons Learned
2019 has some unique parallels to the 2023 season for Waller. There was a lack of significant target competition for Waller in Oakland in 2019. Jordy Nelson had just retired at age 33. Antonio Brown was signed to fill the void, but was released before playing a single game for the franchise.  Tyrell Williams began the season as the WR1 by default. Otherwise, it was an ambiguous receiver group, and Waller quickly established himself as the primary option. Drafters should feel confident in the landing spot for Waller. No pass catcher on the Giants poses a substantial threat to Waller's target share. There was no clear Alpha Receiver last season. Kadarius Toney was traded and Wan'Dale Robinson got hurt early in the season. The Giants also have a full off season to prepare with Waller.
Waller: Fantasy Stud
Waller has two seasons on his resume with well over 100 targets and a 107-catch season. That is rare territory for any pass catcher. He also has a 100th-percentile 40-yard dash, 100th-percentile Burst Score and he's nearly four years younger than Kelce.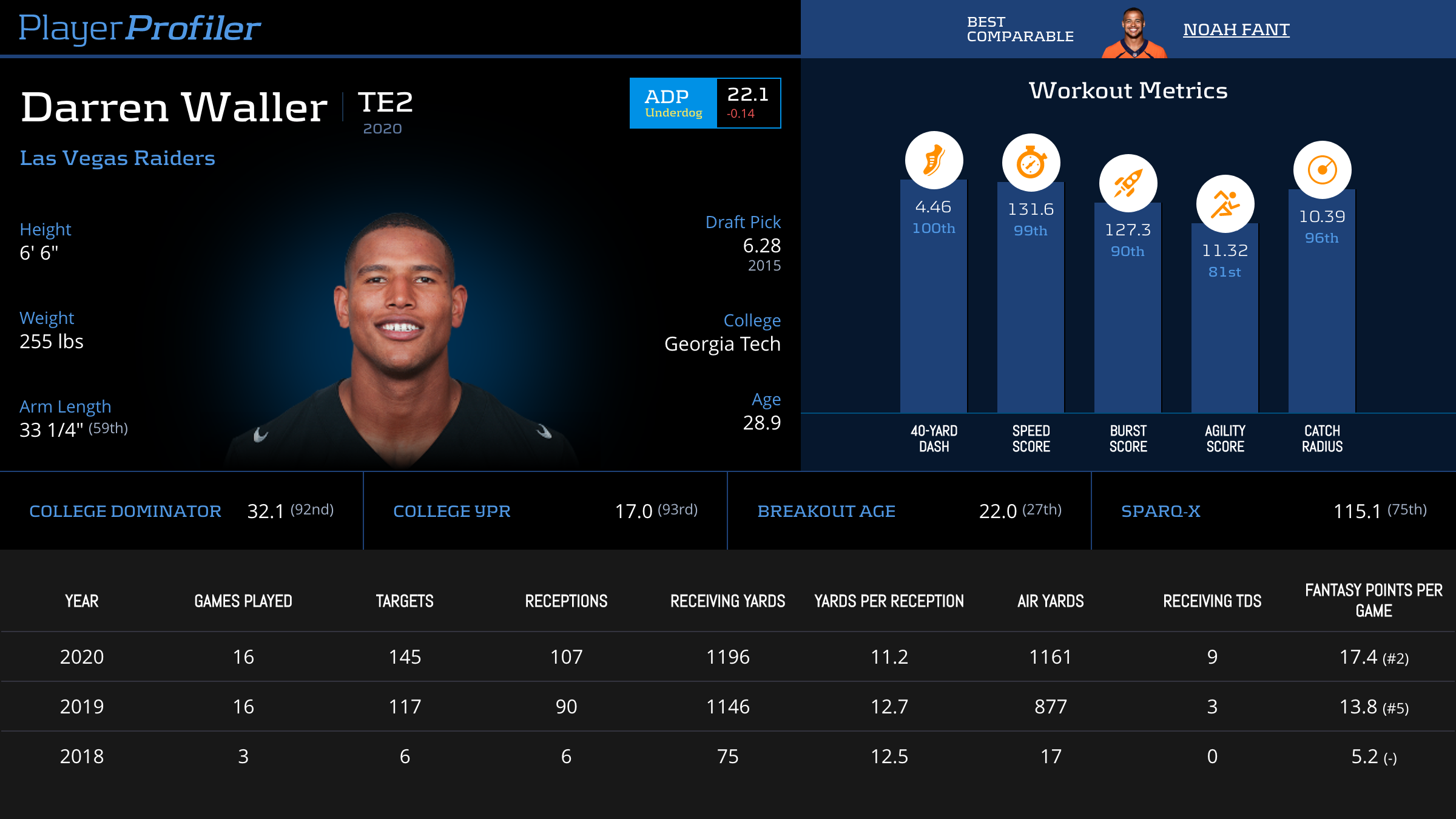 Darren Waller Advanced Stats & Metrics Profile
Waller posted back-to-back 1,000 yard seasons for the Raiders in 2019 and 2020. RotoBaller's Keith Hernandez notes Waller's potential impact, positive integration with the Giants' offense, and a high likelihood he will lead all pass catchers for the offense this season. Consider this the ultimate buying opportunity for a TE that can be an organizational staple on his new team for next three years plus.
Draft Ceiling: TE2 overall
Sound like a hot take? The Giants are an ascending team, and I'm drafting Waller ahead of all TEs not named Travis Kelce. He is by far the best tight end value. He possesses exceptional size and speed and who has already hit an elite ceiling. There's also the added benefit of paying the remarkably affordable TE7 price tag. Waller allows far more flexibility in team builds than Kelce or Mark Andrews, and carries the same elite ceiling.
There are concerns with all of the TEs after Kelce; however, concerns with the others supersede those with Waller. Mark Andrews gained significant target competition with a now healthy WR group, also being in an offense with traditionally low pass-volume. Kyle Pitts plays for a team with a strong proclivity to run the ball, who also drafted Bijan Robinson. Dallas Goedert is competing with a group of all-world pass catchers on a team leading far more than it is trailing. T.J. Hockenson's athleticism is not remotely close to Waller's. George Kittle has significant target competition that caps his ceiling, and potential QB struggles.
The Pitts of Misery
In 2022, Kyle Pitts was a consistent target for fantasy drafters searching for a standout tight end without the high price tag associated with Kelce. The decision to draft Pitts was made based on the infamous "draft-capital" argument, his elite athleticism used as a blindfold for sensibilities. Pitts was touted as a "unicorn" at the position, a top 4 overall draft pick. The Falcons were surmised to have intentions to use Pitts everywhere on the field. TEs that profile as WR-level pass catchers are alluring assets in fantasy.
Lessons Learned
Athleticism, talent, and draft capital, however, are not the only critical information to consider when drafting a player. Arthur Smith's tendencies to run the ball like it's 1920 resulted from a confluence of factors. The Falcons had a top-tier run unit, Pitts' injuries prevented him from being on the field, and Marcus Mariota had a historically inept season as a passer. Pitts was arguably the worst fantasy draft pick in 2022, and those who invested highly to ensure they drafted him were pot-committed.
Pitts: Fantasy Dud
The problem with Pitts as a fantasy asset is less about Pitts as a player. Last year, he had an 81.5-percent route participation for the Falcons, with 412 unrealized Air Yards. He was envisioned to be used as a wide receiver, and truthfully, he was in that role. Opportunity and skillset are genuinely not concerns for Pitts, but even with the ideal usage pattern fantasy players could have asked for, Pitts ended the season averaging 7.6 fantasy points per game. This ranked him outside of the top 15 players at the position on a per-game average and behind players like Dawson Knox.
Passing Environment 
Pitts has a Desmond Ridder problem. While I'd like to argue it can't get much worse than 2022 Mariota for Falcon's pass catchers, I'm also highly skeptical the passing environment will improve significantly with Ridder under center. Ridder is an unknown entity for the 2023 season, and his four starts last season do not inspire much confidence. In 2022, Ridder ended as the 29th-ranked QB in Accuracy Rating, per ESPN's 2022 Passer Statistics.
It's a small sample, but there are some takeaways. Ridder averaged a paltry 177 total yards in each start, less than Mitch Trubisky, Zach Wilson, and Colt McCoy during the 2022 season. In his first complete start for the Falcons, Ridder didn't surpass 100 yards passing. Ridder is athletic, but a below-average pure passer with poor accuracy and a run-first tendency. Almost sounds like Marcus Mariota, doesn't it?
Chemistry Class
An underreported fact is that Ridder and Pitts have yet to play in a live game scenario together. Pitts was shut down for the season after week 11, and Ridder officially took over for the Falcons in week 15 last year. NFL chemistry takes time to create between pass catchers and QBs. In general, TEs take longer to develop due to the complexities of the position. Team play-calling tendencies are also crucial to the TE position. Ask yourself before you draft a tight end: "Is the team preparing for a season of 600+ pass attempts or full-on trench warfare?"
Draft Ceiling: 10th overall TE
Fantasy gamers should draft all of these tight ends in front of Pitts: Kelce, Waller, Andrews, Dallas Goedert, Hockenson, Kittle, Evan Engram, Dalton Schultz and Pat Friermuth.
Be A Realist
Why does a team that can run the ball in most scenarios effectively and cruise to a winning season need to risk turnovers, air out the ball, and potentially damage the confidence of their rookie QB?
While his cost may be reduced slightly compared to last year, avoid Pitts in pursuit of TEs that will command more targets.  Those optimistic about the Falcons offense may feel inclined to return to the well on Pitts. I advise strong caution against this. The Falcons still have Arthur Smith and they are still above average at running the ball. It is likely Ridder will only be called on to game-manage in a soft division. Drake London and other auxiliary pass catchers will be fighting for a below league average number of pass attempts.
An Inexpensive Positional Advantage
Waller and Pitts are both alluring options at the tight end position due to their size, atleticism and pedigree. One of them has performed as a high-end option at the position and one hasn't. The decision also comes down not just to the player's individual talent, but the offensive situation each finds himself in entering the season. Waller is going to be the top option in an offense that will be looking to pass. Pitts is stuck in a run-heavy offense with an inexperienced QB who has yet to prove himself a competent NFL passer. The decision is easy: draft a stud tight end Waller a full round later than Pitts and draft a league-winner.